| | | | |
| --- | --- | --- | --- |
| POV: | FES | Next POV: | July 21st |
| POV Used | Yes | POV Ceremony | July 23rd |
| HOH: | Sam | Next HOH: | July 26th |
| Noms: | Kaitlyn and Haleigh Rockstar | Have Nots | Scottie, Rachel, Bayeligh, Kaycee |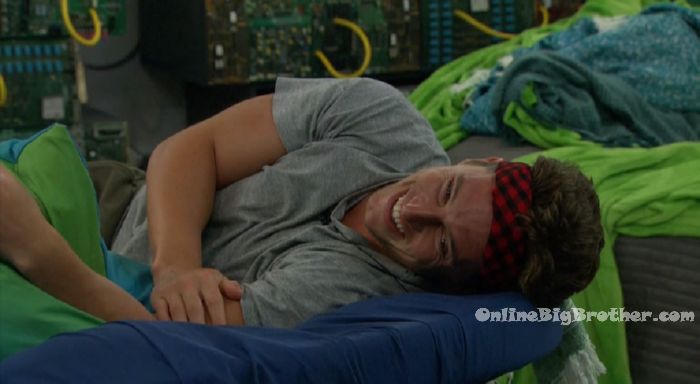 10:35pm Havenot room. Brett and Rachel. Brett – I kind of want to blow up a fight in front of Kaitlyn and Haleigh …And be Like oh Haleigh you didn't tell me to vote Kaitlyn out five seconds ago!? Rachel laughs – are you going to do that?! Brett – I kind of what to. Rachel – please do it! I just wish Kaitllyn knew her entire alliance wanted to vote her out. Brett – I'd be like oh really did you not just tell me this. Rachel – can you please do that! Please! Brett – why doesn't someone else do it. Rachel – because its funnier when you do it. Brett – why because I just get straightened out after… Rachel – you have the toughest skin to do that. You've already done it once so you might as well keep doing it because its hilarious. You've already started the trend, you might as well keep doing it. Brett – Its like the less I care the more mad they get. Rachel – no it really is. When would you say that comment? Tonight? Brett – or tomorrow. Rachel – do it for the big brother fans. Brett – true .. I mean I'm already a target. Rachel – do it. Brett – I'm trying to chill. Rachel – we have to win tomorrow .. if we don't I will cry. Brett – step the f**k up and win. Rachel – you need to win something.. aren't you a big burly man.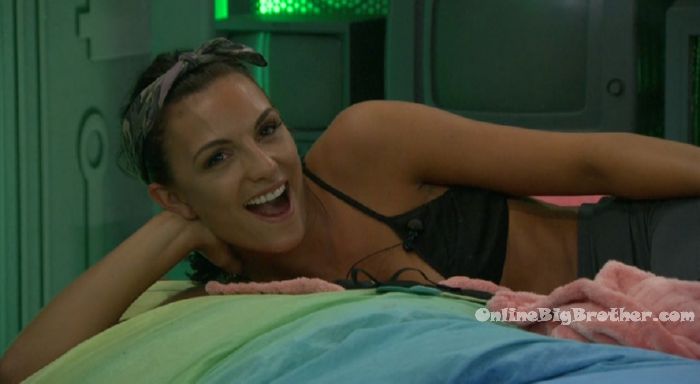 10:45pm Scottie and Fes climb the rock wall.
Havenot room. Kaycee, Brett JC and Rachel. JC – Kaitlyn told me today that if the chance thingy happens she is coming for whoever voted her out. Brett – which would be the entire house. JC – so we are good. We are doing the safest thing possible. Kaycee – Fes and Haleigh are for sure voting Kaitlyn out? JC – yes! At this point Haleigh is Fes's puppet. After tomorrow's eviction I am going to have Fes on my hands. (LOL like a puppet) Its going to be the first time in one month that these people are literally voting the person out and in part that's thanks to me because I was the one that told them I got this. If it is the first time they vote someone out, they're going to feel like they owe me. Its going to be so beneficial for us. Kaycee – they're going to trust you like crazy. Rachel – going into this next HOH they need to feel safe.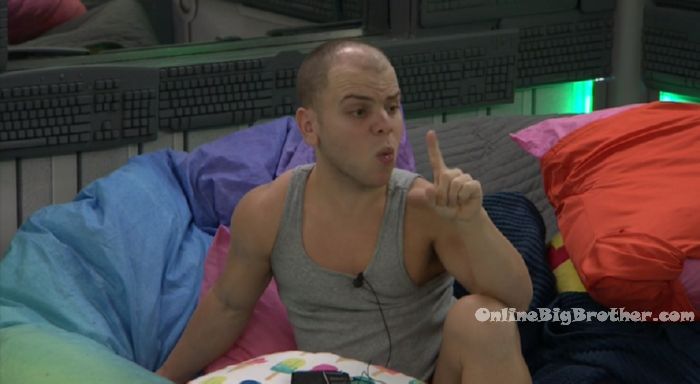 11:35pm Lounge room. Rockstar and Haleigh. Rockstar – do you think we have enough? Haleigh – I think its going to be a tie. Rockstar – yeah. Haleigh – I think that's what its honestly going to be. Rockstar – this f**king sucks!
12:19am Kailtyn and Tyler 
During this conversation Kailtyn says she see dead people and Tyler's dad knows that "He doesn't leave me alone" tells him his dead dad wants them both to be in the house and one of them will win HOH.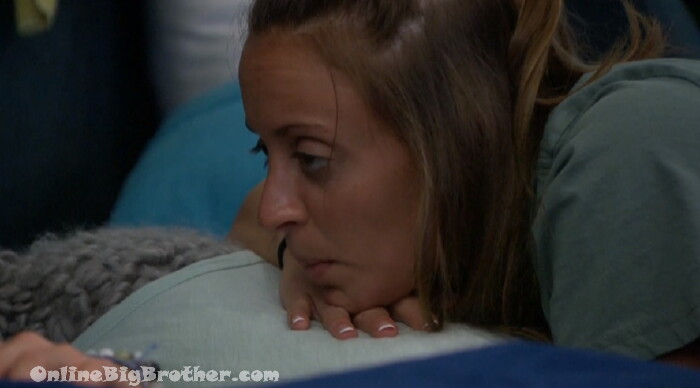 12:35am Haleigh and Fes. Haleigh – I don't want you to feel like this is something you need to do to prove to me because number 1 on a game level you wanted to do it. And number 2 in your heart this is what you wanted to do. Fes – no what I said from now on, I wanted us to vote together. Haleigh – I SAID THAT. Fes – oh. Haleigh – anyway… either you just wanted me to make the decision for you. Fes – its a tough situation this week. I wanted you to feel comfortable .. I'm using the veto on you and you were still paranoid. Haleigh – that was the first thing you ever did like game move that showed me that I could trust you. Fes – I told you that was going to happen and I was going to save you. Not every week am I going to be like lets go with your sh*t. I'm not going to agree with you on everything but I want us to always be on the same page. It upsets me when I ask you where you head is at and you say I don't know and walk out of the room. Haleigh – just because I don't want you to feel like I am pressuring you to do anything. You weren't giving me anything. You weren't telling me where your head was at. Fes – because if I was thinking lets vote to evict Kaitlyn .. if you wanted to keep Kaitlyn.. so we could talk about that too. I was on the fence too about it. Haleigh – do you think we should keep her? Fes – keeping her so that she won't put me up .. that's a 1 in 10 people that won't put me up…so! Haleigh – she's not solid.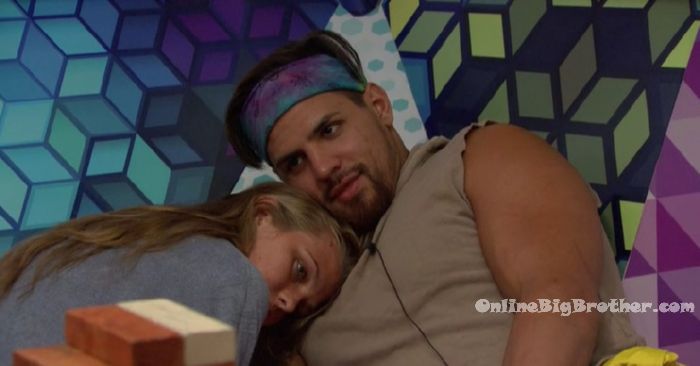 Haleigh to Fes – did you tell Kaitlyn that you had feelings for her? Fes – f**K no! I will tell you what I said … she is leaving tomorrow. This girl looked me in the eyes on day 8 and was like I've never felt the way I feel about you. I've been dating someone for 5 years and then I met you and you're my sole mate. And in my head I am not physically attracted to her at all. I am just being honest. I was like what the f**k! Haleigh – WOW! Fes – I didn't know that was her strategy .. but she is obviously telling Tyler that too. Haleigh – and you failed to tell me this?! Fes – I told you that she had feelings for me. Haleigh – you didn't tell me to this extent. Fes – basically when she was trying to get me to use the veto on her.. that's why she reacted the way she did when she saw me with you. Haleigh – that's why any time I am next to you she is a b***h to me. I cannot believe she said that. What was your response? Fes – I don't know. Haleigh – you don't know?! Fes – oh ok I was like I don't want to be the one to come between a five year relationship. That's what I told her. She said something like don't be a coward. Haleigh – she needs to go!! She is saying the same thing to Tyler. Fes – JC wants to sit us down together. Haliegh – it has to happen. Fes – you're jealous. Haleigh – I'm not jealous. It bothers me you didn't tell me. Fes – how many Instagram followers do you have? Haleigh – 10K. Fes – yeah well I have more than that. Haleigh – how many do you have? Fes – I don't know, a lot. Like 9 hundred thousand something.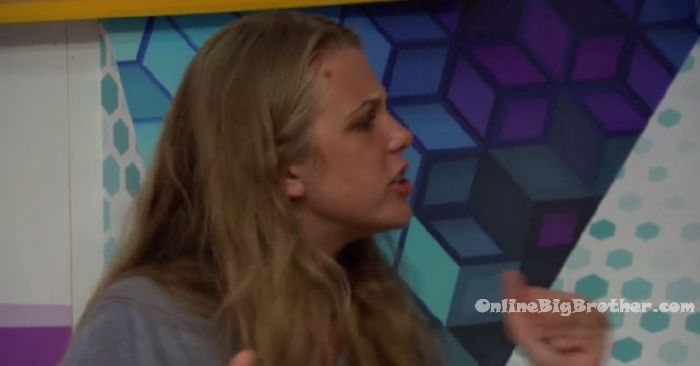 1:15am Fes, Haleigh and Rachel. Rachel – everyone is thinking that she would be an easy target. Haleigh but she won't be. Rachel – if she gets by this week, she would slip through the cracks. Haleigh – do you see how well she is integrating in with everyone right now? No one has even spoken to Rockstar. Rockstar is not someone we will ever have to worry about in this game. Rachel – I feel like we started out on opposites sides of the game (first competition they were on different teams). But I feel like there is a trust that will take us farther in the game. What would Scottie do if he wins HOH. Fes – I talk game with him but he doesn't give me definite answers. Rachel – I just didn't know if I could talk game with you. Haleigh – me too. I didn't want to try and be rejected. Haleigh – if she (Kaitlyn). comes back in this house, we are going to send her right back out. Fes – she said we could come stay at her cousins house. .. she is using that as game play.
Rachel – did she say she wanted to do things with you? Is she trying to manipulate you too? Fes – if she has a boyfriend she is f**ked. One morning I was chilling in her HOH room. I was trying to smooth her back over. She goes up to lock the door. I told her not to lock the door. I don't know what she was doing. Rachel – what happened? Haleigh – I guarantee he cut the story short. Rachel – That was a big build up for a sh*tty story. Rachel – do you have feelings for her? Fes – she is not attractive to me at ALL… she is not my cup of tea. Haleigh – what about Joe when she was in high school and… big brother switches the feeds.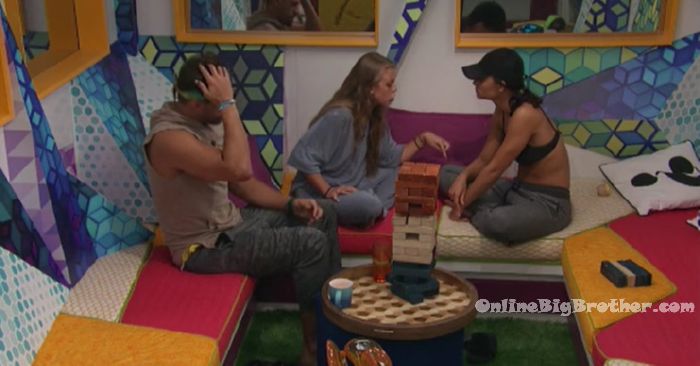 2:50am All the house guests are sleeping.
9:38am they're still sleeping 
HELP keep the spoilers coming! Show your support by making a donation. ANY amount is greatly appreciated! Your donations go directly to paying the fees required to run this site.
For all you folks that need a VPN I use this one
Rank the houseguests!
Easiest way to Rank the house guests use link below