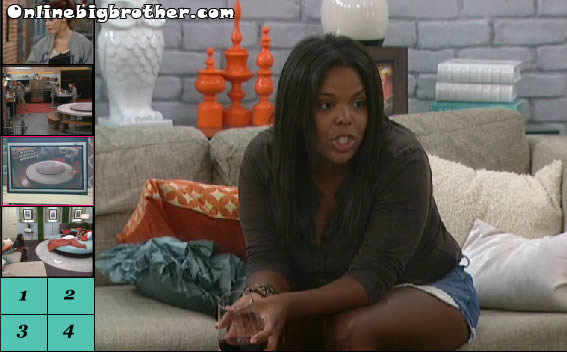 10:03pm HOH Dani and Kalia They talk about Lawon siting around them always starting at them. Dani says Lawon came up to her and said he really wants to play for POV and win it he wants to prove himself to the alliance. They laugh, Dani: "He said The Alliance"
Kalia says that she never thought that she would be the hated girl in the house, "I'm actual more hated than you" Dani :"Hey wait" they start to laugh.
Kalia starts hating on rachel a bit "you're such a little whiny BLANK.. it's really easy to play this game when all the shit is in your favor.. but once it's not your a wreck"
Jeff gets called into the DR
Kalia: "I swear if Jeff some weird power and uses it i'll go insane"
Dani: "in a period of 6 hours he's been in the DR 8 times"
Kalia: "he must be really good in the DR"
Dani: "I think he'll have a lot to talk about seeing all went on this week"
They go over what the house will be like after the POV.
Brendon and Racehl will cry and be BLANKy
Jrodan and JEff will be cuddle buddies and just lie low
Lawon is going to be creeping around us
ADam will be the joker
Porsche will just be with Rachel comforting her.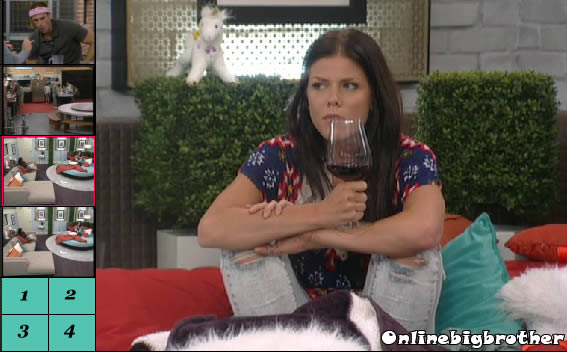 Kalia isn't sure about the selection of the cast, she wonders why nobody stick ups for themselves it's like they are all scared to go against the power couples.. Dani thinks the player all have strong personalities.. Dani: "In less than a week they'll have a 1/2 way party". At the 1/2 way mark things start to change and everyone starts to play.. "Seriously that's when it gets going.. Some people get super douchebags"
Kalia is getting pissed about everyone downstairs being sad for rachel because of all the moaning and BLANKing she's been doing, "Ohh poor Rachel my fiancee is getting evicted from the house"
Dani tells her she needs to calm down about rachel it's going to affect her game. Kalia says it's not, dani thinks if it's doing this to her then it is affecting her. Dani: "Rachel is going to get much much worse"
Kalia: "nobody feels sorry for me"
Dani: "well obviously you peed in the Jacuzzi "
Kalia says she never peed in the Jacuzzi it was just a joke..
Kalia asks if she feels this will be a up hill battle because they are really 2 against many. Dani says this entire game is a uphill battle it'll never be easy. Dani says there's a lot of people out there that think they know this game but they don't… the Adams and Ronnies never do well in here.
10:33pm Kitchen Everyone milling around making food Lawon is wear some awesomeness and is being ignored by the other houseguests. Shelly is really cracking the jokes lef tand right, "If it looks like a duck and it sounds like a duck it's jeff farting". Shelly has really changed.. she's out shining Lawon is his get up and Adam dressed as a elf.
10:47pm LIving Room Jeff, Jordan and Kalia talking about their teeth.. Jeff and Jordan starts singing a tooth brush song from the movie grease.
11:09pm Kitchen Rachel and Porsche Por is advising that rachel should start campaigning on Shelly incase she wins the POV. rachel doesn't think it's a good idea because even if the POV is used then neither Brendon or rachel can beat Jeff or Jordan, "None of those people are going to vote for us to stay".
11:15pm Purple Room Brendon and Rachel Brendon says dani thinks she's the girl who knows the most about big brother and she's "Made the stupidest move in Big Brother History" (Last time I checked she was the HOH and you're nominated)
Rachel: "I Thinks Porsche is a strong competitor" (WHY?) Brendon: "Good stick with her". Rachel is worried that JJ are going to turn their backs on Rachel because they have Lawon and Shelly. rachel:"Maybe I can get Adam" Brendon: "If Jeff and JOrdan turn their backs on you thats BLANKed up" Brendon says he's going to talk to Jordan after the veto make sure he stick with the plan of RJJ to the end.
11:25pm Purple Room Brendon is telling Shelly and Jeff that he wants them all to take out Dani when he's gone. HE's worried that she's talking to people right now getting in their heads and cutting deals. Brendon: "All Dani wants to do is to split up Rachel and me … she's biter because We sent out Dom.. it's her nasty way to get back to us".. "If I win POV i'm taking Rachel off the block"
Jeff: "Then I go up beside you bro.. we gotta relax right now and just focus on the POV tomorrow once that is over then we take about options"
Shelly doesn't want Brendon to make a decision based on emotions she thinks he should make a logical decision. she asks him who he thinks will be able to win the 1/2 mil.. Brendon thinks thay have equal chances.
Jeff: "I don't want to talk about it until after the POV because if one of you 2 win I go up.. So right now we have to deal with what is at hand". Brendon does not want Dani to get into anyones head he's worried that Rachel will be left alone and he doesn't think that is fair. Jeff: "The best thing to do now is be cordial we played the BLANK you.. your mothers a BLANK card and that did nothing for us"
Jeff explains to him he needs to cool down theres no reason for him to run around causing a ruckus Jeff can't deal with it anymore these last 2 days have been hell for him he dreams about BB he can't sleep. Jeff: "I would rather just accept my fate and fight when I have to fight and not sit here and go bananas".(This is the old jeff coming back.. One thing i'll say about Jeff is when he's down on his luck he takes it. On the other hand when Jeff is winning he's a dbag) Brendon: "Her nominations were personal not strategic just peronsal… it was stupid" Jeff: "What did you think about big Jeff getting backdoored" Brendon: "thats why we stood up for you". Jeff: "I know I'm just saying". Brendion: "She's gotta go anyone who thinks she's to stay is going to get backstabbed. Jeff: "You gotta stick around and lead the charge man" (Jeff and shelly want Brendon to stay and Rachel to go) Brnedon: "I want to stay and run through these people and kick Kalia out the door". Jeff leaves.. Brendon begs Shelly to protect Rachel. Brendon doesn't think Jeff will honor their alliance and stick with rachel to take out Dani. He's getting a bit pissed about it. Him and rachel went to bat for JJ and now he feels that hey are turning their backs on them. Shelly says she's she'll help rachel as best she can.
Jeff comes back
brendon says that he doesn't like seeing people being nice to Dani and comfortable around her becuase he knows what kind of person she is and she's getting in their heads. Jeff tells him to relax they know what happened and they know the number there not "BOZO BUCKETS "
11:49pm Living room Kalia, Lawon, Dani and Jordan Their talking about booze. Jordan: "I don't drink dark liquor cause I get MEAN"
(dani is "getting" into everyone's head yo Brendon watch out .. lol )
Updated
Jordan leaves… Kalia tells Dani and Lawon that Jeff, BRendon and Shelly were in the Purple room making a deal that when Brendon is gone they will stick together.
12:08pm Living room Kalia, Lawon and dani
kalia and Dani are discussing if Shelly would use the POV. Dani doesn't think so because that will make Jeff and Jordan pissed at her. Lawon asks them if he gets picked should he win POV, dani: "Ummm Ya"
Kalia says that JJ are doing a good job of mingling around with people. Dani agrees that they are she says that's JJ's strength compared to BR who linger around and be angry. Kalia is wondering if maybe they should talk to Shelly see if she's going to try for the veto. Dani doesn't want to talk game With Shelly right now she doesn't trust her. kalia: "As soon as the nomination ceremony is done she's super duper chatting it up.. I have my eye on her" Dani: "Oh for sure… "
Team Bacon entertains them in his elf costume.
12:25AM LAwon and Kalia, Dani (Lawon is kinda there but not he just gazes into space close enough that he can hear what dani and Kalia are saying bit far enough away so he doesn't appear "with them" it's pretty funny Kalia and Dani hate it) Dani tells Kalia that she really needs to work Porsche this week. She tried to talk to her early today but production was yelling at her to go in for nominations.
12:28AM ElF man all CAMS YO
12:35pm Pranks on rachel giving her a scare
Share it YO!!
Tweet