POV Holder:
Next POV:
Aug 18 (Saturday)
POV Used
POV Ceremony
Aug 20 (Monday)
HOH Winner:
Shane
Next HOH:
Aug 13 (Thursday)
Original Nominations:
Boogie and Frank
Current Nominations:
Have Nots
No Have Nots This Week
Last Evicted Houseguest
Wil
HOH temptations
Britney Safe this week, Boogie gets 10grand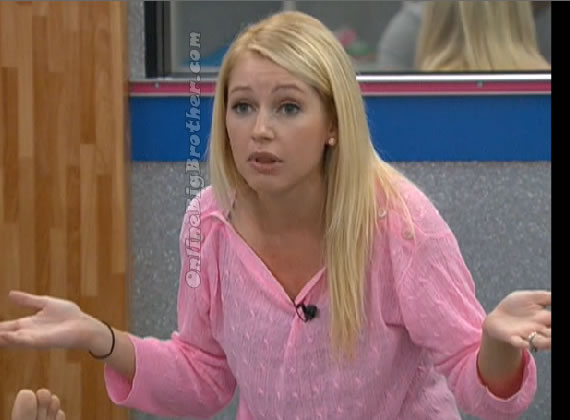 7:55pm cam 1-2 Britney and Boogie Watch with FlashBack FREE TRIAL!
Britney telling him that she did hear Boogie and Frank are coming after her and Shane.
Boogie: "Who are you talking to britney.. you made the big moves sweetheart.. one of us are staying honey and guess who we're coming after"
Frank: "Last week I could have put you up and I didn't "
Britney" I did hear you were coming after me that is all.. I do not have some power of Shane.. I'm not sitting upstairs in my thrown controlling everyone"
Boogie: "Was Dan and Danielle in on this decision"
Britney says no.. This wasn't my HOH I never put the keys in the box.
Britney looks at Boogie: "you didn't say make a big move that you are not going to like to Boogie: "NO"
Britney: "C'mon"
Frank: "We thought about Dan but it was only a thought.. I thought last week's HOH was proof enough for you.. Why not talk to us about it.. everything we've said we were going to do we've done"
Britney: "I heard from a very reliable source that Boogie wanted Britney and Shane up and Frank almost did it. Britney goes over and over that is all she said to Shane and now she's getting all the blame. Britney laughs says she's being grossly overestimated by them.. She's not this big time Big Brother mastermind.
Britney: "Did you guys try to get Shane to put me on the block this week"
Boogie: "We mentioned it"
Frank: "That is when we thought you were behind it all"
Britney: "I'm safe this week"
Frank: "Ohh right we forgot about that"
8:22pm Cam 1-2 Britney, Boogie, Frank
Britney: "I'm not going to go down for this.. I'm not taking all the heat .. I'm not the only one in Shanes ear"
Boogie warns about Dan he's starting to think that perhaps Dan is up to something in the house. Boogie adds that Dan has hands down the best social game in the house there is no way they are going to get the votes to take Dan out. Boogie thinks that Dan is going to do it again this year. Boogie: "Do you want to go after Dan with the castaways or with Frank and Boogie on your side"
Frank mentions how Dna is always talking about having a Memphis in this game.
Frank: "I told you last week about him.. we should have nominated him"
Boogie: "You're right I should have listened to you.. My mistake.. Kudos"
Boogie: "One of us Three are going to win this thing.. unless it's who can spray tan the fastest this Moth**F**** is ours" Boogie is hinting that Dan is a viable choice. Boogie reminds them that Dan is a dangerous mofo and he's going to win it again.
Boogie is glad they found out about Dan now..
8:32pm Cam 1-2 Frank and Boogie
They are 100% unto Dan. Boogie is SUPER pissed about it Wishes he would have listened to Frank last week. Boogie doesn't even know if he can bullshit with Dan anymore. Boogie points out that it was Dan that got them nominated not Britney not Shane.
Boogie: "I'm just going to act indifferent.. I am ready to go to war with him".. Frank and Boogie both think they can swing Shane and Britney and get Dan Backdoored.. (I like their optimism) Frank says if they confront Dan they won't get anything out of him that will make him look in a bad light. Boogie agrees says that everyone on that side does not like confrontations.
8:37pm Arcade Room Britney and Danielle
Britney is VEry upset with Shane
Britney explains to Danielle that Shane has totally screwed her in the game she just spent the last hour in a room with Frank and Boogie getting verbally beaten because Shane doesn't have the balls to take the blame for his HOH.
Britney: "this is the second time he's thrown me under the bus"
Britney: "I'm going to get evicted because Shane cannot handle the heat.. you know what he can't evict me this week so way.. i'm done with it he can't be a man and say this is my idea.. I'm done helping him out"
Danielle says when Janelle came after her during her HOH she said it was her decision to put janelle up none of it was Dan. You didn't see her passing the blame on Britney or Dan.
Britney: "You know what we were saying last week that Shane was a liability"
Danielle: "Ya"
Britney: "I'm over it.. I quit my job left my husband for what because Shane can't take the heat and stick up to boogie and frank
Danielle cannot believe Shane went and did that. Britney: "He can't man up and take responsibility for it.. he doesn't want the blood on his hands"
Danielle: 'Then why didn't he throw the HOH to me.. I would have put Boogie and Frank up with none of this Bullshit"
8:47pm Arcade Shane and Britney
Britney: "I'll try and make it short and sweet shane.. YOu threw me under the bus so bad I am now 100% at fault for putting boogie and Frank up .. I just had a verbal beat down with 2 grown men"
Britney: "Why didn't you say it was your decision"
Shane: 'I'm not taking all the blame for this one"
Shane why is it always left for me to win the HOH's and take these players out. Britney tells him that she the only person that has had his back since day one.. he has a guaranteed jury vote with her and what did he do throw her under the bus to Boogie and Frank 2 people who they are trying to get out this week. Shane apologizes says that he doesn't know how to play the social game. He plans on confronting Frank and Boogie and tell them it was all his idea and that Britney had nothing to do with it. Britney doesn't want him to do that, She feels like that will only make matters worse.
Shane says he never blamed it on Britney that Boogie and Frank are exaggerating things. Britney doesn't care what was really said the bottom line is Frank and Boogie are pissed at her because you said I influenced your decision to put them up. Britney: "You have done this to me before Shane.. I learnt last week that you were telling them I was the reason Frank went up as a replacement nominations"
Shane: "Why do I have to Win the competitions"
Britney: "Did I tell you to win that HOH.. apparently i'm in control of you influencing your every move"
Shane gets a bit defensive.. says he just did 100% what everyone wanted him to now the sh!t storm comes from his own team. Britney tells him that she's not good at this game. Dan and Boogie have already won it why is everyone becoming threaten by her. This was all their decisions.
Britney says she's done with talking with him.. She's not giving anymore advice to Frank. She didn't leave her life to thrown under the bus by her closest ally. Britney says that Shane is protecting Dan and Dan does not have his best interests in mind. Britney: 'Look Shane Dan is taking Danielle to the end don't think he wants to take you.. "
Danielle telling him that Shane blamed the entire nomination on Britney and she's pissed beyond belief.
Dan: "Did he mention us"
Danielle: "No he kept us out of it.. Shane has thrown Britney under the bus twice"
Dan: "That is not good for us"
Danielle: "I know"
Dan: "You think she threw us under the bus"
Danielle: "No.. she's not like that"
Daneille leaves and Frank comes in.. Dan asks him if everythign is cool. Frank says it is they know someone is betraying them. Dan: "you know who it is?"
Frank: "No"
Dan: "You don't think it's me do you
Frank: "No"
Frank leaves..
Dan looks at the camera.. "Sucker"
9:00pm Dan and Danielle Bedroom
Dan reading the Bible: "Ian could get pinched now"
Danielle: "just because Shane cannot man up"
Dan: "They are going to cause a lot of trouble before they go.. we just gotta hold everyone together" (talking about Chilltown)
Danielle says she trusts Britney way more than Shane.. She points out that Shane will not stand up to people. She knows Britney says mean things that she doesn't mean and is super negative but Danielle know in her heart that they can rely on Britney till the end.
Dan says what shane did was a bad game move for them but it pushed the bulls eye off his back So in essence it was a OK move for Shane. Dan: "He burnt a bridge between him and Britney that may never be repaired.. that the problem with what he did"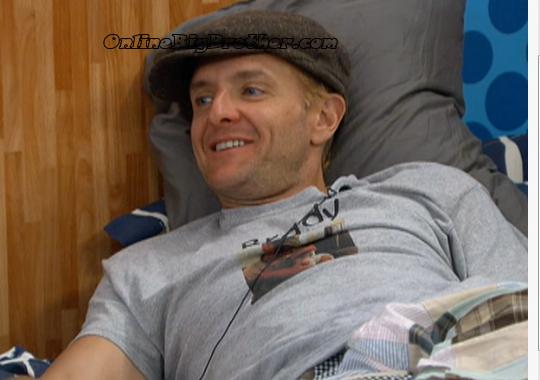 9:40pm Cam 1-2 Frank and Boogie
Going on 100% war with Dan. Frank is going to tell Danielle, Shane and Britney about Dan's and their Final 3 deal. Boogie thinks they need to hold out for a bit and try other means of persuasion before they unleash the big guns. Boogie: "This guy has no idea who he's dealing with" Boogie has had it with Dan they both call him the muppet say he talks like a used car salesman. Boogie points out that Dan's big plan might be to get rid of Frank and pull Boogie in to work with. Boogie laughs says if that greasy muppet thinks I will work with him he's got another thing coming.. Boogie will sabotage his game to get Dan out of the house. It's not going to be easy to show the other players just what type of player Dan is. Frank: "wouldn't be be the greatest if we can get get Dan Backdoored"
Frank points out how it was very noticeable that Britney was downplaying her involvement but she was also trying to protect Dan. Boogie thinks that Dan is the one behind most of this and Dan is hoping that Shane and Britney take out the big players so him and Danielle can take out the castaways later in the game.
Boogie doesn't like Dan's game he thinks it's slimy and not very elegant. Boogie is ready to draw a line in the sand right now. Boogie: 'There is a 90% chance one of us 3 will win the POV.. it's not over yet"
Frank gets up to leave.. opens the door Blows a Giant Fart…Frank says tonight when he's sleeping with Dan he's going to point his butt near him and fart all night. Boogie laughs. asks what they are all doing outside in the kitchen. Frank: 'It's the worst thing in the world.. Joe's cooking show… oh and Dan is right up there all excited" Boogie: 'Last night he was slamming joe's cooking" Frank: "Sneaky of a bitch"
Mike lays out a plan for them.. Frank needs to work Ashley hard. Once the POV results are in they will go to Shane and launch their plan with him. Up until then they should keep their cool with Dan no need to have him work overtime right now.
Share it YO!!
Tweet