POV Holder:
Next POV:
Aug 18 (Saturday)
POV Used
POV Ceremony
Aug 20 (Monday)
HOH Winner:
Shane
Next HOH:
Aug 13 (Thursday)
Original Nominations:
Boogie and Frank
Current Nominations:
Have Nots
No Have Nots This Week
Last Evicted Houseguest
Wil
HOH temptations
Britney Safe this week, Boogie gets 10grand
7:09pm Boogie and Frank Watch with FlashBack FREE TRIAL!
Shane says he was misguided by someone in the house he got confused and didn't know what to do. All he was hearing from everyone in the house was "You can't trust frank you can't trust boogie" Boogie asks if POV is played: "Are you up to stick with the plan or is this Disco Wars" Shane: "no we can talk" Boogie: "If I knew you were considering this I wouldn't have gone for the 10 grand whats that after taxes"
Boogie says about Britney that she doesn't give a f**k about Shane she's going to use him she's going to ride your back to the end" Shane says Britney put things in his mind and he still really trusts her because she his coach.
Frank and Boogie Nominated
(Frank is really pissed and he shows it.. Boogie is keep his cool.. Shane blames the nominations on Britney)
Shane thought this was going to be a lot worse he thanks them for being cool. Boogie reminds him that the thing about putting a duo up is one of them stays. Boogie isn't mad he knows if they stay this week they still can work with Shane.
Shane: "I don't want to blame… It's ultimately my decision… I never watched this show before I have no idea about I'm doing"
Boogie really stresses that Britney is using Shane. Frank chimes in says Britney doesn't care about him. Boogie tells him over and over that Britney is bad and is lying to him.
Frank assumes that Dan is also one of the people who is telling him to put them up.
Shane: "Dan did not come to me directly he could have influenced Britney's decision though"
Shane: "all in all It was accumulation of things from people mostly Britney.. and in the end it was my decision to make"
Boogie: "She wants you to do all the dirty work"
Boogie says that he should have gone for the safety or HOH last night he would of won it. Frank explains why he thinks Britney went for the Safety "She wants you (shane) to take one of us out then she can play for the HOH next week and take the other one out" (thats the plan I think)
The entire time Shane just nods.. "Ya ya.. Ya ya.. oh ya.. thats it… thats it.. ya… ya… thats it.. sure OK… yeah"
Boogie and Frank tell Shane is not too late to turn things around he has a good chance to win the POV take one of the down. Boogie: "Joe has nothing to offer you"
Frank is now telling him he should pop britney up if the POV is played, "we have the votes we'll send her home". Shane: "Oh ya maybe.. it's not in my benefit to keep her here she's clouding my judgment"
Boogie now trying to use the brigade angle on him saying that the 3 of them can go to the end and take Britney out like during Big Brother 12.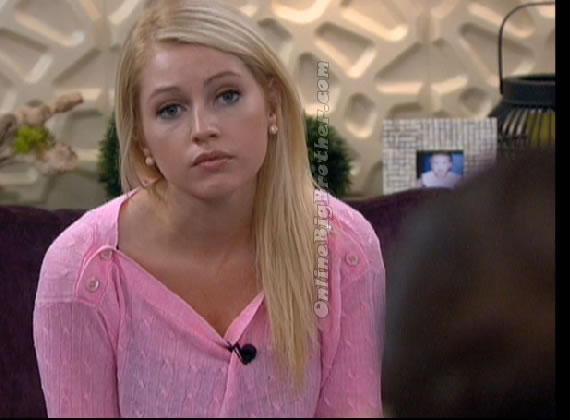 7:41pm Cam 3-4 Shane and Britney
Briney: "Why are you upset?"
Shane: "I wanted to get to you before they did.. I didn't entirely blame it on you but I told them you made me realize the best move for him"
Shane mentions that Frank is onto Dan they think he's the one that influenced his nominations.
Shane: 'I want to tell you exactly what they said incase its us and them in a room.. " Shane rattles off a couple things that were discussed with Chilltown. They offered him a deal if he uses the POV.. they said Britney is using him.. if one of them go home the surviving player will be targeting him..
Britney: "Did you get any clues about what is going on"
Shane: "No:"
Shane says they want him to put Britney up if the Power of Veto gets played.
Britney: "You can't put me up?"
Shane says they were all over him saying that Britney is using him, he's going to do all Britney's dirty work and he's Britney's meat shield she's going to rid hip to the end.. "I'm sticking to my guns Brit"
Britney is getting pretty upset to find out Shane is insinuating that putting Boogie and Frank up was her idea. Britney: "For you to act like this was a little bit my fault.. and all I was ever trying to do was help you .. I don't understand why you threw me under the bus.. you said I had a influence in your decision that makes me a HUGE target.. "
Shane: "I'm a much bigger target and so is Dan.. I told them I was the one who had the ultimate decision"
Britney says she 100% understands what he did.. the blood is on his hands and the blame looks like it' on hers.. "I'm still upset but I understand"
Shane: "I'm going down there tomorrow telling them 'game on' all the blood is on my hands I'm going after them"
Britney: "Nooo"
Shane: 'It's like the boogie mist they make it sound like I should work with them.. my intentions are to go to the end with Dan, Danielle, Britney.. and if that means i'm the biggest target out of use then so be it"
Britney reminds him the Frank and Boogie will be nice until Veto then they will play the PISSED card. Britney says that Jenn is trying to get a all girls alliance put together so if Jenn ends up winning a HOH they can try and influence them.. Brintey says that all week now Boogie and Frank will be calling her names downstairs.
Britney tells him if Frank leaves this week then Boogie will probably give up but if Frank is the one that stays he's going to try and rally people and come after them.
7:50pm Cam 3-4 Danielle and Shane
Danielle asks him if everything is OK Shane explains that he told Boogs and frank a lot of people were in the house telling him that he's the target and that Britney was a vocal proponent of that.
Shane knows that BRitney is a bit pissed but they all need to take some of the heat for these nominations because it's helping them all out.
Danielle brings up the girls alliance that Jenn is pitching. Kenn wants to target Frank.
Shane tells her that Boogie and Dan are not after Danielle in any way he was able to keep their names out of it. Shane warns that Frank is very suspicious of Dan though.
Danielle mentions that the Veto is going to be huge they have been building it all day. Danielle smells food and they go down for dinner.
Share it YO!!
Tweet