POV Holder:
Frank
Next POV:
Aug 18 (Saturday)
POV Used
POV Ceremony
Aug 20 (Monday)
HOH Winner:
Shane
Next HOH:
Aug 13 (Thursday)
Original Nominations:
Boogie and Frank
Current Nominations:
Have Nots
No Have Nots This Week
Last Evicted Houseguest
Wil
HOH temptations
Britney Safe this week, Boogie gets 10grand
1:05pm
Boogie and Shane are up in the HOH room talking. Boogie tells Shane that clearly he is going to be talking to him about putting up Dan or at the very least Joe. The level of Joe's a$$ kissing is insane. Boogie says that he understand how hard this decision is for Shane because you don't know the game or Dan. If I was in here seeing Dan being nice, reading the bible, and being social I would think the same thing. Boogie says that Dan is doing the same thing this season that he did that season as he is now. Boogie explains how Dan is very social and gets to know people whereas others just want to talk about themselves. Boogie explains Dan and how he was during his season and how he is doing the same thing with Danielle this season. Boogie says that if I am on the jury I am not voting for someone like Jenn in the end, I am voting for someone that has made the most moves and has won competitions. Boogies says that he is not happy with Ian or Jenn and that he is telling them that they need to go to work for him. He says that Ian would not be here if it wasn't for me. Boogie says that he wants to work with Shane and that if I am gone your exposure gets that much higher and you are the next target. The obvious target is getting out the two big targets, but where does that leave you, you are next. Boogie talks about what character traits he has and how Shane will always know where he is at. They talk about how un-athletic Dan is in the competitions and how they think he is throwing them. Shane talks about how it showed him a lot when they had that conversation between him, Frank, Boogie and Britney after the nominations. Shane says that Dan is a nice guy and he is using that to his advantage. Boogie brings up how he was invited to Dan's wedding and bachelor party and he did this to me. Frank and I can be a lot more valuable to you.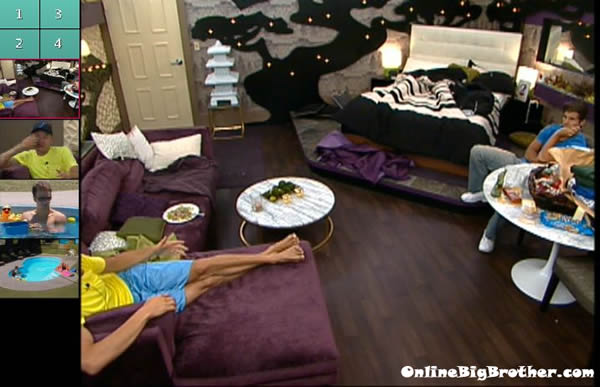 1:25pm Shane says that Dan was the cancer that broke up the silent 6 and maybe we can grab Britney and keep it the silent 5. Shane says that is where my head is at. Boogie says stay there, stay there, stay in that mindset. Boogie talks about a lot of people say that I don't need this, but I have closed several restaurants in the last year and a half. So don't discard me thinking I don't need it. We don't need to make a final 3, but let's go a little further. There are several people that need to go before that, next week two people are leaving and we need to prepare for that. Boogie says even if you want to stay with Danielle we can make a deal to work with her as well, I don't consider her a floater at all. Shane says yeah me, Frank and Danielle have won all the competitions. Boogie says yeah look at me I haven't even won one yet. Boogie tells Frank that did everything he said he was going to do when he was in power so you know you can trust us. They end their conversation and Boogie heads down stairs.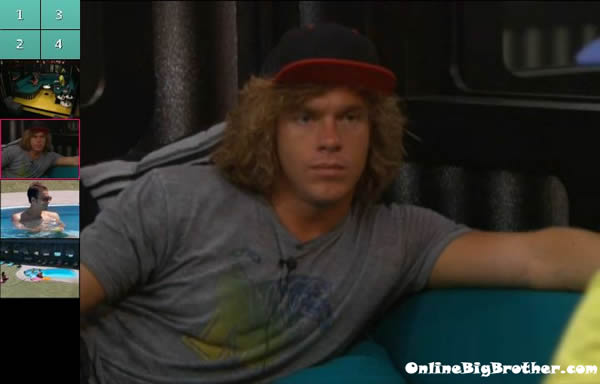 1:40am Boogie heads into the arcade room and tells Frank about the conversation he had with Shane. He says that it went really well and that he is thinking about it. Boogie says that Shane had talk about cutting out the cancer. Frank talks about going up in 45 minutes and bringing up some of the same things to push him over the edge. Boogie comments on how Shane was interjecting and bringing up moments from the other night when Dan was sitting there silent. Boogie continues to rehash his conversation with Shane and how he talked about how Dan was in his season. Frank says that Shane is so susceptible to these these types of conversations. Boogie says that he hit two keep points, Frank won't dare put you up and that he knows Shane sees right through Joe being a kiss a$$. Frank says what he loves is that Dan is out there in the pool and he knows we are in here with Shane.
1:41pm – 1:50pm Boogie says that he is going to blow Franks mind with this and that he can't believe he didn't tell Shane this, Joe brought Ashley in the storage room and told Ashley that veto is going to be yours, Mike and Frank were cheating and that he then went into the diary room and told the producers. Big Brother cuts the feeds. Frank asks who did they tell they were going to bring the feeds up of? Big Brother cuts the feeds to the back yard. The feeds switch back and Boogie is talking about how much he hates Joe and wants to have a confrontation with him just so he doesn't have to talk to him any more. Frank says or cook us any more food, shut that fu*k up! Frank says that Joe is trying to get me disqualified! Boogie says if that rift occurs then it also makes Britney and Shane more comfortable because now these guys have two more enemies. Boogie says that Frank doesn't have to say where you heard it from because it would make sense that it would come up in the back. Frank says yeah. Boogie says that Ian is such a d*ck rider on Dan, like he will ever speak to him again. Frank says that he honestly thinks Ian has their back.
FLASHBACK and hear for yourself:
FREE for 3 Days, then ONLY $14.99 per month!
Flashback: August 19th, 1:41pm Camera 1 & 2
FLASHBACK: August 18th, 12:06pm camera 3 & 4 Frank talks about putting his hand back in the POV bag and palming the chip.
2pm Frank and Boogie head out into the backyard and start hating on Ian and Joe. They talk about how Ian won't shut up, he is either rocking in the hammock or talking. Frank says that he would like to have a conversation with Dan and just get him to admit that he prematurely made the move to get me out. Frank says if Boogie goes out and then I do I am going to be in the jury making sure you don't win. Frank says fu*king Joe I want to bust him out on throwing Ian under the bus and for trying to get me DQ'd (disqualified). Frank says yeah he is trying to end your dream. You could even tell him that he just moved up to number one on my list. Frank says yeah I will put him up every week until he goes out. Boogie says Shane won't like that Joe did that either ya know. Boogie says you could just lean back and be like yeah right on… Big Brother switches the feeds to the pool.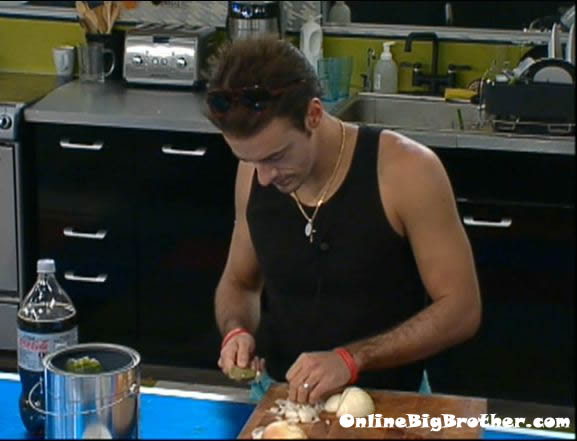 2:05pm – 2:20pm Frank asks as a game perspective do you think you might have moved too fast. Dan says that there are a lot of assumptions that people have made but that is about all I am going to say about that. I like you as a friend though, this is just a game. Frank heads off to the bedrooms and tells Dan that he will have a hard time getting votes in the jury if he is in there. Dan yells back, yeah likewise! Frank comes back and asks you miss those days jamming out to Jenn night city. Frank heads out into the backyard, Mike asks what did you just do? Frank says that he was just busting Dan's balls. Frank relays the conversation he just had with Dan in the kitchen. Frank says that he isn't going to push it too hard, but that he wants Dan to feel some heat. Frank says that he isn't worried about Dan tainting votes in the jury, what is he going to tell them, I did what I said I was going to do?! Boogie says he ain't going to get there. Boogie says that he won't even walk Dan to the door he will just sit in the other nomination chair with a big smile. Frank says that he will say I ain't to worried about the jury now, deuces!
Britney and Danielle are in the bathroom talking. Danielle talks about how she was in the bathroom when Boogie came up to her and told her that if and when Dan goes up on the block that he isn't coming after her and that he hopes they can work with her. Danielle says that he seems so sure Dan is going up. Britney says that is why she wants to go talk to Shane right now. Danielle says that Boogie and Frank are acting like they are going to stay.
2:35pm – 2:45pm Britney goes up to talk to Shane. Shane says that Boogie was just up here saying that his fate is in his hands. He says that Dan was the cancer in the final 6 and needs to go. Britney says what a joke. Shane says that he was then pushing to put up Joe if I won't put up Dan. Shane rehashes his conversation with Boogie and how he tried to tells Shane about how Dan played before. Shane says but that fact is that Dan is with us. Britney says Dan is good at this game and he is a schemer but he is with us and that he has no option but to work with us. Britney says that she told Boogie that she didn't want to talk about it and that she wouldn't make her decision till later in the week. Shane says obviously you know what I am going to do and that there is no question about what I am going to do. Shane says that he is going to put up Jenn as the replacement nominee. Shane comments on how Ashley, Ian and Jenn haven't come to talk to him and asks don't they realize they could be put up. Britney tells Shane to tell Jenn that she is a vote for Boogie and he needs to secure the votes. Shane says no more duo diary room and sh*t like that! Shane talks about how Boogie even threw Ian and Jenn under the bus saying they are worthless to him and they haven't done anything for him. Shane says Boogie said don't think I don't need the money because I am not as well off as people think I am. Britney says yeah you got rid of your Bentley because you had your kid not because you couldn't afford the $7000 a month payment. Shane comments on how Joe is with us just because we are in power, and as soon as they are in power he will run to them. Shane says that he can't wait to find out what Jenn has to offer.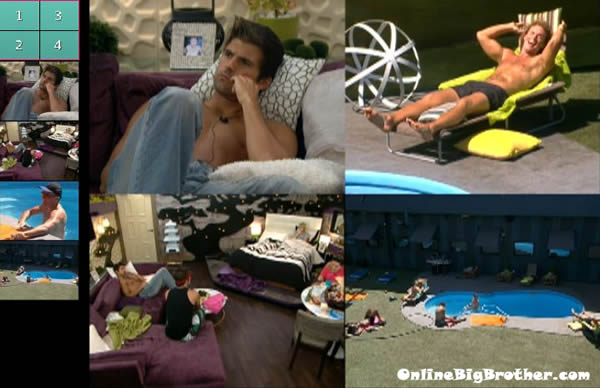 2:50pm – 3pm Shane says that he tried to get Frank out before and he blew it. Britney says that he is going to win this game. Shane says that even if we put him up again he will just win the POV again. Britney says this is Frank's house and we have no chance to win. Shane and Britney talk about Danielle still acting jealous with Shane. Shane says that if he brings up Danielle Donato, Danielle gives him a dirty look. He says that he doesn't want Danielle spending the night up here either because he doesn't want people thinking we are together. They talk about how they don't want a floater to win this thing. Britney says that is what is going to happen if these two sides keep going at each other. Danielle and Dan come up. Dan talks about what Frank said to him in the kitchen about not getting jury votes. Dan says that he was disappointed in how he (Dan) responded and wished he just hadn't said anything at all.
Re-Watch ALL THE DRAMA on FlashBack: Big Brother 14 Live Feeds – 3 Day Trial!
Share it YO!!
Tweet