POV Holder:
Kevin
Next POV
May 1st
POV Used
No
POV Ceremony
May 3rd
HOH Winner
Kevin
Next HOH
May 6th
Nominations:
Bobby and Brittnee
Have Nots
Zach, Bobby, Willow (Season slop pass)
POV Players
Kevin, Bobby, Ashleigh, Brittnee, Sarah, Pili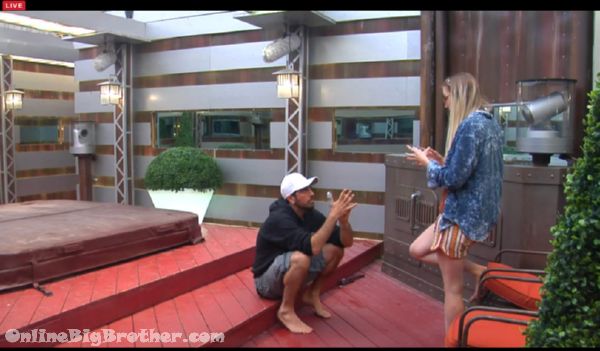 7:53pm Hot Tub Sarah and Bruno
Bruno says Brittnee and Bobby are two people that he trusts that is why this situation is so horrible for him.
bruno and Sarah acknowledge that Bobby is to Bruni like Brittnee is to Sarah.
Bruno – Going forward I don't have Bobby
Sarah – you got me
Bruno – you think willow is still good
Sarha – she has a choice we don't.. she'll ride the middle
Sarah says if it was her she couldn't play the middle like Willow because it enrages her so much
Bobby joins them Sarah says the couples are telling Willow that Bruno is throwing her name under the bus
Sarah says Willow thinks Zach and Ashleigh will use Willow to take out Kevin.
Ashleigh and Willow join them.
The guys leave but Bobby stays back to listen in on their conversation…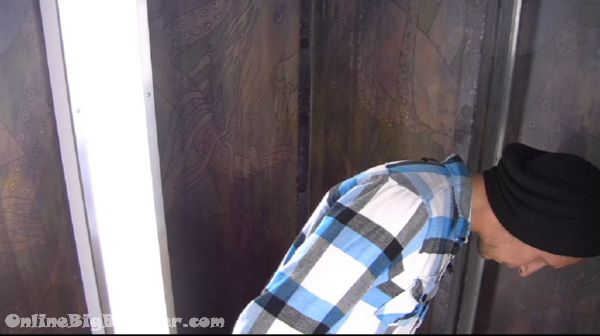 7:55pm AShleigh, Willow and Sarah hot tub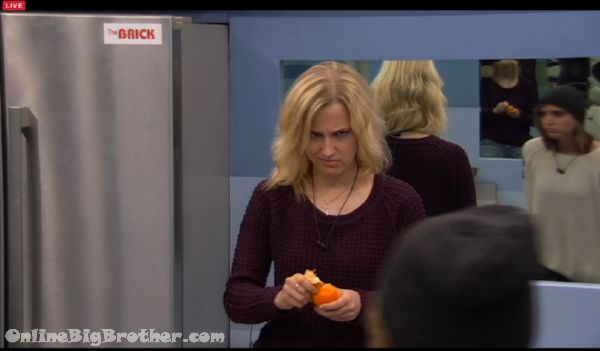 8:03pm Storage room AShleigh and Willow
Willow saying that Brittnee went up to Kevin told him to put Willow up "She can win comps" Willow claims she's fighting with Sarah right now they can't stand each other.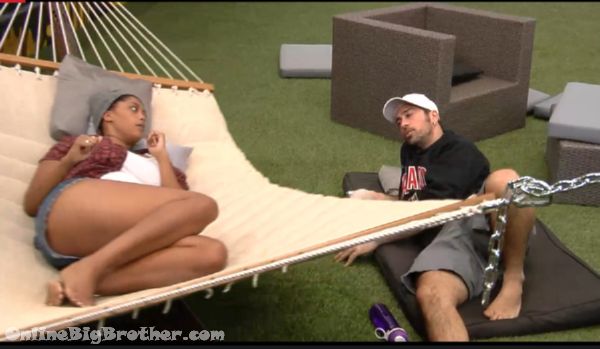 8:06pm Hammock Brittnee and Bruno
Bruno is trying to smooth things over with Brittnee.
Brittnee – I trust you as long as you say I'm campaigning for Bobby
Bruno – I wanted him to say but I'm not campaigning
Brittnee – Don't tell me you're not doing it when you're doing it I'm not a idiot.. I do trust trust you.
Bruno says now that Bobby is going who's got his back
Brittne – we do
Bruno says he'll vote to keep Brittnee this week, "When I said I won't write your name down I met it"
Bruno – Bobby is gone after this week I don't have my guy anymore..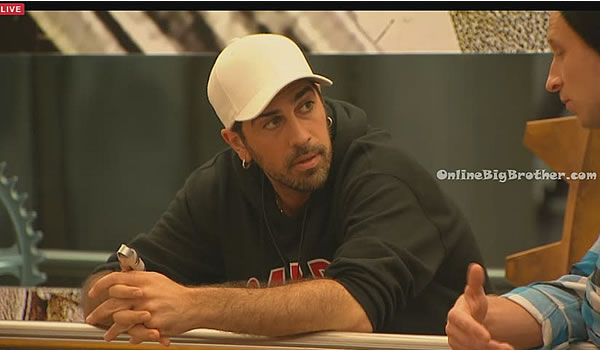 8:13pm Bobby and Bruno
Bobby was listening in on Sarah, Willow and AShleigh and they said "We stopped the chop shop.. I don't know how to take that AShleigh willow and Sarah.. does that not tell you there is a all girls alliance."
Bruno knows the girls are in an alliance together.
Bruno adds that they're screwed if Zach/Kevin go and they're screwed if they get rid of Ashleigh, If they get rid of Sarah they're f***d
Bruno thinks they should talk to Zach. Bobby wonders if he knows.
Bruno – Tell him you went to the hot tub and heard them
Bruno says Sarah wants it to be
Bruno – We're f***D bro… I'm telling you I don't trust Sarah as far as I can throw her..
Bruno says he doesn't trust Sarah but he's going to play the part that he does.
Bruno says 100% the guys are coming for them, "Sarah is all about Girl power" .
Bobby – I'm going this week but maybe I can help you out next week.. If Zach realizes that Sarah and Willow held up telling him about my thing (Secret Veto)
Bruno – then he'll know you told me
Bobby – but aren't you going up anyways.
Bruno – ya that's not 100% we just gotta chill.. Zach needs to know that Ashleigh is with the girls.. we have to make a move man.
Bruno decides he's going to go further being with the girls. Bruno agrees says he's screwed either way but he's going to target the guys (Kevin/Zach)
Bobby isn't sure if AShleigh is playing Zach. bruno thinks she is, "She knows flat out if they go after the showmances Zach is going home.. it's a bulletproof vest bud.."
Bruno – once Zach is gone Ashleigh is going with the girls and picking us off one by one..
8:16pm Backyard Godfrey, Sarah and Brittnee
Godfrey says he's surprised about Bobby's veto he never heard it was fake. Bobby lied to him about the Veto and the Chop Shop.
Godfrey tells them he's voting to keep Brittnee.
Godfrey – From the start I trust you guys more..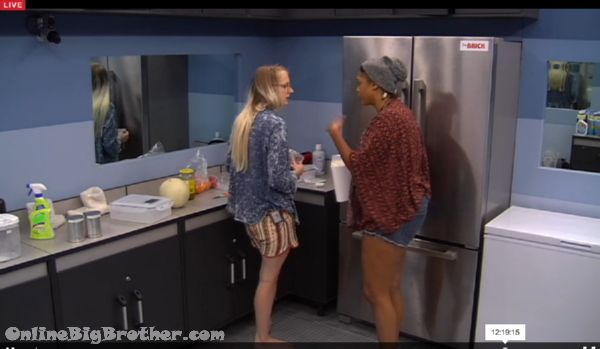 8:28pm Storage room Brittnee and Sarah
Debriefing about their talk with Bruno
They get why Bruno is trying to save Bobby just wish he would admit it.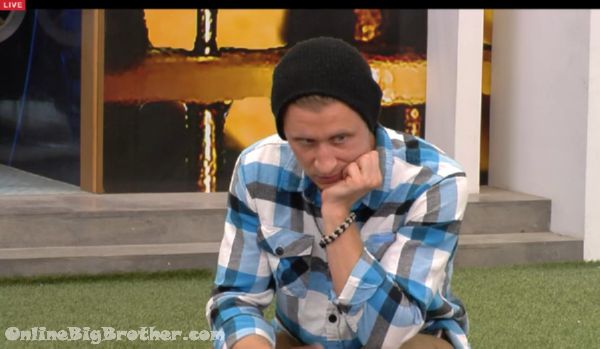 8:44pm Bruno, Godfrey and Bobby
Bruno – if me Zach and Kevin can legitimately get together..
Bruno says they will never do it because him and God are their biggest threat.
Bobby – No matter what I'm going
Godfrey says Zach isn't' coming onboard he's coming after them for sure.
Bruno – Zach is in onto getting us out
Bobby thinks the girls are closer than the showmances.
Bruno – the girls are all together and the showmances are all together..
Bruno says as soon as they get rid of one of the guys in a couple the girls will pull the lone girl in.
Bruno – ASh, Willow, Sarah and B are in if for sure.. for sure
Godfrey – they're all in it
Bruno – Ash was telling Zach that Sarah saying the girls need to stick together.
Bruno – if we win HOH we pick who has the upper hand the girls or the couples..
Godfrey thinks they need to take out the guys (Couples)
Bruno says if they get rid of the guys every week they have to win HOH
Godfrey – Just because we're dudes we're not the strongest people here.. points out PILI wins Competitions. Godfrey thinks everyone in the house can win comps not just the four guys.
Bruno thinks Sarah being a feminist will want Girls in the finale. "if there was 6 girls in the end she would wet herself."
Godfrey – it's true yo the girls are working together 100% YO I would not trust Willow at all..
Godfrey says if Zach/kevin go all the girls will be after them, "Just because we're dudes doesn't mean we'll take everybody out.."
Godfrey says Sarah is running around saying Girl power and the girls can beat the guys but if you look at their performance in competitions her argument doesn't hold up.
Godfrey and Bruno agree Sarah wants to take AShleigh and Oili to the end because she'll beat them in final two all you have to say is "They road the guys coat tails"
Bruno says Willow is doing the best out of the girls when people take a shot at them they will be targeting Sarah.
Bruno – We have to go after the couples we have no choice
Godfrey – that's what i'm doing bro
They agree this coming week Sarah will be going after the couples, They agree Zach is the target from Sarah's girl group. Godfrey points out Zach has more influence over the girls than all three of them put together in the house period.
Godfrey and Bruno agree they have to talk to Kevin Once Zach goes Kevin will only have Pili.
Bobby – if AShleigh or Pili win HOH you two are gone
Bruno – 100%
Godfrey tells Bobby to go to Zach and tell him what he heard in the Hot Tub when the girls were talking.
Godfrey – I see a bigger chance of Zach flipping than Sarah
Bruno warns that kevin and Sarah are really close
Bobby's – whats pilis roll
Bruno – she does what she's told.. she's having fun
Godfrey says anyone will win against Pili in the final 2
Bruno – If B wins she won't put us up unless Sarah convinced her.. Sarah won't either..
Godfrey – the only one i'm worried about is Willow.. the girls in love with Zach yo
Bruno says if Sarah leaves next week it will cripple the girls but that's only if Zach wins the HOH. if it's them the couples have to go. Godfrey trusts Kevin a bit more than Zach.
Bruno – We're in trouble man.. but it's not over
Godfrey – I'm hoping there is some kinda twist yo
Bruno is certain twists are coming "Canada could vote man.. Day 25 was the last twist"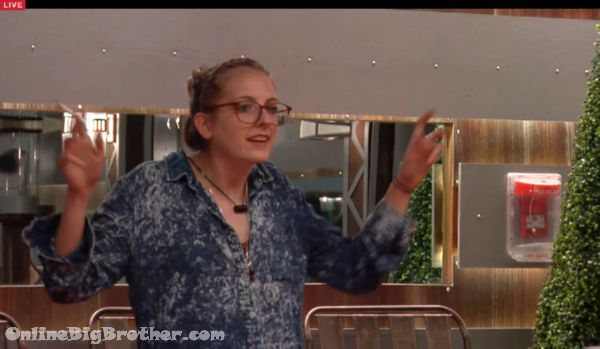 9:15pm Hot Tub Sarah and Brittnee
Sarah wishes she could go after bruno but they can't they have to go after the couples because that four is unbreakable.
Sarah – It's best for their game to stick together and take those two girls.. they've set themselves up in a really good spot.. but they should have been more subtle

(Videos uploading they're long)
If you are outside Canada and want to watch the FREE Big Brother Canada Live feeds sign up for a VPN service here https://www.hidemyass.com/vpn/r16399/. It's safe to use, easy to set up, and cheap. Need to know more check out this post explaining how to set it up.
[polldaddy poll=8834825]