POV Holder:
?
Next POV
Aug 30th
POV Used
?
POV Ceremony
Sept 1st
HOH Winner
Caleb
Next HOH
Sept 4th
Nominations:
Nicole and Christine
Have Nots
Derrick and Nicole
POV Players
?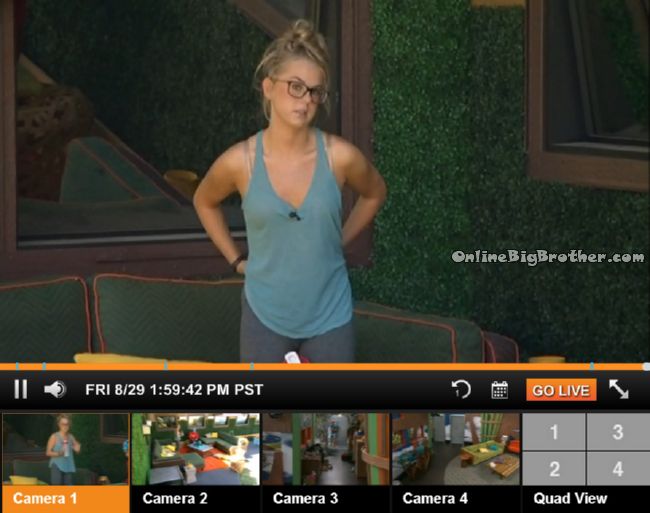 2:00pm Nicole and Caleb
Caleb – It's nothing personal.. it's a game.
Nicole tells Caleb it's just a game she doesn't take it personally Hse just hates being kicked when she's already down.
Nicole – I was just shocked
Caleb – LIterally.. it was hard it was a hard decision
Caleb says there is no way he's playing in a veto this week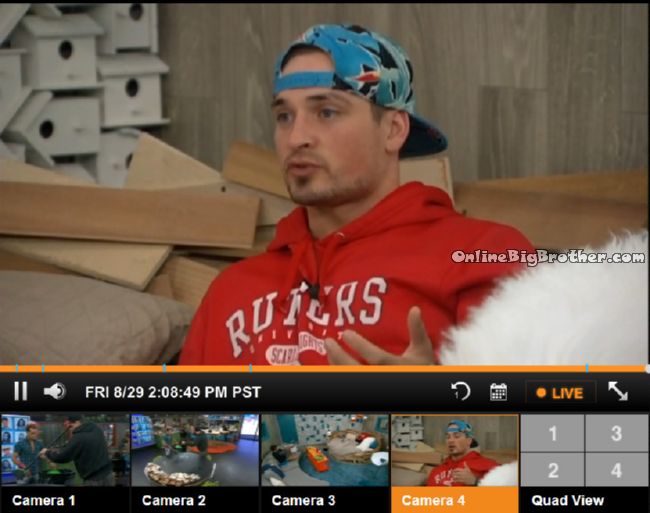 2:04pm COdy and Caleb HOH
Caleb is trying to figure out who should go up beside Nicole.
Cody says Frankie is rubbing people the wrong way. Caleb's name isn't coming out of a lot people's mouths.
Cody – THe people that are going to protect me are you and Derrick
Cody says Christine is getting really close to Caleb because he's starting to be a goof ball "She loves you"
Caleb – If I put her (Christine) up that might change.. If I put Victoria up I have no reason to be scared.. but it gives Nicole a better chance of winning..
Caleb – I put Victoria up now one of the people I want to play may not be playing in it.. One of the studs may not be playing.. I would rather Victoria not play.
Caleb – If Nicole Win POV Victoria is going up and Victoria is going home simple as that..
Caleb will tell Christine all this if she trusts us she won't fight them on it. "Noms are coming up soon and I don't know what to say to Christine"
Caleb doesn't want Christine to be pissed at him.
Cody suggests they all tell Christine if they win the Veto they will use it on her.
Caleb is down for it.
Derrick joins them.
Cody – I love Frankie dude.. yesterday something came up that I didn't like.. christine has been talking to me a lot she's getting turned off by frankie
frankie went to christine and told her that Caleb was trying to save Donny , "that is a bold face lie."
Caleb tells Derrick he's have a issue who to put up Christine or Victoria.
Derrick – I'll throw a crazy idea at you both
Caleb says he wants Christine to play because it raises the percentage of Nicole not winning.
Derrick says Christine is a beast he's thinking Nicole isn't as big of a competitive threat as Christine.
Derrick explains the danger of not putting CHristine up is she might realize they are not going to keep her she wins the VEto takes Nicole down then you have to put up one of the boys.
Frankie joins them. "I don't want Victoria to play in this Veto Period"
(Feeds were on fish for a bit.. they are still having a conversation about who to put up Claeb doesn't sounds convinced that putting up Christine is best for her game)
Frankie says Caleb needs to tell Christine that Nicole told her last night that Christine will win the HOH because they have been studying a lot together.
Caleb – IT was something along the lines if Nicole doesn't win it Christine will win it
Frankie – You want us all to be here right..
Caleb – ya
Caleb is concerned putting Christine up and she wins HOH next week his a$s is going on the block " it's my game… this is my game "
Cody – ya
Frankie – from this point on every HOH will have to make tough decisions.
Derrick says if Nicole wins HOH and CHristine goes home Nicole will be equally pissed at caleb.
Caleb explains to Derrick if Christine doesn't go up and wins the veto she save saves Nicole then Victoria would go home. They don't have the votes to get out a guy so unless one of them flips they are fine.
Frankie – THose two girls are coming after us.. If i was christine and I win the Veto I would use it.. this is not BIg Best friend.. those two girls are coming for us they would be stupid not to work together"
Derrick says putting up Christine and Nicole guarantees Nicole or Victoria go home this week.
Derrick – it's us four.. this is what it comes down to the brigade
Derrick says they will have the brigade conversation.
They start ranking the girls in their competition prowess Caleb doesn't think CHristine is smart she just had a good vocabulary because she reads a lot of books.
Cody says none of the girls are really good competitors he doesn't know why they bother using it as a criteria for them staying in the house.
Frankie says if Nicole leaves CHristine will put up Victoria and one of the guys she won't put up two guys.
Frankie says Christine loves Cody and she will not scorn him
Caleb calls Cody a home wrecker
Franki – it's game
Caleb – holding hands on the hammock is a little much
Cody – When do we hold hands.. (all the time)
Frankie – if you have to f** her a couple times that's OK to
Caleb – you're ruining a family
Frnkei – you can have s$x with ehr.
Cody tells them all to stop people are watching this.
Derrick – only a couple thousand
The Live Feeds are archived. You can go back and watch everything that happens
Try It Free! Subscribe now to the official BB16 Live Feeds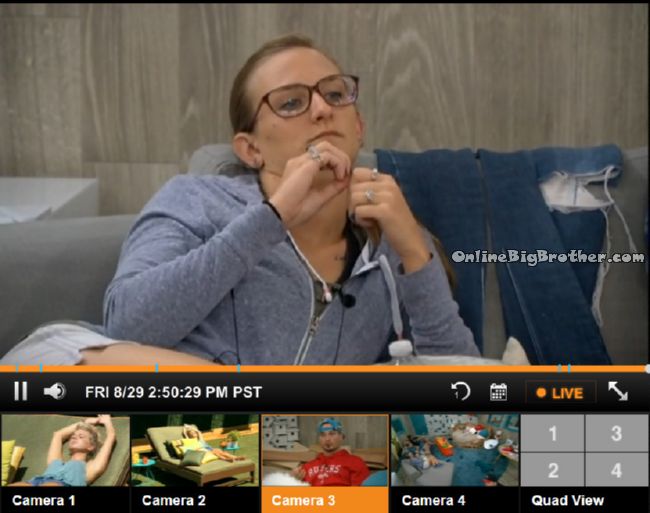 2:43pm HOH Everyone but Nicole
Caleb says this is for everybody because they are a group they have been a five and they've made it this far together.
Caleb says I do not want Nicole to stay in this game I need someone good to
be in this competition.. You will not go home Victoria is the backdoor option .. If I put Victoria up she's a waste of my week.
Caleb explains one of them has to go up to ensure Nicole has the maximum competitor's..
Caleb adds her going up will increase the chances of Nicole going home.
Frankie – this makes sense it's a smart move..
Caleb says if Nicole wins they send Victoria home christine has nothing to worry about.
Frankie – with any luck it will be all of us playing (in the veto)
Caleb says he's not going to do the competition if it's physical because of his knee.
Caleb says Nicole was up in the HOH last night throwing everybody under the bus "It fell on deaf ears.. she literally threw everyone here under the bus"
Frankie says he's getting teary eyed because Caleb is being such a good leader.
Caleb says he just wanted to explain his "theory" to the group says this will be the largest alliance to make it this far.
Frankie – it's time to play the game and i'm on board..
Derrick – I'm in
Caleb – we the bomb squad made it final 5 and controlled the house every single week.
Frankie says the alliance members they sent home were the worst players to have ever played the game.
Caleb says they should just tell Nicole she's not making it to the end she should just throw the POV and go to Jury where DOnny can tell her stories. . Frankie says if Caleb says that in his nomination speech he will jump up and kiss him.
Cody leaves.
Frankie wants to have a celebration when Nicole leaves. Caleb wants them all to tell Victoria about their alliance brigade style
They have a good laugh about Jocasta almost coming in back into the game the one competition she would have ever won would be the buy back.
Frankie says they did 3 times more laps than Victoria in the endurance competition.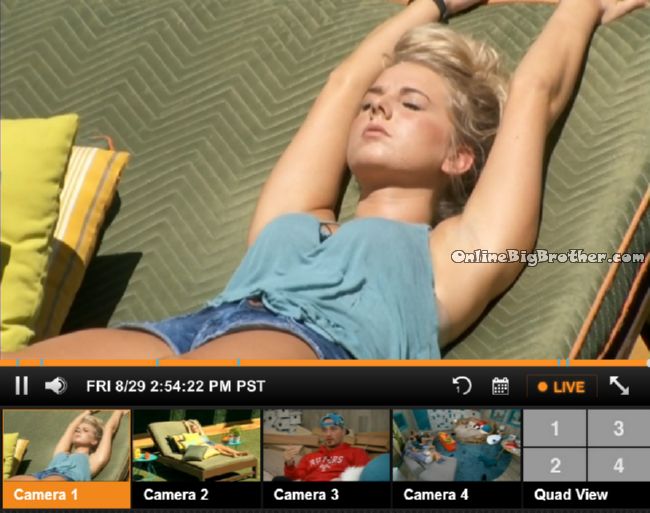 3:12pm Nicole and Victoria Bathroom
Nicole knows she's going up there really is no point talking to Caleb any more. She tells Victoria after she goes this week the 5 person alliance up in the hOH will have to start turning on themselves. Victoria knows points out that only 1 person can win the money.
3:29pm Nominations Ceremony
4:27pm Christine and Nicole were nominated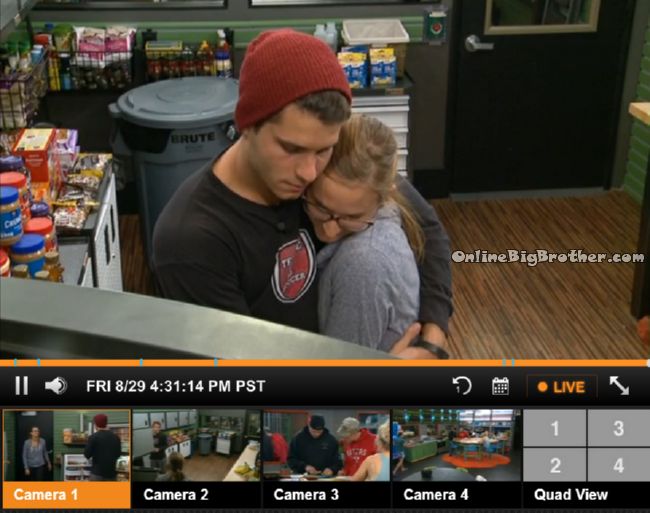 4:32pm Storage Room
Cody tells her if he wins the Veto he'll use it on her. Christine knew she was going up she's not worried about it.
One way to support this site that doesn't cost you anything extra is making your Amazon purchases through the links Below
For in Canada use the following link: Amazon.ca
[polldaddy poll=8274218]