POV Holder:
?
Next POV
Aug 2nd
POV Used
?
POV Ceremony
Aug 4th
HOH Winner 1:
Donny
HOH Winner 2:
Nicole
Battle of the Block Winner
 Caleb/Victoria
Next HOH/ Next BOB
Aug 8/Aug 1
Original Nominations:
Donny's Noms (Victoria & Caleb) Nicole's Noms (Zach & Jocasta)
Final Nominations:
?
Have Nots
?
POV Players
?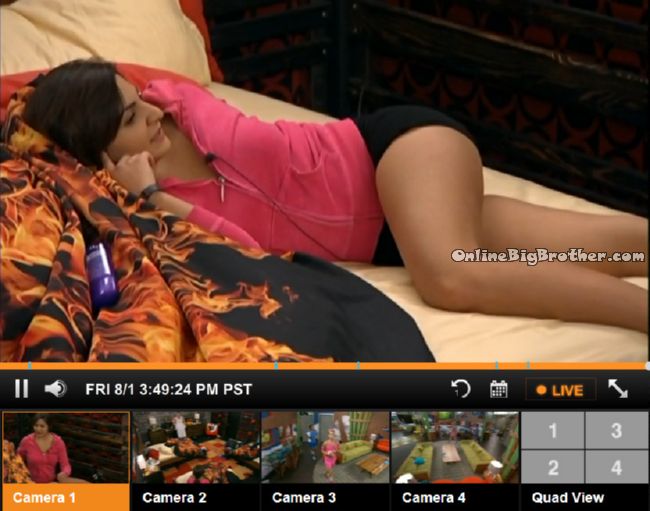 3:50pm FIREROOM Derrick and Victoria
Victoria doesn't want to wear the eve bikini
Derrick can't understand why she wears bikinis all the time
Victoria – I use to have a sick a$$ body now it's nasty.. they have to let me wear a jacket or something
She's dreading being chained to Caleb
Derrick says a lot of girls would love to be chained to Caleb for a couple days.
Frankie comes in says Caleb won't stop talking "He's worse than Brittany about kicking the ball"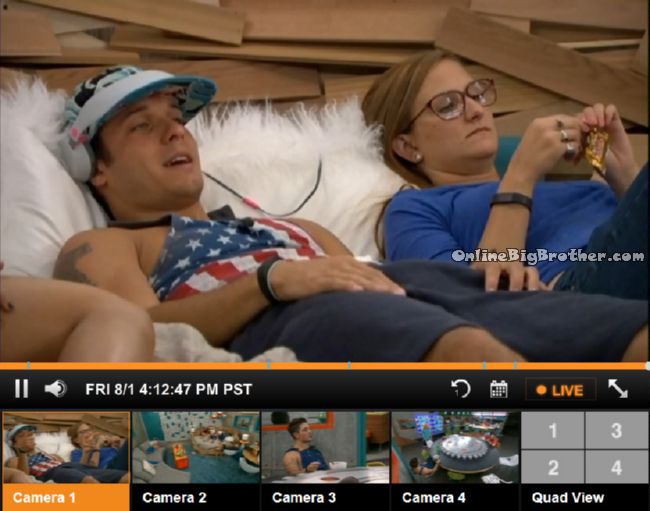 4:03pm Cody and Nicole HOH
Cody says if he wins the POV he's going to keep the nominations the same he's not going to want Nicole to have to pick a replacement nominee. He went through that before and sucked
Christine comes up says she can't stand being downstairs.
Christine and Nicolle head to the bathroom
Nicole tells her she didn't throw the HOH because she knew she was going to be nominated this week.
Victoria comes up they talk about her winning 2 out of 3 BOB competition. She also won a POV she's a beast.
For POV players Nicole wants to pick someone who wouldn't pull Zach off the block. They can't figure out anyone that would. Christine says the only people that will use the POV are zach and Jocasta.
Nicole – what about Frankie
Christine – He won't use it
Victoria – the person I hate the most i'm going to be attached to for 2 days
Christine – that is the worst punishment ever
Cody says Caleb wanted to play a game where they tell each other thing the don't like each other.
Nicole wonders if he was itching to say something about Amber.
Christine – His mentality is childlike
Cody says he's mature in some things but really immature in others. THey say it's almost like he's not fully developed mentally.
Christine says Zach and Caleb are going to have some tiffs this week. Zach already starting to say things to Caleb.
4:17pm Rockrom Zach and Caleb
Zach say worst case is if Donny wins the POV and pulls Jocasta down. That means someone from their alliance has to go up. I'm sweating bullets right now"
Caleb says the sacrifices he made for winning the BOB, Shave his head eat slop for 2 weeks.
Being attaches to VIctoria isn't that bad. Caleb says when he has to go to bed he's going to bed, "SImple as that"
Zach says it's going to suck when she wakes you up at night saying she has to go to the toilet
Zach what happens when you have to take a sh1t
Caleb says she'll have to stay outside the toilet with the rope under the door.
Caleb teases when she tells him she has to poop he'll say "No you gotta hold it"
Caleb says shaving his head bothers him he might even cry, "Honestly though my hair grows back really quick.. i'll give it two weeks then i'll fade it to look army"
Zach says At the finale Caleb's hair is going to be "All jacked up". They start laughing
Zach – "it costs to be the boss"
Derrick comes in
Zach tells him the worst case scenario where Donny wins POV and takes down JOcasta.
Derrick doesn't think Donny will you
Derrick says few people are going to use the Veto. If they take Zach off the block she'll put up another one of the guys. there's no point they control the votes.
Zach – I'm staying on the block unless I win POV
Derrick adds if they find out she's going to put Christine up then he might use the veto on Zach.
Zach hopes the 3 draws for POV are cody, Caleb Derrick… pretty much anybody but DOnny. Zach says if Jocasta wins POV they will convince Nicole to put up Donny. Caleb starts complaining about the slop and head shave. Derrick interrupts him says Caleb is safer than him this week. Derrick leaves.
Caleb tells Zach he's going to tell the Diary room he's got offensive tattoos on his head that the hair is hiding.
With a live feed subscription you can go back and watch any event that has been shown. Use out site as a index and watch only the parts worth watching.
Try It Free! Subscribe now to the official BB16 Live Feeds
4:50pm
HOH is populated by Derrick, Cody, Chrsitne, and Caleb.
Derrick mentions that Caleb can't even eat America's food choice it's all slop.
Kitchen cleaning up is Nicole., Jocasta, HAyden, Donny, Frankie
4:58pm Donny, Jocasta, Hayden and Frankie
hanging out in the kitchen while everyone up upstairs.
Hayden – I can't believe the nominations were just this morning
Donny feels like yesterday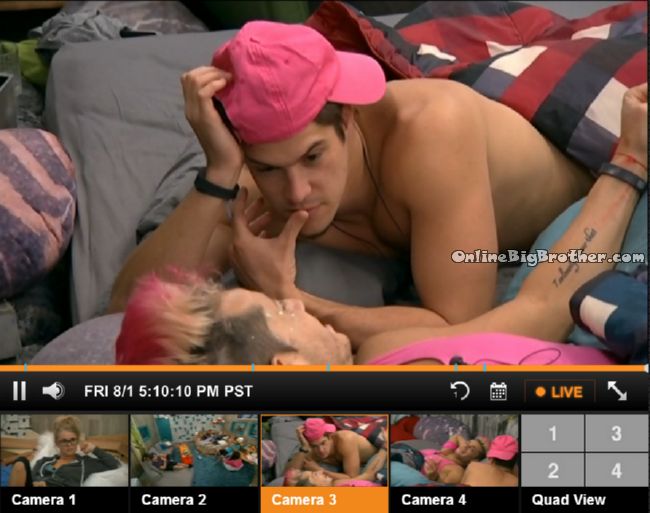 5:10pm ROCKROOM Zach and Frankie
Zach is going to try and convince Nicole top put Donny on the block. They conclude that unless Zach or Jocasta win the POV it will not be used.
Zach says there's no f***ing way he's going home this week. they count the votes, Christine, Hayden, Frankie, Caleb, Cody, Derrick.
Frankie mention Jocasta's speech last night where she was saying she's be trustworthy and loyal to everyone in the house.
Frankie – Bitch you haven't said a single promise to anyone to be loyal against
Victoria comes by Frankie mentions how Caleb is making such a fuss about his hair but wasn't he in the army for so many years.
Victoria – I know he can't stand me more than I can stand him
VIctoria says Caleb just talks way too much about himself. Victoria is worried about Caleb she's heard he was targeting her.
Frankie says Caleb has been vocal about not liking her but he doesn't think he wants her gone.
Frankie – You're the new Amber he's like I'll do anything for you princess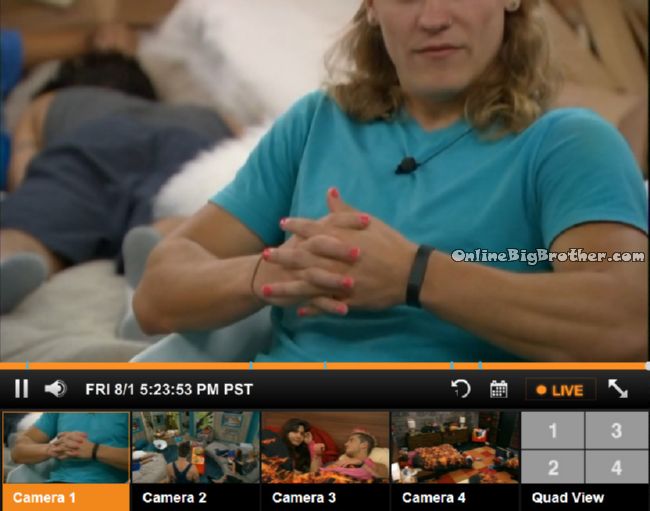 5:25pm The guys are painting their nails in the HOH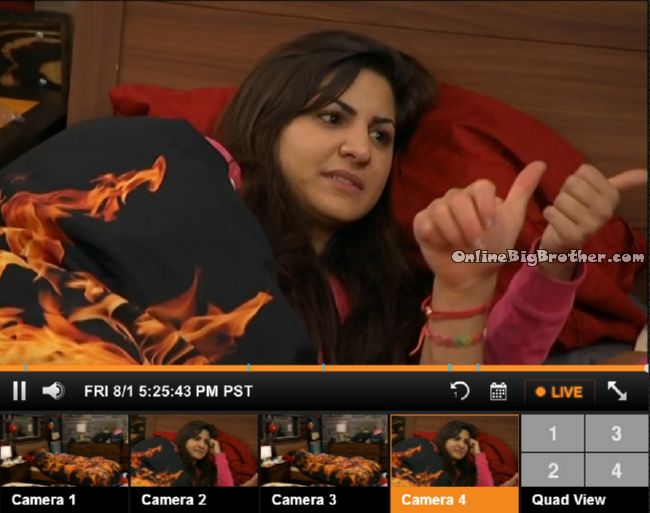 5:26pm FIREROOM Victoria and Frankie
Talking about all her COmpetitions wins. 2 BOB and 1 POV
Caleb joins them says he has a Discriminatory tattoo on the top of his head. Frankie inspects can't find it. Caleb says he had it done when he was young ad stupid. Clabe doesn't want to shave his entire head. Caleb says the tattoo is really small you can't see it when he has hair. . (See image below)
Alliances
Zankie = Frankie/Zach
The Detonators = Derrick, Frankie, Zach, Christine, Cody
"The HITMEN" – Cody & Derrick
Trilogy = Nicole, Christine & Hayden
Team America = Donny, Derrick, Frankie
Old timers = Jocasta/Donny
Nicotine = Christine/Nicole
bottomfeeders = Derrick and Nicole
More polls here https://www.onlinebigbrother.com/big-brother-compendium/big-brother-16-polls/
[polldaddy poll=8220599]
Share it YO!!
Tweet