POV Holder:
?
Next POV
Aug 9th
POV Used
?
POV Ceremony
Aug 11th
HOH Winner 1:
Nicole
HOH Winner 2:
Christine
Battle of the Block Winner
 ?
Next HOH
Aug 15th
Original Nominations:
Nicole's Noms (Caleb & Frankie) Christine's Noms (Zach & Donny)
Final Nominations:
?
Have Nots
?
POV Players
?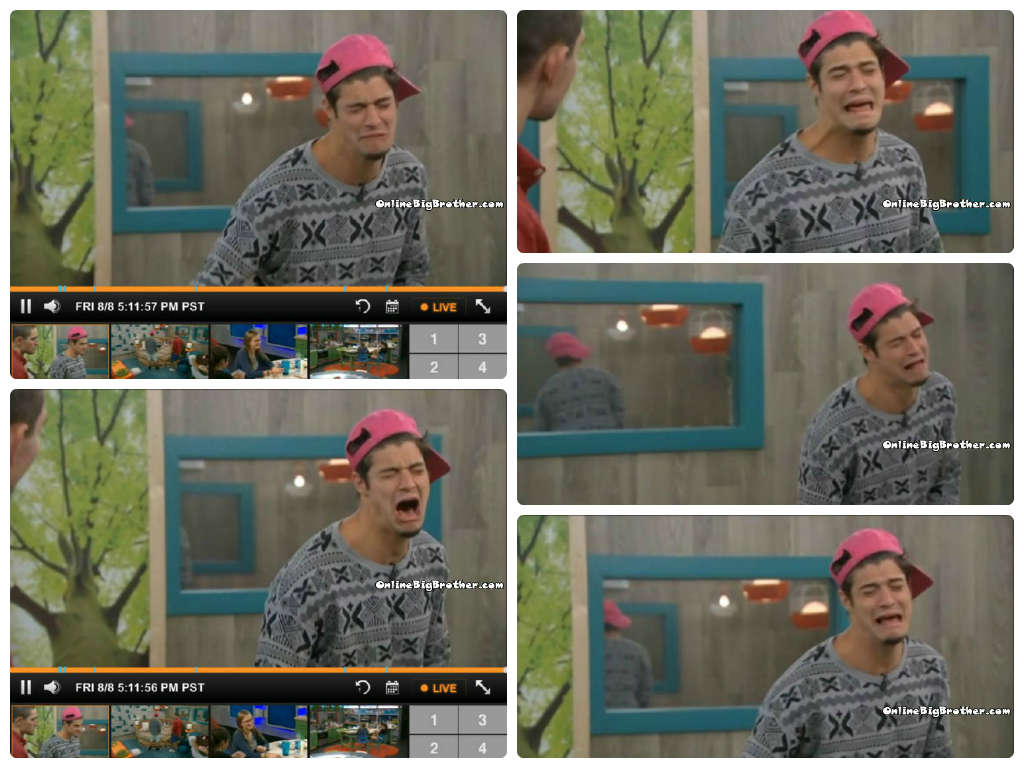 4:50pm HOH Nicole, Derrick and Cody
Talking about Frankie wanting to tell them a story about why he's in Big Brother. Derrick mentions people can make things up just as easily, He cites Matt Hoffman saying his wife had a "Leg Disease" but it being a complete lie
Caleb – I'm serious I'm going to sit on the ground .. I'm going to say .. I'm ending your game today.."
They compare notes about AMber, Caleb finds out Frankie had a big role in getting Amber out and spreading sh1t about her. Derrick says Amber is going to get a present this week with Frankie leaving . Caleeb is going to take the tape with Amber written on it from inside his cap to the outside. and say "THis is for you Amber"
Caleb will tell Frankie during the COmpetition. – "Frankie don't even break a sweat cause i'm not moving.. "
Derrick – It sounds like a big apparatus is being built out there
Caleb – they're building six flags out there.
Caleb – "I'm going to lay there like a fish.. a dead fish"
Since I was a kid I was told to not play with Snakes you are the biggest snake in this house.. You pray to god you win the Power of veto. Caleb says he's going to start listing all the lies Frankie said during the competition and asks Frankie for answers. Caleb has a bunch of speeches ready one will highlight all the final 2 deals Frankie has made and how he made a final 2 with Caleb day 2.
Zach joins them Derrick jokes say Caleb has changed his mind he's "beasting it" Derrick adds that if Caleb does what he plans on doing he's upstaging Zach a lot.
Zach says he's going to tell crap to Frankie during the competition "I f***g hate Frankie\"
They all agree they don't care what Frankie has to say about his life outside the house. Caleb mentions he could tell everyone his war stories but he wants to keep personal things out of the game. Caleb mentions that Frankie is going to tell him tonight and he told him to just keep it to himself and tell him when they get out of the house.
Nicole – he's grabbing at anything
Derrick mentions that Caleb found out Frankie's role in evicting Amber.
Caleb is most pissed about this for because he was played by Frankie. "I wanted to run down there slam his face into that memory wall"
Zach – I hate that guy with a passion. .. I feel like the f***g idiot but i'll get the last laugh on Thursday..
Zach impersonates what Frankie will do during the BOB comp because Caleb plans to throw it.(See image) Zach adds that Frankie will be crying he'll be talking sh1t to him, Caleb will be talking sh1t to him it's going to be epic.
Zach is telling Nicole to put Frankie And Christine on slop
Nicole doesn't want to put Christine on Slop because it's so hard for her to eat.
Zach – So what it's big brother she signed someone saying she will eat whatever
Derrick points out if Frankie is on slop he'll be weaker in the POV.
Zach about Frankie – He's so fake he brown noses everyone.. he's the fakest person in the game.. Zach adds the things Frankie said are horrible he feels like he looks like a idiot for following along with Frankie.
Caleb says what it happening this week is kinda like boar hunting with bay dogs and Catch dogs.
Derrick and Zach are the dogs you demoralize the hog, bark at them tire them out but don't go after the hog or the Bay dog can die.
Caleb – you guys are basically running around frankie barking after him.. saying Hey Freak you going home"
Caleb – But you need a catch dog.. BEASTMODE COWBOY is your Catch Dog
Caleb – "I'm going to probably just say something simple.. I'm going to mention the AMber thing cause that eats me up..
Nicole say this was for her, you know she'll be at home watching
With a live feed subscription you can go back and watch any event that has been shown. Use our site as an index and watch only the parts worth watching.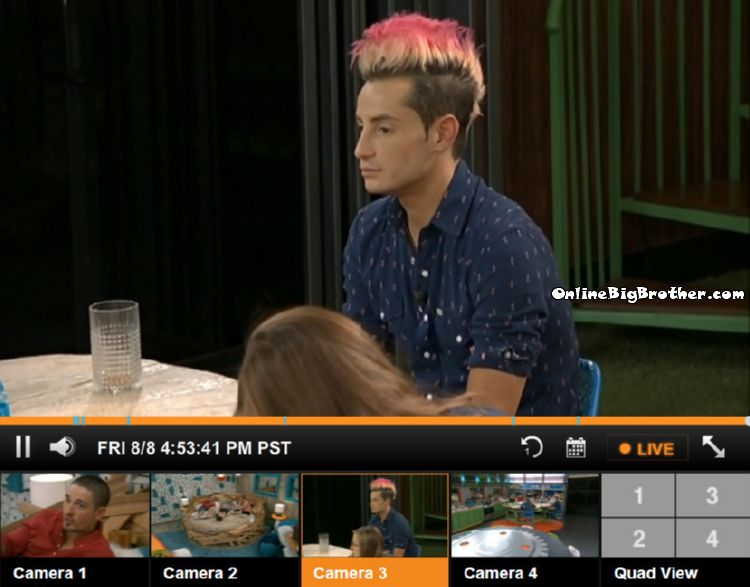 4:53pm looks worried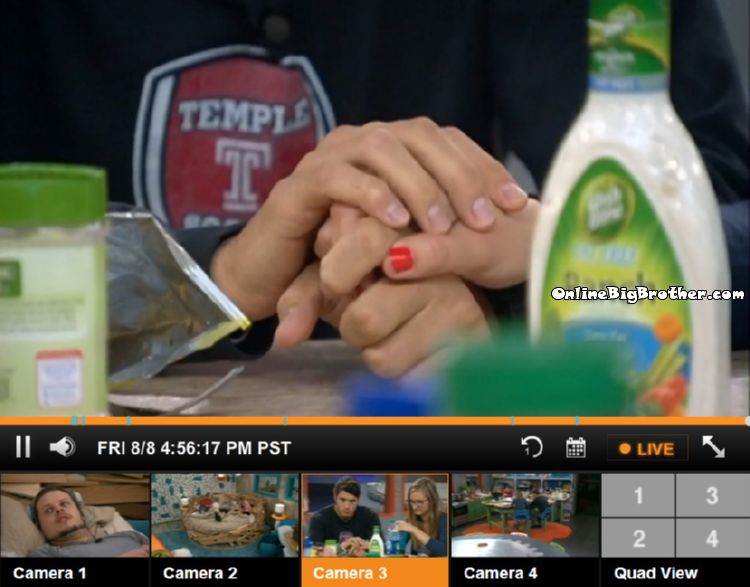 4:56pm Kitchen Looks who's back to cuddling..
5:46pm HOH Derrick, Nicole, Zach and Caleb
Caleb talking about the things Frankie told him about Amber that were lies but he believed Frankie over AMber.
Zach – THat's so f**d up
Caleb – OHH I can't wait for the Veto OHH I can't wait for the BOB"
Zach – I cannot wait for the BOB.. dude he's so turnt right now.. what are you at right now like 5"
Caleb – 4
Caleb – Take that skinny little pink hair and slam it against that memory wall
Zach – Whoa
Nicole – You'll get kicks out
Caleb – WELL YA i'm not going to do that.. .. If it was out on the street it would be a different deal..
Zach – He would be in the hospital
Nicole – Whoa
Zach – he would be in the emergency room f**ed up right now
Caleb – If it was out in the street.. I wouldn't touch him
Explains he would ask someone to punch Frankie and go home watch lion king "there it's done"
Derrick ya lets go watch lion king..
Zach – The circle of life.. "
Caleb – The Circle…
(see iamges)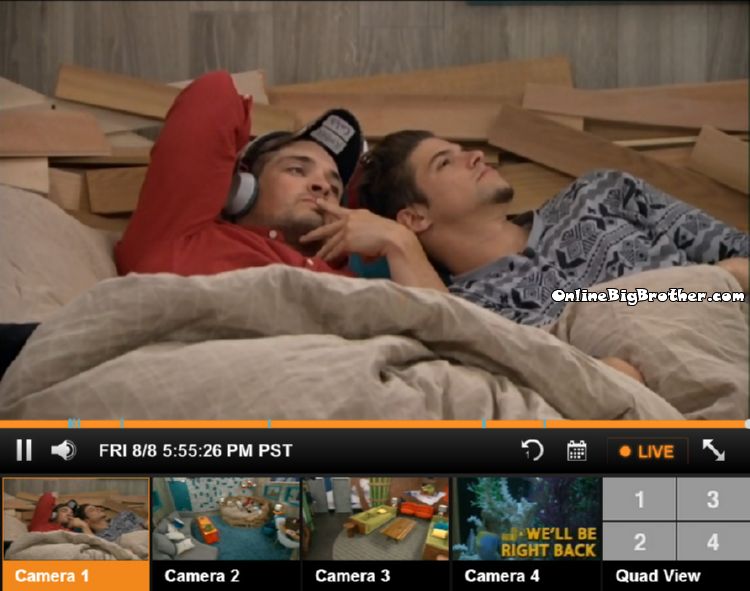 5:50pm Zach and Caleb "Crushing it"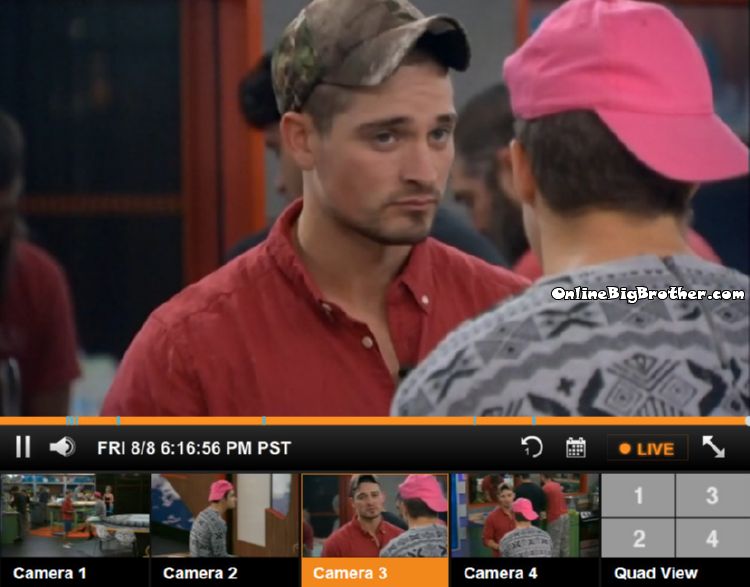 6:18pm
Caleb doesn't want anyone to use the veto he'll say the reason is because he's squeezing the life out of the person he's sitting beside (Frankie)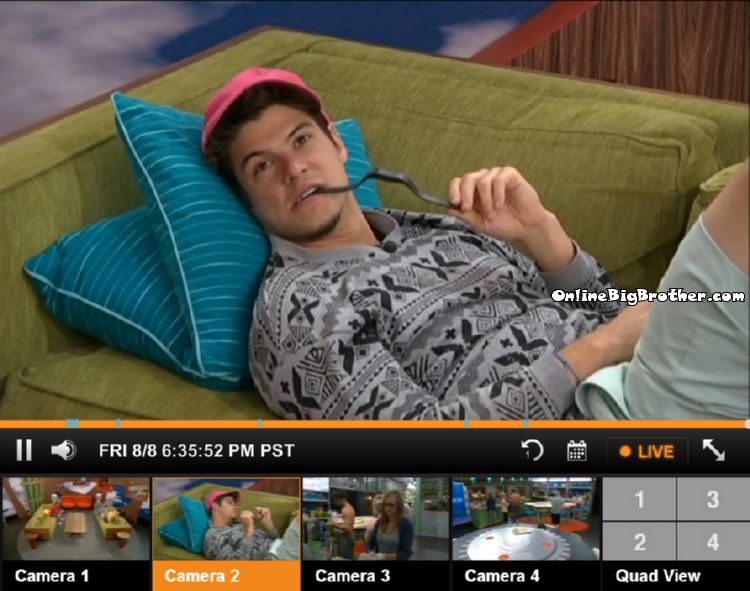 6:25pm Living room Caleb and Zach
Caleb getting more steamed about Frankie goes through all the things he's going to say to rankie.. repeating everything over and over…
Caleb thinks because he's planning on throwing /sabotaging the BOB Production is changing the competition that is why they are still building it and it's so late.
Caleb is going to incorporate a strike 1 strike 2 strike 3 into his tirade ask Frankie questions if he lies 3 times he's out.
Caleb – Quite Frankly my parents told me since I was a little boy not to play with Snakes.. sorry Frankie i'm not playing with you today you're the biggest snake in the house
Zach – Take your time there's no reason to rush it.. think about it pause.. .. it's stronger looking when you are standing up..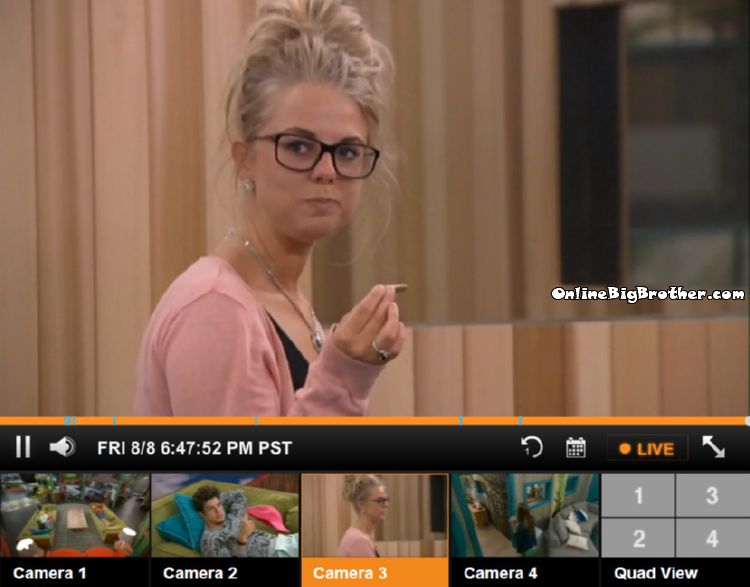 6:45pm HOH Christine and Nicole
Christine promises her no matter what she is not backdooring Nicole.
CHristine says that Zach told her Nicole was trying to get him to put Christine up.
Nicole says at that point their relationship was stronger than ever SHe completely denies saying that to Zach.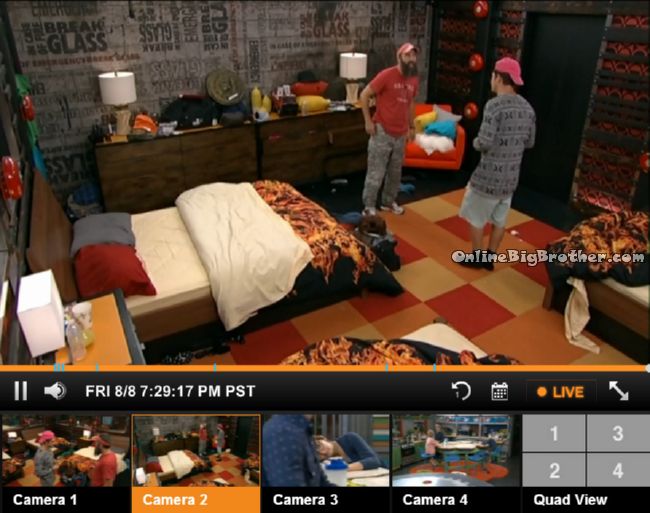 7:28pm FIREROOM Zach and Donny
Zach explains the Caleb/Frankie rift.. Caleb's blaming Frankie for Amber being gone to make a long story short.. Frankie made Nicole lie about something to Caleb and Frankie said if you don't lie to Caleb i'm going to put you on the block.. Nicole lied to Caleb and that is why Caleb got mad at Amber and wanted Amber gone.. So CAleb feels like Frankie is the reason that Caleb turned on Amber so he's going to do this whole spiel To amber during the BOB
Donny – I hope so
Zach – Dude you have nothing to worry about..
Donny – we'll do good..
Zach – I'm a little sore but i'm limber.. limber and quick
DOnny best case scenario we win and we are the safe ones for the week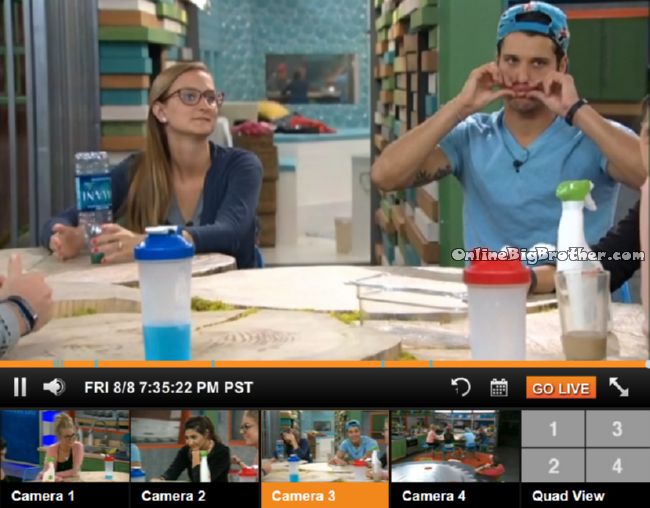 Cody showing us Eliza's lips from BB15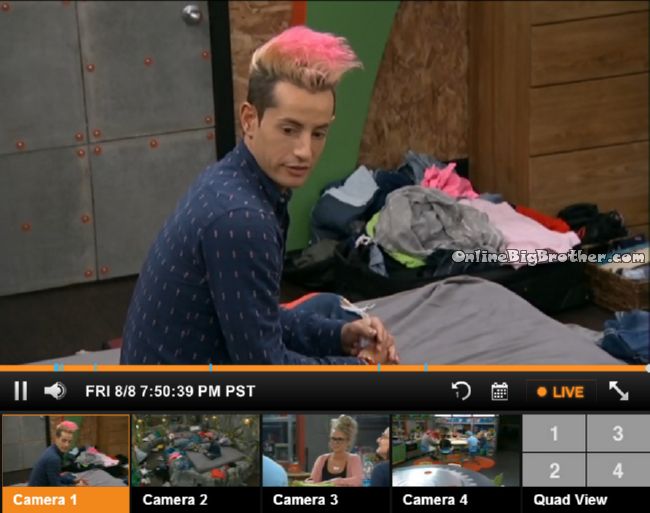 7:46pm ROCK ROOM Donny grabbing something from the drawers. Caleb tells him the only way he would try and win the BOB is if the winner gets 5 thousands dollars or wom other prize.
Donny leaves Frankie comes by
Caleb – you must have really messed up Frankie .. obviously Zach remembers something to a T because he's upset
Frankie – none of it had ill intent.
Caleb has hear a lot of things but it's all be he said she said stuff.
Frankie says it will all come out when he talks to the house tonight.
Caleb says everyone will appreciate him being a man about it
7:54pm Feeds on Jeff BOB Com under way
9:13pm no feeds
Alliances 
"The HITMEN" – Cody & Derrick
Team America = Donny, Derrick, Frankie
More polls here https://www.onlinebigbrother.com/big-brother-compendium/big-brother-16-polls/
[polldaddy poll=8233586]