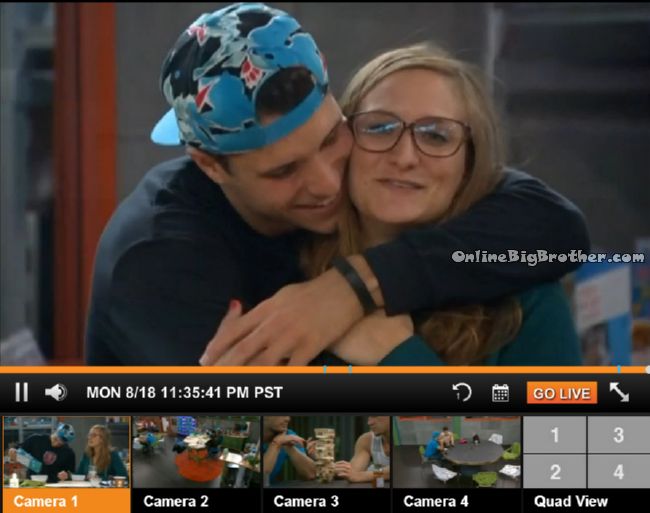 11:34pm Kitchen Christine, Cody, Frankie, Victoria, Zach
Frankie telling them Caleb's face turned white after he heard the shouter outside. Frankie heard Frankie something and We love you Zach didn't catch what BEast mode was told. Zach heard Frankie you're the best. TRhey all laugh at Caleb hearing Frankie you're disgusting. .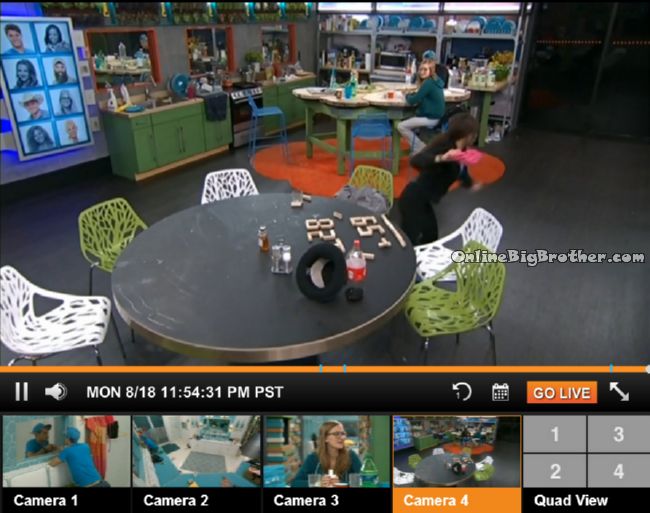 11:54pm Victoria grabs her hat which Zach has been wearing all season .. She plans on cutting it up. Somewhere in there she is sacred he'll burn her face with boiling water. She runs into the have nots room yells to Christine "Ge me a knife"
Feeds cut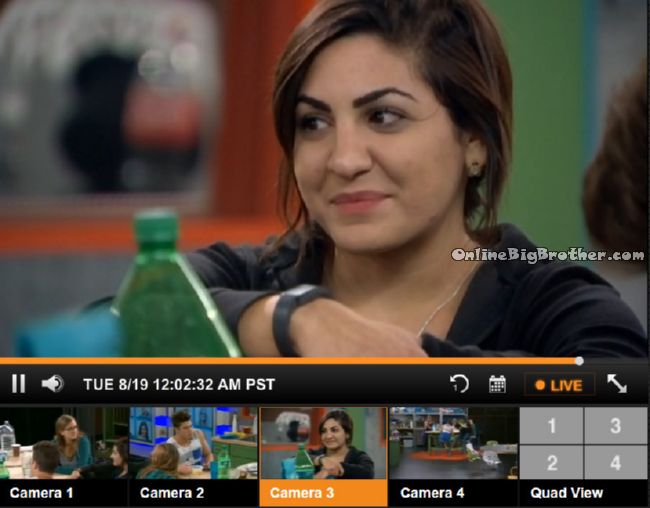 12:01am Victoria happy for what she did
12:12AM Kitchen Cody, Caleb, Victoria and Christine
Victoria is saying to her family that she hopes they are proud of her she's finally stuck up for herself.
Victoria tells them if Zach touches her he will get removed from the game. Cody doesn't want that to happen because that will leave him as the only person on the block. Victoria is excited he could leave tonight. Caleb goes up to the HOH to talk to Frankie who's in the bubble bath.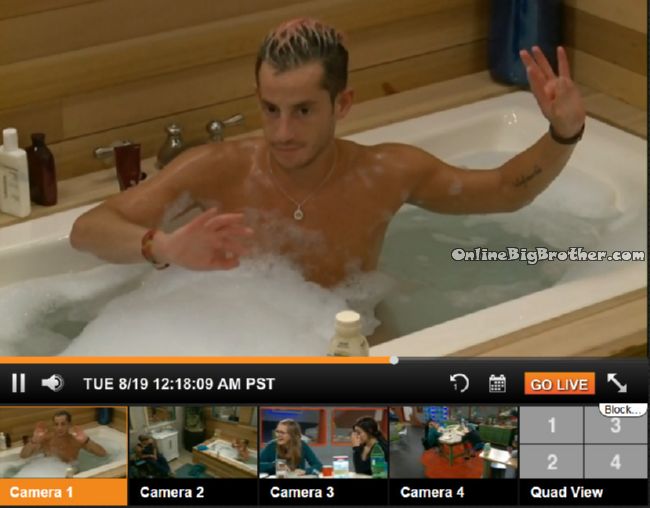 12:23am Frankie and Caleb
Caleb says he's got more brains than Hayden and if the competition is physical and brains him and Frankie can beat him.
Frankie – is cody not good at thing
Caleb – he's just pretty
Frankie – Donny has 6 wins.. Christine has 4.. Caleb has 4 wins
Caleb says he has 5 wins..
Frankie – I have 6 COdy has 1
Victoria comes up gives Frankie a kiss says she's going to bed. ""No one's gonna go around the house torturing me, degrading me with my f*** sh1t on him"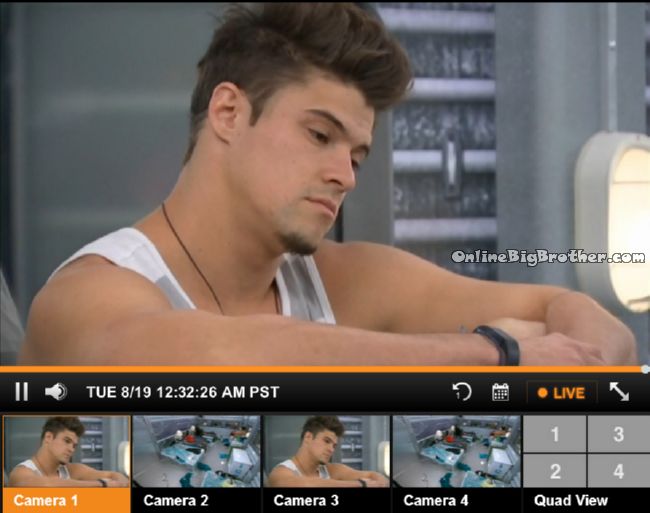 12:30AM Zach and Victoria
Vicotria comes in tells him she's going to bed so the lights have to go off..
Victoria – no hard feelings
Zach – oh there's hard feelings
She tells him if he touches any of her stuff he has to deal with Production.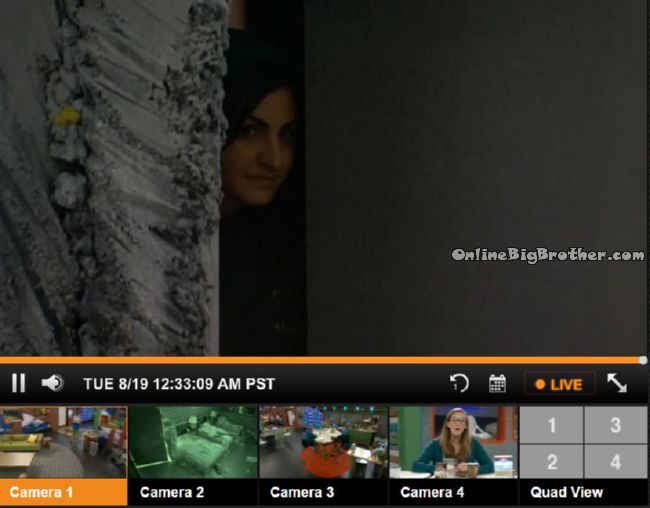 12:33AM Zach leaves bangs the drawers in the hallway .. Victoria peaks outside.. (I think she was expecting more from Zach)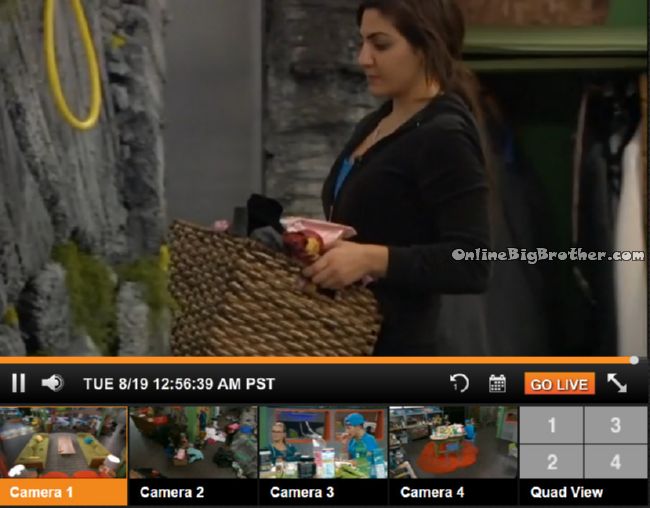 12:53AM Kitchen Cody, Christine, Frankie and victoria
Victoria says Zach can't touch his stuff.. Cody is telling them they can take whatever they want of each other's items. YOu are just not allowed to damage them. Christine doesn't think that's allowed. Frankie points out that is what happened yesterday. Cody says someone could Christine's glasses.
With all this talk about taking things Victoria stashes away her backup crate.
When she comes back she's telling them if Zach F*** with her sh1t he has to replace it on his dime. She says she's so excited she's going to get a new wardrobe
Victoria – "He's going to go off one me.. if he touches me he's going to jail.. handcuffs.
(The only person that is destroying things is Victoria and she's destroying her own stuff)
1:16AM Zach alone in the bathroom
Christine and Victoria are waiting in the kitchen. (She's waiting for something to happen with Zach)
Frankie comes in they are wondering if they are going to lock them inside all night. Zach plans on staying up late he just woke up.
Zach – Victoria you going to give me the hat back.. You're not going to wear it
Victoria You're leaving possibly and I want your stuff
Zach – you told me I could have it..
Victoria – not really
Zach – umm you kinda did.. roll the tapes
Zach – I'm not stupid.. I'm not a f****g idiot . you took that hat to piss me off..
Victoria – it's my hat zach
You took it back to piss me off.. you went out of your way.. ok Victoria you want to play games we can play games all f*** week.. right now you're one up it's time for me to get one back..
Christine and Victoria head to bed.
1:27AM Cody and Derrick
They agree Christine will take Frankie over them. Cody noticed that Frankie and Christine are laughing again together.
Derrick says Caleb got caught legit today sneaking up on him an Donny, "that's twice in two days now"
Alliances
"The HITMEN" – Cody & Derrick
Team America = Donny, Derrick, Frankie
More polls here https://www.onlinebigbrother.com/big-brother-compendium/big-brother-16-polls/
[polldaddy poll=8244330]
[polldaddy poll=8248683]
Share it YO!!
Tweet