POV Holder:
Frankie
Next POV
Aug 16th
POV Used
Yes
POV Ceremony
Aug 18th
HOH Winner 1:
FRANKIE
HOH Winner 2:
Derrick
Battle of the Block Winner
Donny & Christine
Next HOH
Aug 21st
Original Nominations:
Derrick's Noms (Donny & Christine) Frankie's Noms (Caleb & Cody)
Final Nominations:
Zach & Cody
Have Nots
Christine & Victoria
POV Players
Cody, Caleb, Frankie, Victoria, Donny, Christine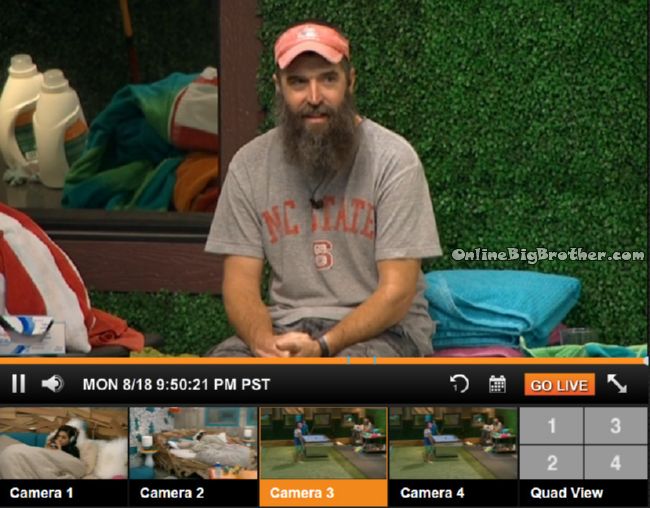 9:45pm Frankie, Donny and Zach Pool
Zach – To all you strong great competitors and Victoria.. that's all i got right now.
Frankie – there is absolutely a buy back..
Zach – there's not
Frankie – There's 4 weeks to get out 4 people.. there will be a buyback and a double eviction like last year.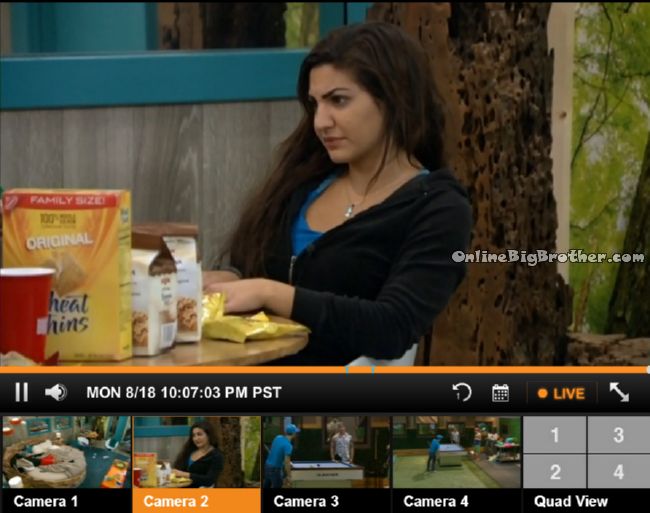 10:07pm HOH Victoria and Cody
Victoria is going to cut up Zach's pink hat and give him pieces of it bit by bit. She says the pink hate is hers so she can do whatever she wants with it. "it's my hat so nothing can happen.. I can do whatever I want to it" 
Cody – Do it
Victoria – he's a evil person.. whatever if he is the saboteur and those were his tasks to do whatever yesterday was not a task.. it's him trying to get TV time
Cody – Or him as a person
Victoria – all the people who played dirty in this game are either sent home or in Jury
Victoria -god knows what he can do to me
Cody what can he do to you
Victoria – who knows
Cody – he can't do anything
Victoria – he can take boiling hot water and pour it on my face
Cody – What!
Victoria – He's already getting evicted
Cody – That's assault you can put boiling water on someone face on purpose..
Victoria – he will defiantly do
Cody – he can't harm you physically in any way.
She brings up that Zach has been calling her useless and other extremely horrible things.
Victoria says Christine and Cody are really close
Cody says when Nicole left the house she said " I wasn't lying about Christine"
Victoria knows Christine has been talking crap about everyone..
Cody she was saying she cannot stand to be around frankie and now that frankie won HOH she's all over him
Victoria -says Christine will do anything for the money
Victoria thinks Caleb and Frankie are a team.
Cody says Caleb's reputation as a competition beast is the wrong.
Cody – Frankie and Donny are the only true beasts in Comps.. Frankie is hands down all around if he's in a competition i'm like ohh shit.. caleb's not a beast what has caleb won.. .
COdy says week two Derrick and Cody saved Zach..
Cody says the second time Zach was nominated if COdy and Derrick would have kept their mouth shuts Zach would have gone home.
Victoria says Christine hasn't talked to her at all this week
Cody – I don't think she'll vote me out over Zach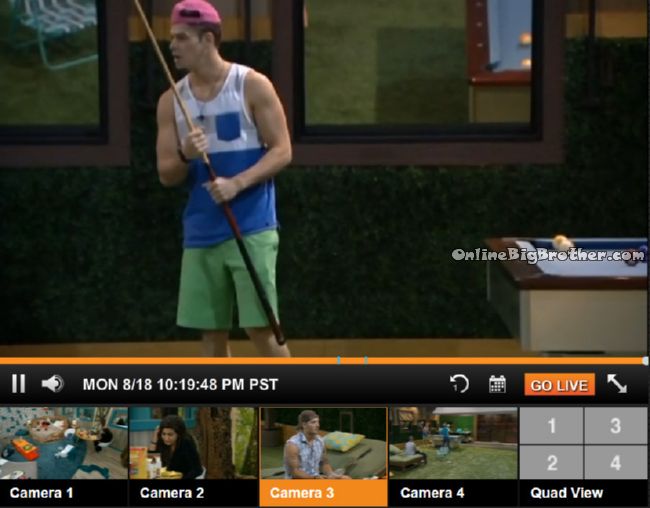 10:19:50pm Cam 2-3 Backyard Pool Zach, Frankie and Beast mode
Someone outside the backyard walls shouting (Flashback it's tough to hear, personally I think they said something negative about Frankie, Positive to Zach unsure about Beast mode) )
Caleb Heard – "we hate you beast mode cowboy Zach I love you and Frankie you are disgusting."
Frankie heard "I heard Cowboy, we love you Zach and Frankie you're the best "
Zach heard you're the man Beast Mode cowboy, Zach we love you and Frankie you're the best..
Donny joins them.
Zach – We hate you beast mode cowboy Frankie you're disgusting..
Frankie – I heard Frankie you're the best but I could be wrong
Zach doesn't think people will go out of their way to say "Bad Sh1t" (You don't know BB fans)
The Live Feeds are archived. You can go back and watch everything that happens
Try It Free! Subscribe now to the official BB16 Live Feeds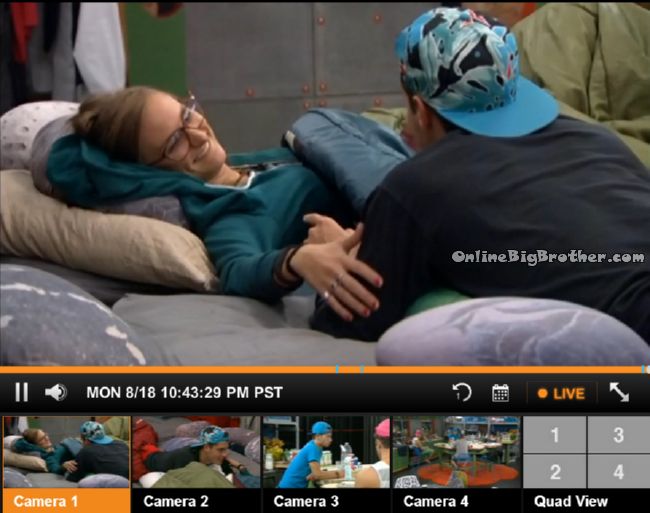 10:41pm ROCKROOM Cody and Christine
They think Donny will put them up given what Nicole was saying.
Cody starts telling her about "talking sh1t" to people during Soccer games. "Sometimes t would get me out of my game I would talk so much sh1t"
Victoria joins them says she was going to cut up the Pink hat Zach wears. It's her hat she wants it back. The only thing is she has to take it when he's sleeping
Victoria says Zach is a piece of sh1t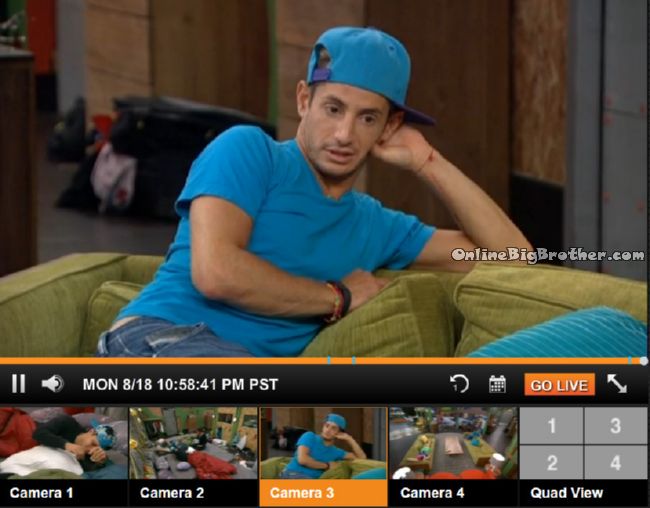 10:57pm Zach and Frankie
Zach saying he was still wearing his Gator shirt when Derrick's hat went missing.
Zach says he wasn't the saboteur, He knows it wasn't Cody and Derrick.
Zach – I can't wait to find out who did it"
Frankie – Ya me to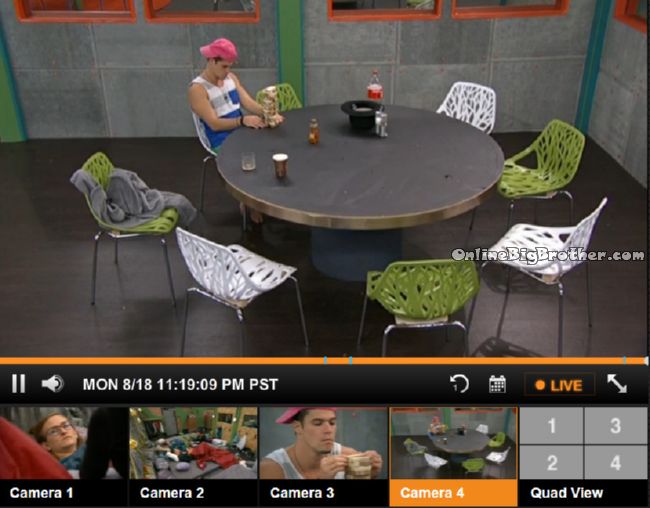 Zach playing Jenga by himself, Seems happy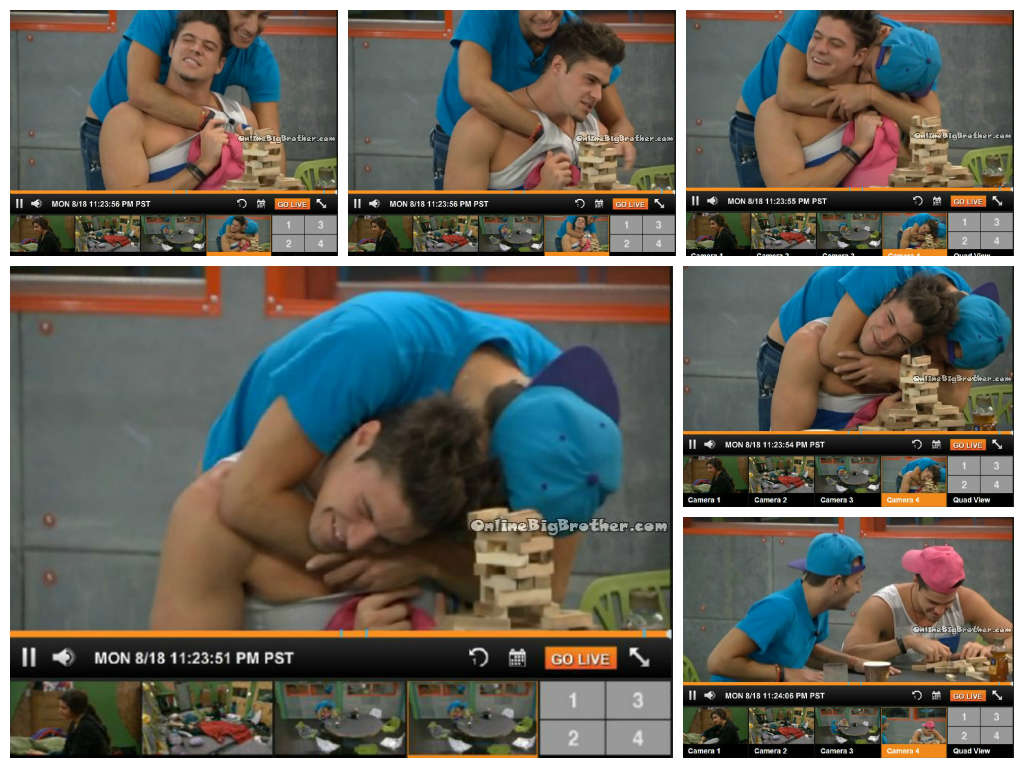 Frankie comes in and molests him. Frankie in Zach's ear – "I got you h@rd"