POV Holder:
Frankie
Next POV
Aug 16th
POV Used
Yes
POV Ceremony
Aug 18th
HOH Winner 1:
FRANKIE
HOH Winner 2:
Derrick
Battle of the Block Winner
Donny & Christine
Next HOH
Aug 21st
Original Nominations:
Derrick's Noms (Donny & Christine) Frankie's Noms (Caleb & Cody)
Final Nominations:
Zach & Cody
Have Nots
Christine & Victoria
POV Players
Cody, Caleb, Frankie, Victoria, Donny, Christine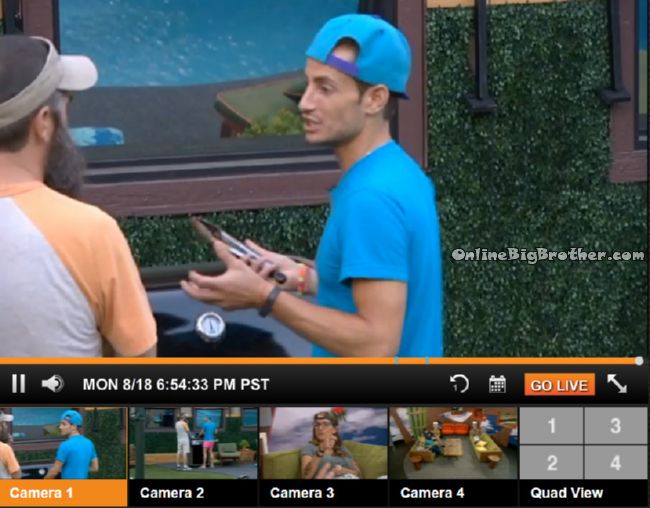 6:48pm Frankie and Donny
Frankie thinks thursday will have the Jury play in a HOH and the remaining houseguests play in a HOH. Two winners and the last week of BOB, "I don't think they will do what they did last year"
Donny – Hayden hanging on that wall
Frankie – I think he would come back
Donny Zach is going to sleep his week away
Frankie thinks Zach is going to try.. I just hope he's not malicious about it..
Frankie – Donny can you believe we did it (TA TasK)
Frankie – THey told me it had to be a clothing item so I had to hide something of Christine's.
Donny – Oh now
Franki – I did it already.. her moccasins
Donny – After the fact they told you that
Frankie – Ya
Donny – OK
Frankie – Did you knows that clothing item
Donny – maybe it was stated like that.
Donny mentions about Frankie glitter not being an article of clothing.
Frankie – THey didn't have a issue with that.. because I wore it..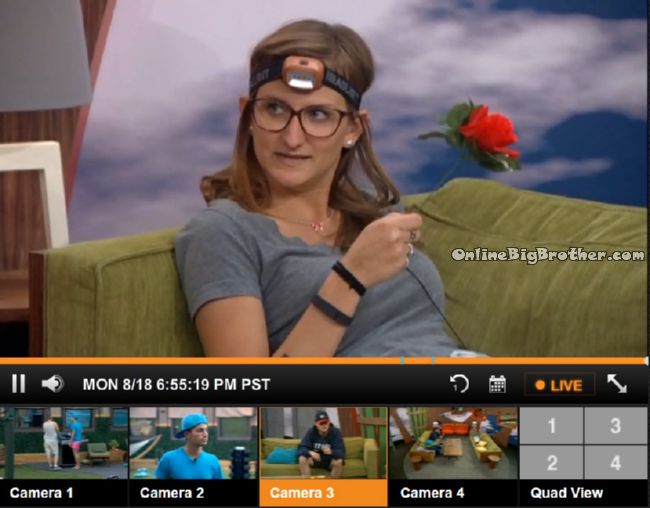 6:50pm Living Room Caleb Christine and Derrick
Talking about possible end dates
8 people in the game 5 people need to leave. they figure this week is buy back and next week is double eviction.
Derrick – I just didn't think there was buy back this year
Caleb – America might vote someone back in the game.
Christine – I'm so screwed.. Dear BB Gods please don't let there be a buy back
The go through some scenarios Christine gets more and more scared at the idea of the buy back getting HOH on return.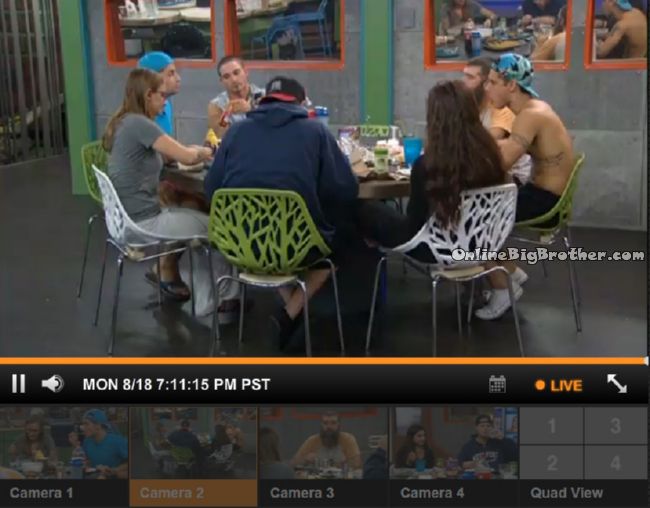 7:11 dinner
They are talking about places to eat and when restaurants mess up your order. Caleb and Frankie say they are very nice to servers and restaurants. Caleb say when he got back from Iraq he saw how other people lived and it changed how he was.
Frankie says when we was in south Africa they always got the order wrong for food.
Frankie tells them about apartheid in South Africa "In south Africa there was Apartheid, Slavery basically.. they had slavery up until 20 years ago"
Frankie – "In south Africa 20 years ago Slavery was legal."
Frankie goes on to explain the pencil test police officer would do to people to differentiate which class they belonged to, Black, Coloured or White.
He says "During Slavery" the people were restricted in their education. once Nelson Mandela ended apartheid it became mandatory that they all had jobs. Explains that all the people that were educationally repressed had to be given jobs.
A lot of jobs available were service jobs.
Frankie – the first time i was in South Africa I was ignorant of all this.. I n a restaurant literally everything is wrong .. like it'a always wrong.. always wrong.. It's always wrong.. It's always wrong.. It's always wrong.. I was really frustrated in the beginning"
After Frankie came back from the apartheid museum he put two and two together.
Frankie asks them if they've seen District 9.. it was filmed in south Africa. "that is exactly what is was like 20 years ago". Cody jumps in says "South Africa is mostly white.. right"
Frankie says Cape town is the most beautiful city but really troubled politically.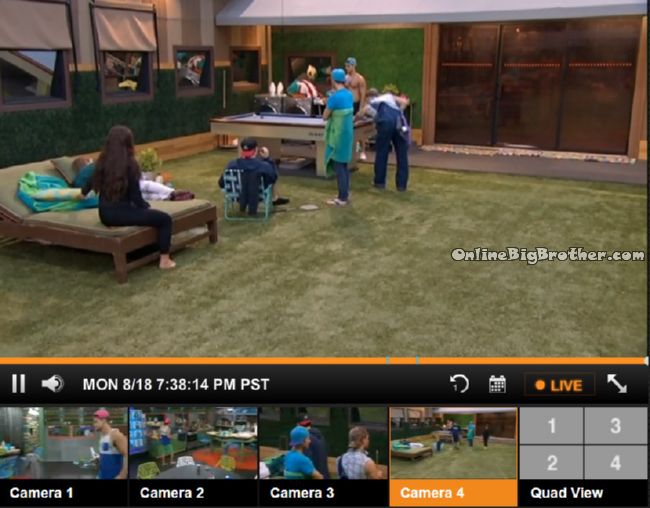 7:33pm Pool, Frankie, Cody and Caleb
Caleb says "THey" are saying this week is a buy back the following week is a double eviction
Frankie – who's they
Caleb – Christine and Derrick
Cody – that is what they did last year a buyback and a double eviction.
Derrick comes in Caleb tells him to share the number with Frankie
Derrick says the show ends September 18th. There's 4 weeks and 5 people to evict if there's a buyback. If there's is no buyback there's 4 people to evict and 4 weeks.
They agree it's too boring to have no double eviction.
Derrick – We have 31 more days..
Frankie – lets hope it's a slouching and shuffling competition .. hey I love you still.. god comes first.. will anyone like me to go to sleep.. does anyone have something hydrating..
Derrick laughs it'll be the best buyback ever all of them will be cheering if Jocata wins.,
The Live Feeds are archived. You can go back and watch everything that happens
Try It Free! Subscribe now to the official BB16 Live Feeds
7:59pm Frankie and Zach Kitchen
Frankie – Did you like my speech you didn't say anything
Zach – it was good
Frankie – you're still my favorite person on the planet. . I think my family and roommates come first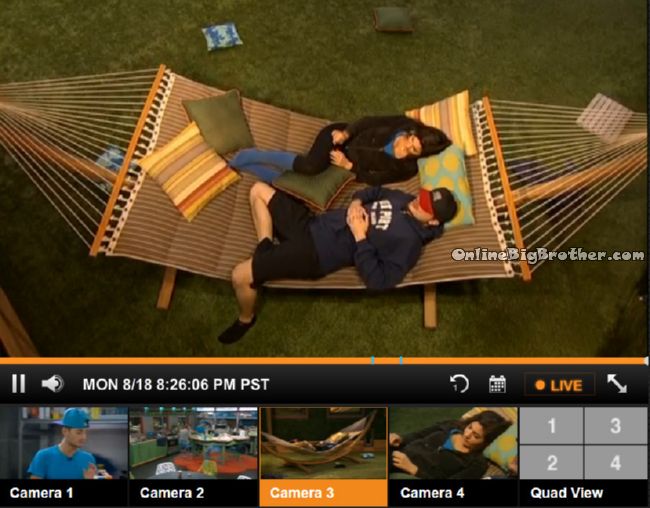 8:11pm Hammock Victoria and Derrick
Victoria – last night was the worst feeling for me I couldn't stop throwing up.. I think it was everything that is getting to me
Derrick asks about her head she says it's feeling better.
Victora – what are you thinking about
Derrick – I'm always running things through my head.. sometimes it's game sometimes family sometimes both just like you just like everybody…
Derrick tells her there will be a buyback followed by a double eviction..
Derrick – "It's going to be crazy these last weeks..
Victoria – usually there's sides..
Derrick – Could be or could be something completely different
Victoria cannot believe that Zach said all those mean things about her. Derrick tells her not to worry "who cares don't lose a wink over it"
Victoria thinks her last chance to win HOH is thursday if she can't win it she's going home.
Derrick tells her it's going to be endurance she has to win it.
Victoria – if it's endurance i'm extremely confident..
Derrick – If you don't win HOH you are going on the block..
Derrick says if there's still two HOH's it's best to get nominated so they can compete in the BOB.
Victoria – Donny's a beast man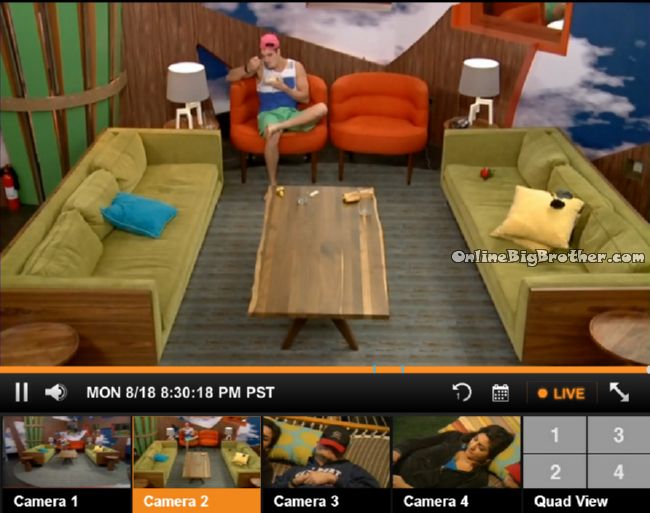 8:31 Like a boss
(Like him or not when he comes back into the game on Thursday it's going to make for some of the best feeds of the season. especially given how much Hate Frankie is spewing about him)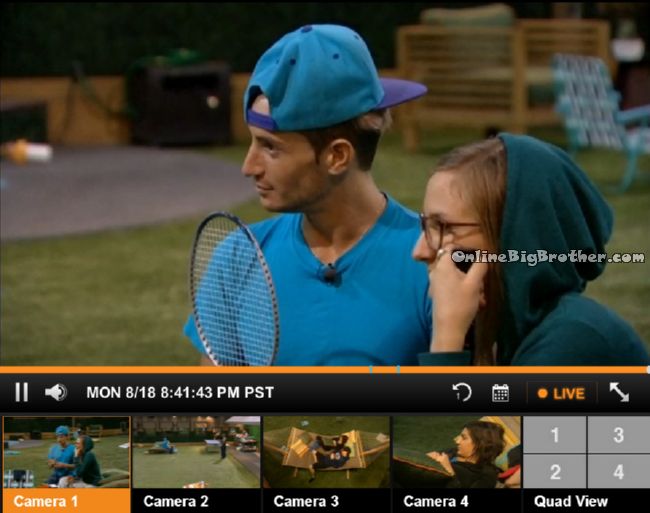 Me watching them watching Cody watch Caleb play pool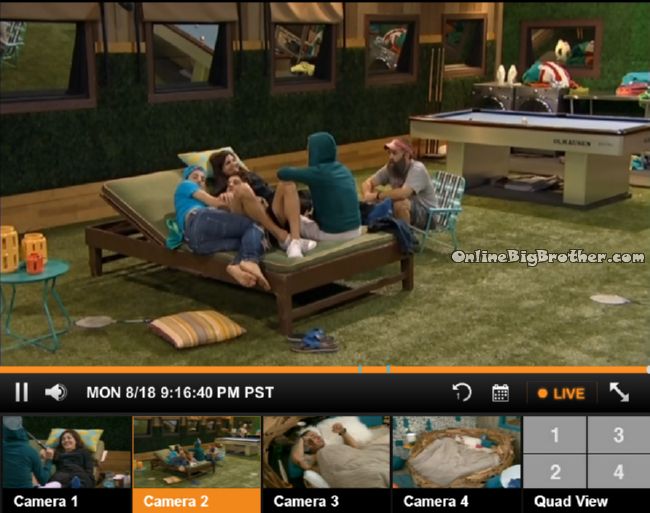 9:21pm heaped together chit chatting..
9:30pm Frankie and Christine. Jenn city was allowed to wear her hood in the diary room but I have to take mine off.  Donny and Zach are playing corn hole.
Alliances
"The HITMEN" – Cody & Derrick
Team America = Donny, Derrick, Frankie
More polls here https://www.onlinebigbrother.com/big-brother-compendium/big-brother-16-polls/
[polldaddy poll=8244330]
[polldaddy poll=8248683]