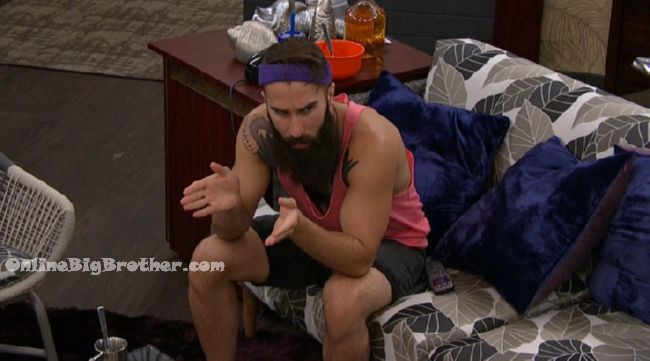 11:31am HOH Da and James
Da'Vonne says Bridgette was panicking last night, "She told me everything" (about Nicole and Corey working both sides)
Jame s- that is why Nicole is like James what do you want to do this week
Da – My dumb ass trusted them
Da believes that Nicole/Corey wanted a group of 4 with Frank and Brdigette
Da says Bridgette doesn't trust Nicole anymore Da thinks Bridgette will attached to her and Natalie .
Da says Bridgette thinks Nicole is a liar, "they were throwing names around like POWER COUPLE.. I talked to Bridgette for 2 hours.. until the sun came up"
Da noticed Nicole coming to the sliding door looking.
Paul joins them
Paul going on about Bridgette "talking sh1t all day". Da'Vonne and James agree.
None of them believe that Bridgette is being bullied.
Paul – just because you feel left out because of your own actions.. that is not bullying
PAul saying nobody cheering Bridgette on to win the HOH is not Bullying, "Nobody wanted you to win"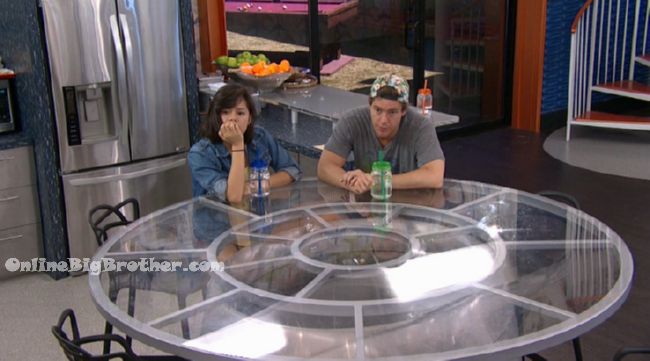 11:38am Frank and Bridgette
Frank – pull out a HOH shake the house up a little bit.. you might be better off putting up Paulie and Da or Nicole and James.
Frank recommends she has to make a move to split the house up.
Bridgette says the conversation this morning was "hurtful" with Michelle, 'She thinks I'm a liar, She admits to hold grudges.. she got jealous and when I said doesn't that sounded personal she's like this is Big Brother"
Frank – she's a child..
Bridgette – I really tried to talk to her… I don't want to throw Paul under the bus after what he said..
Frank – I'm not even making eye contact with Corey and Nicole
Frank – I noticed Nicole stopped last night.. it's fine.. I'm not going to let Corey be fake to me these last cople days..
Frank – I understand being Fake but theres was a point where it's just being a spineless coward..
Frank – I'm not going to have fake conversations anymore..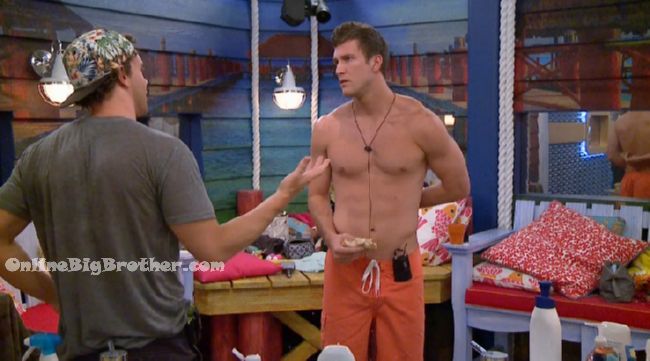 11:47am Corey and Frank bathroom
Frank – I'm kinda bummed bro
Corey – who me
Frank – I feel like you coulda clued me in a little bit.. seems like people were bullshitting me
Corey – I wasn't Michelle said herself she thought about using it. I was game for it
Frank – I hope so
Corey says they've been straight up to Frank the whole time.
Frank doesn't believe that says Nicole has been sketchy, there's things going around that only Nicole knew.
Corey – I wanted to keep you
Frank – I trust you brah.
Frank – I know she has your back but I wouldn't trust her
Frank warns that Nicole and Da are close
Corey – really.. I don't think so.. that doesn't make any sense to me
Frank – she's playing dirtier than the other season.. she's out for blood
Corey – I didn't do anything.. Paulie shouldn't have said that last night.. he was trying to squash that whole thing.. Paul shouldn't have done that..
Corey – Sorry man .. you haven't looked at me all morning it's breaking my heart..
Frank – I know my bad.. you were one of the few people I can still trust..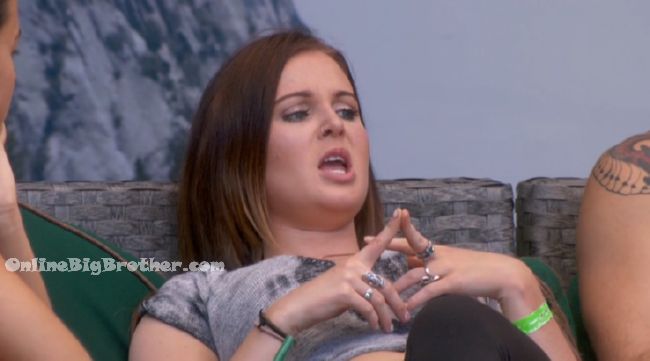 12:06pm backyard Paul, Michelle and Natalie
Michelle complaining about her conversation with Bridgette..
M – Alright Paul I need to know did you call me Buzz lightyear
P – I may or may not have.
Paul explains there was this time back when he thought she hated him that she walked out of the shower with her hair back .
Paul – Buzz light year is a good looking toy.. Because your eyes are big and blue it was a compliment.
Michelle – She (Bridgette) is trying to throw you under the buss.. Saying they're still in the house BLAH BLAH BLAH.. she wouldn't tell me the comment.
Paul – never cared.. I talked to you right off the bate about it..
Paul says he was there when Bridgette said the eyebrow comment.
Paul says him and Michelle had a problem and they hashed it out..
Michelle now says Bridgette has never apologized to her (she did read above)
Paul says Bridgette is claiming she said sorry twice but you're holding a grudge against her.
Michelle – She didn't even say I'm sorry never said for those words..
Paul tells them Bridgette is going home next week who cares, "Home girl going home.. "
Michelle – did she defend me
Paul – no
Paul – she said I will resuscitate you and shave off your eyebrows.. And me calling you buzz lightyear offensive..
Michelle wishes she used the veto on Frank.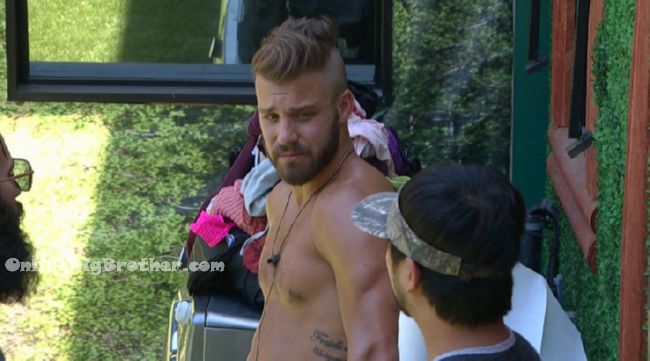 1:55pm James, Paulie and Paul
James is proposes they keep winning the HOH's
Paulie – I feel comfortable putting up Da and Bridgette.. once Victor is done his part clip him..
Paul wants bridgette out..
Paulie warns them over and over about Da, "She's a good whisperer"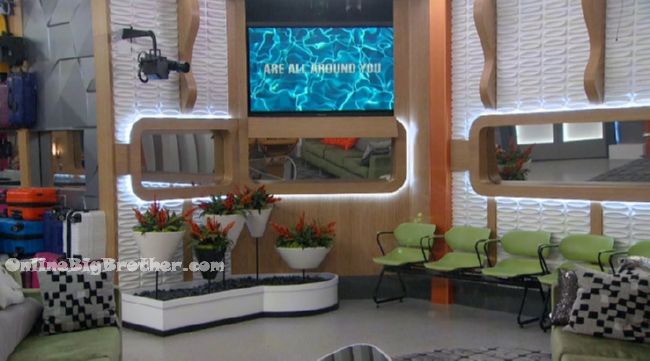 4:22pm They get the first clue about the twist..
Frank and Bridgette are off searching for clues..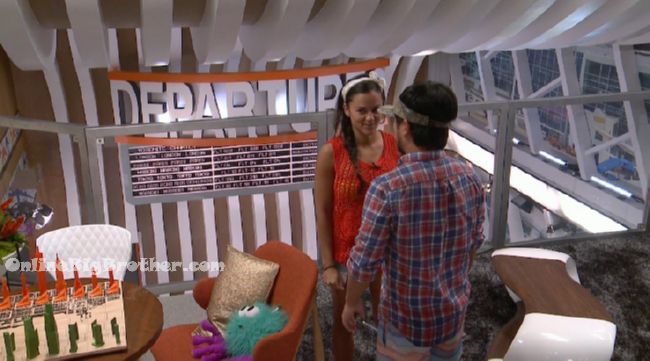 4:29pm
Natalie – That says plan to 11.. Big BRother airlines thing.. and on the board it says Paris..
paulie comes up.
Natalie this is so exciting.. should we wake everybody up
James tells them to keep quiet about everything "Keep it a secret.. could be a veto"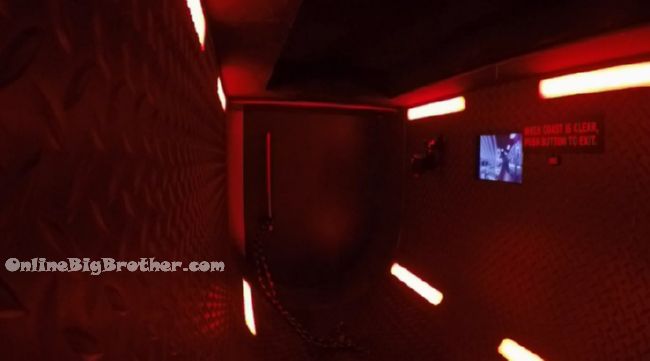 4:29pm Camera 4 shows this when James was in the phone booth.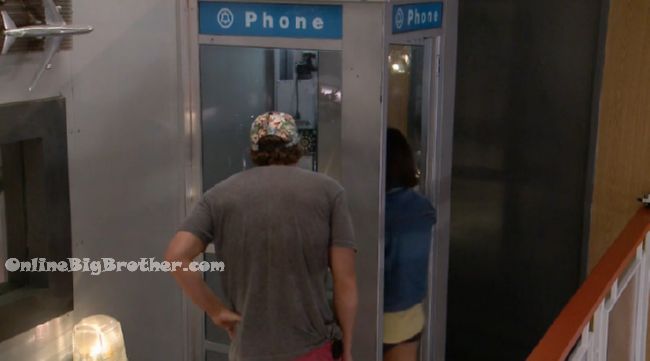 4:35pm (How many of you would be excited if one of these two found it?)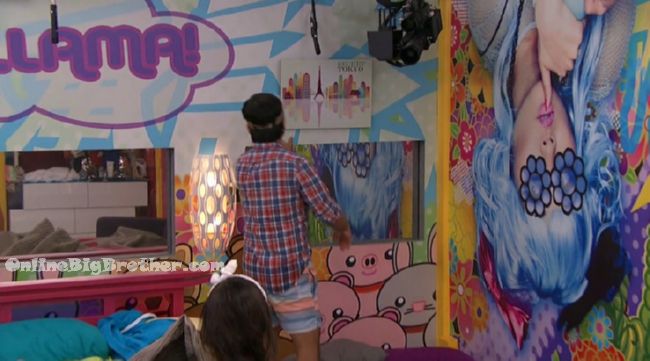 4:40pm James and Natalie getting close..
James and Natalie think it has something to do with the flight times. they notice the Eiffel tower in Tokyo room
James- don't you think it's weird every room has a little picture in there..
They start going to all the rooms..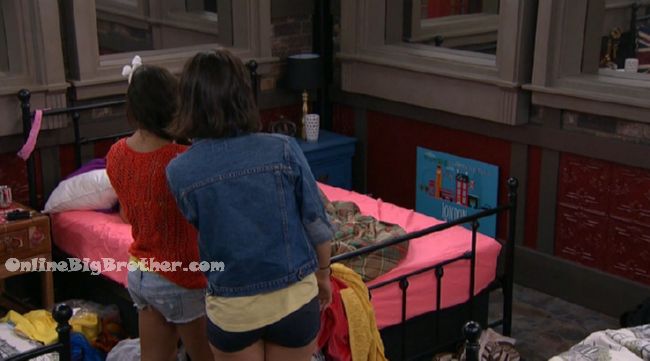 In the London room, Natalie – what does quarter hour mean..
Bridgette now with them.. she see them looking at the poser leaves goes to Frank and they start looking at the pictures with Natalie.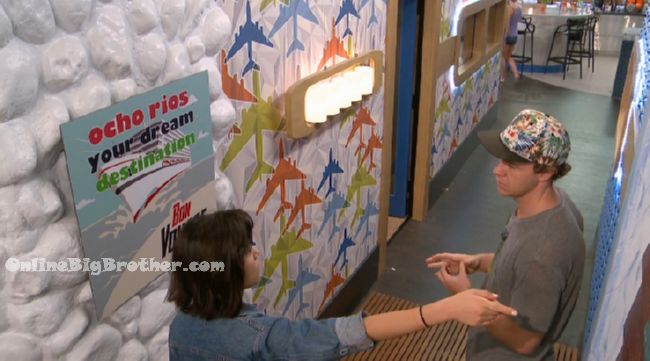 Bridgette looks at the the Bon Voyage picture..
Natalie/James, Bridgette/Frank are the only ones kinda close to figuring it out @ 4:48pm most the house is now up trying to figure it out.
4:53pm Paul tells everyone he's figured it out starts running around the house looking for clues..
Sound like they know it has to do with the posters and the departure board.
Paul – F*** I thought I had it but I didn't ..
5:03pm Victor tells Paul it might have something to do with the departures.
Paul is certain the departure board has something to do with it.
5:05pm Michelle and Da'Vonne think there's a room behind the phone booth..
they go into the HOH with Zakiyah
Zkaiyah has noticed all the posters have green writing on them. says Flight 211 (LOL zakiyah is so freaking close.. the answer is dial 211 to gain entry into the Pairs room)
Zakiyah says it can't be something that benefits Frank.
Da says it could be the coup d'tet that is played during the vote.
5:07pm Paul inspecting the airplane model near the chess board.
5:08pm Frank dialing numbers while looking at the departure board.
5:10pm HOH Zakiyah, paul and Meech Michelle tells them one of the flaps is loose in the phone booth and you can see a room with lights, "It's probably just production stuff"
Paul agree.
Zakiyah – I think it has something to do with the kitchen
5:11pm Frank continues to look at the departure board hammering numbers into the phone
Paul comes by "I was going to try that after you
Paul tries hammering numbers in
5:14pm Paul finds the secret.. They give him instructions on where to go.. Paul yells out to everyone has nothing to do with the phone..
"Stay calm and don't panic"
"Top secret information.. congratulations you have just discovered a secret destination .. By your feet a hatch to a tunnel once inside crawl through the tunnel to the secret destination.. it may be in your best interest to keep this a secret for now.. The door will open in 5 seconds"
[polldaddy poll=9477458]
[polldaddy poll=9477456]
Share it YO!!
Tweet