POV Holder:
Big Meech
POV Competition
July 23rd
POV Used
NO
POV Ceremony
July 25th
HOH
James
Next HOH
July 28th
Original Nominations:
Frank AND Bridgette
After POV Nominations:
Frank AND Bridgette
Have Nots
?
CBS All Access: Live feeds are only $5.99 per month – Try it FREE for 1 WEEK!
Michelle did not use the veto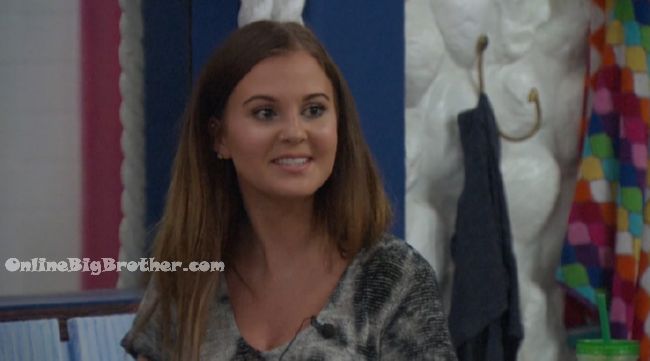 9:57am – 10:30am Bridgette and Michelle
Bridgette – Michelle this is super awkward… have we had a conversation about what I apparently said about your eyebrows
M – I don't know.. Did you really not say that … why would someone lie..
B – I don't know if I said it I can't say if I did or didn't… That's the honest truth.. I don't know.. I say a lot of shit and I have a sense of humour…
B – It's such a silly thing to hold onto and you've might have judged my whole personally about it..
Bridgette says She's being accused of Rolling her eyes and Scoffing at Michelle which she hasn't don
M – why would someone lie about that
Bridgette saying she's been told when she walks in a room makes Michelle want to vomit
M – I guarantee I never said that.. I will admit to what I said and I didn't say that.. I did say I found it hard to have a conversation with you..
B – it makes it hard to approach you when people are saying that..
Michelle says she's self conscious about her eyebrows they're super small
B – A lot of things have been said by Jozea.. I don't have anything against your eyebrows.
Bridgette doesn't understand why people are so hung up on something so silly..
Bridgette – that first week… I was there for you when you fainted.. You had a horribly sunburn I gave you my dress.. There was people making fun of yo and I had your back it wasn't very funny
Michelle says she wasn't close to the person that told her so she doesn't know why they would lie.
Bridgette – if I said it i'm sorry but I don't think I said it.. It's unfair to hold onto something like that..
M – Right…
B – A lot of people have said a lot of stuff you told about me that is hurtful as well..
M laughs..
Bridgette asks if she's denying you said sh1t about her. Michelle doesn't deny she did say shit.
M – I'm pissed, i'm biter that's who I am if someone crosses me the wrong way O don't want anything to do with that
B – I've been nice to you
M – When you're with Frank you talk mad sh1t
B – I'm a nice person I am always myself.
M – Who knows what you say about me when you're upstairs with him.. You've said crap about paul
B – what the hell Michelle I'm telling you this is who I am.. (Curse word)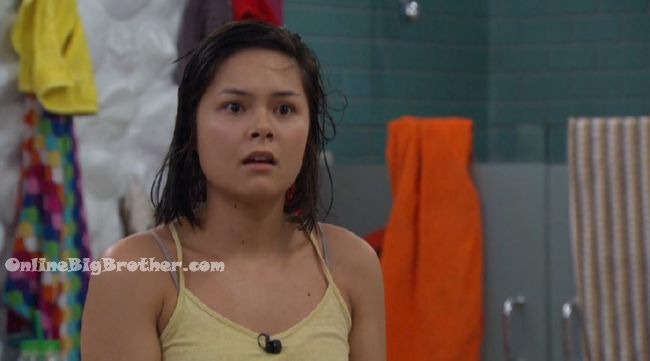 Bridgette says she's heard that Michelle doesn't like her cursing then talking sweet and having a voice that changes sometimes.
Michelle – ya it seems like a strategy to me
B explains when she gets excited her voice goes higher when she's with Frank whos a friend she feels comfortable and not judged she's happier and her voice gets a little higher/.
Bridgette points out she's always getting dirty looks from the girls it makes jit hard to feel comfortable and to be herself around them.
B – Liek that's so unfair you would hold that against me
Michelle says Brdigette acts like she has 2 different sides "That's who you are"
B – I'm trying to fix this.. I heard you don't even like to talk to me..
M – I can't look at you knowing that you said these mean things about me
B – you are saying mean things about me
M – how do you know what Tiffany told you is true.. I've never ever insulted you on a personal basis..
B – It feels personal
M – It's not.. I thin kyou are a outside of this house you are amazing
B – I remind you of a ex roommate you hate
M – Your personality yes
B – So you are holding onto a grudge .. it's not fair I've been nothing but nice..
M – You've been rolling your eyes
B – Whose telling you this
M – I don't want to name drop
B – Right.. So… You don't even give me a chance..
M – what do you mean…
B- I get nothing but crap from you and I'm trying to figure out why
M – I am nice to you sometimes
B – you leave the room when I come in
M- you were with Tiffany.. I can't stand Tiffany.. She betrayed me..
Feeds cut when we're back
M – how is this bullying though…
B – I only seen 3 episodes.. Sorry 3 seasons
B – It's a group of people and I feel attacked..
Bridgette lists off some of the things she's heard Michelle has said about her "She's the fakest person in here I want to puke when she walks into a room.. She's going to bake her way to the top.. Bridgette crocker
Michelle admits to everything but the puking.
They start arguing about Tiffany. Bridgette calls her out for Treating Tiffany like crap last week.
Michelle defends says Tiffany screwed them over.
Michelle – It's a game.. It's a game move"
B – what's a game move
M – you're a threat to me
Michelle explains her and Frank were close then Bridgette swooped in and she was kicked out.
Bridgette says she got close to Frank after Bronte left. Michelle says it was before that is was during Bridgette's HOH. Bridgette explains that Frank slept in her HOH the first night because she was scared Tiffany was going to come up and cry all night in the room like Vanessa did last season.
B – Frank was trying to protect me for a night.. I didn't want that HOH … I was throwing a ball at a giant tennis racket and I won.. So what else are you holding against me.. What else have I done to you..
B – Frank is awesome and he's nice
M – I got Jealous
B – why didn't you tell me
M – I told Frank .. that eyebrow thing..
Bridgette says the whole time Frank tried to get them to work together.
M – it's a lot of things added up..
Bridgette says she's been feeling attacked
Michelle doesn't buy that says nobody is "Attacking" Bridgette. Blames Bridgette for attacking her when it's really a whole group of people that have been saying things about her.
M – I'm not the sole person behind this.
Michelle claims to have reason for not liking Bridgette.
Bridgette says her and Natalie were defending Michelle when "They" were commenting on her appearance.
M – Oh they were making fun of my appearance..
B – Wasn't me
M – Who was it
B – THey're still in the freaking house Michelle
M – GREAT
B – I defended you.. And you still hate me
M – Now I'm pissed off
B – They made a comment that wasn't fair..
M – I WANT TO KNOW .. wouldn't you want to know
B – You are friends with this person they are a nice person..
M – is it fat..
Bridgette says Michelle held on to something for so long that wasn't even true what will she do when she hears about something that is true, "You'll hang onto it for no reason.. It's childish"
M – I hold grudges..
B – That's the real issue then.. I don't need you to like me.. I would appreciate you would stop talking sh1t about me
M – you think you're always the topic of conversation .. you don't need to talk to me
B – this is Big Brother you have to talk to everyone..
M – Ya Bridgette we're best Friends now is that what you want to hear
Bridgette says she cannot tell Michelle who said it because she doesn't want Michelle to start talking about them behind their back and holding a grudge for 40 days.
Michelle says unless Bridgette tells her what thing this person in the house said about her that is personal Michelle is going to assume Bridgette just made it up.
Bridgette – Thanks Michelle nice to talk to you … I didn't want to say I didn't try..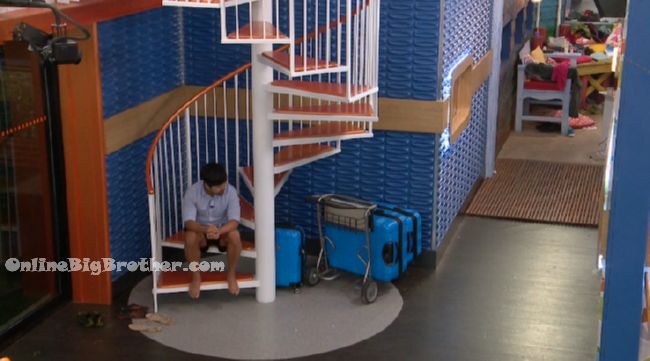 10:19am
james is listening in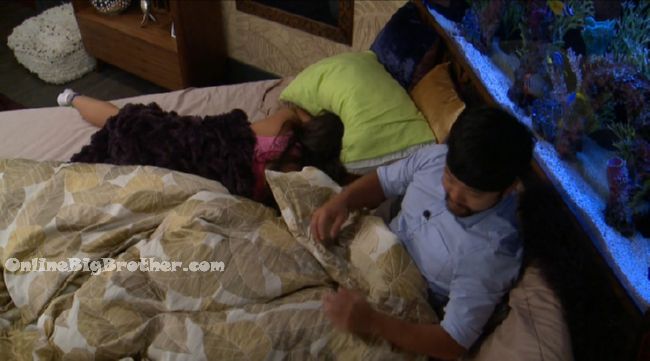 10:27am
James scurries back to the HOH to tell Natalie what he heard.
Natalie is worried that Bridgette will throw her under the bus.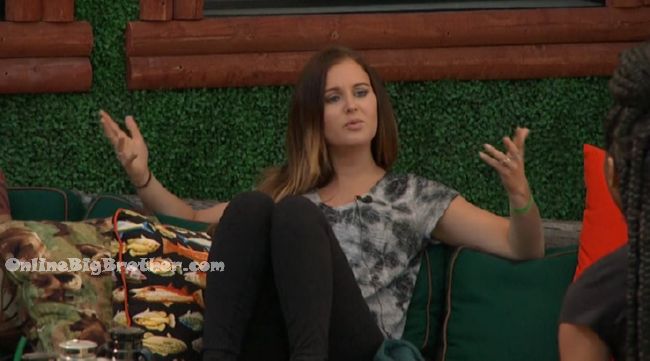 10:38am backyard Michelle, James and Da'Vonne
(Bridgette went over a lot of the talking points above with da'Vonne the previous night so Da'Vonne is adding some clairty as Michelle rants)
Michelle is pissed says Bridgette was attacking her
Michelle – what does she want out the conversation…
Da'Vonne – she's panicking because Frank's going to go home..
Da explains that people told Bridgette that Michelle would go to the camera and talk to the life feeders talking shit about her.
Da – Tiffany told her a lot of sh1t.
James chimes in that Tiffany said a lot.
Michelle is hung up on Bridgette telling her there was people making comments on her appearance.
Natalie comes by doesn't remember what it is.
Michelle – what was it.. My teeth.. i'm fat..
Natalie says she avoids sh1t talking..
Michelle – AHHAHH I want to know..
Michelle she's a threat to my game.
Michelle called into the Diary room room veto Ceremony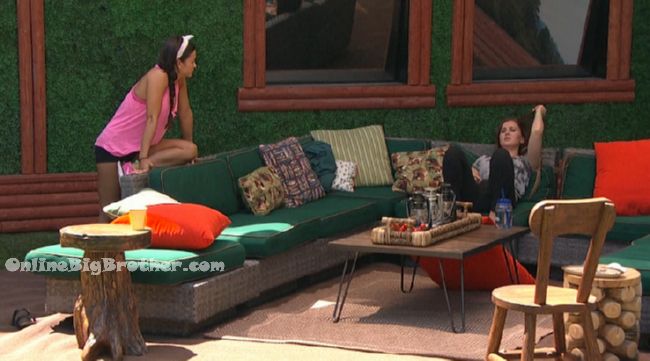 11:36am Natalie and Michelle
Natalie says it's either Paul or Victor that said that personal thing about her.
Michelle says she knows it's Paul he's said sh1t about her.
Michelle says she doesn't want to have that Stigma, "Apparently we're called mean girls now"
Natalie doesn't think anyone in the house is a mean girl
Michelle – now i'm in a sour mood.. i'm scared she'll win HOH