POV Holder:
Big Meech
POV Competition
July 23rd
POV Used
NO
POV Ceremony
July 25th
HOH
James
Next HOH
July 28th
Original Nominations:
Frank AND Bridgette
After POV Nominations:
Frank AND Bridgette
Have Nots
?
CBS All Access: Live feeds are only $5.99 per month – Try it FREE for 1 WEEK!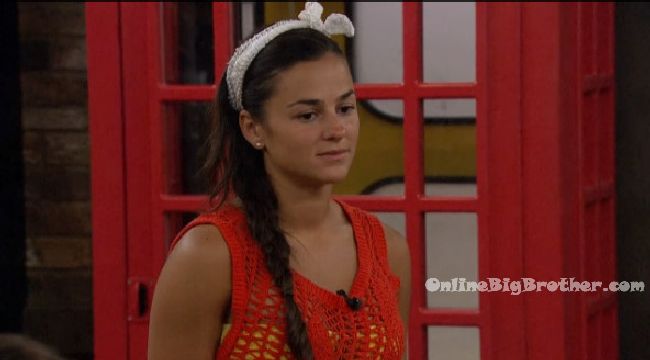 5:20pm Natalie tries numbers in the phone booth phone and then comes out saying I'm not a good private detector. Victor says detective. Natalie says oh yeah private detective.
5:25pm HOH room – Corey, James, and Paul. Paul says I think I have it. What I need is for everyone to disperse. If you can keep him (Frank) busy. The situation needs to calm down and I need to be up here for a minute. All I know is keep homie away from it. He doesn't have it completely figured out but we need him away from the Phone Booth so he doesn't mess it up. Corey asks why don't you just crack it and be done with it. Paul says because I don't want to be out there messing with it. If that's a diamond power of veto or something that lets you take two people off. … why else would it be after the veto ceremony. Paul leaves and tries to throw the others off by telling them he thinks it has to do with the planes on the wall. Frank joins them and says I really don't think its something we can figure out right now. Frank leaves. Corey asks James why won't Paul tell us it right now? Paul asks Frank did you try putting in all the numbers? Frank says yeah and different combinations of them too. Nicole and Z come up to the HOH room. James tells them that Paul got a message on the phone and won't say what it is. Z asks so should we all try and see if we land on something. James says Paul figured out the combination and I'm pretty sure Frank did too. Frank said I might have heard something .. and then he winked at me.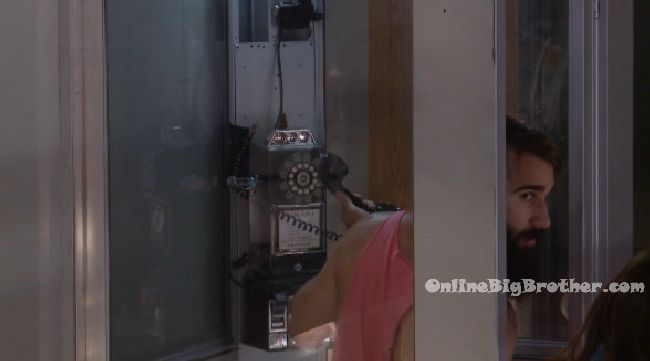 Outside the HOH room – Frank, Paul, Bridgette and Natalie are milling around trying to figure out the code. Paul says there
Meanwhile down in the London Bedroom – James is trying the other phone booth phone.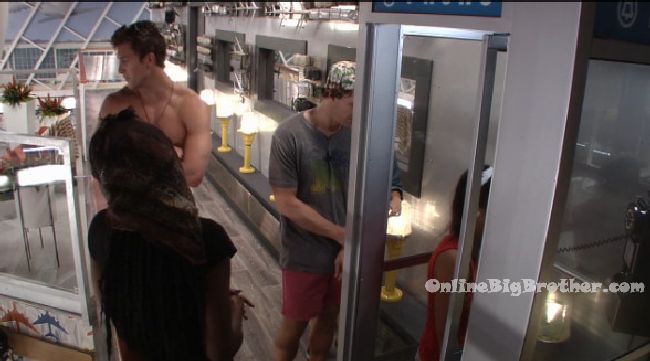 5:40pm Paul is trying numbers in the Phone booth outside the HOH room. There is a voice on the other end saying congratulations you have just discovered the secret destination. By your feet a a door will unlatch. Once inside you will need to close this door behind you to go through the tunnel into the secret destination. It maybe in your best interest to keep this a secret. If you are ready to enter the tunnel it will open in 5 seconds. If not hang up the phone and return when the coast is clear. Paul hangs up the phone and opens the latch. He drops into the tunnel and crawls through it into the Secret Paris Room. Inside the room Paul finds a card and reads it.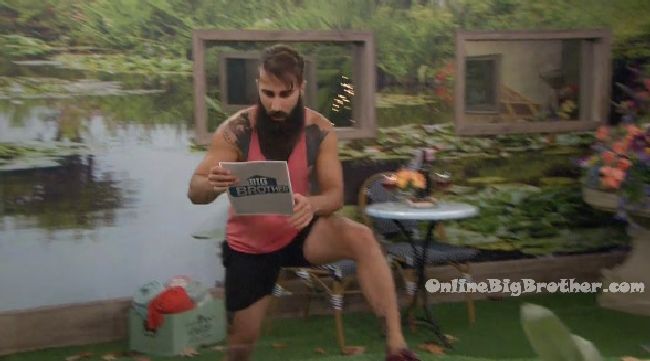 Congratulations on finding the secret destination. Before you are 12 sealed envelopes containing a big brother airlines ticket. 11 of the envelopes have a one way ticket but one has a round trip ticket. Any one that finds this secret destination may choose an envelope. Once an envelope is claimed it is yours and you may not exchange it for a different one. If you're evicted your envelope will be opened on stage revealing your ticket. If you hold the round trip ticket you will immediately go back into the house for a second shot at the 500K grand prize. You must keep the envelope sealed as the ticket is only valid if opened on stage with Julie on your eviction. If you open the envelope it void. If you tamper with another house guests envelope you may be subject to a penalty. It is up to you whether you tell the other house guests about this room or the envelopes. Remember the more people that enter the room the greater chance…
Big Brother blocks the feeds.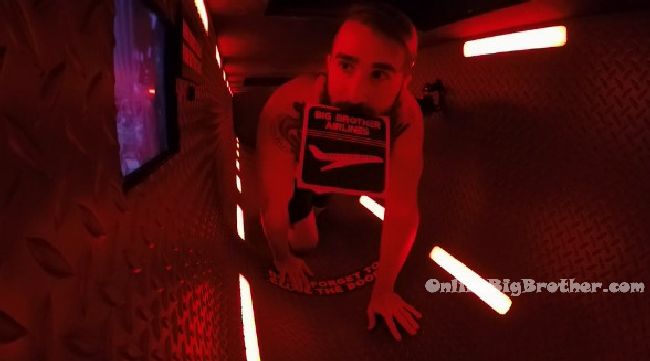 Paul crawling through the tunnel #BB18 @DawgsBigBrother pic.twitter.com/MgnU3iFFE6

— OnlineBigBrother.com (@bigbspoilers) July 26, 2016
5:55pm Paul comes out tells the others in the living room about entering the room. He tells the room is a Paris room. He says 1 of these ticket contains a round trip ticket. He says there were cards laid out and I just picked one. Paul says it sucks we can't even open it. Frank asks what was the code? Paul says you'll have to figure it out. The he says I added the numbers together. They keep hounding him for the code but Paul says he can't say and doesn't want to get it taken away.
6:06pm – 6:25pm Victor cracks the code and enters the room. Vic reads the instructions and then grabs a card and heads back out. Big Brother blocks the feeds again.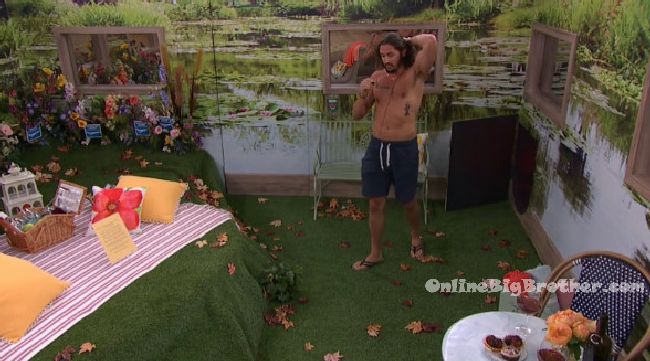 6:40pm The feeds return to Big Meech in the secret room.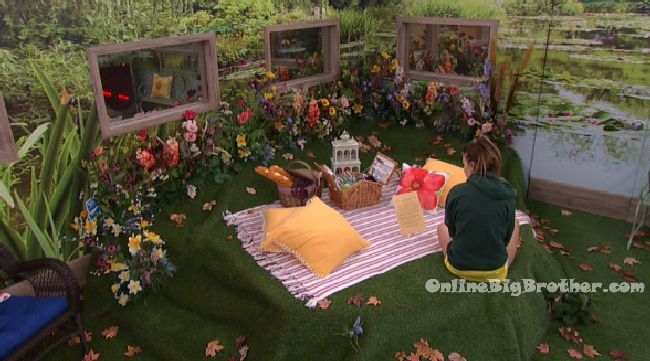 Everyone has their card from the secret room now!
6:40pm – 6:55pm Big Brother blocks the feeds and then return when Meech comes out. She tells Paul that someone is a F**king Liar! Paul asks who am I a liar? Meech says because you didn't even mention the part about.. Paul says FOOL! I was going to wait until Frank & Bridgette were both evicted and tell all of you guys to go get a f**king card. But now that everybody knows and they have it… when you evict Frank and he comes right back I'll be like way to go guys .. round of applause!! Natalie says but we didn't know .. and I thought it was a vacation so I really wanted to get in there. Michelle says I feel like they wanted us to keep it a secret. Natalie says I knew you were lying down there. Paul asks so do you walk out with this when you leave? Paul says yeah. Paul says Bridgette look at me like F**K you .. you didn't tell me. Michelle asks do you think this is taking place of Jury buy back? Paul says yes. Paul says they (BB) already know who won. (The cards have numbers on them) Paulie says F**k those two (Frank & Bridgette) I'll send them both right back out if one one of them comes back. Da says I wish you would have just done a midnight psst… psst! Paul says I couldn't I felt like they were about to figure it out.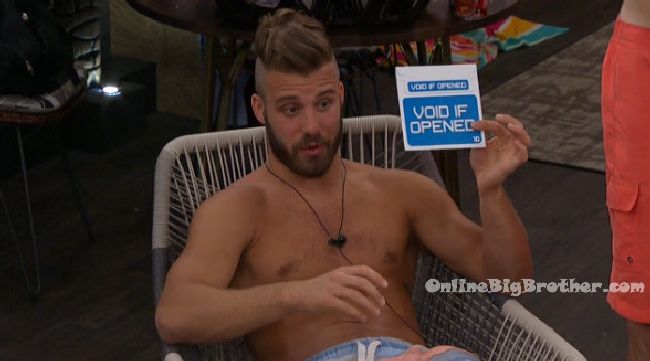 7pm – 7:15pm Nicole is mad because Corey didn't immediately tell her the code. She says that she saw Natalie tell James. I found out from James. I absolutely would have pulled you aside and told you. Corey says its just crazy that you're mad at me for that. Nicole says it was frustrating that I was in that room and .. Corey says I didn't know if they wanted me to tell you or not. Nicole says well everyone knew it at that point. Corey says I'm not sure why I'm in trouble when everyone figured it out by looking. Nicole says once you went in there I figured you would just tell me. Corey says I was just doing what Paul told me to do and not tell anyone. Nicole says I just don't want you to be mad at me about it. Paul joins them.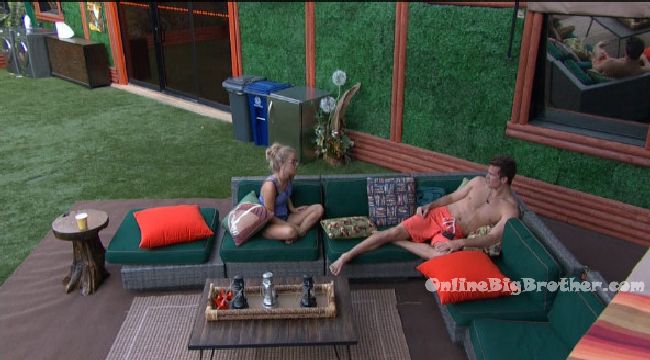 7:15pm – 7:25pm Storage room – Frank and Michelle head into the storage room. Michelle is crying. Frank says that main reason I am telling you is because you have to know that you can't trust everybody in this damn house. Michelle is crying and says I just feel bad. Z and Da join them. She says I don't want people to think that I'm attacking Bridgette. So times I say things like strategy-wise. I do better what I just don't talk to anyone. I just feel bad. I feel bad for him too. Frank says don't feel bad for me. Da says he might be coming back. Michelle says I don't know why I'm crying .. you guys are holding it together. I just don't want to be held in that light .. as a bad person because its not me. Da says at least you talked to her. Frank says don't beat yourself up about it. Da says neither of you are going to leave thinking this person is a bully or this person is a bully. Clean slate. They leave the room.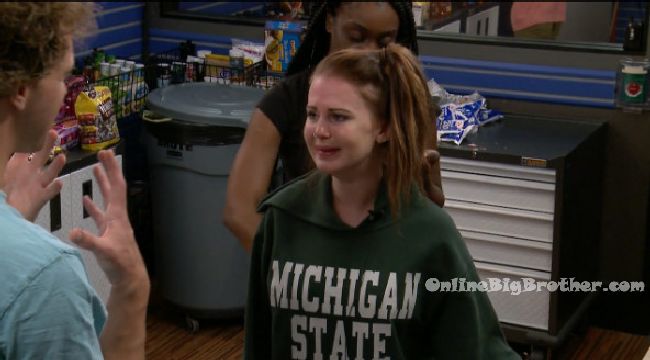 7:30pm Paulie says we vote out Frank and if he doesn't have it (doesn't have the round trip ticket back into the house) then we vote out Bridgette and then Da.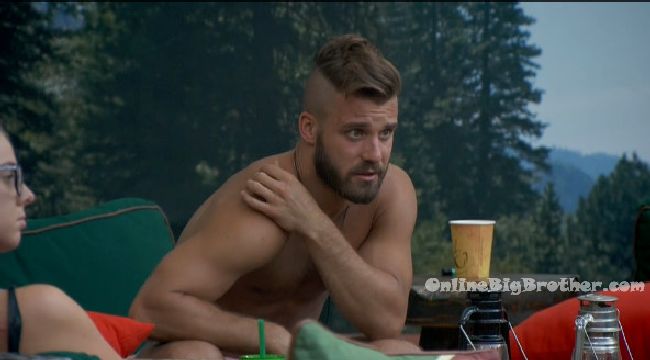 7:30pm Frank, Bridgette and Z are talking. Frank says You voted out Tiff right? And how sure are you that Paulie did. Z says we both did. Frank says I thought you could trust James. Obviously he went against his word with her (Bridgette) and he swore on his daughters life that he voted out Tiffany. And if me, you, Paulie and Natalie voted out Tiffany. I'm really starting to wonder about his moral character. You know what I'm saying. I know Natalie didn't vote her (Bronte) out .. that was her friend. Da joins them. Frank says I know one name for sure thanks to Da. Da says you're welcome. Natalie joins them. Natalie says I'm not the smartest bulb in the pack. Is that a saying?! Frank says no. Not the brightest crayon.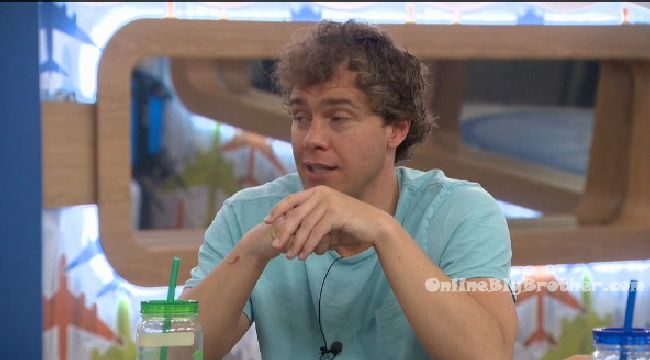 7:40pm – 7:50pm Havenot room – Michelle talking to Da and says I just don't want to be seen as season 15. Da says I cussed him about that. First of all you might not be getting what I'm getting. It wasn't your place to say that. You never discuss money in here. Michelle says I felt like I betrayed him. Michelle says I wish he (Paul) would have just done it in secret. Michelle asks what else can I say to her (Bridgette). Da says you've said all you can say what does she want you to do .. kiss her a$$? Michelle says I think so. Da says when her ankle was messed up, you were the one helping her. A bully wouldn't do that. Michelle asks do you think there will still be a jury buy back? Da says no, not if one of them (Frank or Bridgette) have it. Michelle says I feel like there is still one more week.
7:55pm – 8pm Frank and Bridgette talk about their dislike for Paul. Bridgette says what a piece of sh*t with the numbers. Frank says I know right like don't lead us down the wrong path. Frank says I don't know if I trust Paulie. Bridgette says I don't. I trust Nat. Frank says I have a hard time believing Corey when everyone else knew what was going on but him. On Thursday I'm going home and can watch him being a piece of sh*t.
[polldaddy poll=9477458]
[polldaddy poll=9477456]