11:41pm BBQing Frankie and Derrick
Frankie saying its' too detrimental to their game to save donny
We need a mission we can accomplish without blowing ourselves up
Derrick – can't do it
Frankie – no way
Derrick – we have to catch im because he's going to sleep soon..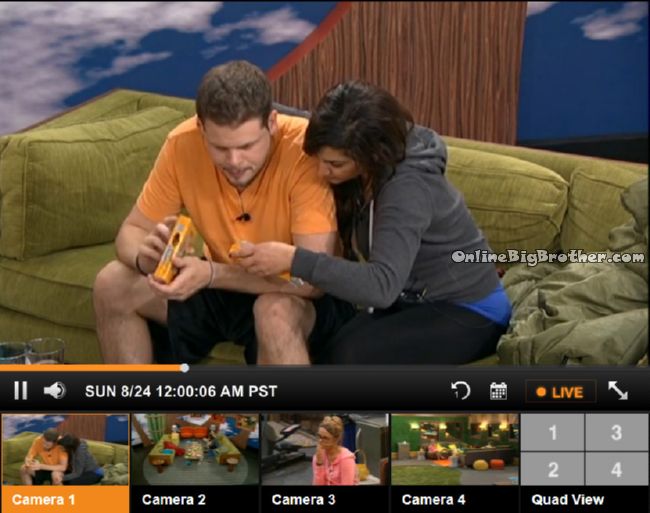 12:00AM Victoria rubbing Derrick's back reading the ingredients for the candy.
Victoria – red 5 is bad for you..
Derrick says DOnny has been in the Diary room for a long time.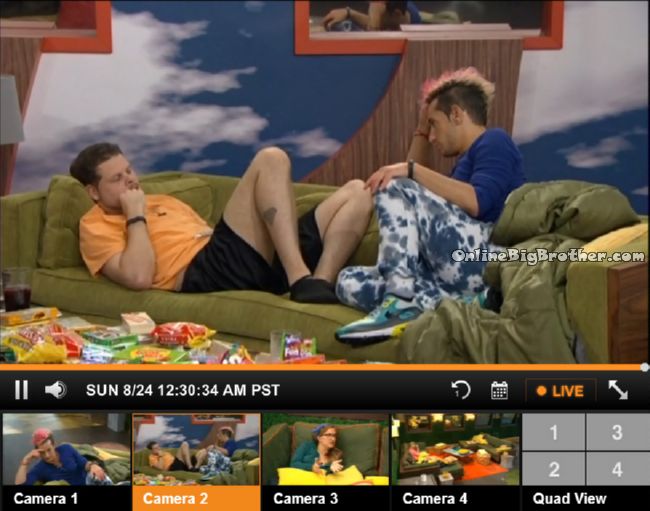 12:23AM Living Room, Caleb, Derrick and Frankie
Saying they miss Zach. Frankie feels less stressed adds that he never felt like he could let his guard down with.
Frankie bring sup how unbelievable it would have been if Jocasta would have won that competition and came back into the game.
Derrick it was close
Caleb she almost did ..
Frankie what would she have done..
Derrick – nothing..
Frankie – Shuffled around doing nothing..
Derrick says they wouldn't have to worry about someone putting them up next week.
Derrick says he's never seen a person DR as long as DOnny's
Frankie – he's crying
Derrick says it would be perfect for DOnny to come out of the Diary room right now so they can talk about the play.
Frankie was thinking a play were the 8 of them play the 8 evicted house guests
Derrick suggests a saboteur thing instead of the play.
Frankie – like what.. hiding things again.. stripping the sheets off people bed
Derrick – the easiest thing is to f** the vote that's 5 grand in the bank if me and you wanted to do it we could I don't know if it will ruin our game..
Derrick – I don't think it's worth the risk
Fnkraei – I want her gone so badly..
Derrick – think about it right now he's being nice to use because he's safe
Frankie – she's coming after me and Christine and if i'm sitting up there with Christine I'm OK but not Caleb.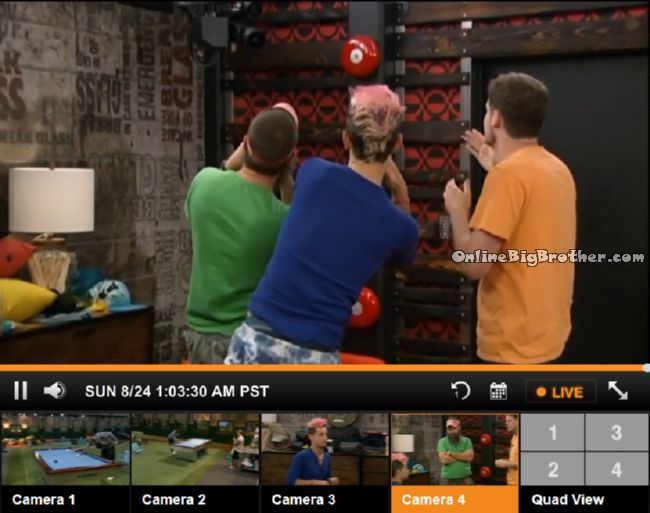 12:45AM FIREROOM Derrick and Donny
Donny – what do you think about a play
Derrick – I don't think it's enough
Donny agrees..
Derrick – we pretend we are the evicted houseguest for 3 hours during tvgn
Donny says last week early on Derrick said it was looking decent and Derrick would keep him posted and Derrick hasn't come to him yet. Donny thinks he's the target.
Derrick – it's not looking good man.. I'm so torn..
Dony – you said it to me America put the three of us together for a reason..
Derrick -theres no doubt in my mind there is something in your story people love you and I should love you to
Donny -whats the reason for the distrust I've done to you
Derrick there's been times you said my name.. there's been people that told me
Derrick I want this money as bad as you do.. only two of us will win any real money.. I dont know what to do
Donny – for real.. beside people running scenarios.. (Implying he's just ran scenarios with people)
People have been so paranoid and i've never done nothing to anyone.. Christine has been so scared of me and I never done nothing to her.
Derrick – they are scared of you you have more heart than anyone in this house. you are a great guy and if you are in the final 2 i'm giving the money to you..
Donny – you and Frankie shouldn't be scared of me.
Frankie comes in.. Derrick doesn't know the play will be enough, "THey all vote us to be in team America together they want us to succeed"
Frankie – they want us to do something fun and simple
Derrick – they want to see sabotage… look at the mission cause fights..
Donny – there's nothing to sabotage
Frankie – lets do something fun
Derrick – beside Caleb I don't think Anybody would buy Victoria pulling off an elaborate stunt
Donny says they have two votes once they convince the third person and the mission will be complete.
Donny – America chose the three of us to work together now America is going to watch two of us vote out
Frankie – if it comes down to that yes
Donny – you ever heard about operation revolving door. Nokomis came up with it if someone comes back into the game they leave right away. Donny doesn't they would have trouble pitching that
Frankie – It cannot be accomplished before the Veto meeting.. we cannot get the votes flipped before the veto meeting..
Derrick says they can't get him off the block
Frankie we need the mission done before the veto meeting.
Donny I asked them and they … feeds cut..
Feeds back Donny – that would be a quick 5 thousand dollars..
Frankie – I don't know..
Donny – it's easy..
Frankie – or we can put on a play and get 5 thousand dollars let make it silent…
Donny – when would we put on this play.. what kinda lines would we learn
Frankie – Tomorrow for TVGN.. we would figure it out
Derrick – I want the 5K
Donny – I want it too it's the last thing
Derrick it's life changing bills are gone..
They decide on BB Broadway..
Frankie leaves.. Derrick tells Donny they will be friends outside the house sometimes you have to do things to get your further in the game.. Feeds cut.
BB Broadway is a go.. (This couldn't get any lamer)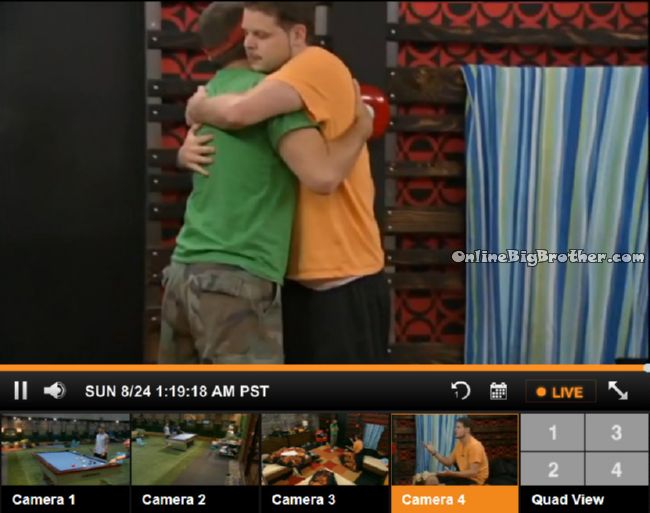 Derrick wants to get to the end but he doesn't know how he's going to pull it off., Derrick doesn't win a lot of competitions. Donny offers to help him.
Derrick – I'm telling you to your face i'm not sold on sending you home .. I have to think about my game and my conscious..
Donny – I appreciate you being honest my bags will be packed either way
Derrick says DOnny has no one "I say lets get this 5 thousand dollars"
Donny understand that Derrick has made alliances and arrangements and if he starts campaigning it will look bad. Derrick says Nicole is most likely going to step on her d!ck "Say the wrong thing to the wrong person"
Derrick says if they can get a couple more TA tasks they will win as much as second place.
Derrick and Donny start to cry.
Donny – I really appreciate the conversation.. you're a good guy"
Victoria comes in "You're crying"
Derrick says he told Donny he can't vote for him. "He's a good guy.. He's a good dude"
Caleb joins them.. Derrick Continues to weep about Donny..
Derrick says Donny wasn't
1:30AM Derrick, Frankie, Cody, Caleb, Victoria and Christine backyard
Derrick tells him he talked to Donny told him his game was over and game him the reasons. Derick – I'm not going to lie I felt bad..
Derrick adds Donny didn't try to manipulate him they had a honest discussion.
Christine and Derrick agree Donny has the worst social game they have ever seen.
Frankie starts suggesting they do a play Derrick seems excited about it. Caleb will play Devin, Frankie will play Amber. Victoria doesn't want to participate look all swollen.
Frankie – who did nothing and slept alot, Jocasta all you have to do is slouch and wheeze
Cody will be Zach
Caleb Doesn't want to be Devin.. Derrick now says he's Devin and Nicole should be Hayden. Christine will be POIWPOW.
Claeb now says he'll do Brittany
(excited about the play?)
One way to support this site that doesn't cost you anything extra is making your
Amazon purchases through the links Below
For Canada use link
Amazon Canada OnlineBigBrother
More polls here https://www.onlinebigbrother.com/big-brother-compendium/big-brother-16-polls/
[polldaddy poll=8263785]
[polldaddy poll=8260325]
[polldaddy poll=8261457]
Share it YO!
Tweet