POV Holder:
Cody
Next POV
Aug 30th
POV Used
?
POV Ceremony
Aug 25th
HOH Winner 1:
Cody
Next HOH
Aug 28th
Nominations:
Donny & Nicole
Have Nots
Donny & Nicole
POV Players
Donny, Nicole, Cody, Frankie, Derrick, Christine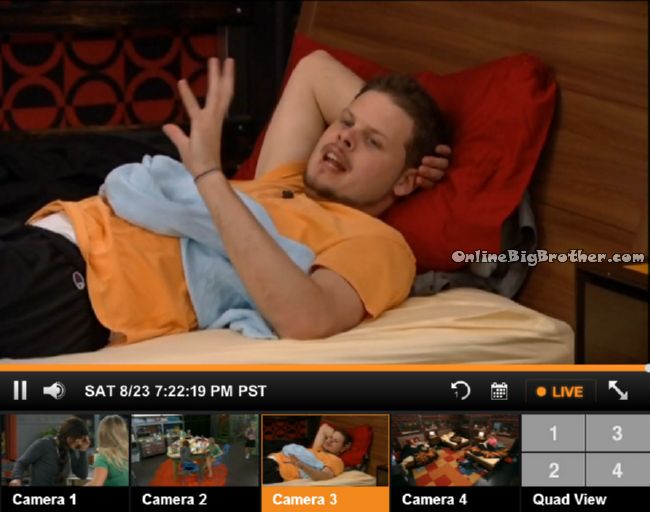 7:22pm FIREROOM Derrick and Frankie
(Sounds like they are decided on the BB play)
Talking about the play they want to have.
Derrick – the BB Broadway
Derrick says both of them are equally dangerous Nicole/Donny.. Derrick explains if they start telling people to keep Donny the house will start to question them.
Derrick – they are not stupid you know.. Nicole not going to lie equally f** dangerous.. if it comes to an endurance comp she could potentially win.
Derrick – OK BB Broadway.. the whole f***g thing. Costumes everything.."
Frankie says it doesn't have to be stressful it has to be fun. They will play themselves, with a script, set, costume.
Derrick says the fans usually don't like the Nice stuff they want them to F*** sh1t up
Frankie – they're giving us a chance to have fun this is a gift.
Derrick are they really going to vote against us.. are your fans going to vote against you
Frankie shaking his head NO NO
Derrick – Arianna's fans are they going to vote against us
Frankie shaking his head NO NO
Derrick – they are going to vote to give you the money .. you're right you're right .. 100% that's why I love you dude.. I need ya.. "
Derrick says Cody, Christine and Caleb are ecstatic that Donny is going home.
Frankie is worried they will get backdoored if they try to save Donny. Cody could get spooked.
Derrick says it's always hard doing the team america tasks with Donny so if he's gone the next couple will be easier for them to accomplish
Derrick says Donny will vote them out if he had the opportunity.
Frankie – now we have to F*** convince him
Derrick – it's always a f*** struggle
Frankie – I'm so happy.. I'm so happy
Derrick we have to play it tonight and have rehearsals
Frankie 9 o'clock curtain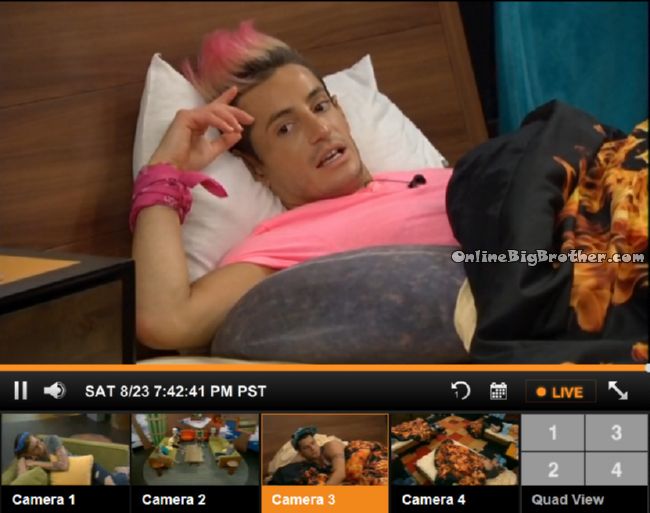 7:39pm Fireroom Derrick and Frankie
Derrick pointing out that Cody could make final 2 pretty easily he's a compe beast
Frankie says this is good everyone can talk about Cody being a beast and not Frankie
Derrick says after this week it's time to play.
Derrick says Victoria has to go soon.. but that is a easy week "If Victoria is in the final 3 people are going to think about taking her."
Frankie is worried they won't have the votes to get Victoria out
Derrick says the only reason she stayed is you can get her out any week.
Frankie – all of us are smart enough to know we need to get her out
Frankie – 6 against one at the end of this week
Derrick – If she wins(HOH) we're f***
Frankie hopes he's up with Christine if Nicole is HOH
Derrick – Cody's got her (Nicole) on Lock right now.. he put her on the block and he's got her on lock.. he's taking her to the movies tonight
Cody joins them they start wondering who Nicole will put up. Frankie thinks it will be him and Christine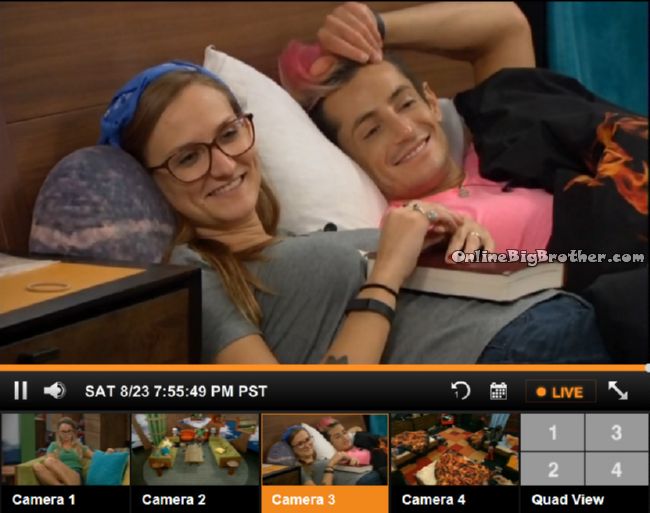 7:58pm FIREROOM most everyone but Donny/Nicole
Christine – " I hate Donny with all my heart"
Cody "where did that come from"
Christine "the thought of him getting something good"
Derrick says Donny got the first question right in the POV comp
They talk about the strategy they employed to beat Donny and Nicole in the competition. Derrick points out how they screwed themselves because they folded at the end.
They laugh at how Nicole and Donny f*** up
Derrick – they didn't pick up on the fact you and me weren't playing
Derrick – Folding people are going to be like WHAT.. they had two rose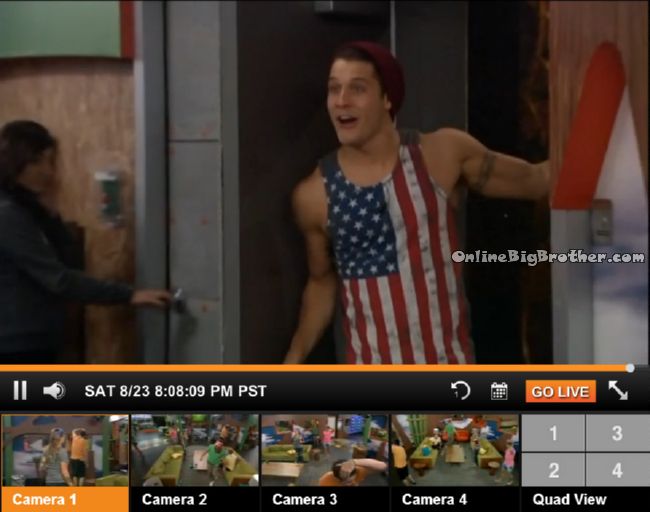 8:08pm LIving room
Cody comes out of the Diary room says Nicole and Donny are you ready for the scorpions..
Production calls Cody tells him he has to redo it it's SCORPION not SCORPIONS. don't add the s.
Cody gives it another shot and "Crushes it" they head up to the HOH to watch the episode
In the living room is Derrick, Caleb, Frankie and christine. Caleb is begging them to not leave him alone with Donny any more. Derrick wants them to get close so Donny reveals his military past.
Christine says if DOnny campaigns she'll say "HELL NO" she really doesn't see him talking to her. Derrick says DOnny knows he's the target but there's a bit of hope because of who he's up against.
Derrick – they were played each other and they f** each other..
Victoria joins them . Talking about the great strategy they employed to win the POV.
Christine "Imagine the final 5 this is what it will feel like"
Derrick – dead
Frankie – we got to do something fun tomorrow .. (hmm like a super fun play)
Derrick agrees says yesterday was tragic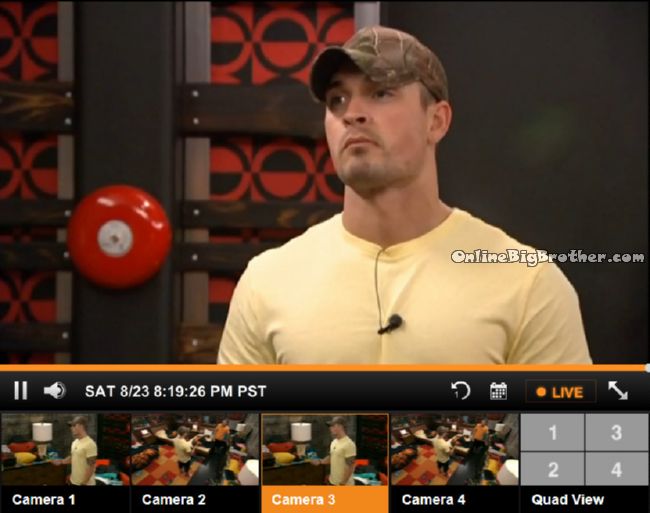 8:19pm Derrick and Caleb FIREROOM
Derrick says worst case scenario is Nicole win HOH during the next double eviction but Derrick heard Frankie saying Nicole will put up Frankie and Christine and they will send Christine home.
Derrick – F*** calzone he's building himself up.. building himself up quick.. he's a beastmode and a lady guy what the F**.. he's a double threat the ladies love him..
Frankie comes in .. Derrick says he was just saying to Caleb worst Case scenario frankie and Christine go up and Christine goes home but that is only the worst case.
Derrick – It would be perfect if we can get her to put up CHristine Victoria.. Imagine that.. "
Caleb says he'll tell Nicole they are all working together and if she doesn't put up Victoria and CHristine they will take her out. "She can't win HOH the next week"
Derrick thinks Nicole already knows they are working together.. points out there's nothing Nicole and Donny can do, "Do you really think they think Cody will use the veto on them.. not a chance"
Caleb says maybe COdy will use the veto on Nicole put up Victoria. This way Nicole won't put him up if she wins the HOH.
Derrick doesn't think that will happen Cody has Nicole on lock now. "If Nicole wins he aint going up.. he's got Nicole.. "
Caleb thinks Nicole might put up a beast that can win competitions up against Christine to make sure she doesn't win it.
Caleb – if Frankie is up with Christine and I win the veto I have to use it on him
Caleb points out Frankie used the Veto on him last week.
Franke says if he won the veto he would use it on Caleb.
Caleb – we know Christine would go home
Caleb – "we're honestly too beastly to be beat by anybody.. honestly.. we're all smart to an extent and we're all capable of the physical competitions"
Frankie says COdy and donny were first and second in both the HOH and POV.
Victoria comes in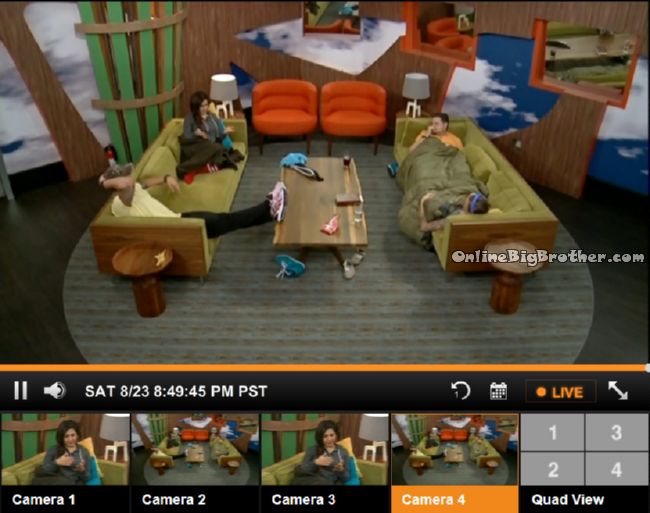 8:48pm Living room Derrick, Victoria, Caleb and Christine
Christine telling them her pastors wife is 23 and one of her closest friends she shaves Christine's WHO-HAH
Victoria says she use to dating older guys in their 30's. Her last two guys were in their 30's
Caleb asks if her parents care. Victoria says her ex boyfriend looks liked Cody he acted young and looked young he didn't act like a grandpa.
Christine laughs that Victoria is implying 30 year old is a grandpa.
One way to support this site that doesn't cost you anything extra is making your
Amazon purchases through the links Below
For Canada use link
Amazon Canada OnlineBigBrother
More polls here https://www.onlinebigbrother.com/big-brother-compendium/big-brother-16-polls/
[polldaddy poll=8260325]
[polldaddy poll=8261457]