POV Holder:
Cody
Next POV
Aug 30th
POV Used
?
POV Ceremony
Aug 25th
HOH Winner 1:
Cody
Next HOH
Aug 28th
Nominations:
Donny & Nicole
Have Nots
Donny & Nicole
POV Players
Donny, Nicole, Cody, Frankie, Derrick, Christine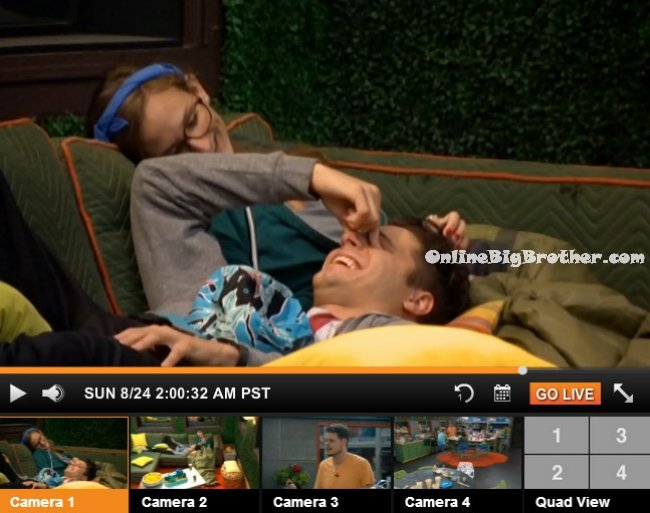 See what they can't show you on TV! -Try the Big Brother 16 live feeds for FREE!
1:50am Caleb and Derrick are playing a game of pool. Over on the backyard couch Victoria, Christine and Cody. Cody says I just want to lay in bed and listen to Papa Roach and get amped up and start head butting walls and sh*t. Christine tells Cody I am pretty sure she (Victoria) would try and marry Derrick if he was single. Cody says oh 100%. Christine says that's impressive. Christine says I think you and I are in good boats. Cody agrees. I don't know where Frankie and I are but I think we're crazy tight! I don't know what Caleb would do. Christine says the HOH I want the most is the final 5. Cody says if you sent me home, I would pout the rest of time in jury. Christine jokes I can't send you home because my final speech against you is so good. In your speech it would be like I played the f**k out of this kid and look who's sitting next to him. He got played. Christine says how did you get played if I take you to the final 2? Cody says because I would take you. Cody says I feel so bad for Nicole. Nicole joins them. They talk about how Nicole will be Joey, Christine will be Pow Pow, Cody will be Zach. Caleb yells call me next (into the diary room), talk to beast mode! Talk to teddy bear! Cody asks who's teddy bear?! Caleb says it just came out. Cody says I am going to call myself beast mode calzone and take over that name. Caleb says that ain't going to work. Christine says yeah BEAST MODE CALZONE over here!! Caleb says yeah alright, Christine wipe you lips off. Both of you wipe your lips off. Nicole asks what does that mean? Are you going to punch out our teeth? Caleb says I said wipe your lips off it doesn't mean.. Cody says that's so inappropriate. Caleb picks up the bowl of lemons and dumps them on Cody. Right after Cody asks can you slide it over so I can dump them back in.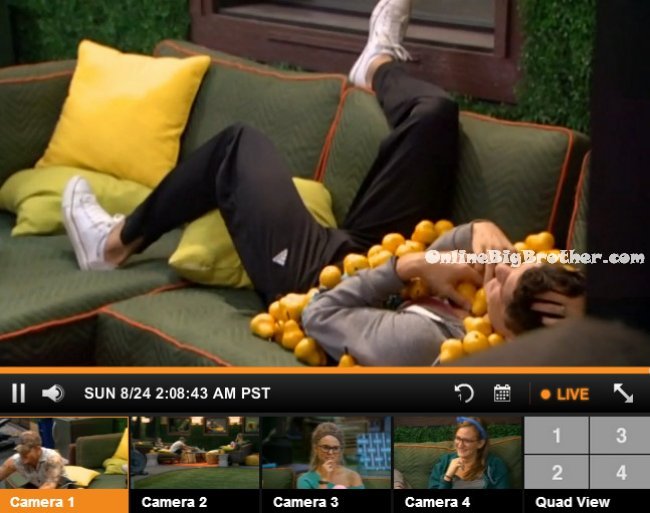 In the kitchen Caleb, Derrick and Frankie are talking. Derrick says that f**king Donny, he really f**king got to me. I just know everyone has their own story, I know I'm struggling and he's struggling too. I don't know what he has back home. What makes me more deserving than him, you know what I mean?! It just comes down to who plays a better game and that's it. That's what I have to keep in perspective and thats why what you said today made a lot of sense. That if he had won today I could be going home. Caleb says and the thing is he knows its just a game too. Derrick says does and I know I would be emotional too. When I go home its just one of those things that you realize that its over. And he probably had a very stressful game because every week he was fighting for his life. Frankie says there was a moment for Zach when he knew he was going and it was wonderful. I know that if Nicole wins HOH I know I am going up. Derrick says well you have a chance to win HOH and if you don't you know you had your chance and you blew it. Caleb and Frankie talk about studying the before and after information.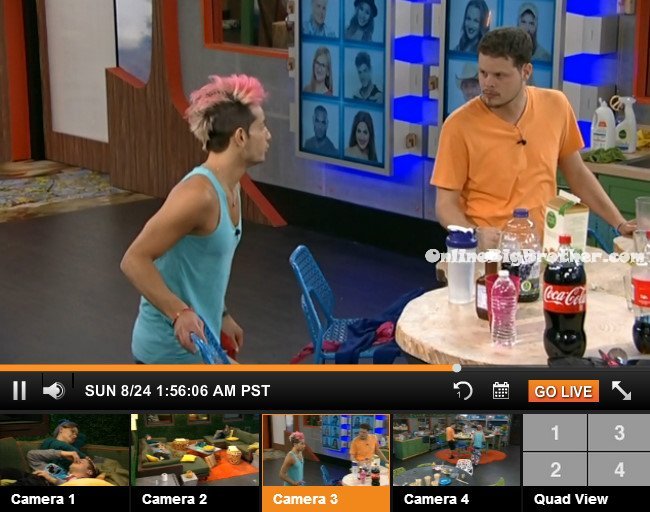 Watch the last month of the live feeds for only $9.99!
– PLUS try it out first with the 2 day FREE trial! –
2:15am Nicole, Frankie, Caleb, Christine and Victoria are on the backyard talking about the POV competition today. Frankie brings up how Caleb didn't believe how big my balls are and I had to show him they're bigger than those lemons. Nicole asks what does it mean to have big balls? Frankie says you have a lot a semen and that you're really h*rny. Nicole says some guys can go one time and others can go eight times. Victoria asks are you talking about s*x? Victoria asks so if a guy is h*rny and he ejacul@tes.. Caleb asks are you talking about this right now?! Victoria says its just wonders! So if a guys h*rny and then he has s*x and he does ejacul@te and he is enjoying it .. Nicole says if they ejacul@te, its kind of dunzo! Caleb says usually a guy would be like okay goodnight but me and Frankie are like okay round two! Victoria says but if the female wants to keep going, then what? Christine says its kind of done at that point. Nicole says then they're embarrassed. Caleb says that's why you take care of the girl first. You just put one leg here and one there and just relax. Nicole screams and says AHHHh you're being too graphic!!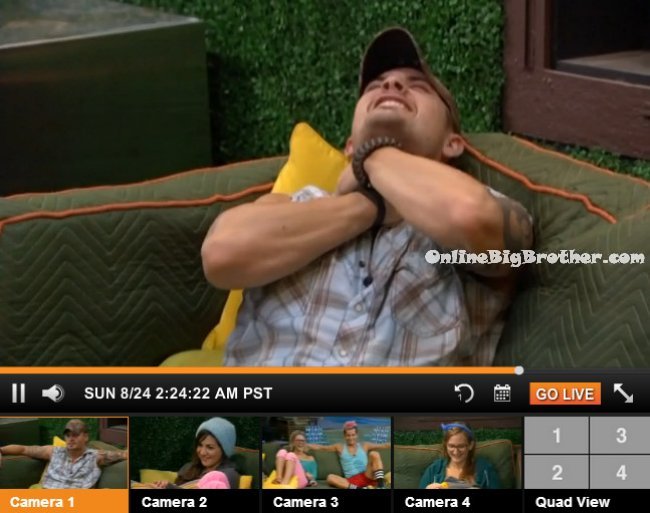 They ask him if he is the aggressive one and Caleb says no. Like grab your neck and throw you on the bed. Caleb says choke yourself. Put a belt around my neck and tighten it to the last loop!!! When they say that I'm like MOM!!! Punch me on the right side of my face! Nicole asks what kind of girls are you dating!?! Caleb says some girls are just rowdy. Caleb says the thing is I'm too powerful and I don't want to do it too much. Caleb says the second girl I was with she was like this and it hurt her every time. That ended up being the downfall of us because I just couldn't keep doing it when it hurt her. Victoria asks Caleb did you ever break a girls cherry? I mean pop a girls cherry? Caleb says no. Never would. I would send them away. Frankie asks what you wouldn't be the first person they have s*x with so you would send them to someone else?! Caleb says no I'm not doing that because after that they're like marry me, I love you! Nicole says I thought v!rgins are good!? Frankie says yeah but after they're very clingy! Caleb says after you have to change your number, move houses. Nicole says if I was the first isn't that romantic, like notebook style. Christine says that's why Tim owes me for the rest of his life. Caleb says I literally laid in bed with 2 n@ked girls and didn't do nothing to either one of them. Caleb starts talking about his ex-girlfriend.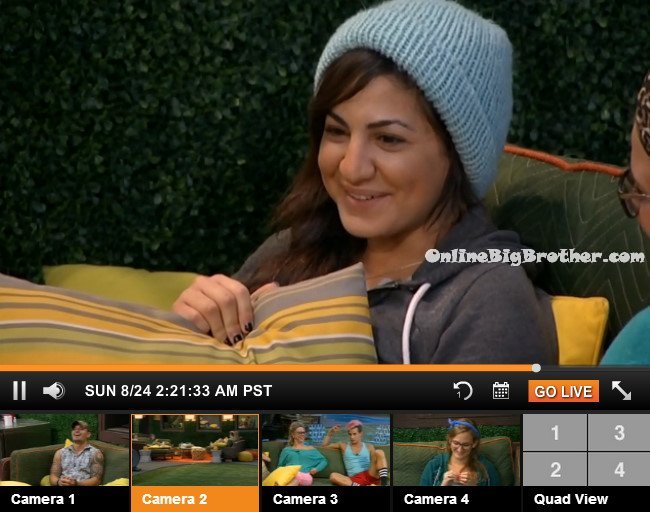 2:50am In the kitchen Christine and Derrick are talking. Derrick says we are very trusting and doing what we did today puts a lot of trust in Cody. Christine says a ton. Derrick says I didn't know if you were going to fold or not. But same with me you probably just assumed that Derrick is going to fold too. Christine says I voted out people that weren't coming after me. Derrick says but in hindsight look at where you're at now. No ones after you. Donny was going after you and he's going home. Nicole's going to go after you.. maybe and she's going home too. Victoria would never vote me out I think but I'm going to vote her out when it comes time for it. That's just it, its a game. And she doesn't play it like a game. And I like Victoria and that's why I didn't like Zach attacking her personally. Christine says she's just naive. Derrick says she's naive as sh*t and given her upbringing she never would have made it. She would have just quit. But its all worked out good and if its double eviction we're good. Victoria joins them and the conversation ends.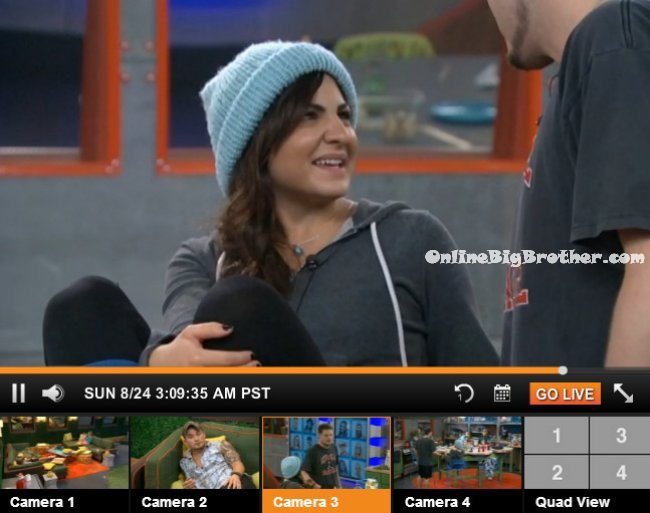 3:25am Derrick and Frankie head to the fire room. Victoria asks Derrick where are you going?! Derrick says going to put deodorant on ..do you want to watch me!? Victoria says you a$$, you a$$! YOU A$$! Derrick says I'm going to wipe my a$$ you want to come!? Derrick tells Frankie I think this BB Broadway is going to work. Frankie agrees. Derrick asks was anyone skeptical of us in here talking to Donny? Frankie says no, but no one knew that I was in here. Derrick says sorry on that one. Did they know I was in here talking to him? Frankie says yes. Derrick asks well who said something? Frankie says Victoria told Cody. Derrick says but Cody walked in here. Frankie says then just Cody. Frankie asks did I play it off okay? Derrick says yeah and it was genuinely the truth. We did have a conversation like that and after you left he was balling. Derrick says I know bad.. but doesn't change my anything. Derrick says but I did convince him, lets get the 5K tomorrow that's what's most important .. and then we'll see how the week plays out. And he was like okay, I guess that's all I can do because it wasn't going to work the other way. Frankie asks have you told the DR? Derrick says no, I've been waiting for them to call me in. Derrick says that's what we have, we have the fans that voted us in voting on it. Frankie says and its going to be fine. Derrick says if we get Caleb to dress up like a girl .. its a done deal! Frankie says I'm going to do full drag. Derrick says I'm going to dress up. Frankie says black face! Derrick says no I can't do that! Frankie says just kidding. Derrick says you're going to get me f**King hung! NO Oh my god! But if we get Caleb in a drag outfit its a wrap! Derrick says that what's going to convince them .. we're going to have some of the manliest guys dressed up as girls and thats what makes it fun. Derrick says Cody was a little nervous after I went out there and I don't want people to think I am working with him (Donny). Derrick says we're going to have like 25K! We could be at the point where even if we get to second place we could have 80K! Frankie thinks Caleb will get america's favorite… he's red blooded and all american army. Derrick says I think Zach is going to give him a run for his money .. although he blew it with the women. Na, you're right I think Caleb's got it.