If you like this site and want to help us keep it running please consider donating, Your donations go directly to paying the server and bandwidth fees. Donate Link
9pm Kitchen rachel and Jordan jordan telling her she needs to go talk to Kalia and dani she needs to be nice because you never know she may need the votes. Jordan says you have Porsche and Adam/shelly are 50/50. Rachel says that nobody wants her in the house. Jordan says she just assuming that she has a good chance, "You got me and Jeff for Sure". Feeds cut..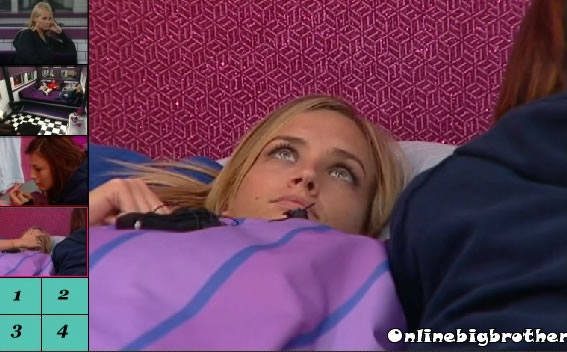 9:20pm Porsche and Rachel bedroom Porsche: "I'm just so frustrated with everyone in the house.. and this GAme". rachel: "Umm this game is sucks Brendon just left.. I know".
Porsche says that she talked to JJ before the nominations and ask them if they were cool with her voting for brendon to stay. She wanted to make sure they wouldn't be pissed because Porsche wants to get hooked up with "jeffs connection in Cambodia". Rachel: "Jeff is always going to try and save himself". Porsche agrees says JJ are being super annoying, "I'm just playing fair and I'm sorry i'm playing to win HOH .. I was just trying to be FAIR" POrsche is upset that Jeff and Jordan are having such a problem with her putting Jeff and Shelly up. She says it was a stupid game move and she wasn't thinking she just thought because they get picked to compete yet.
Rachel is asking her is she's with Dani and Kalia now. Porsche tells them that she's not she's just hanging out with them because last week all the other side wanted to do was talk game and she didn't. She tells Rachel that once and awhile she needs to get out of it.
Porsche says She wouldn't be surprised is it was Rachel or Porsche going up. rachel thinks it will be her and Shelly. Porsche doubts Shelly will be up she points out that shelly is friends with everyone, 'Noticed how she was after the HOH she was laughing with them and joking" Porsche: "Did you really think she was going to vote for Brendon.. she's friends with them" rachel says that Brendon thought he had shelly's vote but she knew he didn't (Straight talk from the Straight shooter.. POW POW)
Porsche goes on and on about how everyone freaks out when she talks to other people in the game she wants to get to know them and doesn't want to spend her time in a room. (And crying abour brendon leaving) Rachel: "Don't worry about it I know what you're saying"
9:50pm Dani and Shelly Shelly is re telling her angle of the Rachel blow up yesterday (WHICH got cut from the live show) The briefly talk about the dirty looks rachel is giving everyone (Attached pics show them) Shelly wasn't too impressed with Rachel's behavior saying she wanted to quite because of Brendon leaving. Shelly think what Brendon did for her was kind and if rachel really want to go she should just leave.
Dani tells her that everyone has been nasty to Porsche for talking to Dani and Kalia last week. Dani thinks that just a plain ugly way to play. Dani brings up hoe they were mad at Kalia when Jordan won HOH. Shelly agrees says no one in this hose will dictate who she should talk to. Dani tells Shelly honest to god that Porsche only hangs out with them and has fun. Shelly knows she's talked to porsche about it.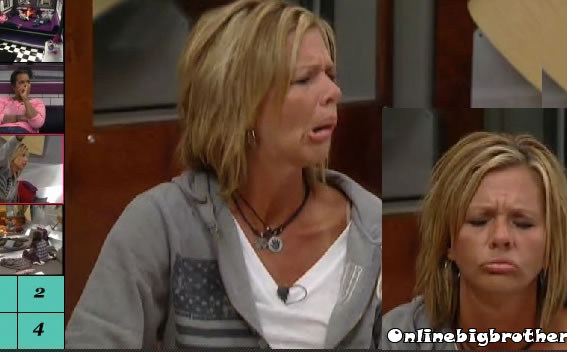 Dani starts to explain why she left the JJBR alliance it wasn't personal at all it was a strategic move that she tried to make. Dani points out the JJBR played the beginning like bullies and would order her around and thats not the way she wants to play this game. Dani: "What would I of said to the Jury that I was dragged around for 2 months"
Shelly: "Nobody was putting Dani up on her side.. 100% dani was safe this week 100%" (ohh she's shooting straight tonight) Shelly adds that it was Kalia that was in trouble but she saved herself and that is what you have to do in this game. Shelly thinks Dani is in a great position nobody is after her she also thinks dani is playing a strong game.
Dani: "thinks there is no way rachel will work with her.. she wants me dead in real life"
Shelly: "If looks could kill you would be dead"
Dani: "I would be 6 feet under"
Shelly: "I dind't know the game went so peronally"
dani: "It's still early"
(Hmm i wonder how much of the straight shooter Dani bought.. )
10:22pm Purple Room Adam, Jeff, Jordan and Rachel Adam is telling Jordan to hang in there it's only a game. he adds that BRendon is a great guy and whatever happens at the end of the show she'll always have him. Rachel says she can't stop thinking about his speech and how special he is to her. Cruddy: "We're all elfs in their (CBS Produciton) Workshop.. hamster in a wheel"..
Rachel starts telling them about her season and how Brit and Monet are theses really nasty girls that HATED Rachel because she was such a strong competitor so they were vocal about how much they despised Rachel. rachel says they would call her the most horrible things like BLANK and BLANK. Adam: "you had the entire house against you.. you and brendon didn't have a chance to to show your funny side" rachel agrees says that the entire house was sacred of them. (OMG Team bacon and you watched the feed and read this site.. hmm ohh I get it social game. Vote DOM).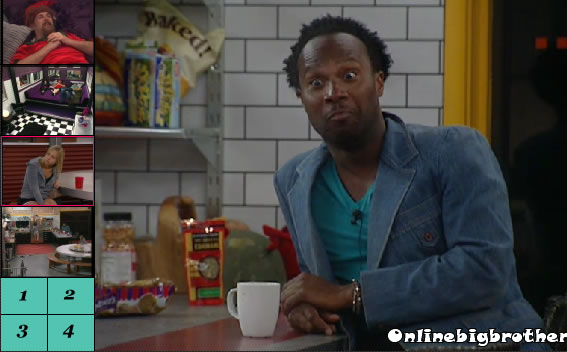 10:37pm Lawon and POrsche chilling in the kitchen cit chat..
10:45pm HOH Everyone seems shocked about how attractive and "urdan" he looks. Porsche thought he was going to be way more preppy looking. Kalia is very happy, she got ingredients to make red velvet. Kalia got her boyfriends mark's belt everyone is trying to figure out
why she got that. Dani asks if he whips her with it. Kalia: "OHH my god you people are so inappropriate"
Everyone leaves rachel says that she thinks Kalia is a strong competitor and she's really glad for her. Rachel: "I'm really sorry what I said to you 2 weeks ago.. and I'm glad you are now a competitor" Rachel leaves.. Dani, LAwon and Kalia remaining in the HOH. Dani says that Rachel was saying "those things" yesterday. Kalia knows.
Dani mentions she talked to Shelly and she told me that i'm in a better situation then I think, dani says that everyone was coming for Kalia and it's great that she won the HOH. Lawon: "I'm next I better pick it up" dani tells Lawon he needs to go downstrairs and socialize with them every time they talk with shelly he needs to be right there. Dani also instructs him to break up group discussion no matter what, lawon says he's on it. Dani says Rachel told everyone that she would be "Disgusted" if a floater like Kalia made it in final 2. Dani: "She disgusts me" Lawon runs downstairs to work his social game. Kalia and Dani start talking about how pathetic Rachel was, she was being so fake. Dani: "I can't believe that they were going to put you up.. This soon.." Dani says that Shelly and Adam is on their side. Dani says that they need to get adam with them. Dani: "People were PISSED when you won HOH.. it was so obvious, Jordan, Jeff, rachel all pissed.. there's options A or option B and then based on the veto we have a option B that is a subset of option A". Kalia: "I can put up Rachel and Jeff and tell Jeff he's not the target… I know jeff will fight for the veto and win it". Kalia wonders that maybe they need to put up a fluffer against Rachel. Dani isn't sure that the best plan she wants a player up that will win POV she can't put up Lawon, Shelly, Porsche they may not win. Dani thinks Jeff should go up he'll fight hard for the Veto to save himself, "so would you put up if the POV is used". Kalia says that is the hard part. Dani mentions the twist is probably going to be the person evicted gets to compete to come back in . Kalia says that if rachel wins POV and saves herself then Jeff going home wouldn't be a bad thing. Kalia is a but nervous that she's now a huge target because she won the POV. Dani reminds her she was already a huge target. Kalia says her deal was with Jordan not JEff so she can out him up. Dani suggest they should plan their strategy without the twist in mind because there is no way they of knowing what it will be.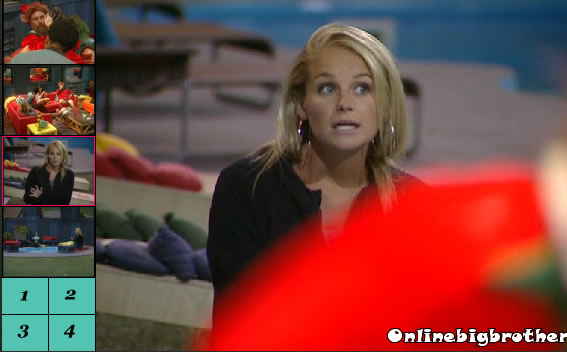 11:42pm Rachel and Jordan in the hottub Jordan telling her that when Jeff left her in the middle of their season it was devastating but the next day she jumped right back in and started playing the game. (by eating cookie dough)
11:47pm Dani, Adam, Lawon and Porsche Backyard couch. Chit chat.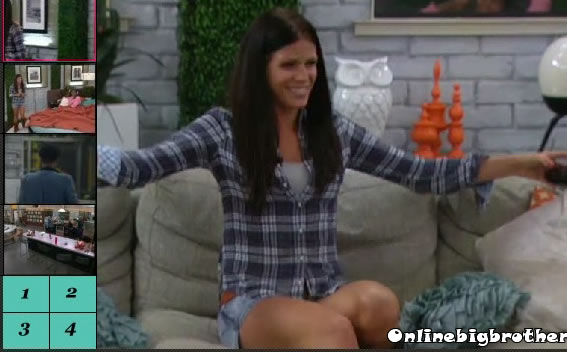 12:02Am HOH Kalia and dani dani says that rachel is moping around the house and not talking to her. She points out the Jordan and rachel are BFF's now, Kalia: "Ahhhh of course they are" Dani laughs says that everyone downstairs is looking around at the missing things they all think its part of the food comp.
12:06AM In the backyard Jeff and Jordan talking about who is going up . Jeff thinks it'll be him and Rachel. Adam joins them tells them if he wins the Veto he'll take rachel off. JEff laughs. adam goes on and on about how they can trust him he's with them.
Share it YO!!
Tweet