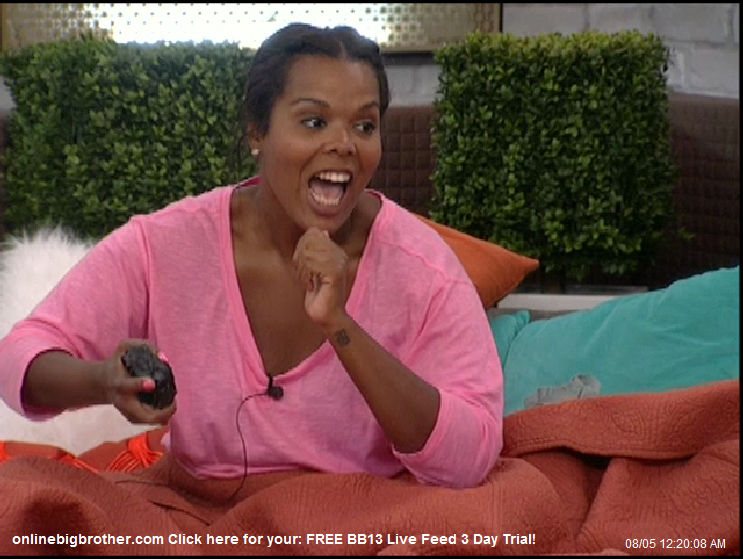 Get the BB13 live feeds on your Android and iOS devices. Sign-up for the 3 Day Free Trial
If you like this site and want to help us keep it running please consider donating, Your donations go directly to paying the server and bandwidth fees. Donate Link
12am Up in the HOH room, Dani and Kalia are talking. Kalia says that she will not lie, she feels like they have a really good options on who to put up and that she would be happy either way. Kalia says that she is putting Rachel up and that she will tell her that she is giving her the chance to play for Veto because all is not lost between us. Dani says I would be careful what you say to her. Kalia says that when people come up here and ask me what I'm thinking, I don't know anything. Dani says that people start coming up here to sell each other out, just listen and take it all in. Rachel comes up to the HOH to talk. Kalia says that she is trying so hard to not belt it out it's so hard. I'm just enjoying it. Rachel says yay! Kalia asks how are you doing? Rachel says good, it's hard but.. Rachel says that it's hard because… Kalia says because it's your support system. Rachel says yeah! Rachel asks Dani is she can talk to Kalia alone? Dani leaves the HOH room. Rachel says that obviously we're not best friends. Kalia says that emotions run high in this house, it's tough. Rachel says that it's really tough and that she wants to say genuinely that she is really excited for you.. Rachel says that it was obvious we were targeting each other in the competition. Rachel says that she wants to say that she does respect her, as a competitor. Rachel says if you don't nominate me this week, I won't nominate you next week. Kalia says that she knows that people in this game value it and the game itself. When you come in as the new kid on the block you want to prove yourself. Rachel says not only did you win you took out three veterans, you did a really good job and I really respect you because… Kalia says that there are a lot of people who still don't' know what's going on. That makes me nervous because you don't know what's going on..
Click here for your: SUPERPASS – 3 DAY Trial!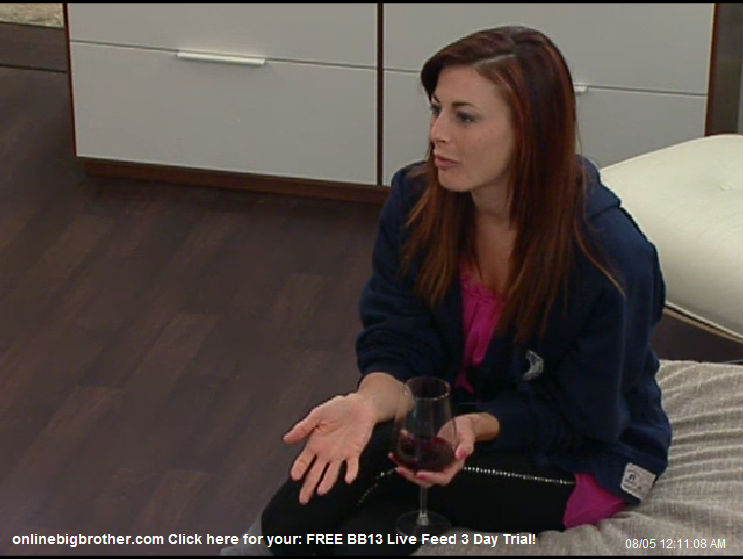 Rachel says that Brendan and her compete really hard, and obviously you do too. Kalia says that she was so excited to win, and then she was like oh crap I have to nominate now. I really have no idea what I'm going to do. Rachel says that she totally understands. Kalia says that she obviously doesn't have a lot of people in this house. Rachel says you do have Dani. Kalia says that Dani and I are friends, but she has to ride her own vote through the game. Rachel says that it's tough, because when you do win things in this game people target you more …you're damned if you do and damned if you don't… and when someone wins an HOH.. that to me two weeks ago if you made it to the final two I would have never voted for you. Rachel says really, for me that's what I want to see… I respect that and I can compete with that. Rachel says if you take me out I'll say hey she BLANK did it, but I'll tell you that I would not nominate you next week if I win HOH. I will tell you that if you want to make deals or talk about making deals.. Kalia says that I am definitely sure I'll talk to you again tomorrow. Rachel says that Dani will guide you, she knows this game very well. Kalia says that she doesn't think all is lost between the two of you outside of this house. there's obviously pain and hurt between you two, but she really was with you guys…for whatever its worth.. Rachel says I know what you're saying and as much as Dani is not my best friend, I respect her as a competitor… it doesn't mean I need to like everything she does.. she will guide you, and if you need any advice from me, I've won a few HOH's in my lifetime. Kalia says for sure, I've seen most of them and I appreciate you coming up here and I know it's not the shifts in power. Rachel says honestly it's not about a shift in power. Rachel says that she hink it's awesome you are the only newbie that did it.. it speaks volumes. Kalia says trust me, I really appreciate it. Rachel says that Kalia is definitely not a floater.. I definitely respect that and everything you've done in your game. Kalia says thank you so much for coming up. Kalia laughs as soon as Rachel leaves. Kalia says humble pie tastes good doesn't it home girl, trust that I always had a plan the whole time I was here…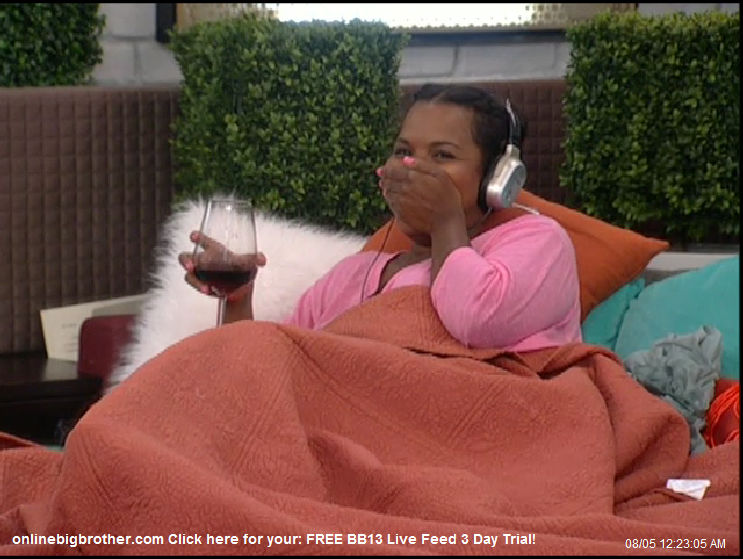 12:30am Dani, Kalia, Porsche and Lawon are talking. Dani says that she loves the fact that Rachel got called out when she cussed on live TV she got called out, and Julie was telling them to keep it clean. Kalia says that she was like you have a lot going on, hold it together. Porsche asks did she say she thinks it's her and me. Kalia says that Rachel just keeps telling me how much she respects me, and appreciates that I'm actually playing the game. It was that kind of thing. She was like you have dani she will guide you. Dani asks did she really say that? Kalia Yeah!
ReWatch everything that you MISS! Flashback – FREE 3 Day TRIAL!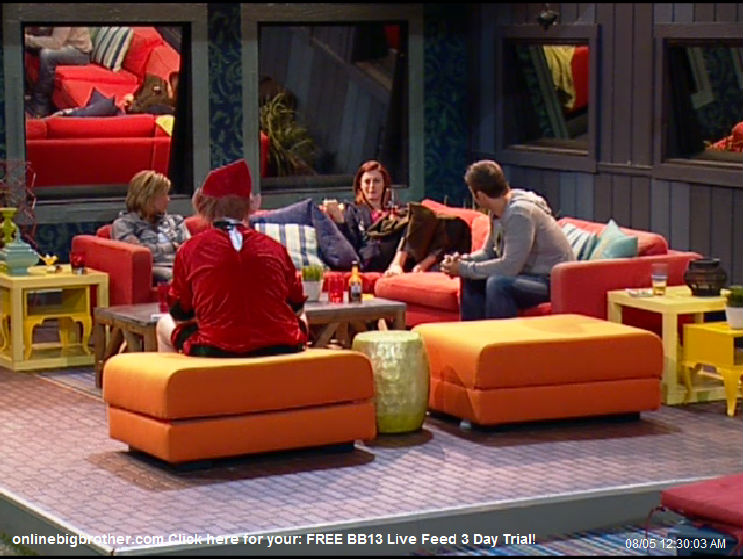 1am Rachel, Jordan, Adam and Jeff and Shelly are talking in the backyard. Jordan asks if everyone is going to talk to kalia about nominations. Rachel says that she went up there and told her she's not a floater and that she respects your game. Rachel says that she won't be surprised if she is nominated. Jordan says that she hates going up to people and feeling like I'm kissing their butt just because…if she doesn't talk to me I don't want to go up there and be like hey are you nominating me. Rachel says that she thinks Jordan have every right going up and talking to her Jordan says that she just feels like it's just going to be like me asking, and beating around the bush.. she's not going to tell me. Shelly says I just don't want to leave them up there to talk. I'm going up there to find out what the BLANK is going on. Shelly leaves. Rachel tells Jordan that Shelly isn't on our side.. Shelly is 100% playing us and them.. she's playing everyone in the house, everyone trusts her and I don't think anyone would nominate her. Jordan says that she feels like it's me, Jeff, you and Brendan on this side. Dani on this side and everyone else in the middle. Jeff says that he is not BLANK winning anything and feels like a target every week. Rachel says that Kalia is the first newbie to win stuff. Jeff says that she had to… Jordan says that she thinks Kalia is a better competitor too, and nobody believed me. Rachel says that she is not good at physical competitions, and if you take them out of these games, there's maybe three. Jordan says that she knows stuff, even like days and stuff. She's using her birth control pack to remember the days. If I find one in the trash can, i'll take one. Jeff asks why would she throw them away. Rachel asks you know everything that's happened right? Jordan says that she doesnt know everything by heart, i'll have to start studying. Rachel points out that Adam and Lawon are the biggest floaters in the house and Shelly is playing all sides as well. Rachel says Jeff and Jordan are the only people she trusts. She wants to trust Porsche, but Jeff and Jordan tell her not to.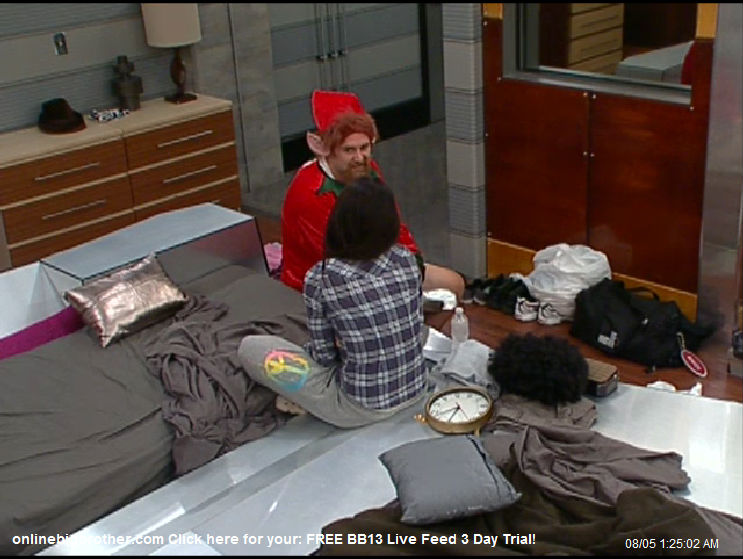 1:25am Adam and Dani are talking in the metal bedroom. Adam tells Dani that he threw the HOH competition because he didn't want to win. Adam says that he wasn't comfortable yet with the idea of putting two people on the block. Adam says that Kalia winning is best case scenario for him, besides Shelly, because Kalia will nominate people like Rachel and Jeff. Meanwhile, Kalia, Porsche, Lawon and Shelly are up in the HOH room talking. Kalia talks about Rachel calling her a floater a few days ago. Porsche says she is mad that she voted to keep Brendon in the house, and Rachel thank her… Porche said it sucks that you come into a house, and be friends with someone for two or three weeks and then. They talk about Jordan and Jeff splitting the money if they win. Kalia says she believes people are here to play a game, and every single week is new. Porsche says that she really wants to put Rachel up so bad. Shelly says she's probably in trouble for being in the HOH room right now. Porche says that happens to her all the time. Lawon and Shelly leave the HOH room. Porsche says she feels like a floater and that Rachel already wants her out. Porsche says that makes her upset. Porsche says that she doesn't like the whole picking sides thing. Kalia says that she picked sides by picking a person who has never been dishonest to her, has never done anything wrong. Porsche says that Rachel wants Porsche to use Dani, and Rachel can use Jeff and Jordan, so her and Rachel can be a strong alliance together. Porche says that you can't just do that. Porsche says that she voted Brendon to stay because she said she would, and doesn't go back on her word.. Porsche says that she's not like a puppy dog, because she wasn't afraid to go against the house. Kalia says but that supports the Rachel puppy dog thing..
TRY the Live Feeds for FREE!
Click here for your: SUPERPASS – 3 DAY Trial!

2:35am Kalia and Adam are talking up in the HOH room. Adam congratulates Kalia for being the first newbie to win HOH. Kalia says that she didn't even realize it until someone else mentioned it. Kalia tells Adam that she is playing the game now and she is trying to separate emotion from it. Kalia tells Adam he has the ability to play this game really well he shouldn't think the vets have any kind of advantage over him. Adam says he wanted Dick to stay in the game so he could have worked with him and then stab him in the back later on, he thinks Dick would have respected him if he could take him out. Kalia assures Adam that he isn't going up on the block and she says she couldn't send him out the week of his 40th birthday! Adam asks her to please tell him otherwise, he just doesn't want to be back doored. Adam says congratulations, you BLANK did it!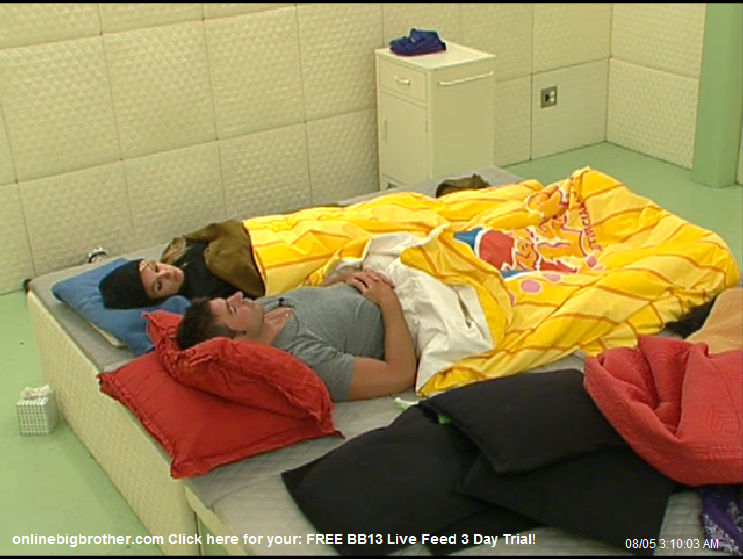 3am Jeff and Jordan are talking. Jeff says that if he is on the block he doesn't care because he's coming back and there's a veto. Jordan says that she is always feel on edge in the house, even in the beginning when she was HOH but I guess that's how we felt last time. Jeff says that he has no idea what Kalia is going to do. Jeff says that he thinks they should talk with her tomorrow. Jordan says it seems like a lot of people have been going up there tonight. Jeff says that he thinks Kalia knows what she is going to do for nominations already… Jordan says she doesn't think Kalia should target Jeff or Rachel….she thinks Porsche should go up Jeff says that he thinks that would be best if Porsche went up and was evicted. Jeff says that if we won HOH next week, it'd be nice. Jordan says that she'll suggest Porsche go up and Jeff tells her not to suggest anyone because it'll come back on her. Jordan says that she don't think you are her target. They talk about how they couldn't believe Kalia didn't pit Jeff and Rachel against each other during the HOH competition. Jordan says that it's either going to be Rachel and someone but she could be scared Rachel would win the veto or she might do Porsche and Shelly or Porsche and Adam. Jordan says that she remember Kalia telling her that she was unsure about Porsche because she didn't know where her head was. They talk about how it would be good if it were Porsche and Shelly because Shelly would stay. Jeff thinks that Dani is thinking the same way he is, that whoever goes home this week will be coming back into the house.
3:35am Adam and Shelly are in the backyard talking about his goodbye message to Brendon. Adam says that he doesn't know what Kalia is going to do yet but he asked her to not backdoor him and to let him know if he is going to be put up. They talk about past seasons of Big Brother and then head to bed..
4am All the houseguests are asleep in bed…
6:40am All the houseguests are still sleeping…
See What They Can't Show You On TV! SUPERPASS – 3 DAY Trial!


Big Brother 13 Spoilers POLL CAST your VOTE!

Big Brother 13 Live Feed Image Gallery
Follow: @BigBspoilers and @Dawgsbigbrother on Twitter for recent crazed out spoilers. Theres also our Facebook page.
Share it YO!!
Tweet