POV Holder:
Jenn
Next POV:
Aug 25 (Saturday)
POV Used
POV Ceremony
Aug 27 (Monday)
HOH Winner:
Frank
Next HOH:
Aug 30 (Thursday)
Original Nominations:
Dan And Danielle
Current Nominations:
Have Nots
Dan
Last Evicted Houseguest
Boogie and Ashley
Pandora's Box POwer
Ian -> Has a veto power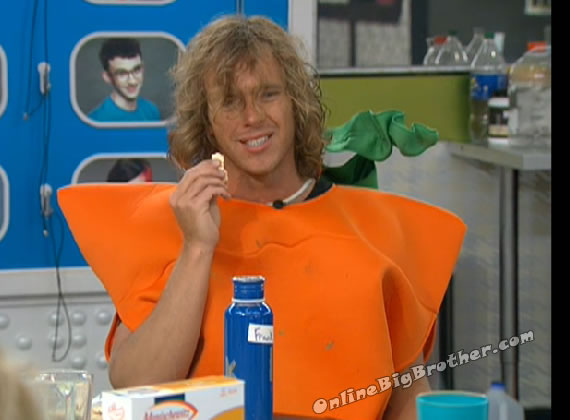 6:24pm Cam 1-4 Feeds Back
Dan is in isolation
Frank wears the Carrot suit for 24hours
Jenn won POV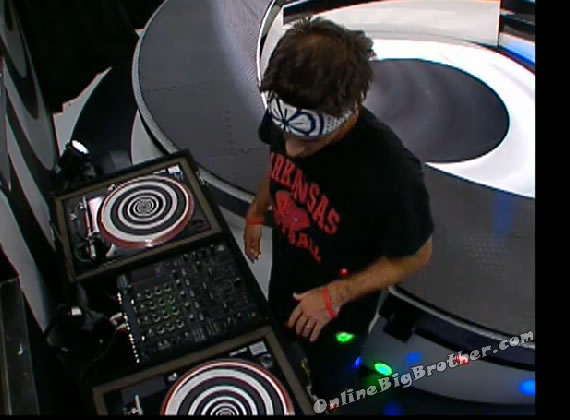 6:32pm Dan chilling in the Solitary Room he gets a small bottle of campaign to drink. Dan: "There is also a silver lining to every Solitary confinement"
There is techno music playing tin the room, turn tables and strobe lights.. (I'll be spending the night hanging in Dan's room.. lol)
Dan mentions that he hasn't really eaten in three days.. takes a giant bite out of his cake.. Lots of talking to himself.. "I was given 2 chances to win that mother.. damn" "I have 24hours to figure out how to get out of this"
Dan: "Plan one .. go to frank tell him that we need to talk .. as crazy as it sounds i'm going to expose everything to work with him.. " (cameras switch don't get plan 2)
Britney and Danielle chained up (Image Link)
6:56pm HOH Cam 1-2 Jenn and Frank
Jenn says she will not use the Veto. Frank tells her that Danielle will work closer with her with Dan gone. She doesn't want to see the power being used it Britney goes up.
Ian joins them
Ian: "Ok guys I have some really bad use.. I'm going to use.. my best judgement and not use the power.. "
They all start laughing.. unless he does some sort of miracle think and gets the votes he's going home.
Jenn: "He's not getting the veto"
Frank mentions he cannot play in the next 2 HOH's
7:10pm Frank and Jenn
Frank saying he wants to Get Danielle on their side.
Frank thinks that if Shane wins HOH he'll put up Joe and Ian. Frank: "and to be honest if we had to vote out ian I wouldn't tear too much.."
Frank tells Jenn he wants to go to final 2 with her because she was the only person that never double crossed him.
(Sorry for the fu*k up earlier it totally sounded like Frank had won the POV)
**Jenn is on slop for the summer
7:17pm Frank and Jenn Sound like Frank wants to make a run with Jenn and Danielle to the end. Frank lays out his entire strategy for the game. Jenn seem to be agreeing to all this.
***POV Results
1) Dan in solitary dance party for 24 hours
2) Carrot top wears a carrot suit for 24 hours
3) Danielle and Britney are handcuffed for 24 hours
4) Jenn has POV, Burns clothes and is on slop for the rest of the game
5) Frank gets "chum" bath 24 hours
7:30pm Cam 1-2 Britney, Danielle and Frank
Britney tells him that Joe has been freaking out on her because she was apparently helping Frank out in the POV. Britney tried to explain that to him she wasn't but he didn't understand it. Frank calls Joe a "F*ing Idiot" Frank confirms with Danielle that she is safe this week. .
Frank tells Danielle and Britney that his targets are Dan and Joe because those are the 2 people that have wronged him the most.
Watch the last month on the Feeds – FREE TRIAL –
Share it YO!!
Tweet