3:00-3:30 Bikini goodness
3:30pm Adam and Shelly couch Adam says he had a good conversation with Brendon. Shelly says she knows Brendon told her. Shelly says that Adam hangs around a trustworthy person not like some of the criminals in this house.. "Liars" (not 100% sure what she means) Adam: "lets mow them down" Shelly: "I know" Adam: "Lets get to where we need to get to and you and me can……..*Long Pause) Roll'. Shelly thinks it would be funny if her and Adam made it to the end. Adam: "So BLANK funny nothing would make me happier" Adam says that's goal number 4 making it to final 2.. Shelly smiles, "You gotta keep making goals"
They start talking about the weather….
3:38pm bathroom Shelly and Dani Shelly confronts dani saying that she's heard from 2 people that Shelly is wanting to backdoor Jeff and now Brendon and rachel are asking Shelly if she was trying to make an alliance with Dani. Shelly tells her that they did have their little talk in the havenots but she never said backdoor Jeff. Dani says someone in the house is throwing her name around and it wasn't her. Shelly doesn't believe her tells Dano just remember for next time it never was Shelly that said to back door Jeff, "I JUST WANT TO MAKE THAT CRYSTAL… CLEAR" (Shelly has teeth yo).. Dani: "Thats fine it wasn't me" Shelly heads to the toilet dani leaves.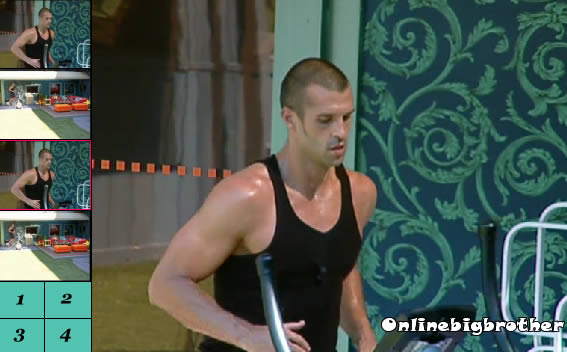 4:00pm Backyard Brendon is on the elliptical everyone else milling around.. the elliptical is starting to break it's making this annoying squeak after every stride.. Brendon's really working it and it's annoying as BLANK.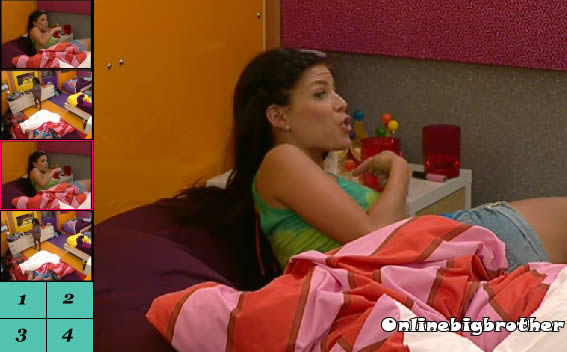 4:05pm Dani and Kalia dani is saying that Shelly confronted her in the bath room. (Of course we can't really hear what Dani is saying because she's whispering and mouthing everything) The gist is Dani says Shelly is with BR, they've all been talking. Dani adds that if she wins HOH the entire house is going to be changed. Dani says something about someone throwing her name out and shelly yelled at her.
kalia comes back and still we can't hear BLANK about what they are saying. from their hand movements and hearing the odd number and maybe the word "Backdoor" you would assume they're counting votes and planing what to do if they win HOH .
Check out the BB13 Polls
Share it YO!!
Tweet