Get the BB13 live feeds on your Android and iOS devices. Sign-up for the 3 Day Free Trial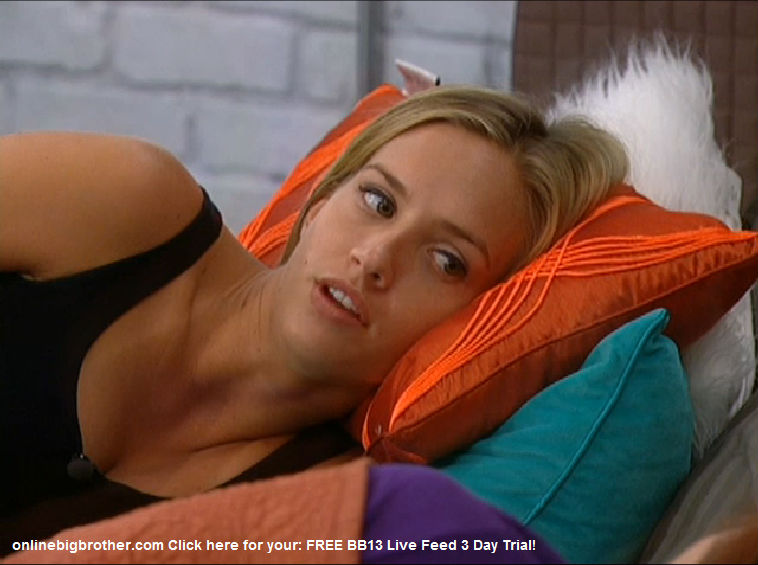 1:45pm Adam and Brendon shake hands and Adam leaves the HOH room. Rachel tells Brendon not to talk about Porsche. Brendon says that Jeff saw her motioning to Lawon to come talk. Brendon tells Rachel that she is stupid if she doesn't see that she can't trust these girls… that she has been played before and she will be again. Brendon tells Rachel that he told her before and he will tell her again not to play with her emotions. Brendon says that he doesn't trust Porsche when she talked about the endurance where Porsche told them that they can drop. Brendon says BLANK you! Brendon says that Porsche is not smart enough to figure Rachel was sticking up to her or that Daniele just started being nice to her. Brendon says that they (JJ, BR, and Dani) will all talk later tonight. Brendon heads down stairs. Porsche comes up to the HOH to lay in bed with Rachel. Porsche starts talking about how Dominic came up to her asking if she heard him and Jeff fighting in the lounge room. Porsche says that she told him that she could hear them yelling but that she didn't know what it was about. Rachel that the plan is to evict Dominic .. and that Dani will be going around campaigning to keep him. Porsche asks why.. because then everyone would know she is not with us. Porsche says that if she gets HOH she would put up Kalia because she know she couldn't win the POV. Porsche then talks about how she would like to try and get Dani out ..and that Dick would hate her if she did. They start talking about Dick. Then they talk about this week's HOH competition. Rachel says that Lawon and Kalia won't win an endurance.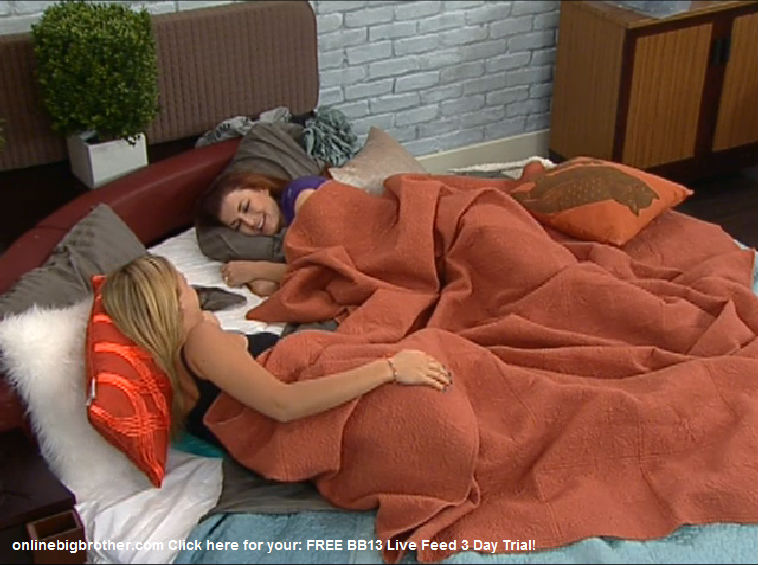 2pm Dani and Brendon are in the kitchen talking. Brendon tells her that he wants them all to go up there and talk later tonight. Dani says but please don't call me out in front of everyone. Brendon says no no.. we will all just talk ..no one yelling or anything …that we all just talk ..we all haven't talked in forever. They talk about Jeff calling out Dominic and how Dominic won't say who told him they were going after Jeff and Jordan. Shelly comes in through the kitchen and Brendon and Dani whisper about how Shelly is always hanging around whenever people are talking. They talk again about how they will talk later to bring everyone together again. Dani says just don't call me out or throw me under the bus. Brendon says no no.. Dani says that it was probably Shelly that was saying stuff about getting Jeff and Jordan out..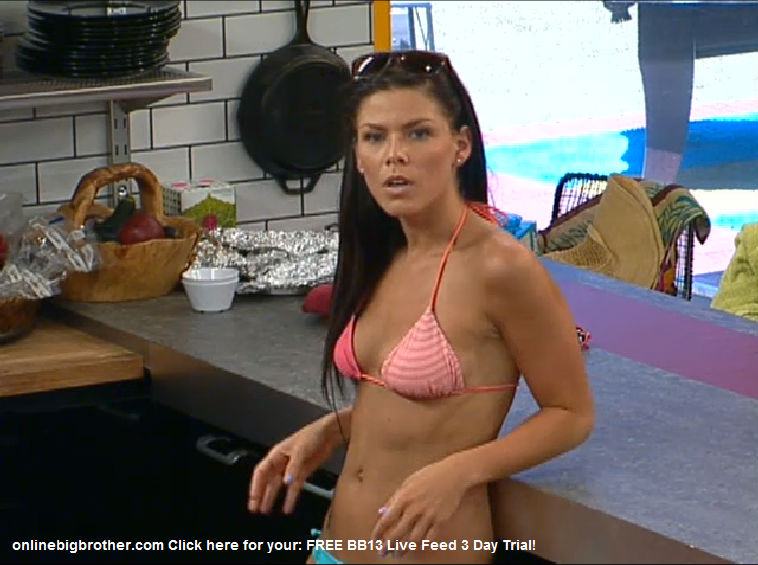 2:10pm Porsche and Rachel are up in the HOH room talking about random stuff. After talking for a bit ..they decide to take a nap. Out in the backyard are Jeff, Jordan, Adam, Lawon, Kalia, Shelly, and Dominic just hanging out in and by the pool talking about random stuff. They are talking about kids drowning and being a life guard. Dominic gets up from beside the pool and says that he is going to ice his balls and spit up blood. Adam says thanks for sharing. Dominic runs into Shelly in the kitchen and Shelly wonders if someone is trying to create all the drama. Dominic says yeah maybe. Dominic and Shelly talk about the confrontation Dominic had with Jeff. Dominic says either way it is horrible timing for me. Dominic tries to go up and talk to Rachel …but she tells him they are sleeping. Rachel says thank god for this HOH room. they go back to sleep.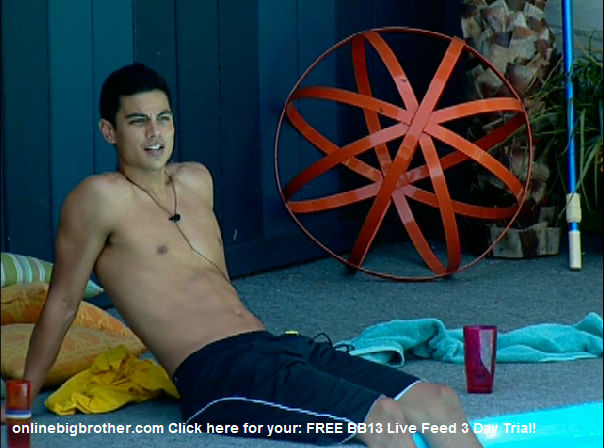 2:25pm – 2:40pm Brendon, Shelly and Kalia are sitting on the couch. Brendon is confronting Kalia out on the backyard couch about how she says that they aren't talking game. Kalia back tracks and says that they do talk game …but not about getting them out or anything. Brendon says that he thinks she is getting nervous about things that she doesn't need to be nervous about. They talk about the paranoia in the game that you think everyone is talking about you. Shelly confronts Kalia and asks her if she said that Lawon was the other vote to vote out Keith. Kalia says yeah I think he was and I heard it from other people too. Shelly says okay… Brendan says that he wants to bring the bible down and have everyone swear on it. Brendon says that at least he can condemn everyone to hell if they're lying. Big Brother cuts the live feeds to the we'll be right back screen … when the feeds come back. Shelly is talking about not smoking around her daughter.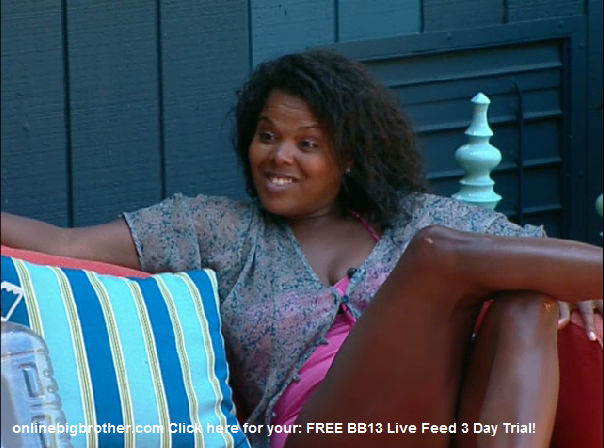 Big Brother 13 Spoilers POLL CAST your VOTE!
BB13 Live Feed Screen Captures , These are being updated every 10 minutes all 4 Cams 24/7
Follow: @BigBspoilers and @Dawgsbigbrother on Twitter for recent crazed out spoilers. Theres also our Facebook page.
If you like this site and want to help us keep it running please consider donating, Your donations go directly to paying the server and bandwidth fees. Donate Link
Share it YO!!
Tweet