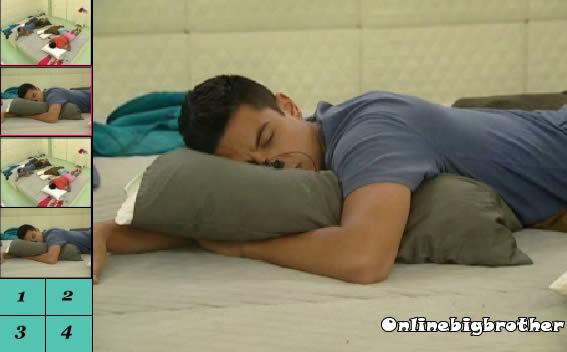 Big Brother 13 Live Feed Image Gallery
4:15pm have nots Lawon and Dom
dom tells him that he's got 4 votes and he just needs to get Brendon's and he's dine. Lawon points out that Adam sure doesn't look worried but they both suspect he'll start campaigning tomorrow. Lawon says that this week the vote is based on game last week it was personal so that is why Lawon thinks dom has a chance. Lawon asks if he trusts Shelly, Dom says no he's not going to bother trying to get JJS votes. Lawon says Dom has to follow his gut because that's the way Lawon has been playing and he's going to make it far as long as he listens to his gut..(LOL lawons gut is a BB mastermid) He didn't listen to his gut with Keith and look where that got him. (Also keep in mind that after every single sentence Lawon says he finishes it with "you know what I mean" ) Dom thinks he should go talk to Brendon and see if he can cut some deal he's a better competitor to keep around maybe use the angle that Adam is just floating through.
4:45pm Hammock Brendon, Jeff, and Jordan
Brendon says he very disappointed with Dani. they both agree to talk to dani tonight and lay it all out there and get the truth out. Jordan thinks they really need to just play it nice to dani just in case she wins HOH and puts the guys up. Jordan adds that she's going to talk to Dani tonight. Brendon reminds her that if there's anything dani asks Jordan that makes her feel uncomfortable or if Jrodan is afraid she might say the wrongs thing then deflect it onto JEff. Jeff agrees tells Jordan to just send it his way (These 2 talk to Jordan like she's dumb) Jordan says maybe Dani is mad at her and flipped because Jordan didn't pick her for the luxury prize. Jeff about winning HOH: "I'm going to stick it up in her f*ck!ng coolo when I get HOH" Jordan says that Dani is fine to Jordan now there doing the small talk thing again.
Jordan is about to begin walking laps with Kalia.. isn't looking forward to all the BS Kalia is going to feed her. Jordan tells JB that she's worried about Dani winning HOH if it's endurance. Tells them she thinks Dani will put both them up but she's going to try her hardest to win. That is why she's been working out a lot more she's gettign ready (Jordan can be pretty damn sweet sometime .. lol)
brendon says they have Shelly 100% and Adam 75%(He's right with Shelly but Adam is with Dani) They all agree that Kalia cannot be trusted and she's full of BLANK. Jordan points out that Dani has been talking to Lawon a lot. Jeff: "It's cool.. the line has been drawn we're not stupid". Jordan leaves.. Jeff: "My dream is to knock Dani out next week… my only goal is to take her out" Brendon says how stupid Porsche is, she told him that Porsche wants to "Do something".. "BLANK someones game up" So he's not sure what she'll do. Jeff and Brendon shares some stories about how dumb Porsche is. Brendon now starts sayign how Dumb Dani is and how scared she's going to be when they start pushing her for the truth. Jeff just wants to see her squirm. Jeff rehashes some of his conversations with Dom when Dom was swearing to him that he wasn't going around telling people to backdoor JEff. Jeff laughs becuase he told Dom he knew 3 or 4 people in the house that said that. Dom demanded to know who it is, so Jeff offered to get them and dom said "no no wait wait lets talk first have a meeting"
5:15pm Dani DOm whispering Sound like their thinking about was to save Dom but they're giggling a lot. Dom rachel has so much control over everybody.. dani says no it's brendon .. rachel does NOTHING. (I really wish I could hear what they are saying) Dom: "Let's be honest you have nothing if I go…." (they laugh) Dom adds that the 4 BRJJ will run through this house with now problems. Dani says something about how strong of a player she is in comps and nobody knows because she hasn't played in 3 weeks. Dom says this season sucked anyways.. with him looking back now he was screwed from the beginning. Dom adds even if he won HOH he still would of been gone because the rest of the newbs weren't with him, "My partner was Adam… He's a paperweight" (Dom Sounds Defeated)
Dom starts to list off what he thinks of the other houseguests. Something about lawon repeating everything over and over makes him want to punch him. Dom just flat out hates Jeff says his attitude is like a "Big muscle head type". He thinks Brendon's a buck wheat and Rachel's a BLANK. Both Dani and DOm are talking about Jeff being so mean to Jordan. They had no idea he was like that. Dani says she never watched the feeds and had no idea he treated her like that she states Jeff gets a very good edit (I thought she did watch the feeds). Dani says something about Getting Brendon out next week since he's pretty much running the show. The downside of that is Rachel will hate her and right now she's on decent terms with Rachel.
5:45pm Por, Rachel doing Rachel's version of Pilates, Jeff on the hammock chilling, Jordan and KAlia walking laps getting ready to win the endurance HOH.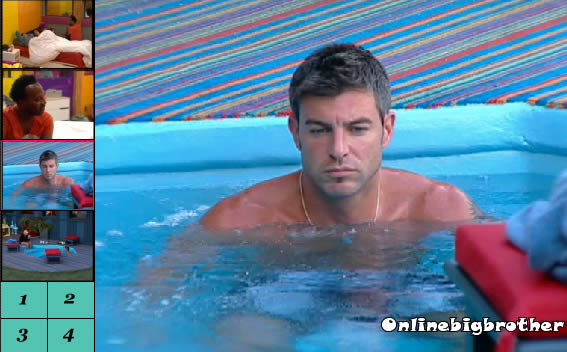 6:08 Hot tub Jordan saying she's so excited that Shelly is making spaghetti tonight.
6:18pm Jeff, Shelly and Jordan Backyard Jordan is talking about the wrap party. Jordan brings up missing some important date for school in the fall because she's not getting out of the big brother house until mid September. Jeff makes a comment that they're not guaranteed to win. Jordan: "We'll get there" Jeff: "I like your positivity" Shelly jumps in "oh no oh no that is not happening no mater what" She stutters a lot when she says it (if this is part of her game It's a bit over the top if this is truly how she feels her mind isn't right)
Shelly leaves.
Jordan is suggesting that he talks to Dani and tries to smooth things out.. she doesn't want Jeff to go home if he wins HOH. Rachel and Por are running laps and Rachel wipes out right near the couch. She's not hurt and keeps running.
Share it YO!!
Tweet