Get the BB13 live feeds on your Android and iOS devices. Sign-up for the 3 Day Free Trial
If you like this site and want to help us keep it running please consider donating, Your donations go directly to paying the server and bandwidth fees. Donate Link
11:30am All the other houseguests are now up and getting ready for the day. Dani is called to the diary room. They give her the HOH camera and Dani starts taking funny photos of the houseguests.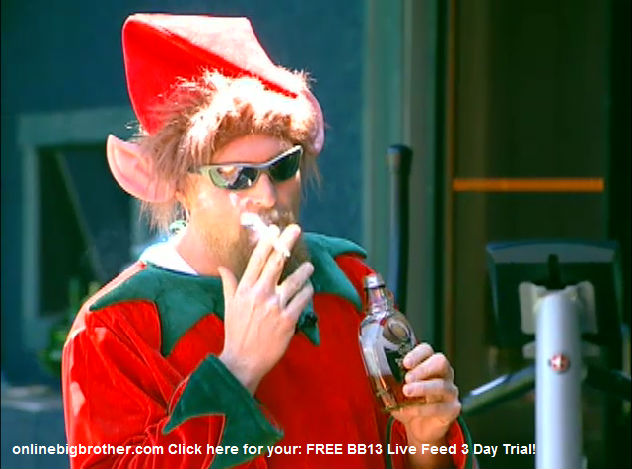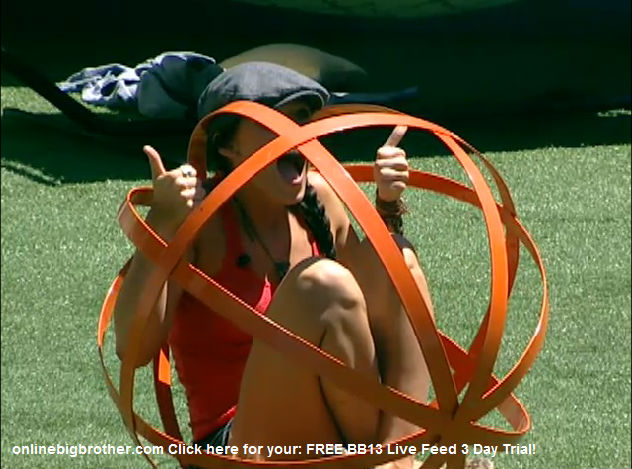 See What They Can't Show You On TV! SUPERPASS – 3 DAY Trial!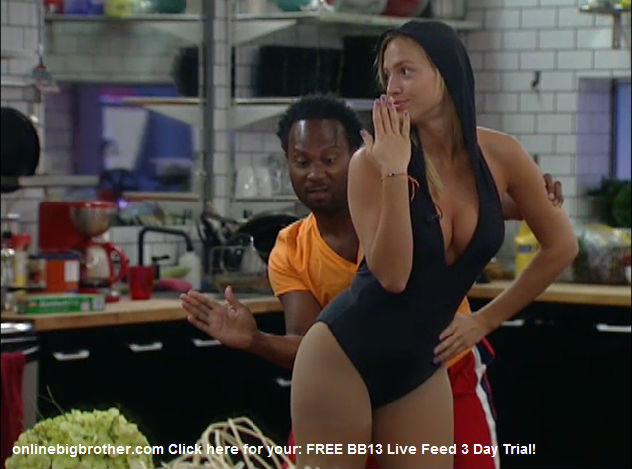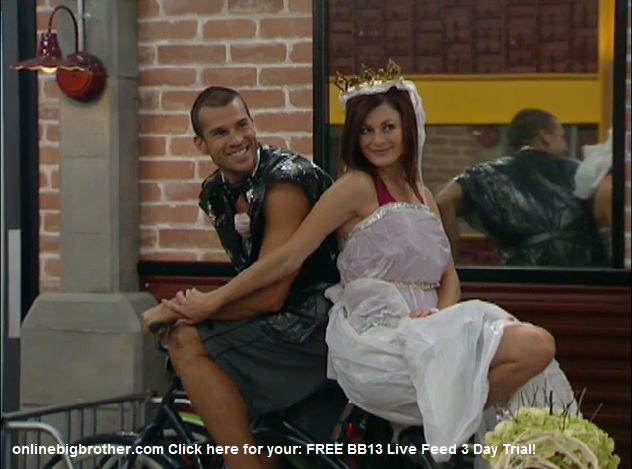 12:25pm The cameras switch to Brendon and Rachel in the havenot room taking off their wedding outfits. Brendon says just please, please don't go back on me and say that. Rachel says that she won't Brendon says that she has said that before. Brendon says Love, Honour, and Obey! Rachel asks what was that last one? Rachel says I don't think so.. They leave the havenot room. The houseguests head into the lounge room to take the group picture. Jeff sums up what he thinks about Brendon by sticking his ass over Brendons head like he is going to take a shit on him.
12:30pm – 1:15pm Shelly, Jordan, Rachel and Brendon head out into the backyard. Shelly asks Jordan how she is doing. Jordan says that she just wants this week to be over. Brendon starts working out on the elliptical. Jeff joins then outside on the couches. Jordan talks about her grandpa. The backyard group are talking about airmiles, flights and airlines. Meanwhile in the kitchen, Dani, Lawon, Kalia and Adam are talking about random things. Kalia talks about witch hazel and how you can put it on your face to clear up zits… Kalia says why don't the people with bad skin in the house ..ask the person with good skin how to clear it up?! WHAT?! Lawon laughs. Lawon and Kalia are in the kitchen alone talking. Kalia says that she thinks Rachel is going to go insane on thursday! …and that it would be crazy not to vote out a strong player like her. Kalia heads up to the HOH room to take a dump, realizes the HOH is lock and then goes to the down stairs bathroom. Lawon goes out into the backyard.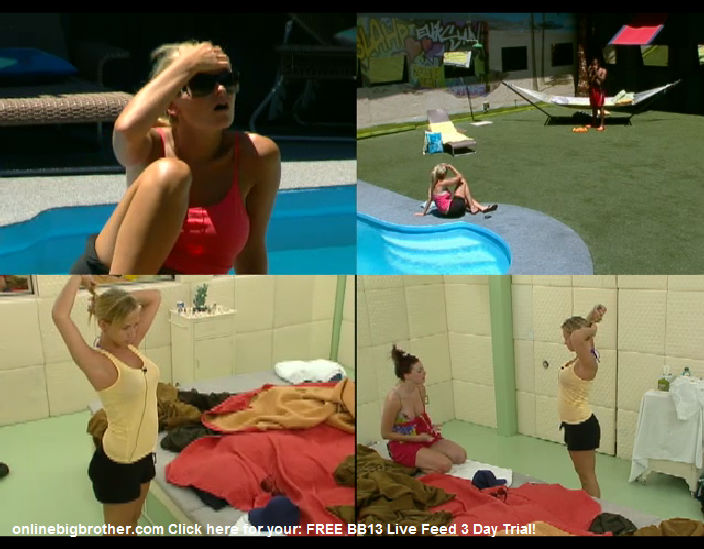 1:20pm – 1:35pm Porsche and Rachel are talking in the Havenot room. Rachel says that she just wants to see where she's at. Rachel says that she really wants Prosche's vote. Rachel says that Porsche will go a lot farther with Brendon and her. Porsche says that they are only going to be the only two votes for Brendon. Rachel tells her that she doesn't know that …and that her and Brendon are working on that. Porsche tells Rachel that they need to be out there being friendly with everyone… that yesterday you and Brendon shut yourselves off from everyone. Big Brother cuts the feeds. When they come back, Porsche, Brendon, and Rachel are talking. Porsche tells Brendon that he is going to get her vote because Rachel is her friend. Porsche says that she has been talking to people for them and we'll see… Brendon says well at least I have two votes and we are working on Adam and Shelly… They break up their conversation and leave the havenot room. Out in the backyard, Jeff, Jordan, Adam, Lawon are talking by the pool about winning the money and having to pay taxes on it. Jordan says that she wishes she could get away without having to pay taxes. The talk about Richard Hatch from survivor who didnt pay taxes on his winnings …went to jail ..then went on the Apprentice won money and didnt pay taxes ..and is now back in jail. Big Brother cuts the feeds again. Jeff talks about how he told Jordan a million times to make sure she puts money away to pay the taxes. Adam talks about the other Adam that won Big Brother and used his winnings to deal drugs and got caught. Jeff says that he can't go to jail… I can't stay in my room in sequester… Jeff tells a story about a girl smuggling drugs through the airlines to different places and how she got away with it for a long time ..and then finally got caught.
TRY the Live Feeds for FREE!
Click here for your: SUPERPASS – 3 DAY Trial!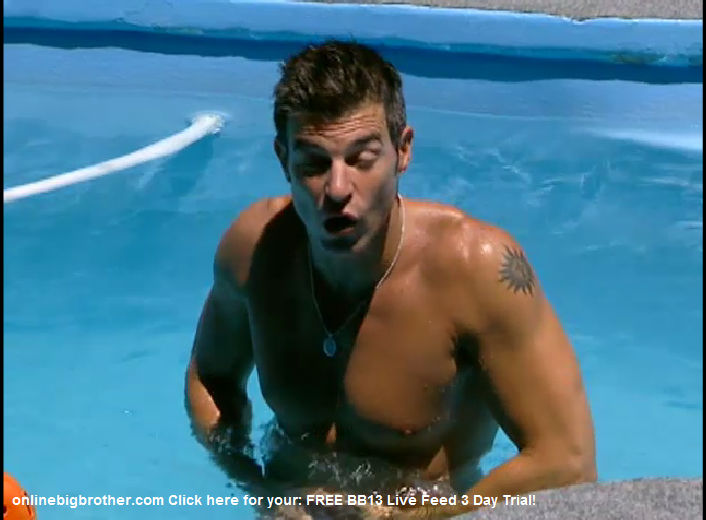 Big Brother 13 Spoilers POLL CAST your VOTE!

Big Brother 13 Live Feed Image Gallery
Follow: @BigBspoilers and @Dawgsbigbrother on Twitter for recent crazed out spoilers. Theres also our Facebook page.
Share it YO!!
Tweet