Get the BB13 live feeds on your Android and iOS devices. Sign-up for the 3 Day Free Trial
See What They Can't Show You On TV! SUPERPASS – 3 DAY Trial!
If you like this site and want to help us keep it running please consider donating, Your donations go directly to paying the server and bandwidth fees. Donate Link
12:20pm – 12:45pm Rachel asks Shelly if she thinks Brendon deserves better than her? Shelly asks why are you saying that? Don't think that! Shelly asks if Rachel just wants to be sad! Rachel says no. Shelly tells Rachel that Brendon isn't superman and you shouldn't put him up there …because he is going to disappoint you ..he is human. Rachel says he is superman! Shelly says no he's not ..don't do that to him.. he will make mistakes and you will put too much pressure on him. Shelly says that she wishes she had a camera during the competition so that she could take pictures to remember everything. Rachel tells Shelly that she can buy the dvd of the season to watch it and remember it all. They talk about the competition. Shelly asks Rachel what Brendon would be doing right now. Rachel says that he is probably back at his campus now. Rachel starts crying. Shelly tells Rachel that she was strong before Brendon and she should never let her spouse complete her. Shelly tells her that she is still in the honeymoon stage, wait until you get sick of the snoring or when he leaves his things everywhere. Shelly tells Rachel that she has to make herself strong before she can be strong together with Brendon. Shelly asks Rachel if she has ever been depressed before. Rachel says no… its just since being in this house. Shelly says that she wishes she had the perfect words to say to make it better. Shelly says that if she could give her ..the phone call home she would. Rachel says that she couldn't take that from her. Shelly says that she doesn't think it will do her any good ..it will just make things harder. Shelly tells Rachel not to give up ..that she needs to get up there and talk. Rachel leaves to go lay down… Shelly starts cleaning up the kitchen.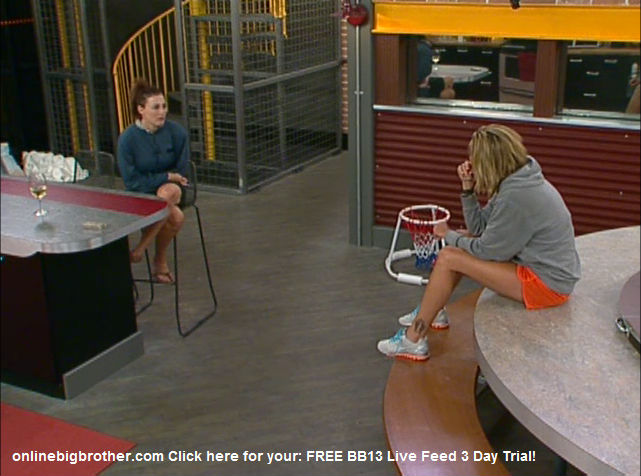 12:45pm Jordan comes into the kitchen and Shelly tells her about how all Rachel does is complain. Jordan talks about how she doesn't want to go up stairs because she made a fool of herself yesterday and that she doesn't want to do it again. Shelly tells Jordan that Kalia wants to put up Adam ..anyone who wont go home she wants to put up. If she puts up Porsche she will go home. They talk about how if Rachel goes ..she will be coming back .. people want to see the drama. Shelly talks about how annoying Rachel is …Jordan says oh I know she's a train wreck! Jordan says that its good because as long as she is in here ..she is always going to be the target. They talk about how they know that the person that comes back in will not be able to be evicted that week. Jordan says she knows they don't want to get rid of her ..because of all the drama. Shelly says that she will be pissed if Rachel comes back ..get a power … gets to the end and wins …because she is a horrible person …I just want someone nice to win.
Click here for your: Live Feed 3 DAY Trial!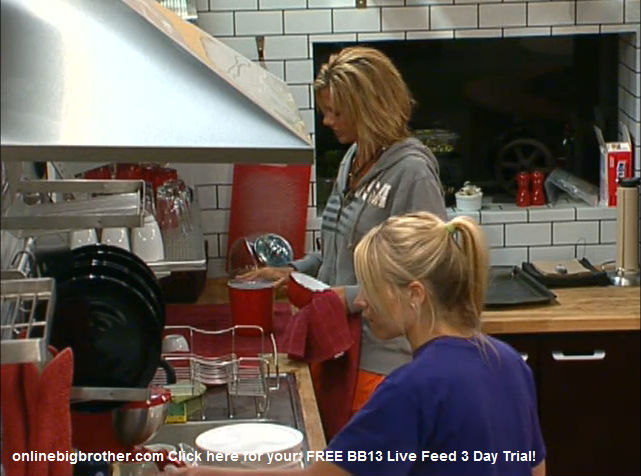 1pm – 1:20pm Adam is eating lunch, while Shelly cleans the kitchen. The backyard opens up and Adam yells FREEDOM!!! Shelly says SHHHHHHhhhh!!! You'll wake them all up and we won't have any peace and quite out there to enjoy. Adam says kidding! Shelly and Adam go out into the backyard to check out their new BBQ grill! Adam hugs and kisses the grill. Shelly finds the top of the other grill. Adam says that Porsche asked about the missing stuff and she was told that Big Brother is not responsible for any missing things. They talk about how it must have been Brendon. Adam says that taking the bathroom occupied sign is funny… but the other things are just dumb.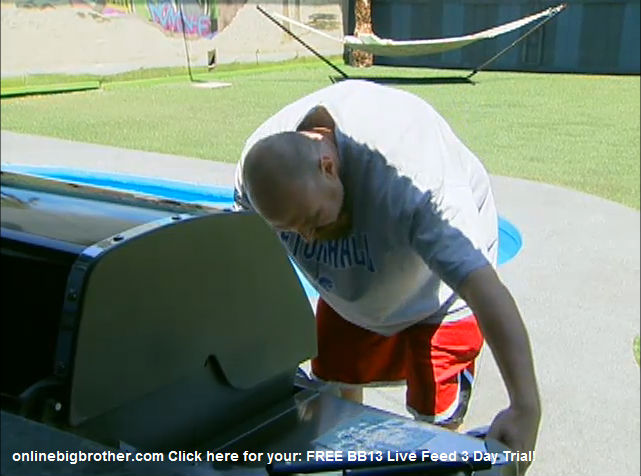 1:20pm – 1:40pm Adam asks Shelly who she thinks is going up? Jordan? Shelly says no not Jordan …she actully just said that she was thinking you … as a pawn. Adam is shocked and says me?! Shelly says as just a pawn. Shelly says that they think you are with Porsche and that if she went up you would vote for her. Adam says that he is not with her …that he talks to her …but not game. Shelly says that a lot of what you are saying to her …she takes up there. Adam says that he is not up there. They talk about how Rachel could come back. Shelly says that it will be insane drama and good for the show if she does come back. Adam says that its not for sure ..we don't even know for sure whats happening. Shelly says the last time she came back in her season there were insane fights.. it will be huge for ratings if she comes back! Adam says he thinks it's unfair that they would do that to Kalia. Adam says it wouldn't be unfair because then Kalia's HOH would have been for nothing… Adam says that he is shocked that she wants to put him up as the pawn …Adam says I have been the pawn how many times …its just a matter of time before I go home. Shelly tells him that she has his back .. she won't tell him everything ..but that she has his back. Adam wonders if Porsche is going to even vote to keep Rachel .. because they were yelling at each other the other day. Shelly says that Porsche runs to where ever the power is. Shelly and Adam talk about how it is going to get crazy the next couple weeks. They talk about what next weeks HOH competition will be like ..they think it will be a skill quiz competition.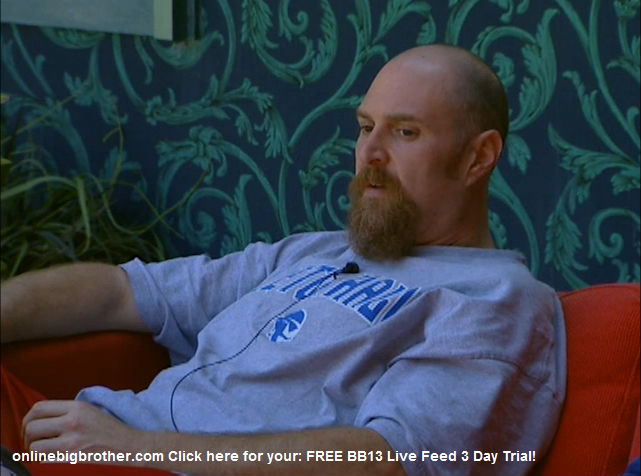 See What They Can't Show You On TV! SUPERPASS – 3 DAY Trial!
Big Brother 13 Spoilers POLL CAST your VOTE!

Big Brother 13 Live Feed Image Gallery
Follow: @BigBspoilers and @Dawgsbigbrother on Twitter for recent crazed out spoilers. Theres also our Facebook page.
This is not the official CBS Poll, go to this link https://www.cbs.com/shows/big_brother/americas_vote to vote for a evicted houseguest to have a chance at coming back into the house


Share it YO!!
Tweet