Get the BB13 live feeds on your Android and iOS devices. Sign-up for the 3 Day Free Trial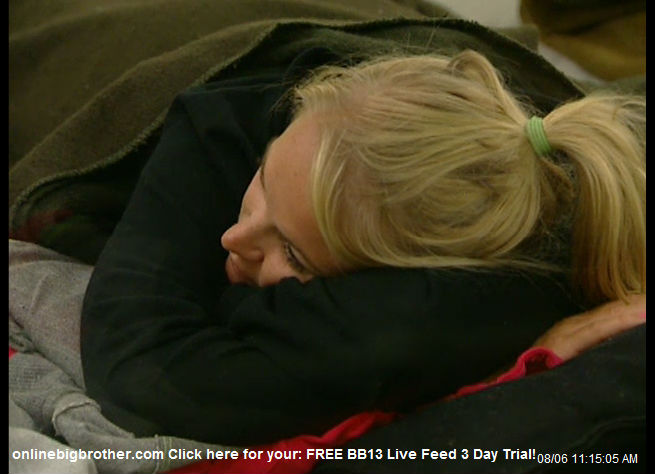 If you like this site and want to help us keep it running please consider donating, Your donations go directly to paying the server and bandwidth fees. Donate Link
11:15am Jeff and Jordan are in the havenot room talking about the POV competition. Jordan says that she was surprised that Adam kept up with them. Jeff says that he thought Adam was going to gas out! Jeff says that Adam was even chain smoking after it! Jordan says that it was so close. Jordan tell Jeff that he did good. Jordan says that she hopes Kalia puts up Porsche and then you can stick it to her. Jeff says Kalia is already nervous. Jeff tells Jordan that he told Dani him and Rachels not going anywhere. Jeff says I don't think she will put you up. Jeff says that Kalia already knows I am pissed. Jordan tells Jeff how if she is on the block she will campaign for Rachel to stay. Jeff says no don't even talk like that get out of her. Jordan says I would love to see you all kill it. Jeff says you will see it cause she is coming back. Jeff says I'm going to start getting on a roll. Jeff says his legs are already sore he can tell and thats just from running a mile. Jeff says that if Brendon was here he would have smashed that competition. Jeff says win I get pissed I don't know what I do. Jordan telling him all the stuff he does when he gets mad. Jeff laughs about his conversation with Kalia. Jeff says that he thought she had meant houseguest choice for veto not that he was going up. Jordan shows him how his face goes when he says what fck . Jordan impersonates Jeff. Jeff and Jordan talk about Porsche and how she hasn't done anything. Jeff says if Porsche goes up he can tell her I f-ing told you and now your going to go home because your an idiot.
TRY the Live Feeds for FREE!
Click here for your: SUPERPASS – 3 DAY Trial!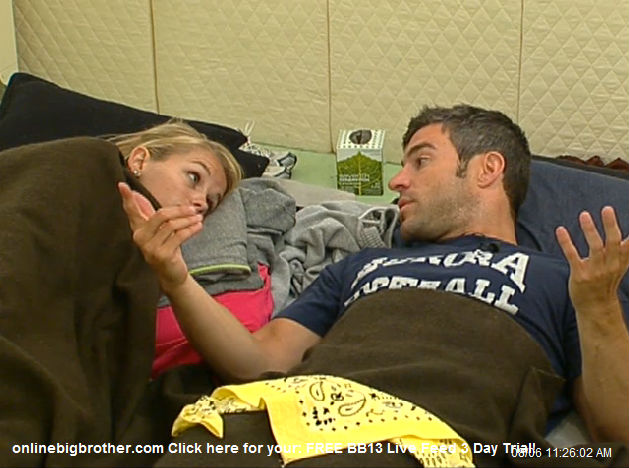 Rachel comes out of her diary room and talks about it. Jeff tells Rachel that she is just getting rattled. Jeff says that she will get a second chance and she has to come back and stir it up… win and shove it up their ass!!! Rachel says that if they don't put up Jordan. Jeff says you are safe. Jeff tells Rachel that she is so negative be positive. Rachel says that she wishes she could go back to three weeks ago and be that girl. Jeff tells her to clear the cobwebs. Jeff tells her she better come back with a clear head. Rachel says that she doesn't think Dani will let Kalia put up Porsche. Jeff says that if she is smart and puts up Shelly and Adam then it would be tied and she would break it. Jordan says that she thinks someone will come back and that they won't be able to be evicted that week. Rachel says that Kalia is on her high horse right now cause she is the head of household. Jordan tells Rachel not to say anything to Kalia. Jordan says she is not going up there she will lose her cool. Rachel asks her how she gets out of her funk.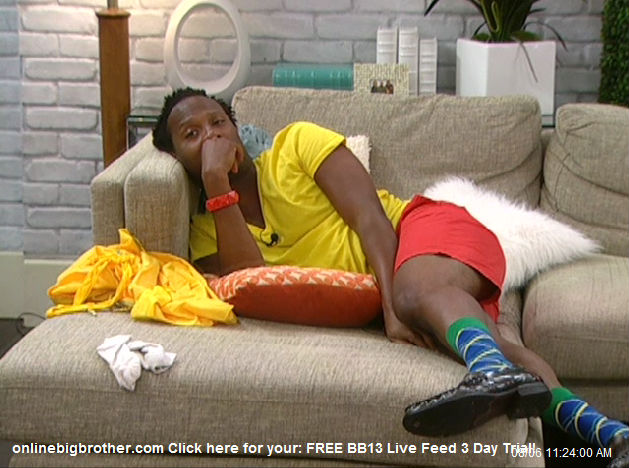 Kalia and Lawon are still talking in the HOH room. Kalia telling Lawon never once did she think Jeff would go home. Kalia trying to figure out how to prove to Jeff and Jordan that, Jeff was never the target. Lawon says it will just take some time. Kalia says when he comes up there she is hoping for the best. Kalia says she will tell him she is not playing the game to piss him off. Kalia says she might have been with them in the beginning but they never mentioned her for a final deal. Kalia says that she thinks maybe they were going to put her up and out. Lawon says Jordan showed her true hand in the competition. Lawon says to him that hurts herself with all the yelling she was doing. Kalia tells Lawon that Dani is worried about herself. Kalia says that she doesn't know why everyone thinks Dani is so amazing she loves the girl to death, but that she has only played in a couple competitions. Kalia says that the game isn't just about winning competitions …it's about character. Kalia says she will vote on gameplay not on weather she likes someone. Kalia says in all honesty… she doesn't feel right today. Kalia says that she was trying to get herself ready, but she will not pray for anyone's downfall. Kalia says that she will pray for her uprising. Lawon says you're doing what is best for you. Kalia says she is going to say from here on out what do you want to do. Kalia tells Lawon that Dani was telling her to becareful. Kalia says that Dani says she would put up whoever is coming after her.. but thats just her…
FLASHBACK – Don't miss all the drama!
Superpass – 3 Day FREE Trial
12pm – 12:20pm Rachel is in the kitchen eating alone.. The others are resting and napping waiting for the backyard to be opened back up again.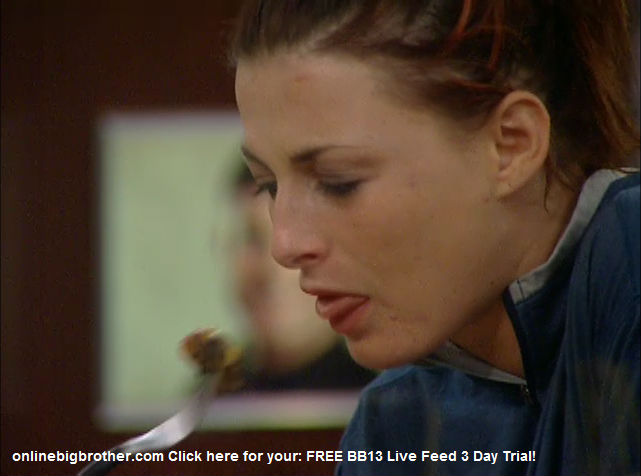 Big Brother 13 Spoilers POLL CAST your VOTE!

Big Brother 13 Live Feed Image Gallery
Follow: @BigBspoilers and @Dawgsbigbrother on Twitter for recent crazed out spoilers. Theres also our Facebook page.
This is not the official CBS Poll, go to this link https://www.cbs.com/shows/big_brother/americas_vote to vote for a evicted houseguest to have a chance at coming back into the house


Share it YO!!
Tweet