Get the BB13 live feeds on your Android and iOS devices. Sign-up for the 3 Day Free Trial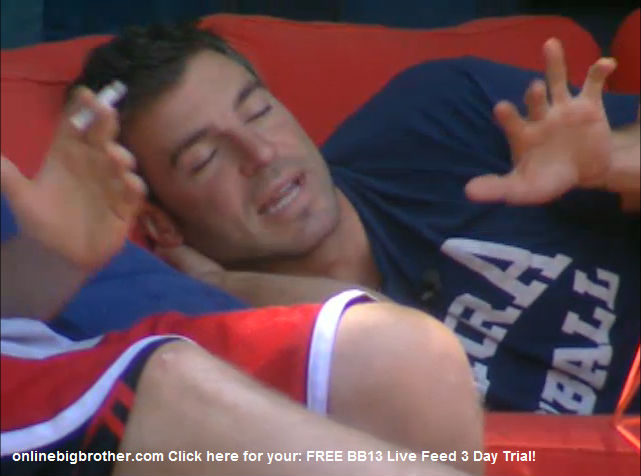 1:45pm – 2pm Rachel and Jeff come out into the backyard. They talk about the new grill they got. Jeff tells Rachel that he is not using the veto on her! Rachel laughs. Adam asks who do you think is going up? Jeff says that it doesn't even matter because someone is coming back. Rachel says that she is not going to be sad any more. Jeff says that he is convinced that who ever is going home this week will be coming back! …especially if its you Rachel! Jeff starts talking about what Julie told them about how to be careful about who you eliminate ..because someone will have a chance at coming back… Big Brother cuts the live feeds. When the live feeds come back, they are talking about the POV competition. They talk about how each of them played. Jeff says that if he had dropped it he would have smashed everything in the backyard. Adam says yeah I would have thrown my ball at the window if I had dropped mine. Rachel says that one day maybe I'll be ambidextrous. Jeff asks WHAT?! They laugh! Adam says yeah maybe when I'm 40 I will too… They laugh.
Click here for your: Live Feed 3 DAY Trial!
2pm – 2:30pm Kalia and Jordan join them out in the backyard. Kalia goes back inside. Jordan congratulates Adam on how well he did today. Rachel agrees. Rachel asks Jordan if she is going to talk to Kalia. Jordan says no ..I think I said enough yesterday …and I don't want to say any more to make me look bad. Rachel says BLANK Dani really wants me out of this house doesn't she. Rachel says that she didn't do anything to her. Adam says I just think you didn't do what she wanted you to do. Rachel says well I am not a sheep ..and I'm going to do what I want to do. They talk about how Dani was in the best position and didn't need to do anything. Adam says that he thinks she just felt like she needed to do something. The camera switches to Kalia and Shelly inside talking about Rachel. Shelly says that Rachel has split personality disorder or something. Back out in the backyard, Rachel is saying that evicting her would be the dumbest decision ever … especially if the evicted houseguests gets to compete in the HOH. Rachel says what would you think if you were Kalia ..if you saw me come back and be able to compete for HOH and you couldn't. Jeff says I would be like oh BLANK! Rachel says that she is going to go up and talk to her again…and warn her again… that now I am not going to be nice I am going to come back with a furry. They decide to go check out the grill. Jordan is shaving her bikini line out in the backyard. Lawon is playing the bean bag game with Rachel. Rachel is asking a ton of questions. Jeff asks what is wrong with you (Rachel) today.. you are asking a million questions …like when an alien comes to earth and asks is this a cup??
2:35pm In the kitchen Shelly and Porsche are talking about how big brother said they are not responsible for anything missing. Meanwhile Dani listens from the kitchen counter and smirks (She and Kalia hid all the stuff in the house). Rachel goes up and talks to Kalia and tells her that she has a huge opportunity to get her on her side by putting up the right person so that she will stay. Kalia asks who should I put up. Rachel says I don't know ..you know ..everyone comes and talks to you …you know. I've been told you are thinking of putting up Adam … I will go home if he goes up. Rachel says that if she goes home …she will be the one to come back… I came back last summer .. and I will again. You have an opportunity to make a deal now. Kalia says that she will think about it. Rachel says that this will be your opportunity for you to go really far … you can make a deal with Jeff and Jordan too .. I am telling you that this is your opportunity to go far. Rachel says that you have to be ready for anything… and to expect the unexpected. Rachel says that she will come back guns blazing!! ..and I am not going home again… I had an off week …brendon going home… but now I am back. Kalia says she knows… and that she has no idea what she is going to do…
TRY the Live Feeds for FREE!
Click here for your: SUPERPASS – 3 DAY Trial!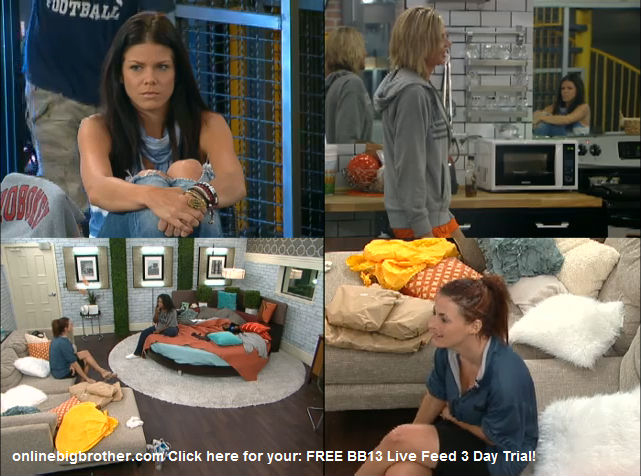 If you like this site and want to help us keep it running please consider donating, Your donations go directly to paying the server and bandwidth fees. Donate Link
Big Brother 13 Spoilers POLL CAST your VOTE!

Big Brother 13 Live Feed Image Gallery
Follow: @BigBspoilers and @Dawgsbigbrother on Twitter for recent crazed out spoilers. Theres also our Facebook page.
This is not the official CBS Poll, go to this link https://www.cbs.com/shows/big_brother/americas_vote to vote for a evicted houseguest to have a chance at coming back into the house

Share it YO!!
Tweet