Get the BB13 live feeds on your Android and iOS devices. Sign-up for the 3 Day Free Trial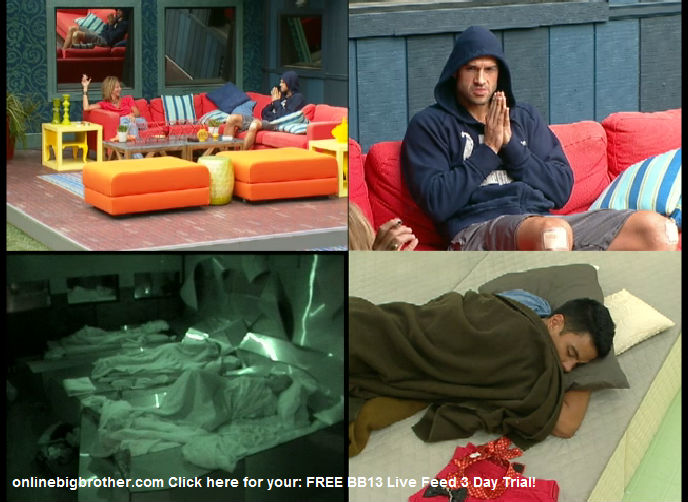 24/7 UNCENSORED Big Brother 13 Live Feeds!
Click here for your: FREE 3 Day TRIAL!
7:10am – 9am Shelly is wake in the big brother house. At 8:45am Brendon wakes up and joins Shelly out in the backyard. Shelly and Brendon are in the backyard talking about Kalia thinking that Dani is her friend. Brendon says that Kalia was crying to Rachel about how Dani is her friend. Brendon says that the very next morning Kalia was getting Dani's batteries. They talk about how Dominic threw the POV. Shelly says that if they talked him into throwing the POV …that was a great move. Shelly says she doesn't understand why anyone would throw the POV if they were on the block. Shelly say that even Kalia called Dominic out for throwing the POV. Shelly says that Kalia thinks she is a competitor. Brendon says what ..at eating?! Shelly says that Kalia was saying that no one will be able to compete against the vets. Brendon talks about how he doesn't trust Porsche. Shelly says that Porsche is skating by right now.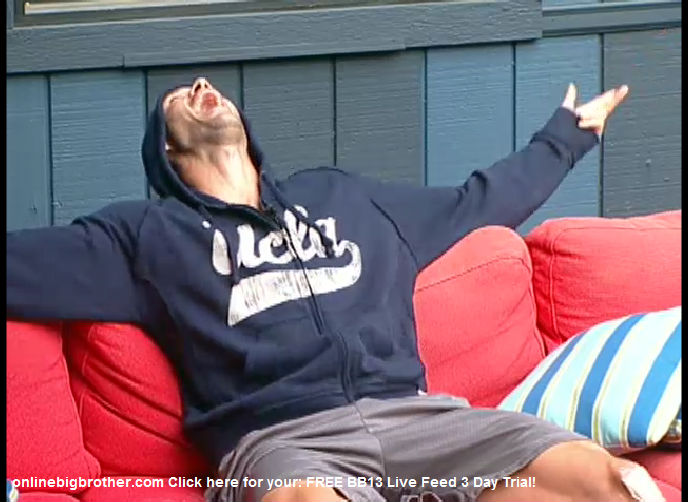 9am – 9:30am Brendon tells Shelly about how Jeff says that he saw Porsche motion behind Shelly's back to Lawon, motioning to him that she needed to talk to him. Shelly tells Brendon that Porsche told her that it was her goal to make sure the newbies don't talk game. She says that as soon as anyone comes around the newbies they stop talking and its so obvious. Brendon says that Jeff can't figure out why Dani wants to break them up. Brendon says it's for the jury. Shelly says yeah …she says she doesn't want to pay for someone's vacation or dream wedding. Brendon says she knows that Jeff and Jordan are favorites. Brendon says she will never get past being in Dick's shadow. Shelly says that Lawon has a bad social game …you can see right through him. They imitate and make fun of Lawon. Shelly talks about how she was digging to find out what Lawon really does for a job. Shelly says that today she is going to feed him bad information and tell him today that Dominic has her vote. …just to watch him run and tell Dani and Dominic. Brendon laughs and tells her to do it. Shelly says she feeds Lawon stuff all the times and that it's just funny. Shelly says that she and Porsche told Kalia last night that we are not changing our vote, you can go tell them that. Brendon says that he told Porsche to watch time lines. Brendon asks when did Dani start talking to you, and then says that she hadn't talked game with her before that. Brendon says that Porsche says she's only been talking to me the last two or three days. Brendon says he told Porsche to just think about it, she changed her personality because she needed something from you. They start talking about if Dani wins HOH. Shelly thinks Dani would put up her and Jeff. Brendon says no she would put up me and Brendon. Brendon says that they asked him what he thought the votes are going to be like. Brendon says it will probably be 8 – 0 …they don't have the balls to go against the house. Shelly says that she can't wait to call out Dani. They talk about how Dick is a way better player than Dani.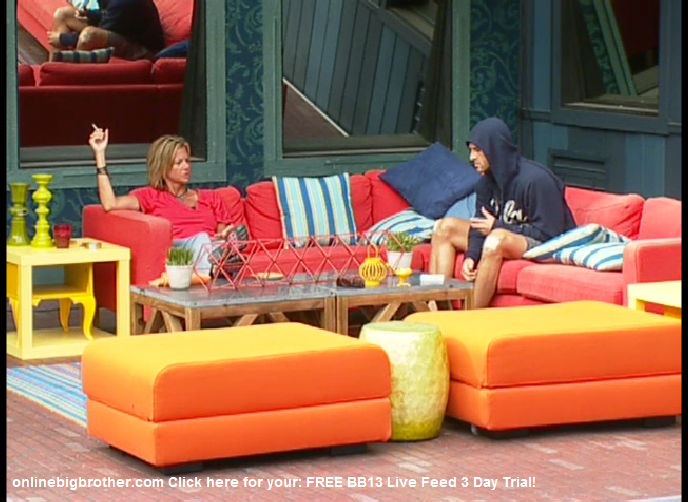 TRY the Live Feeds for FREE!
Click here for your: SUPERPASS – 3 DAY Trial!
9:30am – 10am Big Brother wakes up the houseguests. When the live feeds come back, Adam and Rachel have joined Shelly and Brendon in the backyard. Brendon calls Rachel a little mole ..because she can barely open her eyes. Rachel then goes back up to the HOH to sleep. Shelly and Adam are alone in the backyard. Shelly warns Adam that she noticed him sneaking and whispering with them and says that he really needs to watch that ..that he doesn't need to go down with them. Adam says that he wasn't talking game he was just saying goodnight. Brendon joins them in the backyard. Shelly notices in the scaffolding above the backyard she can see people moving boxs and that she recognizes the markings on the boxes are from China. Big Brother cuts the live feeds. When the feeds come back, the are talking about the weather. Adam goes inside to change his shirt. Shelly and Brendon talk about tv shows and movies. The conversation switches to talking about Dani. Brendon says that Dani goes from being the smartest player to the dumbest all in one sentence. Shelly then starts talking about how she sees the real person in Brendon from what she saw last season. They start talking about the differences in Brendon and Rachel, how Brendon is logical and Rachel is emotional. Shelly says that if Rachel lost Brendon in this game she would be emotionally swayed easily. Shelly says that she really thinks the final two are going to be Brendon and Rachel. Shelly says that she knows Brendon and Rachel need the money… and that everyone needs it in a different way..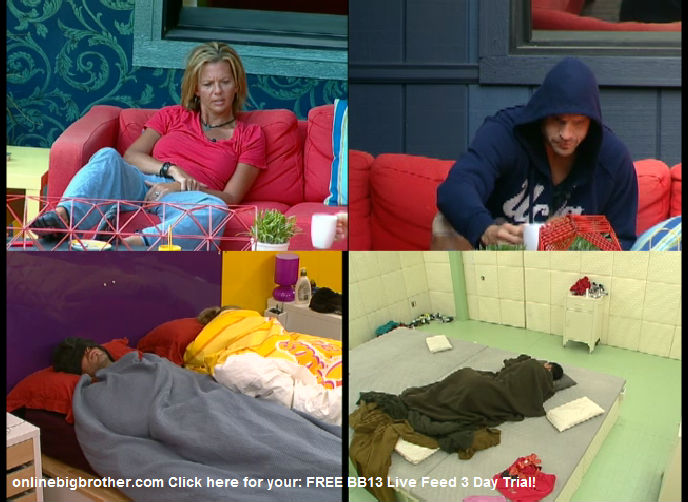 Big Brother 13 Spoilers POLL CAST your VOTE!

Big Brother 13 Live Feed Image Gallery
Follow: @BigBspoilers and @Dawgsbigbrother on Twitter for recent crazed out spoilers. Theres also our Facebook page.
If you like this site and want to help us keep it running please consider donating, Your donations go directly to paying the server and bandwidth fees. Donate Link
Share it YO!!
Tweet