Get the BB13 live feeds on your Android and iOS devices. Sign-up for the 3 Day Free Trial
10am – 10:35am Shelly and Brendon are talking alone on the backyard couch. Shelly compliments Brendan and his game play. Shelly talks about nice he is, and how great he was in his season and nice he was during the Chum baths handcuffed with Britney …even though they were fighting. Shelly tells Brendon that he got a bad rap for meeting someone you cared about. Shelly says that everyone came after you guys …and you were constantly in defence mode. Shelly says that it's amazing how different of a person you in real life than then. Brendan says that they managed to portray Britney in a great light and she was so mean. They talk about how Kalia was crying when she got hurt. Shelly tells Brendon that from growing up, you had to be a tough guy to get to where you are in your life. Brendan says that he figured out that for the majority of your life nobody is going to do anything for you… you can't wait around… you got to do for yourself. Brendon talks about how he emotionally cheated on Rachel.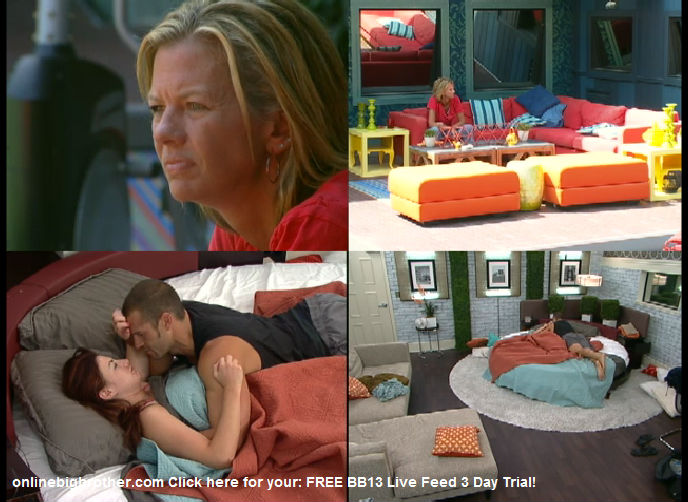 10:40am – 10:50am Brendon is up in the HOH room telling Rachel how much he loves her and how amazing she is… he tells her that he never wants to let her down again by doing what he did again.. Rachel tells him that he won't and that she loves him so much. Brendon tells Rachel that they can trust Shelly. Brendon says that the conversations they have …he knows he can trust her. Brendon says that he is over watching Kalia and Lawon being snakes. Brendon says that he is going to he is going to tell her that she is voting with them and voting Dominic out. Brendon says that he'll then ask her why she is going around the house trying to get people to vote for Dominic to stay. Brendon says that he is tired of them eating his food and not cleaning up after themselves. Rachel isn't sure he should. Brendon asks are they ever really going to be on our side… can we ever really trust them?? They go into the bathroom to get ready. Rachel tells Brendon thank you for coming up and telling her that he loves her. Rachel tells Brendon she doesn't think he respects her game play. Brendon says that he does …its just she is easily swayed. Rachel says that Adam is just a huge floater and she wants him out. Brendon says that its not that he doesn't trust her game play …its just she is an emotional player. He says that he takes the emotion out of it and see it from a logical side.
TRY the Live Feeds for FREE! Click here for your: SUPERPASS – 3 DAY Trial!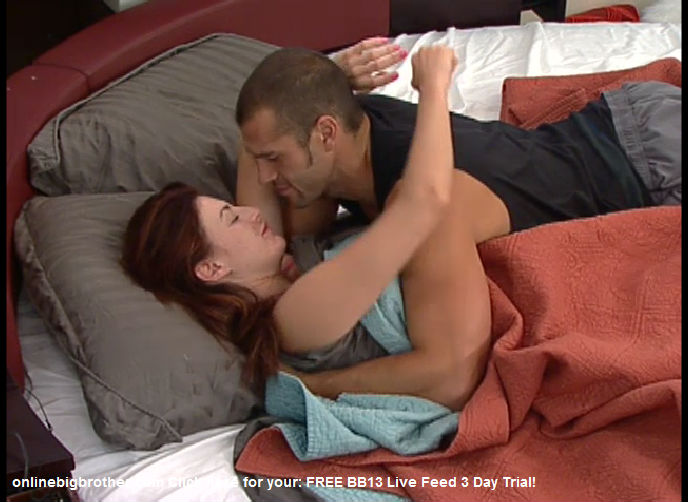 10:55am Dani and Adam are in the bathroom talking. Dani is telling Adam about how Brendon and Rachel asked Dominic to be on their side and that he did everything that they asked and now they are going after him. Dani says that you can't trust them. Dani tells Adam not to say anything she told him .. Adam say oh I know that. Adam then motions with a key to his mouth that its locked up ..he won't say anything. Dani then goes to the havenot room and says good morning sleepy head. Dani tell him whos up and then leaves to talk to Lawon in the other bedroom.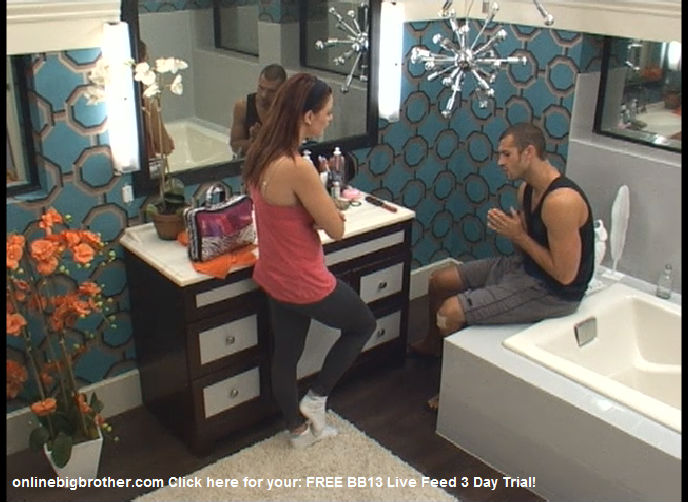 11am – 11:20am Brendon is telling Rachel why Dominic is guilty and needs to go home. Brendon says that if someone is robbing a bank and then someone picks them up and drives them away …they are just as guilty. Rachel and Brendon start to argue about Jeff. Rachel says that Jeff doesn't respect Jordan. Rachel says that Jordan and her are strong players and that they have won lots of POV's and HOH's. Rachel says that yes he threw the golf HOH competition …but he doesn't know if he could have won because he didn't even try. Brendon says that he doesn't like how Rachel talks game without him. He says that if he is in the room she won't say the wrong things even if he doesn't say anything. Brendon says thats what is stong suit is being able to think logically. Brendon says that he wouldn't change one thing about her. Rachel says that she wants to make decisions with him and not without her. Rachel says that Jeff is up here without her talking to Jeff. Brendon says yeah ..all we do is vent. Rachel says and then you were up here studying with them … Brendon says yeah and you were down there with Porsche. Rachel says you need to know that you wouldn't be as successful without me. Brendon says I know. Brendon says that he does respect her and that they do compliment each other so well. Rachel says she is sorry that she doesn't always agree with him.. Brendon says okay I'll take that. Brendon says that he loves that she is emotional …cuz he is too and that makes for a great romance.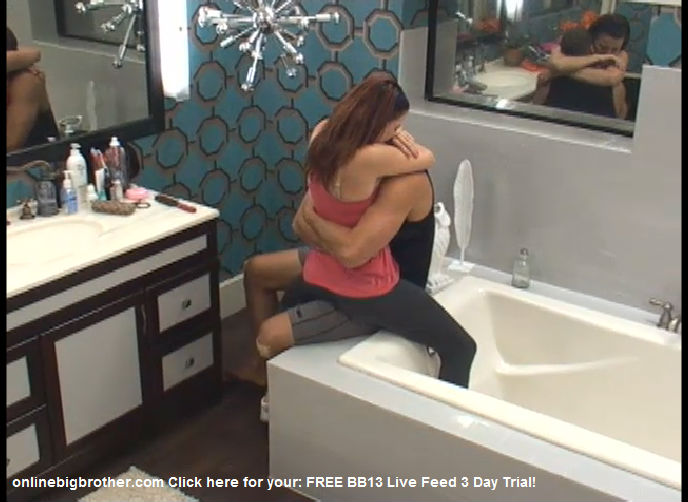 11:25am Brendon heads out into the backyard to workout. Brendon sees Dominic and says why the big smile on your face. Dominic says cuz of this …he lay out in the hammock and tosses the ball in the air. Shelly comes out into the backyard and tells Brendon that she is glad they told them they are going to be on an indoor lock down soon so that they can build the HOH competition for the live show. Shelly says that she wishes they would warn then all the time.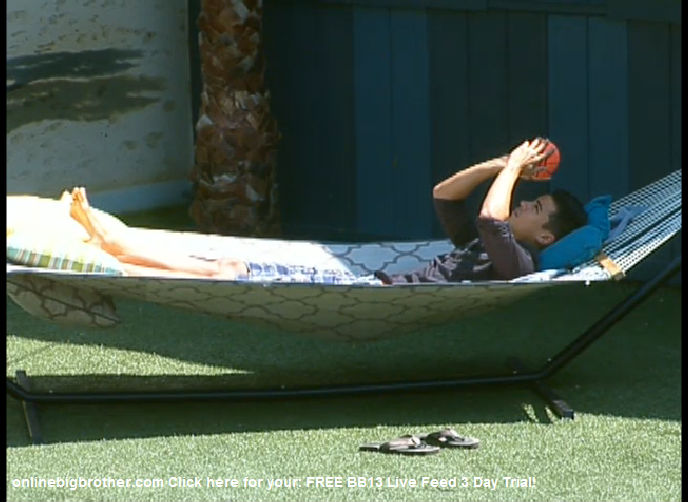 11:30am – 11:40am Dani and Kalia are talking in the candy bedroom about how they will be locked down until tomorrow night. Dani starts telling Kalia all about the conversation she had with Brendon and Rachel how they turned on her and Dominic after he did everything that they asked. Dani says that Dominic has to do something to stay. Kalia talks about a dream she had. Kalia tells Dani everything that Shelly said to her last night. Dani says that they are going to be sorry tomorrow …mark my word! Kalia says that she really needs to pee. Dani says that it smells like pee… and then asks her if she pee'd. Kalia says again that she needs to pee. Kalia says that she is going to talk to them later. Dani tells her that she needs to be nice. Dani keeps saying that it smells bad that it smells like someone pee'd
See What They Can't Show You On TV! SUPERPASS – 3 DAY Trial!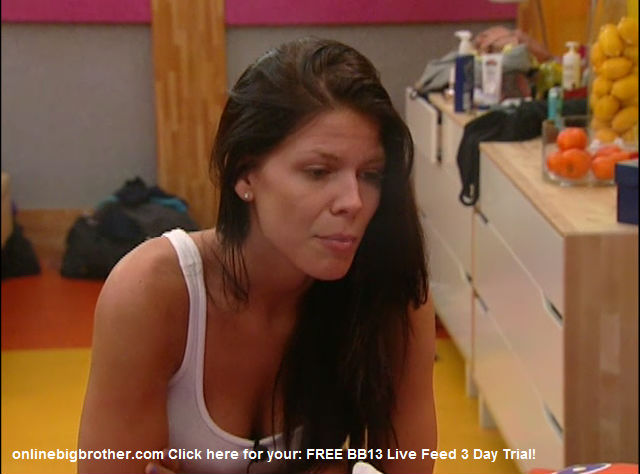 Big Brother 13 Spoilers POLL CAST your VOTE!

Big Brother 13 Live Feed Image Gallery
Follow: @BigBspoilers and @Dawgsbigbrother on Twitter for recent crazed out spoilers. Theres also our Facebook page.
If you like this site and want to help us keep it running please consider donating, Your donations go directly to paying the server and bandwidth fees. Donate Link
Share it YO!!
Tweet