Get the BB13 live feeds on your Android and iOS devices. Sign-up for the 3 Day Free Trial
If you like this site and want to help us keep it running please consider donating, Your donations go directly to paying the server and bandwidth fees. Donate Link
12:40pm Adam and Brendon are talking about past seasons of big brother and about manipulators in that had good game like Dr. Will. They talk about how Dani tried to manipulate people week 3 …which was a bad move… if it had been week 6 or 7 ..it would have been a good move. Rachel comes out and starts saying that I know no one like Porsche but I like her… Brendon stops her and says that they're not talking about Porsche… we're talking about Dani. Rachel and Brendon head up to the HOH room to talk to Dani. Dani doesn't answer the door, so they head back down stairs.
1:15pm Out in the backyard, Shelly talks about how genuine and kind Jordan is to Jeff. Shelly tells him that she is an angel. Brendon joins them in the backyard. They talk about bad Rachel's cooking is …and Brendon says that he will be doing the cooking from now on. Rachel joins them. Brendon tells Jeff that they all need to go up and talk to Dani later. Jeff says yeah I know. Rachel says yeah but the dictators sleeping all day.
WATCH the houseguests LIVE on SuperPass!
Click here for your: FREE 3 Day TRIAL!
1:35pm – 2pm Kalia and Dani are talking in the HOH room. They are wondering when the have/havenot competition will be. Kalia says that she was talking to Porsche…she says that she is never wrong about people .. and she is wrong about Shelly ..she says that Porsche was telling her stuff that she has said and done. Kalia tells Dani that Porsche said that Shelly was telling people that she pulled her into the lounge room and that I said that everyone was racist. She sasy that Shelly also lied about the Dominic vote. Dani says I think she probably got things a little twisted. Dani says that she apologized to Porsche the other day about how things went and that she feels really bad about it. Shelly comes up to ask them if they want burgers or chicken on the BBQ. Shelly then asks to talk with Dani alone. Shelly asks what Dani is thinking about doing? Dani says she really isn't sure. Shelly starts talking about Lawon and how she really wanted him out because he was lying and doing nothing. Dani asks how did it make sense to keep Rachel. Shelly says Kalia came to me and said don't be hung out to dry, don't vote to keep Rachel, if you don't believe me, call Kalia up her. Dani says that Kalia told me she told you the votes were changing. Shelly says well bring Kalia up here and lets talk about it. Kalia comes up and they all start getting into it. Shelly says that she wants to make sure we are clear.. you came to the bathroom and told me the votes are changing. Shelly says make sure you don't get hung out to dry. Kalia says no, I said the votes are changing.. let me know what you are going to do so that I could make sure Dani isn't hung out to dry. Shelly says that she has always been honest and open with everything she has said and done. Shelly says that she really takes it personally when someone lies to her. Big Brother keeps cutting the feeds in and out.
See What They Can't Show You On TV! SUPERPASS – 3 DAY Trial!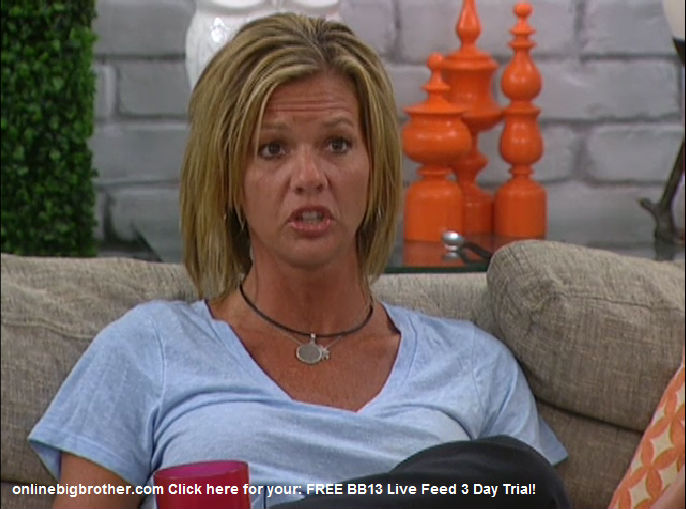 2pm – 2:20pm Kalia explains what was going on with having Lawon and Rachel up on the block. Shelly and Kalia are arguing about when and why Kalia and her talked about putting up Lawon. Dani says that either way it doesn't matter .. being HOH is not about the house its about furthering your game. Dani says that she always says go with your instincts … and do what you think is best. Dani says that what she does in this house and with people. Dani talks about how she protected Adam. Shelly says that she wants to express some of her concerns. Shelly says that she doesn't trust Porsche… and Kalia said that she is with you. Kalia says that I absolutely never said that Dani is with Porsche. Shelly says that Porsche came up here and told you guys that I have a final 3 deal with Brendon and Rachel …. and Brendon wasn't even here any more. Shelly says that she wants to just go pound Porsche in the head and knock some sense into her.. Dani says that she is sorry if that ever made her feel uncomfortable. Shelly asks Dani how she guessed the twist? Shelly says that logic says as a business woman …why would you pay people 28 days to sit on their asses. Dani says that she told her dad day one that someone was going to be coming back …and that she even told Keith that he would have a chance to come back. Dani says that after her dad left she knew someone was coming back… and then Julie told us the twist and so I absolutely knew someone was coming back. Dani says that CBS is there to make money ..so they get the fans to pay and vote …that way they benefit and the fans benefit. Dani then explains how she realized that Brendon or Dominic would be the ones competing to coming back. Dani says that she knew is Rachel left she would be coming back. Dani says that Brendon is a huge threat in this house.. he has probably won 80% of the challenges.. he is ridiculous. Dani says that she just used logic and figured it out. Kalia says that having a mad Rachel leave and come back is no different than the Rachel that is already here. Shelly asks Kalia to leave so that she can talk to Dani alone.
WATCH all DRAMA unfold LIVE on SuperPass! FREE 3 Day TRIAL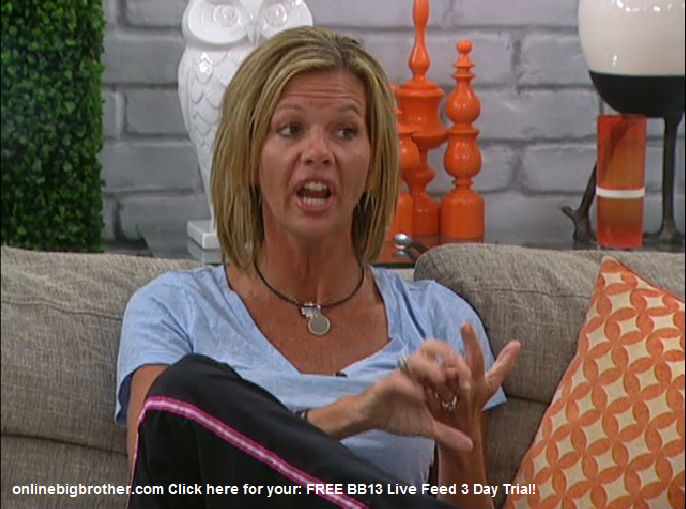 2:25pm – 2:45pm Dani starts talking about how they have literally no control over what production does. Big Brother cuts the feeds. When they come back, Shelly says that she has a problem with the fact that Kalia had a chance to get Rachel out talked to Shelly about it and then totally changed it. Shelly says that it is impossible to talk to you without Kalia being around or getting upset that someone wants to talk to you alone. Shelly says that Kalia is very protective of you .. and people downstairs are way more annoyed at her than you. Shelly says that she feels bad that what happened let Dani down and that Kalia had a big part in that. Shelly says that she doesn't trust Kalia like ..how she trusts Dani. Shelly says that you have her ..but she is playing both sides of the aisle. Shelly says that she apologizes that she felt left down. Dani says that we were here two weeks ago … and all that was for nothing .. its just hard. Shelly says that she should have listened to Dani more. Dani says that when she has feeling about something she doesn't want to push things on people… and maybe she should have. But its big brother its not easy its hard. Shelly says that after the last nomination ceremony it bothered me that Rachel came after you and I pulled her off and asked her what she was doing… Dani talks about how it was hard knowing that she would have to work with her dad .. but at least she knew he wasn't going to sabotage me. Shelly apologizes for yelling and says that she appreciates being able to talk things out.. They hug and Shelly leaves.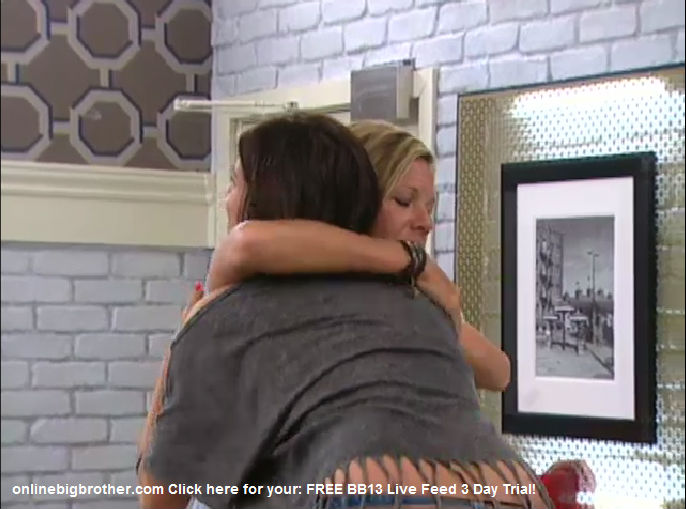 Big Brother 13 Spoilers POLL CAST your VOTE!

Big Brother 13 Live Feed Image Gallery
Follow: @BigBspoilers and @Dawgsbigbrother on Twitter for recent crazed out spoilers. Theres also our Facebook page.
Share it YO!!
Tweet