11am Shelly and Jordan continue to talk about their personal lives on the backyard lounger. Brendon, Adam and Rachel are working out and talk about Brendon's experience outside of the house. At 11:10am Big Brother lets the houseguests back inside the house. All of the houseguests but Jeff head inside. Adam check the storage room and tells them that they restocked it. Then he goes back out into the yard for another smoke. Shelly comes out side. She complains that Rachel won't be doing any more cleaning now that she has her toy back ..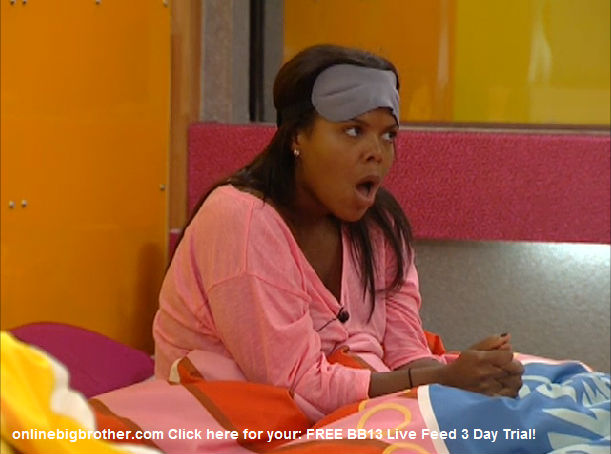 11:20am In the candy room.. Kalia is telling Porsche how Rachel said earlier that she was just laying watching Brendon sleep. Kalia says Barf! Kalia says I am happy for her …that he is back for you ..but seriously … she worships him! Kalia says and the fact that he cheated on her twice … thats BLANK! Kalia keeps going off about how annoying Rachel has been. Kalia says that she seriously wants to punch Shelly. Kalia says that I can tell she is a good person but she used some serious conversations that we had to use me. Porsche tells Kalia about how Shelly had told her that Kalia was throwing around the racism card. Kalia sits in silence with her mouth wide open… then says are you serious ..why didn't you tell me earlier?! Porsche says because I forgot till now ..sorry. Kalia says what a complete jerk .. that's so rude. Porsche says that she heard her and Shelly talking and her asking questions about being black …and then after she totally turned it around saying you were pulling the racism card.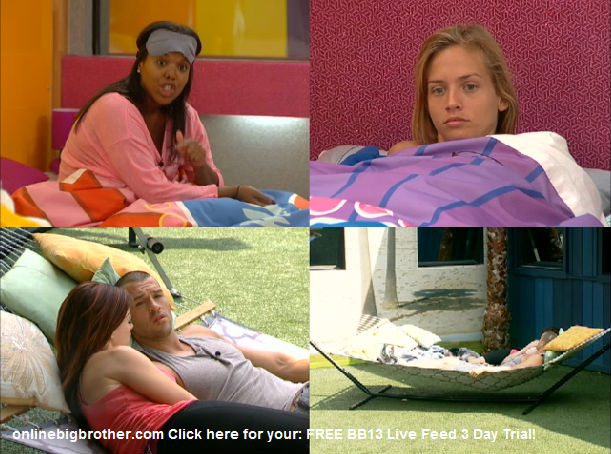 11:40am Meanwhile, Brendon and Rachel are on the hammock talking about the nominations. Rachel wonders what nominations Big Brother wants. Brendon thinks they (Production) want drama same thing as the fans. Brendon explains that they need to talk to Daniele and explain that Daniele is the biggest target in this game and that we (brenchel) will win Head of Household next week and we will keep you safe. Rachel says we just have to tell her that she can't nominate us or back door us. Rachel says that we can say that I am less of a target this week …because I haven't been winning lately ..I've been off my game. Rachel says that we will says that certain people are saying things. Brendon says that we won't mention any names. Rachel says that we will say we will have a deal for 3 weeks …and after the double eviction we will talk again. Brendon and Rachel both agree that it would be great to work with Dani. Rachel says that its pointless to be in an alliance with Jeff and Jordan ..they are useless! Brendon tells her to be quiet. Rachel says that Jeff and Jordan don't win anything and even last week I was a bigger target than Jeff. Rachel says that if Brendon hadn't come back into the house .. Shelly, Adam, Jeff and Jordan would have nominated her. Rachel starts talking about how Shelly never wanted to talk to her and that she would leave the room if she came in. Brendon and Rachel leave the hammock and go to sit on the couch with Jeff and Shelly. Jeff heads inside.
11:40am – 12pm Rachel, Brendon and Shelly talk about what the others have been doing since Brendon has been gone. Shelly asks Rachel if they had told Jordan that they have a final 3 deal. Rachel and Brendon both say no. Shelly says that Porsche came up to Kalia and told her that Shelly, Rachel and Brendon have a final 3 deal. Shelly and Rachel talk about how Dani was telling Shelly not to comfort Rachel when she was crying. Brendon asks really?! They talk about past competitions. Brendon says that he is glad they were busting their balls.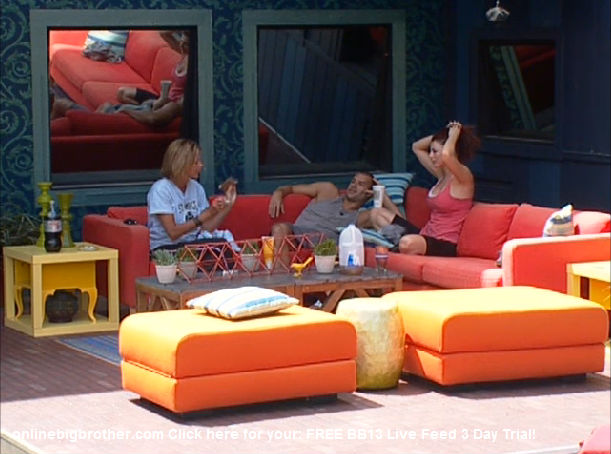 Brendon says that they can put who ever they want up …but we control the votes and decide who stays. Brendon says that I still can't believe that Kalia put up Lawon. Shelly talks about how she was the one campaigning to keep Rachel. Shelly says that they kept telling Lawon was the pawn and he didn't even get a pity vote. Brendon says that the good thing that Dani is can't win HOH next week. Brendon says that he is happy that they all made it to the jury house now. They wonder if they will have a have/havenot. Jeff says maybe it will be a night one.. they can do whatever they want. Brendon asks Rachel if she has still been working out… because 100% the next HOH is going to be physical. Brendon talks about how no one has found the chess pieces yet… Brendon says that it was definitely Dani trying to BLANK with people… they are the ones staying up late.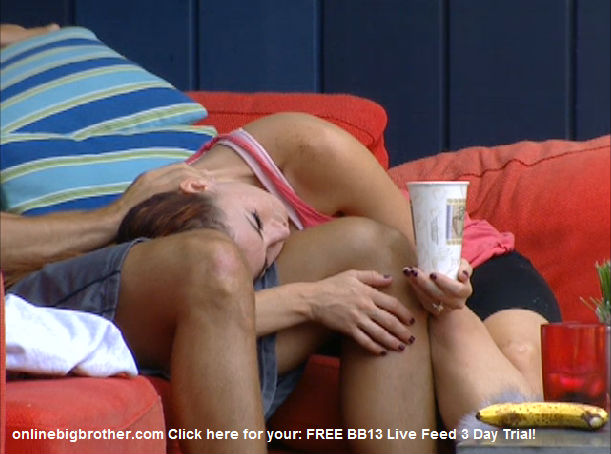 12:20pm Adam, Rachel and Brendon are talking about the POC competition where Rachel kicked Shelly's ball. Brendon asks so you really kicked her ball? Rachel explains that she tapped it lightly over to Shelly's lane so that she wouldn't trip on it.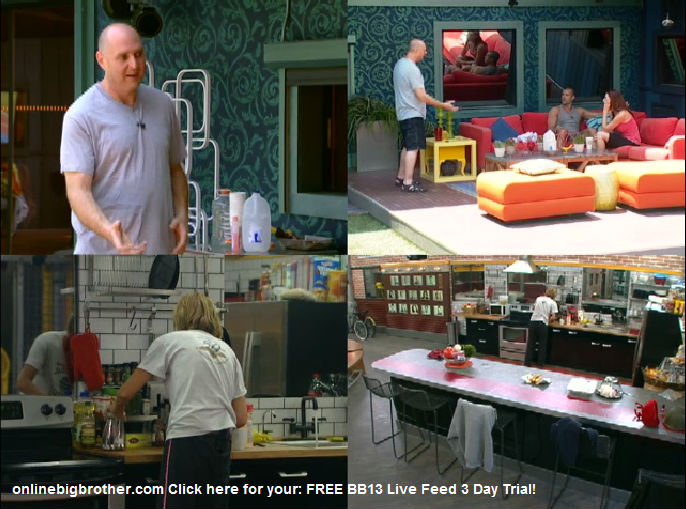 Share it YO!!
Tweet