Get the BB13 live feeds on your Android and iOS devices. Sign-up for the 3 Day Free Trial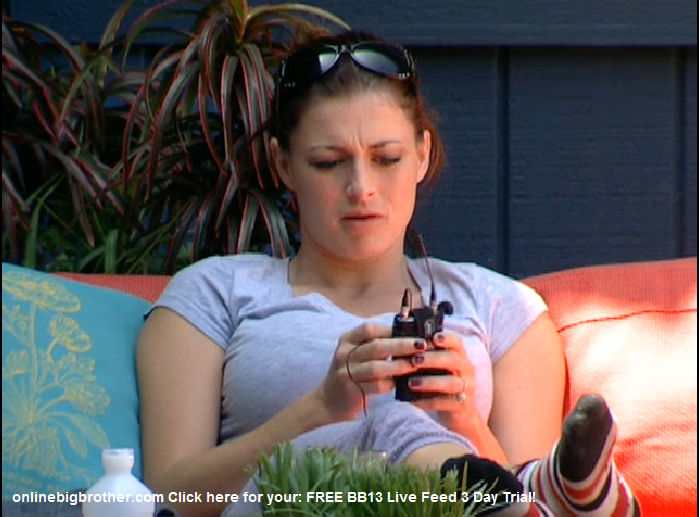 12:15am – 12:35pm Jeff wakes up and joins them in the backyard. Kalia heads back inside to take a nap. After she leaves Shelly mentions that Kalia is really trying to make an effort to be out there with them all the time. Jeff says ..her raign is almost over. Rachel says that she is super confused …about whats going on… she says that Kalia told her that she has the votes to keep Lawon. Shelly says that Lawon is tight with Adam. Rachel says that she hasn't talked to Lawon for more than five minutes this whole game. Shelly says that she is either over thinking it or she is right. Jeff says yeah you never know. Jeff heads inside. Rachel says that Kalia told me that it all depends on what we talk about today. Shelly tells her to just go with it …just nod your head ..shut up and agree. Shelly tells Rachel that they will make you swear on Brendon. Rachel says I can't. Shelly tells Rachel that they have her back. Shelly says just do whatever you have to do …and then break it after this week. Rachel says that she can't swear on Brendon. Shelly says well then say its against your religion. Shelly says just say it in a way that you are not lying ..like say that you won't up them up … and then say next week when you put them up that you never said you wouldn't nominate them. Rachel says that maybe I will just tell them they are not her targets. Shelly says that she hopes she isn't wrong about Lawon .. how can he come into the game and do nothing if he isn't part of a twist. Rachel says it happens all the time. Rachel names off a bunch of past BB players that got through the game not doing anything. Shelly says that she doesn't think Lawon is smart enough to figure out how to fly under the radar. They talk about how Porsche is a way bigger threat. Rachel tells Shelly about her conversation with Porsche the other day. Jeff and Lawon join them in the backyard.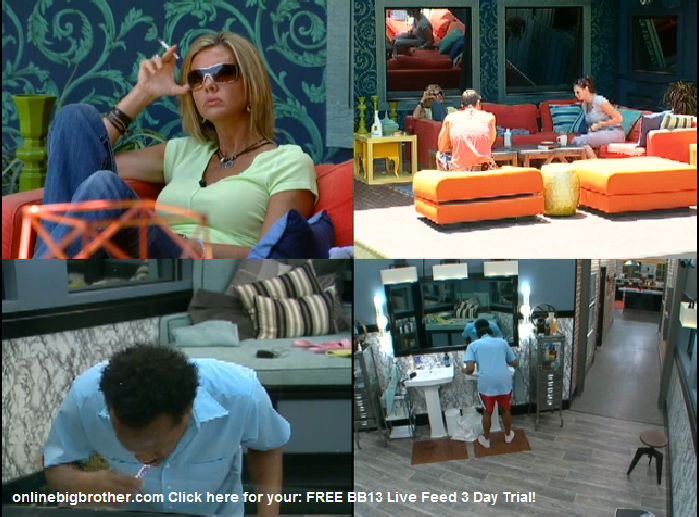 See What They Can't Show You On TV! SUPERPASS – 3 DAY Trial!
12:40pm – 1:20pm Big Brother tells the houseguests they are on an out door lock down. Lawon, Jeff and Shelly are the only ones in the backyard at the moment. Shelly and Jeff talk about how Porsche keeps watching them and then running up stairs. Shelly talks about how Lawon lays in the hammock that way so that he can watch them in the mirror. Jeff asks why ..who cares?! All the houseguests slowly head out into the backyard. Porsche and Dani take their sweet time going out into the backyard. Porsche comes out with a bowl of cereal. Porsche tells Jeff, Jordan, Shelly and Rachell that she isn't going to sit with them because they're on slop and she is eating. Porsche goes to sit by Kalia and Dani. After she leaves Shelly says to the others …no you're going to sit with them to kiss their asses. Jeff laughs. Kalia and Dani talk over by the pool. Kalia tells Dani that she had a conversation with Rachel earlier. Kalia tells Dani that she had told her about needin to talk with her with Dani present …and that Rachel seemed afraid to have the conversation. Dani says that she just wants to push Rachel out the door! Dani says that she doesn't want to talk to Rachel up there with everyone knowing that they are talking. Kalia says ..thats why I wanted to talk to her this morning. Dani says that there's no rush to talk to her. Kalia says …well you said you wanted to talk to her soon. Dani says oh my god! ..you have a bad attitude today!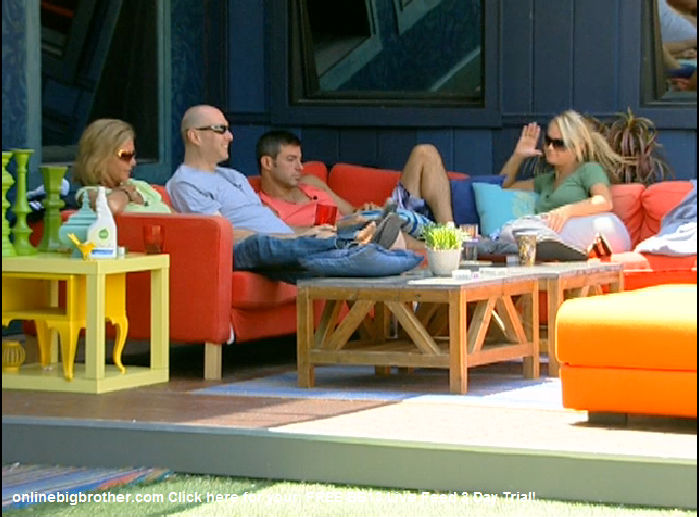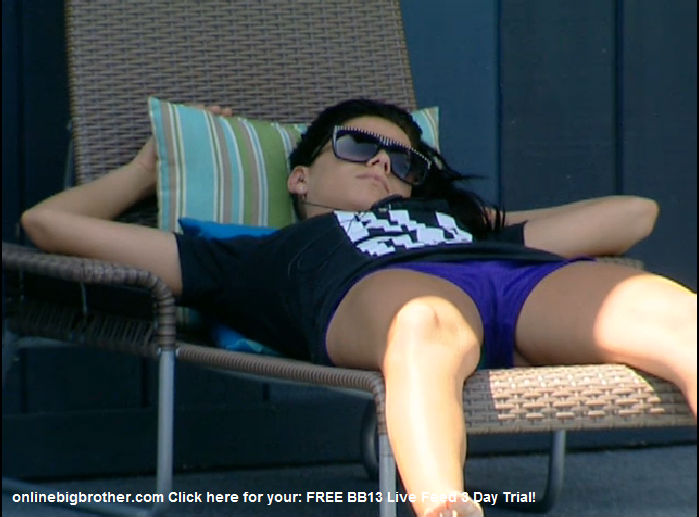 1:25pm – 1:35pm The lock down is now over. Dani and Porsche are in the bathroom. Dani is eating cereal and Porsche is putting lemmon in her hair to try and make it lighter. Dani tells Porsche that she can see her nipple. Porsche smirks and fixes her bikini. Meanwhile out in the backyard Shelly is quizzing Jordan on life and business decisions. Shelly asks what Jordan's 3 year, 5 year and 10 year plan is in terms of a career and earning money. Jordan says whoa .. this is an adult question. Shelly says well you are an adult.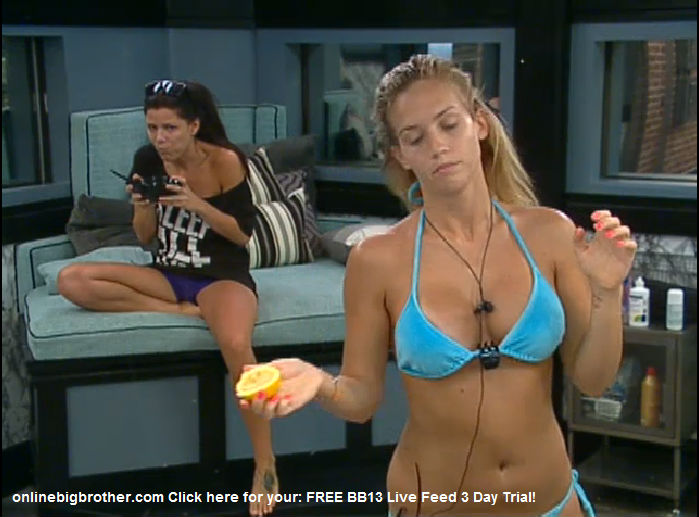 24/7 UNCENSORED Big Brother 13 Live Feeds!
Click here for your: FREE 3 Day TRIAL!
1:35pm – 1:45pm Lawon, Dani and Porsche go and lay out to suntan in the backyard.. Dani tells Lawon that he better be nice today. Lawon says that he is nice ..like tony the tiger tuesday! Lawon says that he is very sexually frustrated …and that he is having very vivid dreams. Lawon gets up and leaves and Dani asks Porsche if Lawon is going to go J-off in the bathroom now.
2pm – 2:30pm Jeff, Jordan, Adam and Lawon are in the kitchen to making lunch and talking about random stuff. Porsche and Dani are laying out by the pool talking. Dani mentions not wanting to be in the jury house on her 25th birthday that will be in eleven days. Shelly, Dani, Porsche and Rachel are all sun tanning talking about the actors they have crushes on. Meanwhile inside the house, Adam, Jordan and Lawon are talking about how big Adam used to be and how he lost all the weight. All the houseguests are talking about random things .. no game talk..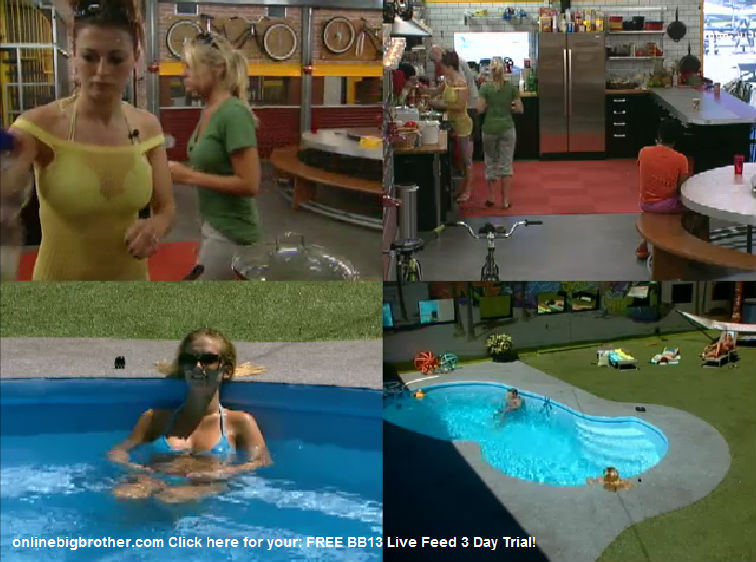 If you like this site and want to help us keep it running please consider donating, Your donations go directly to paying the server and bandwidth fees. Donate Link
Big Brother 13 Spoilers POLL CAST your VOTE!

Big Brother 13 Live Feed Image Gallery
Follow: @BigBspoilers and @Dawgsbigbrother on Twitter for recent crazed out spoilers. Theres also our Facebook page.
This is not the official CBS Poll, go to this link https://www.cbs.com/shows/big_brother/americas_vote to vote for a evicted houseguest to have a chance at coming back into the house


Share it YO!!
Tweet