Get the BB13 live feeds on your Android and iOS devices. Sign-up for the 3 Day Free Trial
If you like this site and want to help us keep it running please consider donating, Your donations go directly to paying the server and bandwidth fees. Donate Link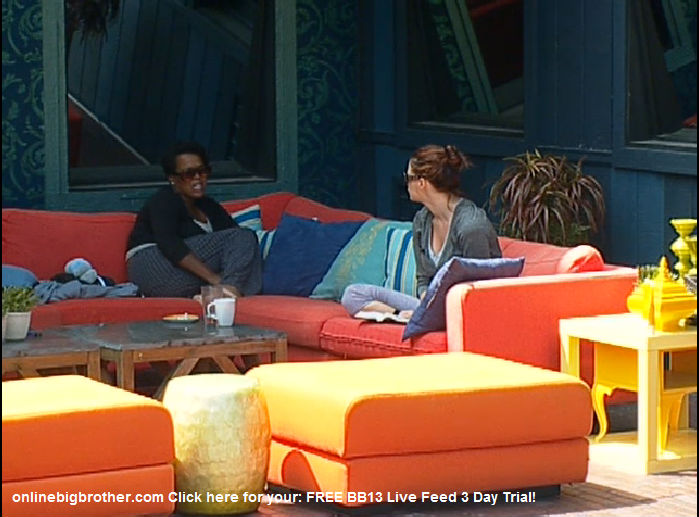 10:50am Rachel and Shelly are out in the backyard talking about how Rachel was having trouble finding a job out in LA. Shelly heads inside. Rachel is all alone in the backyard reading the bible. Kalia is in the kitchen cleaning up and eating. Kalia then heads out into the backyard. Rachel and Kalia talk about not being regular and needing to take fibre. They talk about how they are happy about getting catfish and coconut to eat. Rachel asks so what do you what to talk to me about. Kalia says well I really wanted to talk to you with Dani. Rachel asks so what was your thinking putting up Lawon. Kalia says that she really just put him up as a pawn ..and then he started acting all crazy. Rachel says that putting up Lawon was the only person that she had a chance against. Kalia says that she is really gassy. Kalia says that she just really didn't want to make any more enemies. Kalia talks about how Lawon was acting all crazy and she had to ask him what he was doing.. Rachel says that even if she does get voted out …she will be coming back… Rachel says the way I see it ..I see it as a positive that you put up Lawon. Kalia says that I heard you going around saying that you have the votes. Rachel says that she never said that. Rachel talks about getting the floaters out of the game.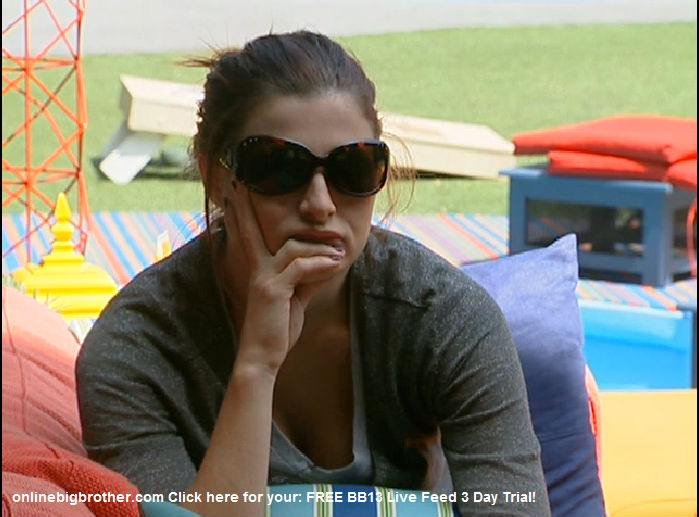 11:40am Kalia says that she understands that ..because they get by without having to do the dirty work in the house. Kalia says that you take out the bigger hurdles and when it gets down to the end you take out the smaller hurdles. Kalia says that she isn't really talking about everything with Rachel because the plan is to talk to Rachel with Dani. Kalia says there is just no point in having the same conversation twice. Rachel say okay …and then keeps digging for more information. Rachel asks if it was her plan to put up Lawon so that she was safe. Kalia says that a lot of what will or won't happen depends on the conversation we have later. Kalia says that she hopes that all is not lost with these nominations. Kalia says that nothing is set in stone. Kalia says again that she would rather have the conversation with Dani. Rachel says no one can hear you. Kalia says, it's not that. Kalia says that it's not an absolute, there are obvious things and others not so obvious about the nominations. Kalia says that the more obvious facts are the ones you can look at and the nominations are something she can look at. Kalia says it's not a hopeless situation …all is not lost. Rachel says someone this week can come back. Kalia says that has always been in the back of my mind. Kalia says she knows sometimes things are super obvious but there is a chance that no one will come back too. They start talking about random things and boyfriends. Kalia talks about her and her boyfriend were only together for a month before she came into the house. Rachel points out that she has been in the house longer than she was with him.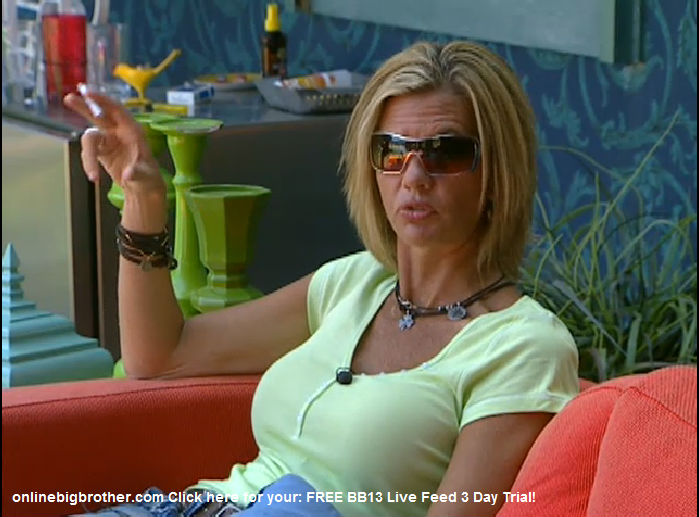 11:55am Shelly joins them outside. Kalia talks about what she will write in her HOH blog. They talk about keeping parts of the competitions like the cards and shot glasses so that they have something to remember them by. The conversation changes to talking about facebook and twitter.
Big Brother 13 Spoilers POLL CAST your VOTE!

Big Brother 13 Live Feed Image Gallery
Follow: @BigBspoilers and @Dawgsbigbrother on Twitter for recent crazed out spoilers. Theres also our Facebook page.
This is not the official CBS Poll, go to this link https://www.cbs.com/shows/big_brother/americas_vote to vote for a evicted houseguest to have a chance at coming back into the house


Share it YO!!
Tweet