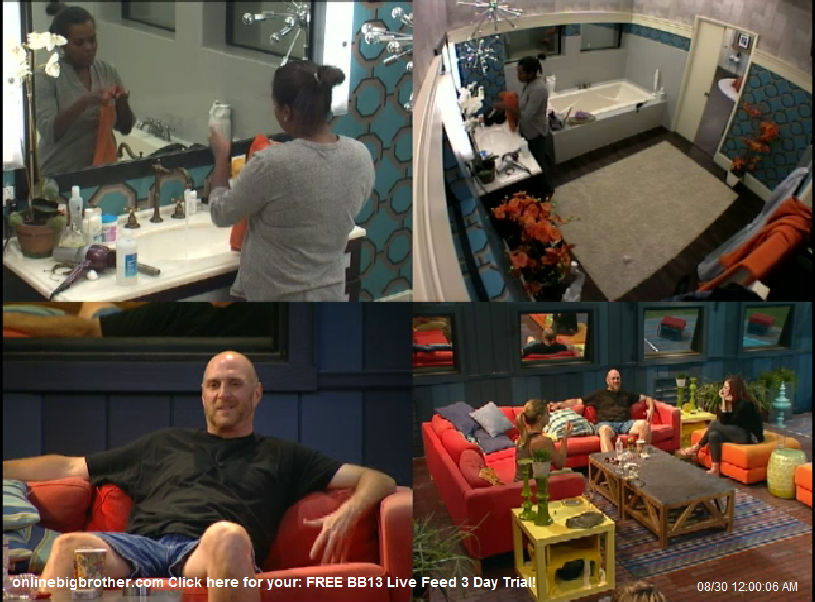 12am Up in the HOH room Kalia is getting ready for bed. Out in the backyard, Adam, Shelly, Porsche and Rachel are talking about random things. They talk about Ellis Island, Atlantic City and LasVegas. Adam says that Atlantic City is such a dump. Adam says that when he went to Las Vegas he went to every casino along the strip. Shelly says that when she goes to Vegas she wants to go with Rachel to see all the cool spots. Adam says that when he was in college, him and his buddy would drive up and down the strip looking at the strippers and laughing at them trying to hustle in the freezing cold weather wearing small fur coats. Rachel decides to go to bed. Porsche heads inside to put her cookies away and says that she may go to bed early too. Adam asks put your cookies away …is that code? Porsche laughs and says no. Shelly then heads inside to take a shower. All four cameras switch to Porsche and Rachel putting away the cookies that are in the shapes of their initials.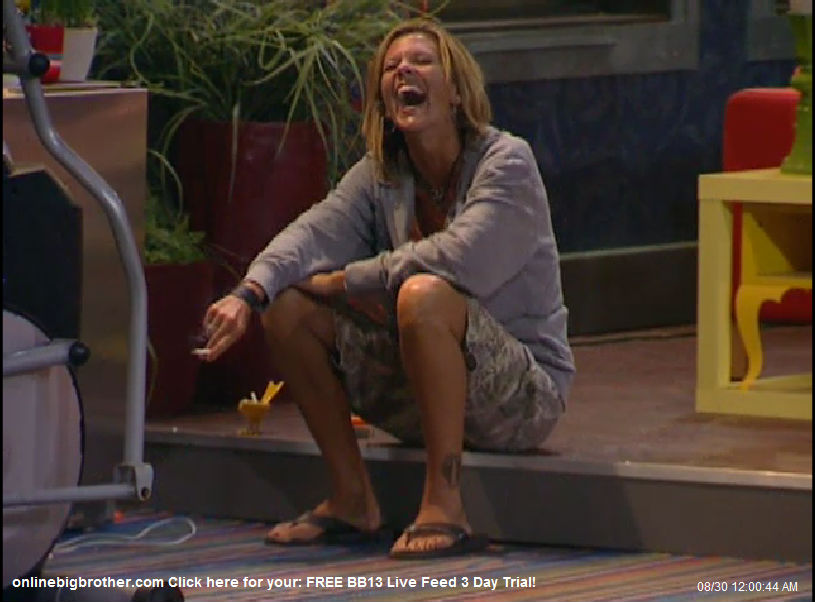 12:20am Porsche and Adam are in the backyard talking. Adam says that he is stressing. Porsche says she is sorry she put him in that situation. Porsche says that after listening to Rachel it sounded like they were favouring Shelly because their whole argument is that you will be the POV Winner. Porsche says that Kalia was trying to put a rift between Rachel and Jordan by telling her that again that Jeff threw the corn hole veto. Adam says for the record during that veto …the only thing that I told Dani was that I made her tell Jeff that he was safe. Porsche says well that deal was way before anyways. Porsche says that getting out Brendon the all around player was a good move … and so was getting out Jeff. Adam says that Brendon was the much bigger threat. Porsche says that the fast forward happened at an opportune time for Kalia and I. Adam says you know Jeff he wasn't going to throw the veto for me. Porsche says that she needs Adam to stay and that they are doing everything they can to keep him here. Adam talks about seeing Shelly run into the purple room and start pushing buttons and stuff. Porsche says yeah it was her last effort to try and get a power. Porsche says that Shelly has been running around offer final 3 deals to everyone. They talk about how Shelly made up Rachel calling her a bitch but that it never happened. Porsche says that Jordan said all Shelly is going to do is if she stays in the house is going to pit us against them. Porsche says that Rachel has a shot of winning she has been on rock bottom and then on top over and over again.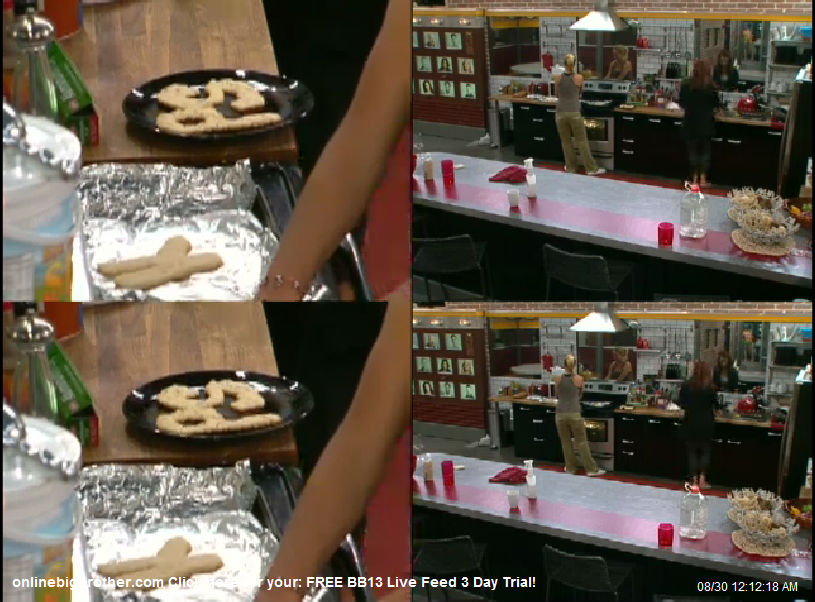 12:45am – 1:30am Porsche, Adam and Shelly talk about having fans a critics from being on the show. Shelly says that she is really worried about her husband or daughter reading or hearing something negative about her. Shelly says that her husband talked about how she would never come into the house if it would ever hurt her and his relationship. Shelly says that everyone that loves Jeff is going to hate me. Adam tells her to tell anyone who hates on you to go live in the house and see how they feel them. Adam says that there will be lovers and haters. Shelly says that none of us could have won the game against Jeff and Jordan … it was a good game move. They talk about the jury house and possibly being able to hear from and write their family members. Adam talks about how Brendon and Rachel are the only ones in two season that have both been evicted and brought back three times each. They talk about how Dominic was all over Cassi and they the day after he was all over Dani. Porsche heads inside. Adam tells Shelly that he told Fara not to talk to anyone but one person from CBS and that if anyone else contacts her to not talk to them. Adam knows how crazy the BB fans are. Shelly says that she doesn't think anything negative like that would happen ..maybe I am naive. Shelly then heads to bed.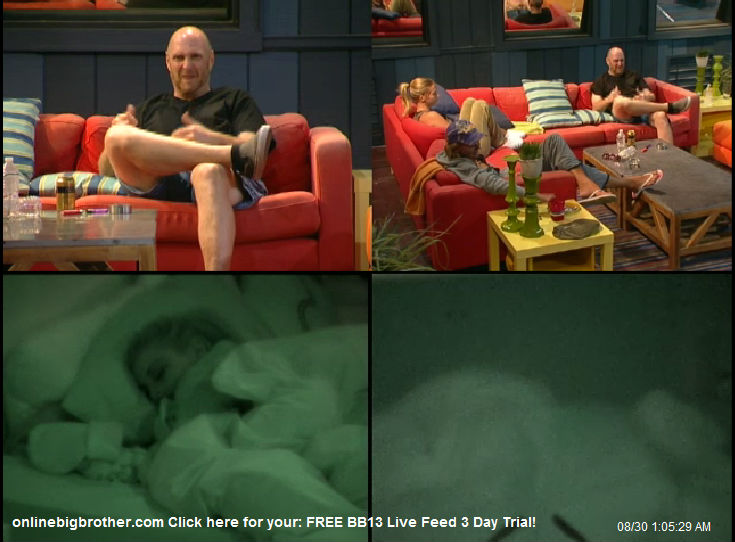 1:40am Adam heads to bed. All the houseguests are now in bed sleeping..
5:20am All the houseguests are still fast asleep..
9am Big Brother wakes up the houseguests. Adam and Shelly are out in the backyard talking about sports games and ticket sales. After Adam finishes his smoke he goes back inside to go back to sleep. Shelly starts folding the laundry, while all the other houseguests continue to sleep.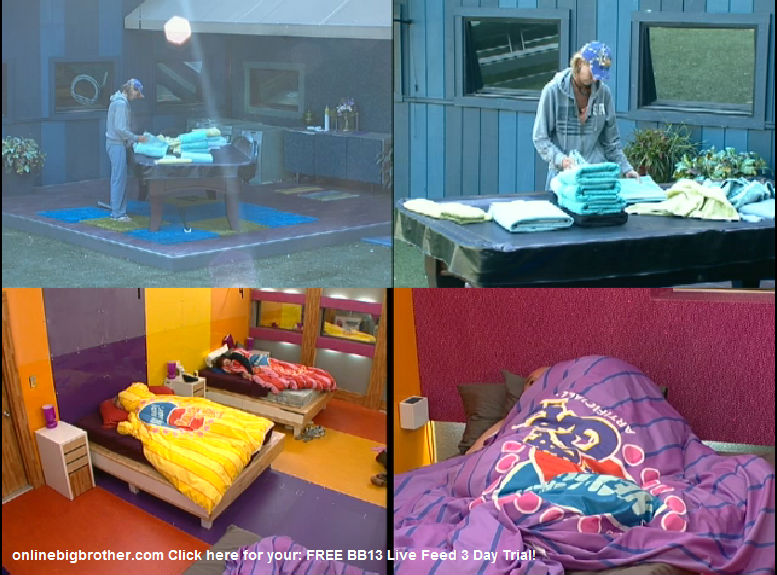 Share it YO!!
Tweet