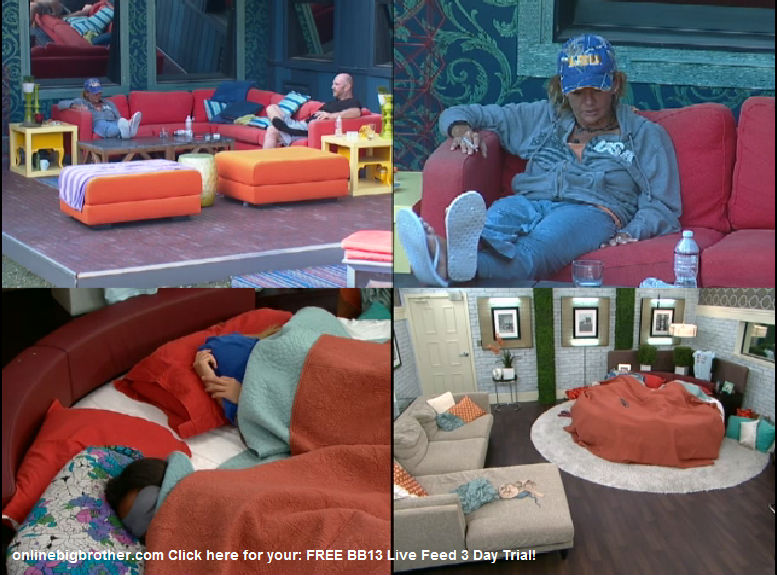 Watch the Big Brother 13 live feeds on your Android and iOS devices.
Sign-up for the 3 Day Free Trial
9am – 10:10am Big Brother wakes up the houseguests. Adam and Shelly are out in the backyard talking about sports games and ticket sales. After Adam finishes his smoke he goes back inside to go back to sleep. At 10am Rachel wakes up and goes to the bathroom and then heads out into the backyard. Rachel complains about having the worst stomach pains and cramps. Rachel says she just doesn't know whats going on. Shelly says yeah your either pregnant or its your period. Rachel says that it wouldn't be the worst thing if we were pregnant ..I don't think we will wait 5 years though. Shelly talks about her experiences while pregnant. Shelly says that Rachel must have been freaking out. Rachel says no.. I have my degree and it wouldn't be the worst thing. Rachel says that she she's been feeling sick and nauseous for a week now. Shelly asks maybe you are pregnant?! Shelly tells Rachel to just rest today.
If you like this site and want to help us keep it running please consider donating, Your donations go directly to paying the server and bandwidth fees. Donate Link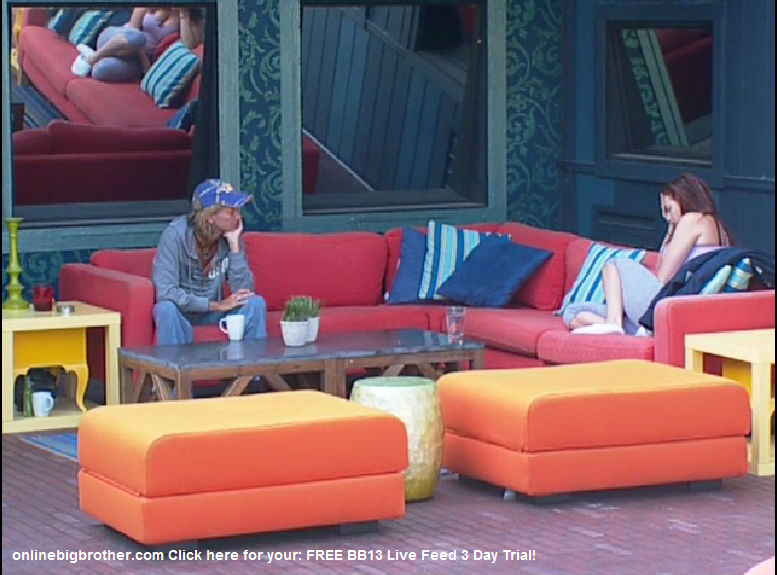 TRY the Live Feeds for FREE!
Click here for your: SUPERPASS – 3 DAY Trial!
10:15am – 10:40am Shelly says just 16 days left and you can see your man. Rachel says I know. Shelly tells Rachel that she has a good chance to win this thing. Rachel says I don't know.. Shelly says you are the strongest competitor here.. Rachel says I don't know… Dani is too. Shelly says ..she ain't here! They continue to talk about past competitions. Shelly says that everyone has said that Adam is a rockstar at questions… but then he goes out first. Shelly says that she thinks he is throwing competitions. Rachel says she thinks so too. Shelly says that no one is going to beat you in the end.. not Kalia, not Adam, …not Porsche.. Rahcel says that she can't do a skill to save her life. Shelly says that Rachel's advantage is being more relaxed going into the competitions. Shelly says that outside this game she is the first person to help someone and that in here it is different. Shelly says that she is so embarrassed about what she did. She says she has a really hard time watching people get hurt. Shelly says she immediately felt sick after the decision she made this week and that she is embarassed of what her family thinks. Shelly says that she is going to have to explain it to her daughter. Shelly says that sometimes game imitates life. Shelly says that you can't beat people up for their actions in this game. Rachel says that people definitely act different when their back is up against the wall. Shelly asks Rachel what her greatest lesson is in this game. Rachel says to keep her emotions under control and to think before she acts. They start talking about the jury votes. Rachel says that she would have liked to compete against Dani in the end. Shelly says that she had a dream that she asked Rachel if she had made her decision and that Rachel said yes and pushed her in the pool and told her to stay in there till Thursday…
WATCH all DRAMA unfold LIVE on SuperPass! FREE 3 Day TRIAL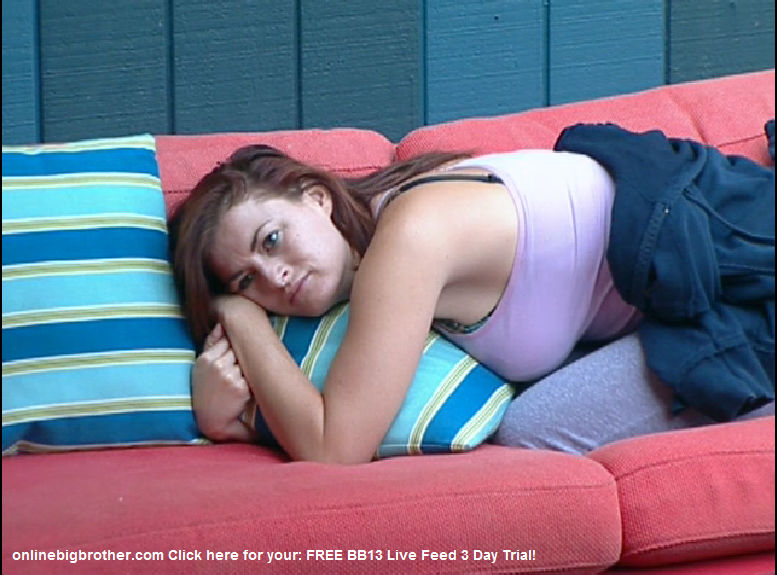 10:45am Rachel says that she doesn't think she will get the votes in the end …that she will be second place no matter what. Shelly asks why would you say that.. I think you will have a lot of votes in the jury .. the vets will vote for a vet for sure ..they want a vet to win. Rachel says not necessarily. Rachel says that she is doing this and fighting to get to the end for Brendon. Shelly tells her to use me .. if you want a pawn …use me.. why wouldn't you use me to get to the end. Rachel says well why do you want to be here then. Shelly says that she loves the game and the experiment and wants to get to the final three. Shelly says that she has everything in life that she wants. Shelly says that she will tell everyone that she is in the game to help you and Jordan. Shelly says that it would have been nice to have someone help her out all game and that she is made a big move, and it came back to bite her. Shelly says that she doesn't want either of them (Porsche or Kalia) to win. Shelly says she can't stand Kalia ..she is a arrogant woman. Shelly says that Adam will not …absolutely not protect them… once he starts winning he WILL put you up. Rachel asks Adam will go after me and Kalia correct. Shelly says yes …he won't go after Porsche or Jordan because of Jeff.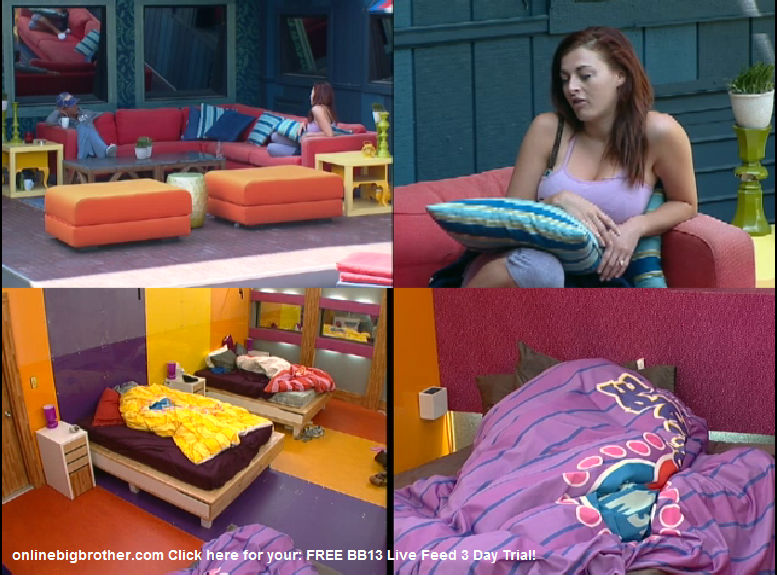 TRY the Live Feeds for FREE!
Click here for your: SUPERPASS – 3 DAY Trial!
11am – 11:15am Rachel explains that Adam thinks he deserves this because he fought so hard to be here… but I fought to be here too I went to open casting calls too. Shelly says that it would be a shame to have Adam win this thing. Shelly says that it will eat the shit out of her if Adam wins. Shelly says that will also be hard for you and Jordan to go to the end …because then the vets split the votes .. but you know that better than me ..you think 12 steps ahead. Rachel says that we don't care about that. Rachel says what do I have to believe that if you win HOH ..you wouldn't put me up. Shelly says because I told you.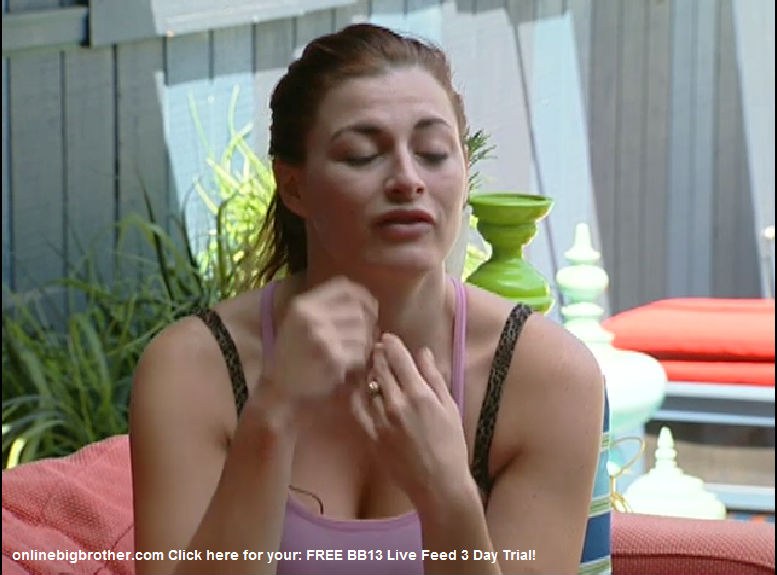 Rachel says come on girl. Shelly says she will not win HOH and even if she did I would put up Kalia and Porsche. Rachel says that you played the newbies and the vets … and you have a great argument against the others who have not played the game. Rachel says be honest with me …you talking to me right now is game.. Rachel starts explaining her game, how she had to switch it up and work on her social game … to keep herself in the game longer. Rachel says that she has been considering keeping you …and even more now that Kalia and Porsche are so against you right now. Rachel says that the reason she didn't keep Dani is because she told the entire plan to you when I told her not to talk to anyone. Rachel says that she was only going to vote for Dani if it would be a mystery vote. Shelly says wow ..I never understood why. Rachel says that she has more respect for Shelly for being a manipulator than for someone just sitting around. Shelly and Rachel talk about Jeff throwing the veto. Rachel still doesn't believe it. Rachel tells her the whole situation with Dani and why she voted her out. Rachel tells Shelly that she 100% thinks Shelly is playing the best game in the house ..she lied and manipulated people. Shelly says you just made me feel like a $100 bucks .. Rachel Reilly says I am playing the best game.
FLASHBACK – Don't miss all the drama!
Superpass – 3 Day FREE Trial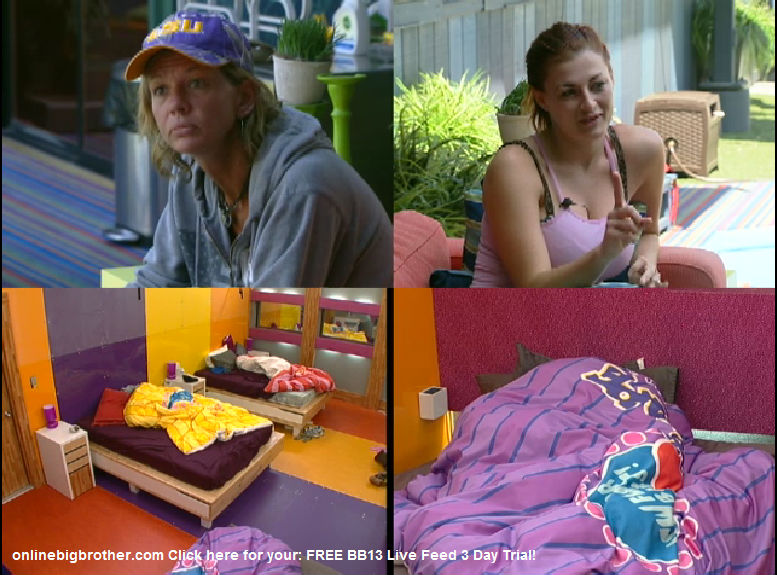 11:35am – 12pm Shelly tells Rachel that she will give Rachel her diamond ring that her parents gave her …and if Rachel goes up …she will not go out that door. Shelly tells her she can hold it ..keep it …I will not let you walk out that door without getting it back. Shelly tells her it will give you piece of mind.. that is how freaking serious I am. Shelly says as god is my witness Jordan and Rachel will not go on the block. Rachel tells Shelly not to throw the competition.. if she can win it ..she should. Shelly says that the only physical thing she can give her is the ring .. take it …I am not letting you walk out that door. Rachel says that she is not ..no matter what voting out Jordan. Shelly asks if Rachel will take her to the final three and Rachel says yes. Rachel says that she just doesn't want Shelly to make a fool of her. Rachel says that taking me to the finals is not signing me a pay cheque. Shelly talks about how when the vets walked into the game she had to totally change her game to fight with the super star players.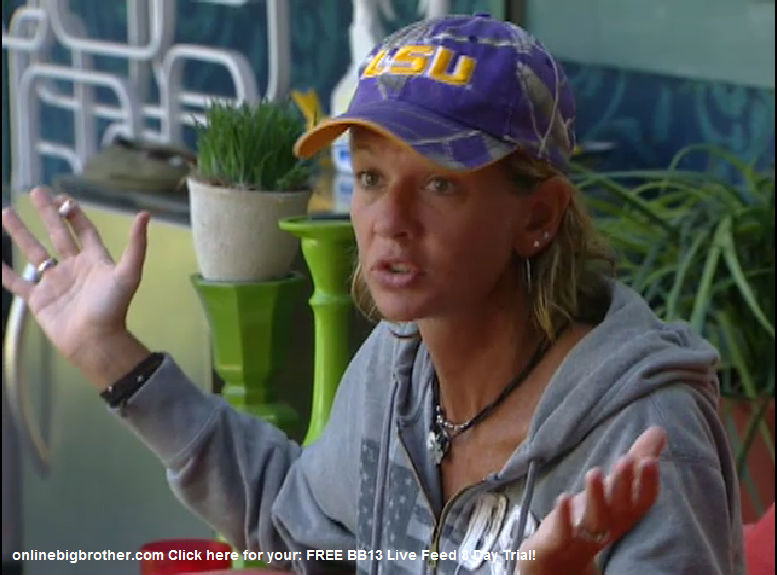 Big Brother 13 Live Feed Image Gallery
Follow: @BigBspoilers and @Dawgsbigbrother on Twitter for recent crazed out spoilers. Theres also our Facebook page.
Big Brother 13 Spoilers POLL CAST your VOTE!


Share it YO!!
Tweet