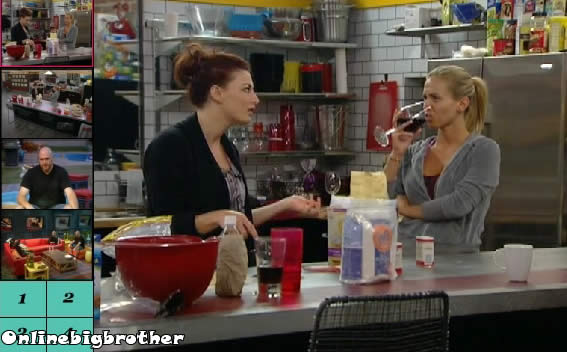 Big Brother 13 Live Feeds Can be watched on your iPhone and Android Mobile devices sign up -> Watch Big Brother 13 on Your iPhone or Android Phone
9:45pm Kitchen Rachel and Porsche Rachel is making cinnamon buns They are talking about Shelly being potentially very good at competitions.
Rachel points out that some of these people go around saying they throw comps but can they even win them if they were trying. Porsche says she thinks Adam really tries in the comps he's just not good at them. Rachel thinks Adam really feels bad for how his performance has been.
Rachel asks Porsche of all the people to be friends with why did she start being with Shelly. Rachel can understand Kalia and Dani but not Shelly.
Rachel: "She lied to our faces multiple times" Porsche knows Shelly was lying very early int he game but they thought Shelly was at least a vote.
Shelly briefly joins them says the cinnamon buns smell good.. She tells them that Adam has a bromance with BJ so they should let him be with his boys in the jury house. They laugh. Shelly offers to make the icing for the buns.
10:30pm Kitchen everyone enjoying the cinnamon buns. Shortly after Rachel and Jordan head outside where they figure out they need to become Best Friends with Porsche and Kalia. rachel wants to call it operation sleepover. The goal is to make PK think they have a final 4 so if they win HOH they will put Adam and one of them up instead of both JR. rachel will chill with Porsche and Jordan will chill with Kalia.
10:40pm Kalia trying to work on Jordan making her think they want to stick with the final 4 deal. Jordan trying to work Kalia to make her think they are still in a final 4 deal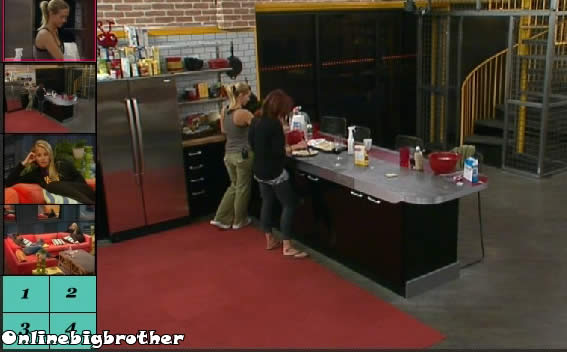 10:40pm POrsche trying to work on Rachel making her think they want to stick with the final 4 deal. Rachel trying to work Prosche to make her think they are still in a final 4 deal
(Basically KP and JR are trying to do the same thing to each other, Both sides think they have Adam and want to take him to final 3. JR call this operation sleepover KP don't have a name for it.)
Sign-up NOW and watch the houseguests live! Uncensored Live Feeds 3 Day Free Trial
11:00pm quad Adam trying to get away from Kalia talking everyone else on the couches. Kalia is telling them about high end hair stylist and how you can tell when a haircut is top of the line. Kalia says she knows hairs stylist that charge 500dollars a cut. She went to a "dope" stylist and it cost her $90. (Kalia is killing the feeds right now)
Kalia brings up her sisters dog that had worms. Kalia: "It's like angel hair pasta weaved in the poo.. I will never forget seeing that it was soo gross.."
They start giving Kalia a hard time for tossing her dog against the wall. Rachel: "Kalia that is so mean" Shelly: "It probably has brain damage" Kalia: "It doesn't have Brain Damage.. it bit my hand"
They start to give her advice on how to train a dog, Rachel suggests verbal commands shelly thinks a whistle works. Rachel starts sharing a story about her giant dog that jumped on her lap.
11:45pm chit chat and Jordan goes to bed
Share it YO!!
Tweet