1pm – 1:20pm Kalia comes up to the HOH room. They talk about how Rachel keeps coming up and thought it was her again because she couldn't see who it was because the spy screen is broken. Porsche talks about how she told Rachel she hid Quackers in the toilet…and that Rachel said it was okay… Kalia says it's not okay …trust me ..its just because you are HOH. They talk about what they think the POV competition will be… Kalia wonders if because there are bike parts all over the house ..maybe we have to put together a bike and then ride it. Porsche says I don't think so because Adam has been pretty vocal about not being able to ride a bike. Kalia says that doesn't mean he can't sit on it. Kalia asks if they ever have had an endurance veto .. Adam says no ..because they need to show on the show who wins.. but maybe they could show it lapsed or something. Kalia tells them that Jordan was telling her that none of them would use the veto on her … Kalia says that she told her ..not necessarily true. Kalia says that Jordan was talking about how she wishes she could just get out of here… Kalia says I hope you want that because then you won't try as hard for the POV. They talk about how Rachel complains about missing Brendon and yet the rest of us have been away from our significant others for way longer. They talk about how Jordan already won and shouldn't win again. Adam says that if all goes well …in the jury house there will be 5 vets and two newbies sitting in the jury house. Adam says that he wants to win this more than anything ..because if I don't I am on the block.
Sign-up NOW and watch the houseguests live!
Click here for your: SUPERPASS – 3 DAY Trial!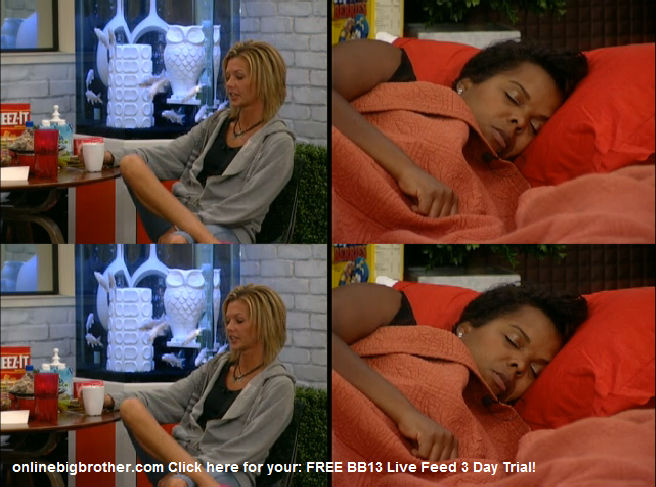 1:25pm Kalia talks about how she will never ever work with Rachel. They talk about how each of them consoled her and wonder why they did. Porsche says they came in to the ready to play …game faces on! They begin to recount the events of the house. Shelly comes up and Porsche tells them that they are glad its her …everyone they like are up here now… you can lock the door. Shelly heads into the bathroom. Porsche tells her there is no toilet paper. Shelly says she will go grab some for her. Porsche asks for her beora strips are in there too. Adam says can I was your dick too sir. Porsche says the royal BLANK is clean. Adam asks if he should wear a thong and feed them grapes. Porsche says that it will possible be a physical competition because she heard in the diary room that we need to stay hydrated … Big Brother cuts the feeds. Porsche comments on how something must be up with it if they moved it from 1pm to 6pm .. it must be hot out there and it must be a physical competition. Shelly says that she doesn't care if its hot or cold she is ready to go… Kalia says that she is tired ..Porsche say that she better be awake for the competition or she will be pinching her butt. Kalia says that will make me want to lie down even more.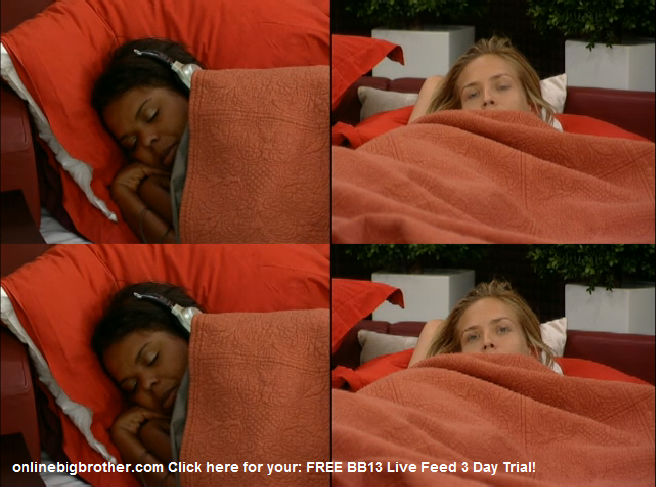 1:40pm – 2pm Kalia says that if it goes our way …and Rachel leaves ..Jordan will be all by herself.. and no matter what people think ..no one will just roll over and die. Porsche says that Rachel is already campaigning to stay.. she is always campaigning whether its for her or Brendon. Adam wonders if any one has seen the scissors. Porsche says tell Big Brother that they're missing to protect our lives. The conversation turns to talking about random stuff. Shelly tells Adam that because he likes to lead and is good at instructions then he should do that if they need to in the competition. Big Brother says …that's what she said. They all laugh. Shelly comments that Rachel has been peeing a lot …and that is a major sign that you are pregnant. Shelly says that if Rachel made up the story …that is not right. Shelly says that pulling and praying doesn't work.. Adam says that its true you dribble before you shoot. They joke that Rachel will name the baby something BB related.. like Hammock, or Purple room, Blanket, HaveNot… Shelly says that when you are fighting to save yourself ..use a condom for god sake … Meanwhile, Rachel is reading the bible..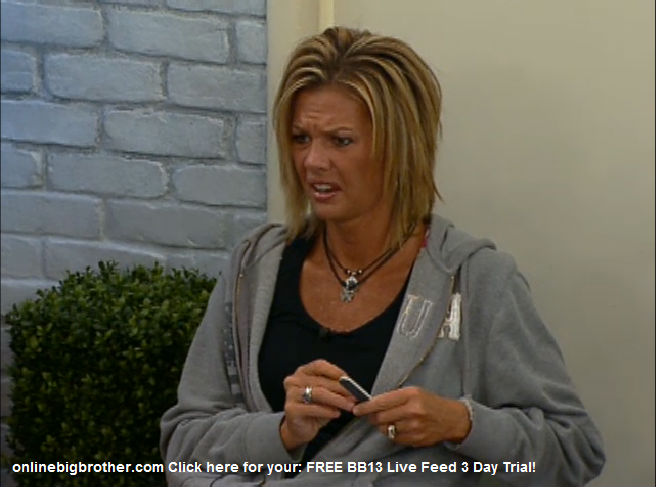 2:10pm – 2:30pm Porsche talks about her Pandora's box and how she only had five minutes to decide. Porsche says that it never said that it was going to be good and bad for me. Shelly and Adam both tell her that it wasn't bad for her because either way you get to keep things the way they are or you can change the nominations. Shelly asks did you know there was money? Porsche says yeah …there was a gold suit case ..there had to be money in there. Porsche wondered if it had something to do with have nots because that room still isn't closed. Porsche says that she even wondered if someone else had gotten a Pandora's box and didn't open it … Adam says that curiosity will get you every time. Shelly says that the only thing that is bad for you is that if those two win …they can have the chance to take you out… Porsche says yeah. Adam and Porsche recount the events of the house and the golden keys. Adam and Porsche head downstairs. Jordan and Rachel are lazing around .. Jordan comments that she shouldn't have had that coffee it makes me jittery.. Jordan and Rachel go to lay down in the candy room. They talk about how they have a great shot to win. They talk about what type of competition it might be. They talk about saying stuff about everyone in the DR (Diary Room). Rachel starts talking about someone she used to work with that would steal clients and tips. Meanwhile, Shelly and Porsche are making something to eat in the kitchen. Porsche heads back up to the HOH room.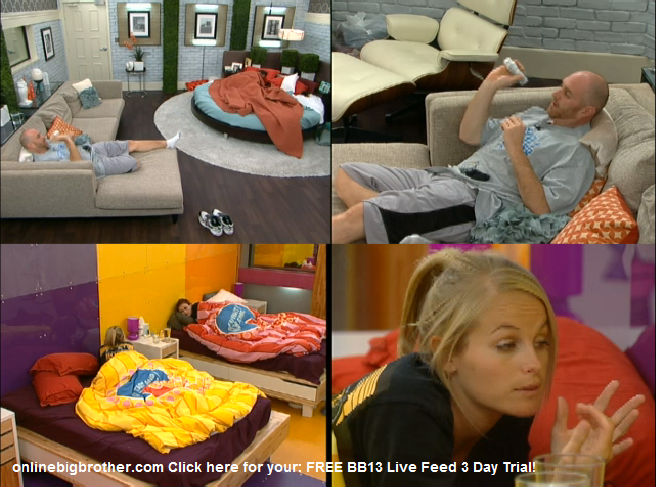 2:40pm Porsche and Adam are in the HOH room trying to figure out the HOH spy screen TV by reading the instructions. Rachel is in the bathroom.. not much happening …everyone is waiting for the Power of Veto Competition to start… (Should start around 5 or 6pm tonight..)
Follow: @BigBspoilers and @Dawgsbigbrother on Twitter for recent crazed out spoilers. Theres also our Facebook page.
Share it YO!!
Tweet