Watch the Big Brother 13 live feeds on your Android and iOS devices. Sign-up for the 3 Day Free Trial
11:20am Porsche, Kalia and Shelly are talking up in the HOH room. Porsche says that Rachel is really stressed out ..you can see it in her eyes.. all she wants to do is go see Brendon. Shelly says well go see Brendon. Shelly says that she doesn't even care …I can say whatever I want now. Kalia says that it is good if Rachel and Jordan think they have a chance to work with you (Shelly) or Adam. Kalia explains that if they even think there is a shot that if they don't win there might be a chance that they won't go up if they are feeling safe with someone else. Porsche gets called to the diary room. Kalia complains about how tired she is …but that once she gets out there she will be okay. Porsche says ..you better be ..because I am going to be harnessed to you. Kalia says she will be. Kalia says that she really thinks the POV competition will be one where we hang on something because of how long they have been building out there. Kalia heads downstairs and says that she is going to go back to sleep..
WATCH all DRAMA unfold LIVE on SuperPass! FREE 3 Day TRIAL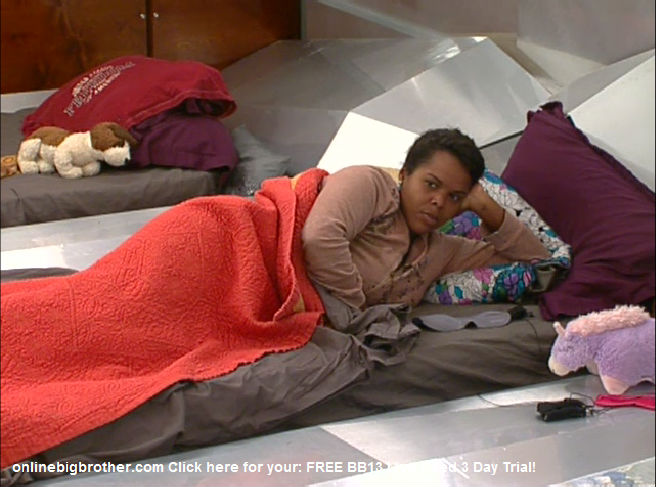 11:40am – 12pm Kalia and Jordan are in the metal room talking. Jordan says that she is really going to try for this veto because I don't think any of you will save us. Kalia says I wouldn't say that … you don't know that. (Kalia is trying to trick Jordan into thinking the veto isn't life or death for her and that other people would have her back so that Jordan doesn't try as hard for the POV.) Adam joins them and makes a suggestion about what he thinks the POV competition. Jordan and Kalia talk about how much they have cried in the house. Adam, Jordan and Kalia talk about how tough it is being in the house. Jordan talks about being on Amazing Race. Then Jordan says that if she goes to the jury house …she will have it out with Dani. Rachel joins them and they talk about music. The conversation changes to talking about Dick and Dani. Kalia says that when they asked her who she wouldn't get along with she said people like Dick. Jordan says that its funny that Kalia became friends with Dani. Adam says they are completely different people. Big Brother switches the live feeds to the we'll be right back screen …
Sign-up NOW and watch the houseguests live!
Click here for your: SUPERPASS – 3 DAY Trial!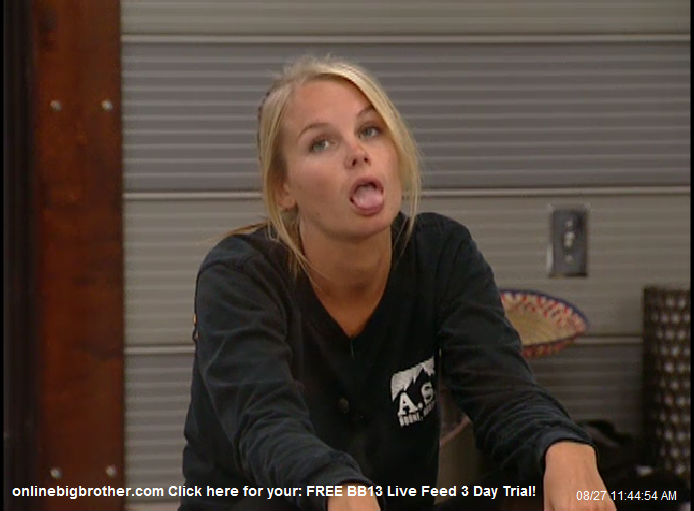 If you like this site and want to help us keep it running please consider donating, Your donations go directly to paying the server and bandwidth fees. Donate Link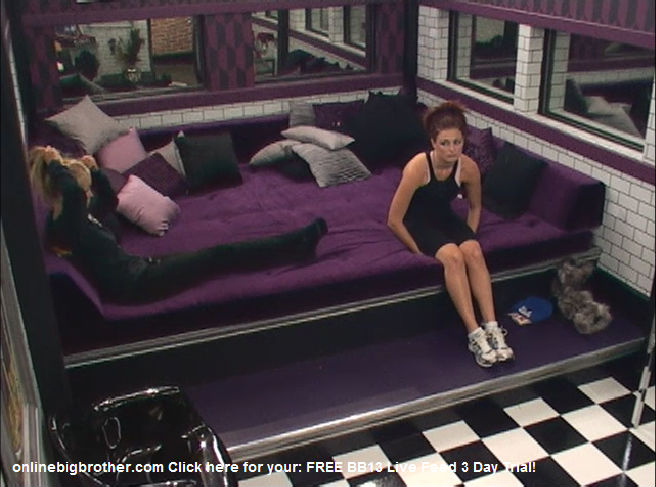 12:20pm – 12:30pm The live feeds come back, Rachel and Jordan are in the purple room. Rachel is talking about how nauseous she is and just doesn't feel good. Rachel says that she was sitting in the metal room with them and just felt sick. Jordan asks her if she ever wears anything that gives her good luck? Rachel says she wears sequins. Jordan says of course you would. Rachel says that she needs to clam her nerves. Jordan says her too. They talk about random stuff… Kalia comes by and mentions that they are still building stuff in the backyard… They wonder when the POV will start… Big Brother cuts the live feeds again..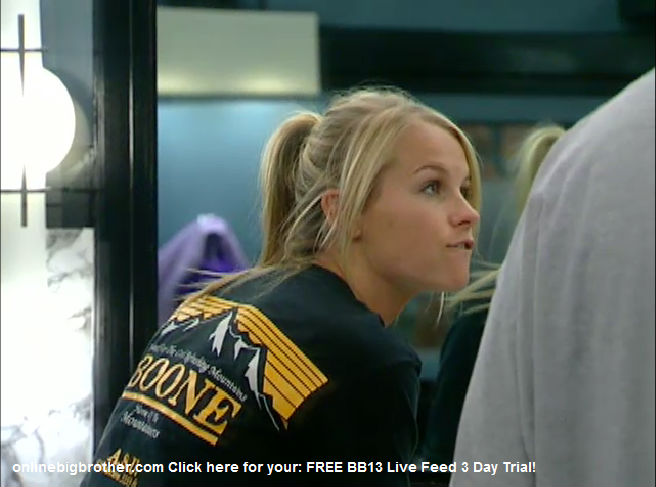 When the live feeds come back, Adam and Jordan are in the bathroom. Jordan tells Adam that she has always been honest that if something happens this week and I go ….just remember she threw you under the bus and will do it again.. Adam nods his head. Jordan says that she is a liar …I hope you don't believe anything she says! Adam says that he is listening and also knows the source. Jordan tells Adam that Kalia was talking about how she has already said she will be getting rid of you. Jordan tells Adam that you can't trust her ..she is going to throw you under the bus. Jordan says that she makes sure we aren't near you so that she can work you. Jordan says that we are going to take our selves off the block and we will put her up. Adam says that he trusts Jordan …but not her buddy (Rachel). Jordan says that she is not voting for her …she got carried through this whole game. Jordan tells Adam that she doesn't want you in the final four …she kept talking about how she didn't trust you and wanted to get rid of you. Jordan says that if she doesn't go this week …you will be the next target. Adam says that is why I need to start winning shit. Jordan tells Adam this is a turning point ..you really need to do something. Adam says one quick thing …that really hurt that Jeff questioned me about voting for him. Jordan says that he was just confused and didn't know what happened… Jordan says that she will talk to him. Adam says no I will. Jordan says that she is done and not talking to her any more.. Adam says thank you to Jordan. Jordan tells him not to tell anyone what we talked about.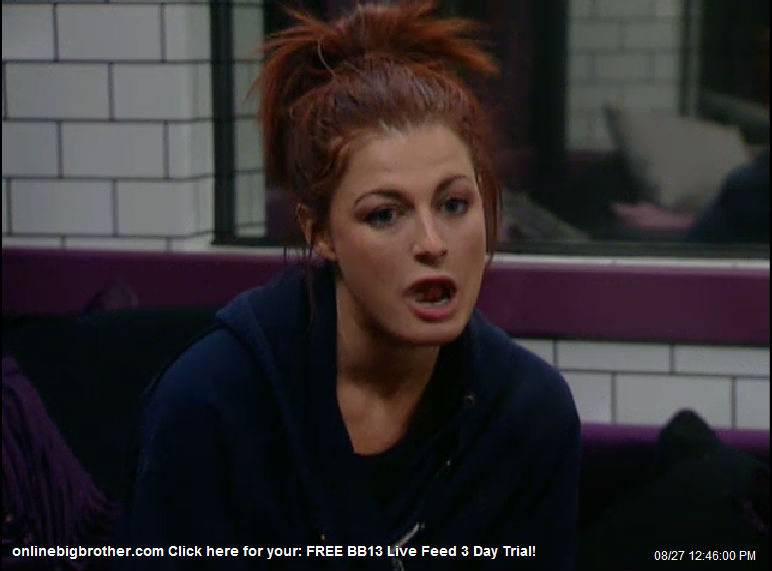 12:40pm Jordan goes into the purple room and Rachel says that maybe I should take a nap if it's (POV) going to be at 5pm… Rachel and Jordan start talking about how they both met their future husbands on BB. Rachel then starts talking about he wedding and wedding dresses.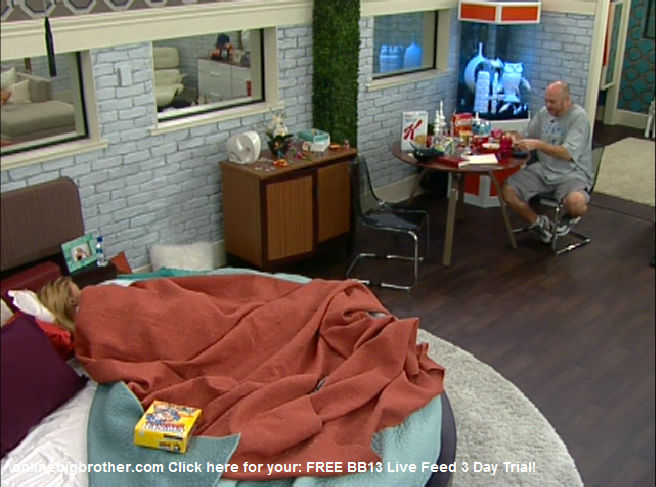 12:55pm – 1pm Adam goes up to talk to Porsche in the HOH room. Porsche tells Adam that she is really happy with their final four. Porsche adds that Jordan already won …she doesn't need to be here …let someone else win. Big Brother cuts the live feeds.. when they come back Adam is talking about his girlfriend Fara.

Big Brother 13 Live Feed Image Gallery
Follow: @BigBspoilers and @Dawgsbigbrother on Twitter for recent crazed out spoilers. Theres also our Facebook page.
Big Brother 13 Spoilers POLL CAST your VOTE!


Share it YO!!
Tweet