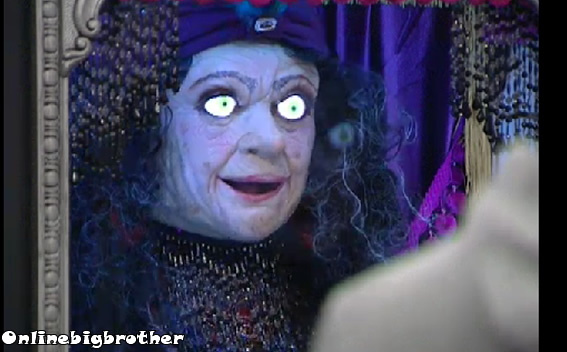 Big Brother 13 Live Feeds Can be watched on your iPhone and Android Mobile devices sign up -> Watch Big Brother 13 on Your iPhone or Android Phone
3:07pm Purple Room The Fortune teller has started up
Shelly says she hit the button to get it to go. Shelly was looking at it and the do not disturb sign is gone so she started pushing buttons and it started up. Kalia is shocked she keeps saying that this thing has been here the entire time and done nothing.
Shelly: "I hope this thing spits out a power"
Shelly: "Throw me a bone lady please"
Kalia points out that JR have been in the room a lot but never said the fortune teller was working. Shelly doesn't think it turned on for them otherwise you would of heard them scream. The Fortune teller starts to move it's head around it's eyes light up. Shelly: "This is what it's been doing". After a bit the fortune teller stops. Kalia tells Shelly to start studying this purple room, She thinks there might be something important happening. Shelly doesn't want rachel and Jordan in the room, Kalia agrees. Kalia says it's no problem lets just tell them you need some alone time.
Kalia: "Give Shelly a power please…"
Shelly: "Throw me a fricken bone… Tell me my fortune"
Kalia is sure there's a reason behind the fortune teller moving, they've been in here for so long and nothing has happened before so this thing turning on is a sign.
Shelly: "trust me I almost Shit my pants when it started moving"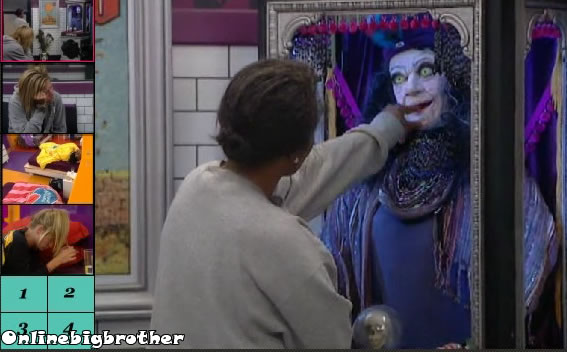 Shelly really wants the fortune teller to say something, she been here for awhile now.. KAlia thinks they better close the blind on the purple room door. After some consideration they decide to open the blind because having it closed may draw too much attention…
Shelly: "Please says something.. what do I have to give you.. I think this is a joke"
Kalia thinks it has to be something important. The fortune teller starts moving it's mouth.. Kalia: "Is this what it's been doing… Looks like it's glitched" (The fortune tellers head was move all around and it's eyes are lighting up there are mechanical sounds coming from the box below it) KAlia: "Do you think they would say stop that if we are not allowed to touch it.." Kalia sticks her finger in it's mouth.. Shelly isn't going to try and pull anything off it..
Kalia goes to the bathroom.. Shelly: "Cmon fortune teller give me something before she gets back I don't want her to know"
Shelly: "I've been good I've cleaned your room a hundred times lady"
kalia leaves.. Shelly stays int he room staring at the fortune teller..
3:50pm The fortune teller starts up again.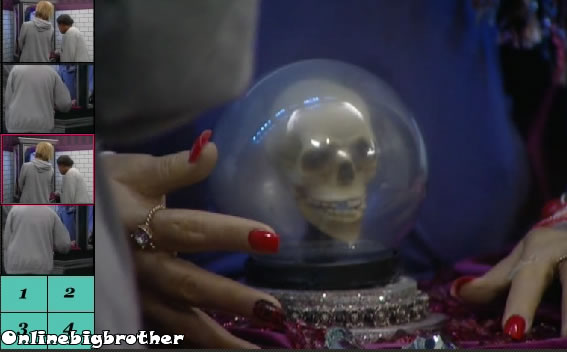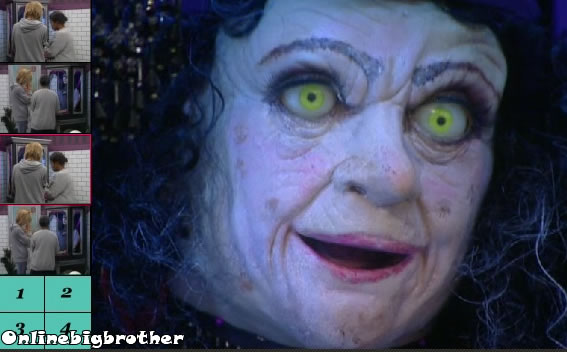 3:57pm Nothing from the fortune other than
a) mechanical sounds
b) eyes lighting up
c) handle on it's base lighting up
d) head moving let to right
e) Mouth moving up and down
Do you think this will play a roll in Big Brother 13 or is Production trying to drive Straight shooter crazy?
4:00pm Candy room KJR Chit chat :(
4:40pm Chit chat and Shelly Still nothing going on with the fortune teller.
(shelly needs to study that room.. the camera keeps panning around at the pictures on the wall and other oddities littered around… it may have something to do with the comp)
5:12pm Nothing new from the fortune teller.. Kalia and Adam chatting. Kalia is telling him at this stage of the game when things are going good she would of never opened Pandora's box. Kalia understands why Porsche though. Kalia brings up that week 4 week 5 she would of opened the box but it's late in the game. Adam says he would of taken the money.
5:30pm candy room JR Jordan thinks the comp will be something like running.. she's worried that she hasn't eaten all day. They briefly talk about there being a twist. Jordan thinks there will be another twist she points out that Julie said "The twists are far from over" Rachel doesn't think there's anything else but this couple's POV from the pandora's box.
They leave to go to the kitchen to get food.. JOrdan says she's really nervous she's having trouble eating and she's sweating a lot.
5:43pm Veto Comp has Started
6:40pm Trivia
7:11pm trivia
7:23pm Trivia
*Comments may be down for a bit
Share it YO!!
Tweet