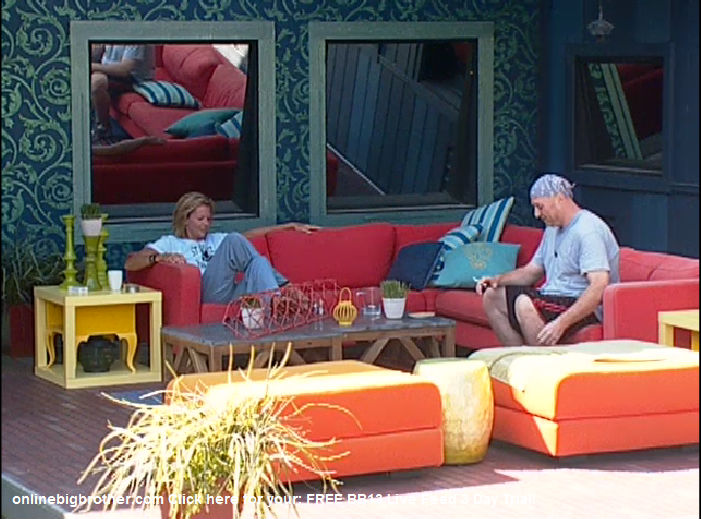 Get the BB13 live feeds on your Android and iOS devices. Sign-up for the 3 Day Free Trial
9:35am Shelly wakes up, finishes her morning routine and sits down on the backyard couch for a smoke. After awhile Adam wakes up and heads out side. Adam talks about how he kicked Brendons butt at the hot dog eating contest. Shelly says that he got tons of respect when he ate that raw egg. Adam wonders what type of competition tomorrow's live HOH competition will be. They wonder if it will be true/false questions. Adam asks what was Dani's deal last night. Shelly says that she was lit up .. she ran the gamut of happy, sad, mad. Adam says that she knows she is the target next week. Shelly says that Dani asked some intoxicated questions… like who would you put up? where are you …what would you do? Adam says even Porsche and Kalia are coming scurrying. Adam says so they are trying to play you .. so play them right back. Shelly says that him and her are the pivotal players where the deciding votes will come down to them and we will need to be on the same page. Shelly says that Rachel will make up anything she wants to save herself. They talk about how they like Jeff and Jordan because they tell you exactly what they think. Shelly says that she does not trust Rachel ..I might as well have a knife in my back. Adam tells Shelly that she has his vote.

Sign-up NOW and watch the houseguests live!
Click here for your: SUPERPASS – 3 DAY Trial!
10am Big Brother wakes up the houseguests. When they come back, Adam comes back out into the backyard and says that Brendon is about to come out. They talk about how they will protect Jeff and Jordan but that at some point they will need to go after them with a chain saw. Shelly says that she has said since the beginning she would protect Jeff, Jordan and Adam. Adam says that it's a no brainer that he is keeping Shelly over Brendon. Adam says that at some point it will come to the time when we can't beat Jeff …I just hope that time isn't soon. Shelly says we have a one in eight chance at winning ..thats pretty good. Adam says that he likes the four of us (Jeff, Jordan, Shelly, Adam) against them … Shelly says that we just need to stick together and decide as a group who to put up.. Shelly says that Jeff and Jordan right now are so paranoid …and they get quiet …and start asking if I am with them …I don't know what else to do. Adam says no matter what you say in this game ..its actions.. Meanwhile in the bathroom Brendon and Rachel have a short conversation. They are talking about still needing to talk to people. Rachel says that she still hasn't talked to Kalia yet.. Brendon says that he hasn't talked to her yet… then her says what did I say?! Rachel says to not talk to anyone without him. Brendon then says that he is heading outside.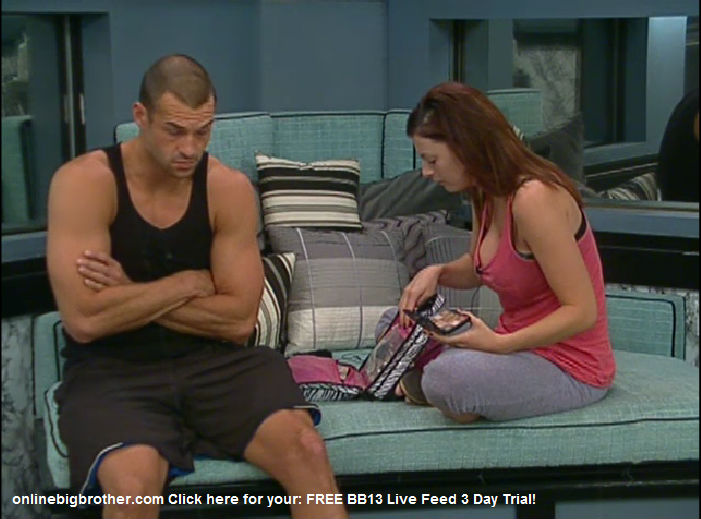 10:25am – 10:50am Brendon heads out into the backyard. They talk about the hotdog eating contest and eating a teaspoon of cinnamon. The conversation then changes to talking about Rachel. Shelly says that she makes things up. Brendon says that he doesn't think she has made up anything, she is just an emotional player. Shelly says that she thinks everyone is.. Brendon says that it's because of what some of the other girls have been saying and they were repeating stuff. Shelly says that she just doesn't understand how someone can straight up switch …when people were helping her with her wedding and then everyone switched to keep her and now this.. Brendon says so if I were to go would I expect you to nominate Rachel after I am evicted? Shelly says nope I have stuck by my convictions since day one… I was the one that switched the votes last week …just like I said I told you I would look after her. Brendon says that he is good at predicting stuff that will happen in the game. Shelly says that she protected Rachel because of Brendon and the conversations she had with him. Shelly asks if Brendon knew he was going up or think he was going up? Brendon says no …but after I didn't I knew I was going to be the replacement nominee. Brendon says that now that is why Dani is a huge target for me. Brendon says that Dani doesn't think she needs anyone… she uses people. Shelly asks doesn't everyone do that to some degree. Brendon starts talking about last year and says that he really thinks Rachel got post traumatic stress disorder from being in here. Shelly tell Brendon that he is a saint for looking after her. Dani joins them outside and Brendon says that she is up early.
WATCH all DRAMA unfold LIVE on SuperPass! FREE 3 Day TRIAL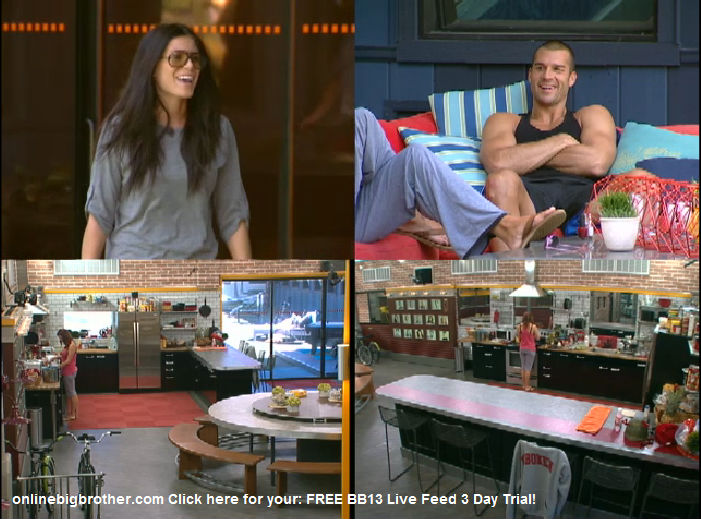 If you like this site and want to help us keep it running please consider donating, Your donations go directly to paying the server and bandwidth fees. Donate Link
Big Brother 13 Spoilers POLL CAST your VOTE!

Big Brother 13 Live Feed Image Gallery
Follow: @BigBspoilers and @Dawgsbigbrother on Twitter for recent crazed out spoilers. Theres also our Facebook page.
Share it YO!!
Tweet