Get the BB13 live feeds on your Android and iOS devices. Sign-up for the 3 Day Free Trial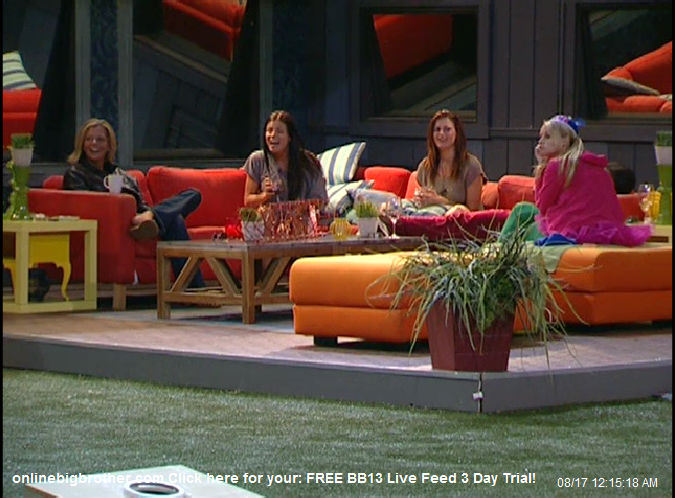 12am – 1am Out in the backyard, Dani and Shelly are talking on the couches. Dani tells Shelly that she feels that she has had Adam's back from the beginning ..so he really should trust her. Dani tells Shelly that she really felt bad about how her best friend Dominic was evicted. Dani says that Jeff, Jordan, Brendon and Rachel made up lies about mean things Dani said about Dominic and that they told him before he left to upset him. Shelly just shakes her head and says right, right… Dani says that the trust is still broken from what happened in week three. Dani says that she didn't want Jeff to be nervous about being back doored because he wasn't her target. Dani starts to talk about a crush she has on someone in the diary room. Big Brother tells her she is not allow to talk about her diary room sessions. Rachel sits down on the couches and Dani asks Rachel if she thinks they guy in the diary room is cute. Big Brother warns her again. Rachel and Dani start talking in code about the diary room guy and Big Brother tells them to stop that! Shelly and Jordan are now by the hot tub talking about how Dani and Rachel are getting in trouble from production and that's why they don't get alcohol. Shelly tells Jordan that Dani is worried about Jeff and Jordan because they haven't come talk to her yet. Jordan seems surprised. Shelly says that she wants to find out who they are voting for. Meanwhile, Brendon, Jeff and Adam are playing pool.
Sign-up NOW and watch the houseguests live!
Click here for your: SUPERPASS – 3 DAY Trial!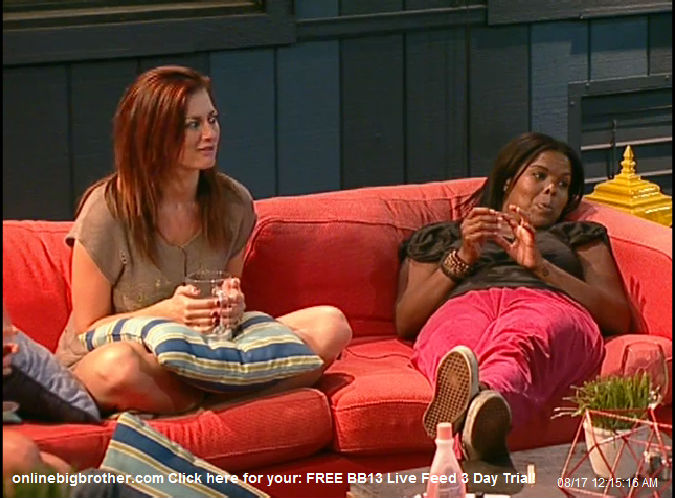 1am Up in the HOH room, Dani and Kalia are talking. Kalia starts talking about Dani's backup plan this week with Brendon and Rachel although they didn't need it and it went back to back dooring Brendon. Kalia says that's what she was trying to do last week. Kali says that she was BLANK. Dani says that it was different and then she explains why. Dani tells Kalia to trust her gut and points to her stomach and then she points to her her heart and tells Kalia to not to dismiss this and pointing to head. Dani then tells Kalia that she can't over think it either. Dani says that's what Kalia did last week ..she ignored her gut and her heart and over thought everything and that's what screwed her up. Dani and Kalia reassure each other they would not turn their back on each other. Dani says that she likes Porsche, but … if the other one screwed them over at the end they would still be friends. They talk about how they won't turn their backs on each other. Dani says that she isn't questioning Kalia would turn her back on her and says that's not what this is about. Dani says that she feels Kalia is scared to be sitting next to Dani in the final two. Kalia says yes and no. Kalia says that she would want to go to final two with Dani anyway, even if Dani would win. Kalia says that she feels just making it to the end is winning. Dani says that she thinks realistically it's unlikely they will both make it to final two, even though it'd be great if it happened. Kalia doesn't agree and says that she doesn't want to think negative. Kalia says that she wants to make sure she is making her own moves to contribute and that she wants Dani to listen to her input, and not just Kalia listening to Dani's opinions. Dani says that she does listen and says that when she disagrees she speaks up and holds her ground. Kalia says that she feels that even last week when she was making her big moves in nominations …people said Kalia was just doing what Dani wanted. Dani tells Kalia that Rachel would be hounding Kalia to vote for Brendon. Dani says that she apologizes for leading Rachel to do that. Dani says that she had told Rachel that she could try to talk to Kalia to keep Brendon but at the end of the day Kalia was her own person and would make her own decisions.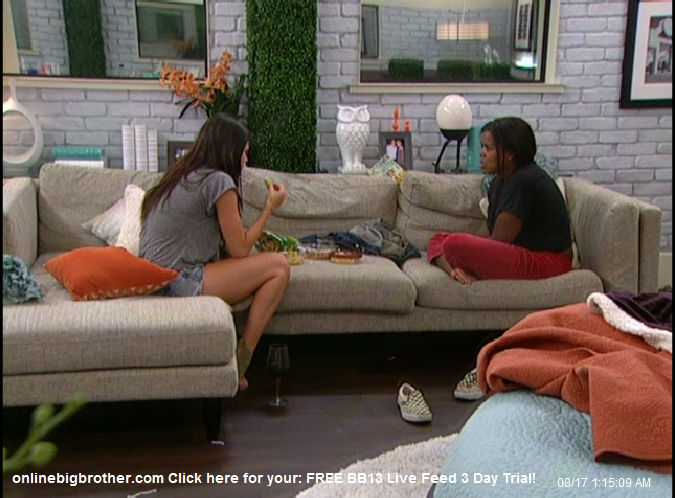 1:25am – 1:45am Porsche is talking to Jordan telling her that she got her real estate license. Jordan says that she heard the real estate license test was really hard. Porsche says that it wasn't and that she passed her first time. Porsche says that she got it for her moms divorce to sell her house. Porsche says that then the market crashed and that is when she started bartending. Jordan starts talking about her job and how she lets customers use expired five dollar off coupons. The conversation then changes to talking about food and other random things. Shelly says that she is going to eat a snack and head to bed. Jordan says that she wants to but she isn't going to eat a late night snack. Jordan then warns Porsche that late night eating makes you gain weight. Jordan tells Porsche about her all the cookie dough she ate on her season. Jordan says that by the end nothing fit. Meanwhile, Brendon and Rachel are having sex in the bedroom again.
WATCH the houseguests LIVE on SuperPass!
Click here for your: FREE 3 Day TRIAL!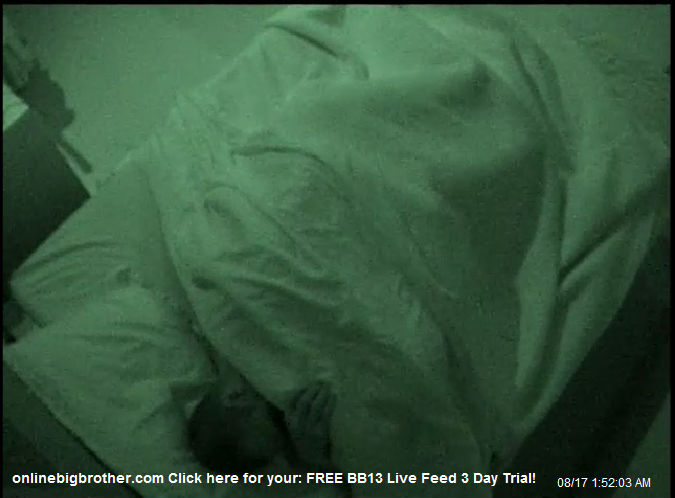 Jeff and Jordan are talking. Jeff says that he isn't sure whether to keep Shelly. Jordan says that her mind says that every scenario leans towards Brendon and Rachel. Jeff says that in the POV competition because Shelly went for the call and not the veto, anyone else would be out. Jordan says that if Brendon and Rachel stay. Jeff leaves to go to the bathroom. Jordan waits for Jeff. Shelly comes out into the backyard and starts to smoke. Shelly says that she is tired. Jordan says that she is waiting for the blanket she washed since Rachel wiped her toes with hers. Jordan asks Shelly if she is for sure 100% them. Shelly says that she is 100% with you guys, I have no desire to be with anyone else. Shelly says that she has been with them since the start and that she will rise or fall with the ship. Shelly says that Dani is up her ass because she is trying to get Jeff and Jordan to talk to her. Shelly says that Dani says that she, Jeff and Jordan were never her target. Jordan starts talking about Kalia's nominations with putting Jeff on the block and says that Dani influenced that. Jordan says that Dani is just trying to cover her tracks. Shelly says that Rachel is bring you two down. Jeff asks what does that mean, how do they bring us down? Shelly says that everyone wants her out. Jeff says that Porsche is friends with Rachel. Jordan says that Porsche told Rachel she is keeping Shelly because she hasn't won anything. Shelly says she has been thrown under the bus by Rachel and that Jeff and Jordan haven't. Jeff says you can do whatever you want with Rachel. Jeff says that he wants to ring her BLANK neck. Shelly says that it's sad a BLANK like that can get far. Dani and Kalia come out and ask if they are plotting their demise. Dani is still drinking. The talk turns to talking about Rachel picking and wiping her toes on people's blankets.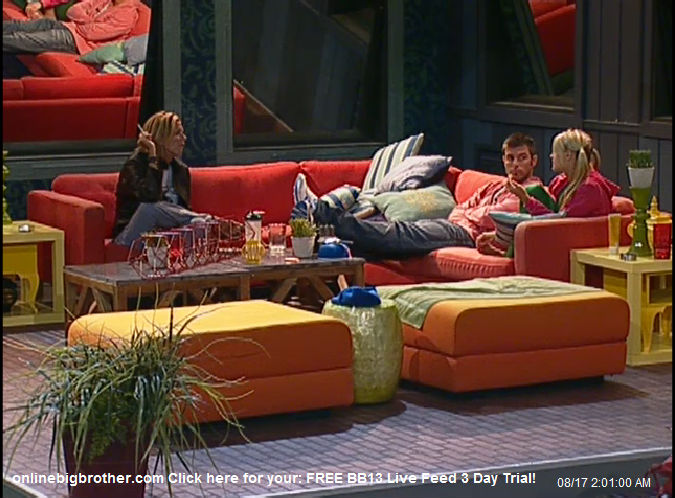 2:25am Jeff and Jordan are now talking to Adam about Shelly. Jordan asks Adam if he told Shelly if he wonders if we are doing the right thing? Adam says that he never said that. Jeff and Jordan start talking about how Shelly is cool with the other side and that stuff that they only told Adam and Shelly was getting to the other side word for word. Jeff and Jordan says that they are pretty sure it was Shelly. Adam says that he thinks Shelly is with them but he is seeing red flags. Shelly then leaves and goes to talk with Dani. Shelly and Dani talk about how she really wants Jeff and Jordan to trust her. Dani starts talking about her dad and how she has always been known as Dick's daughter even though he has barely been a part of her life. Shelly start praising Dani about how amazing she is as a person.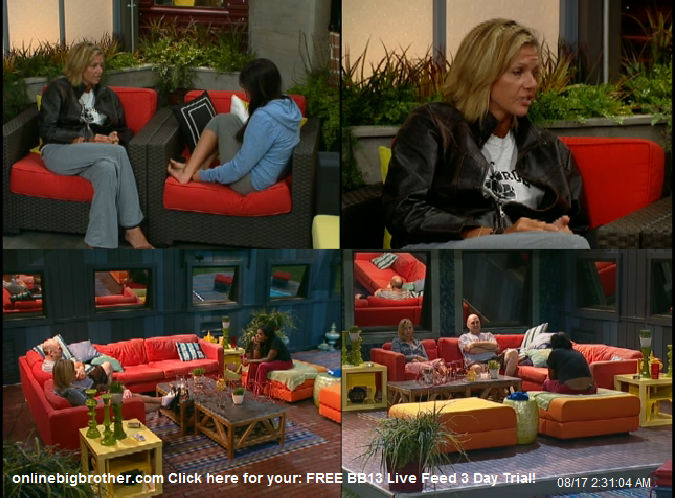 See What They Can't Show You On TV! SUPERPASS – 3 DAY Trial!
3:30am Shelly and Kalia are in the storage room talking. Shelly says that people better not be lying to her because she really can't stand that. Kalia tells Shelly that she should assume that what Dani has told you over and over.. Shelly says that she knows.. and that she is just saying that she can't take all of the lying. Shelly then starts talking about the conversation she had with Dani about her always being in her fathers shadow. Kalia says that Dani should be proud that she has proven herself in this game, everyone knows she can play the game on her own. Kalia says that people still don't think that about me. Shelly tells Kalia that's a different thing ..you really got shafted…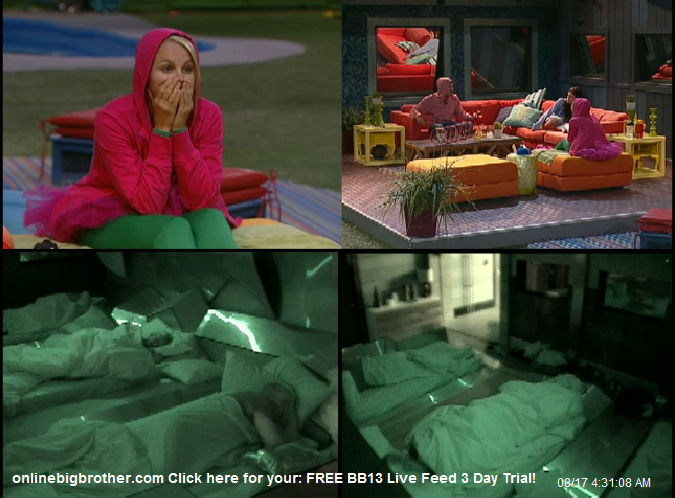 4:30am – 5:25am In the backyard, Jeff, Jordan and Dani are talking. They are all talking about Rachel and how she is untrustworthy. They talk about how Rachel was the one that got the idea that Jeff and Jordan had made a final three deal with Shelly. Jordan says that she was talking to Shelly that night and Rachel was there also. Jordan says that later Rachel told me she was pretending to be sleep. Jordan says that we weren't saying anything bad and we weren't really talking much game. Jordan says that she is not stupid, if I wanted to do that I would go outside.. Jeff says that he knows people come to me and tell me all kinds of things about final deals, and I just say, uh huh, but I don't say I agree. Jeff says that he might say yeah, I'm going to put up Dani sometimes, but mostly when they ask me who I'm putting up I would say a floater! Dani says well, Rachel came to me and said she was all upset because you two had made a final three deal with Shelly and I was really confused, that's why I spent two hours in the diary room before nominations trying to go over different scenarios. Dani says because I have done everything in my power to prove to you that you are not my targets.. Jordan says well I tried to tell Rachel that we don't have a final three deal with Shelly. Dani says that she likes Shelly but she wants to be like a Mom to everyone and I don't trust her in the game. They talk about how Shelly seems to have a final three deal with everyone in the house. Dani tells Jeff and Jordan that Shelly has a final three deal with her and Kalia. Jeff and Jordan say that Shelly also has a final three deal with Porcshe. They talk about how Adam has a deal with Shelly, just like Brendon and Rachel do too. Jeff asks so where do we go from here? Dani says that you guys are not my targets, and I promise Kalia would never put two up. Dani says well if you win HOH and have my back, I will have yours, and I will talk to Porshe and Kalia if they win HOH, and they could talk to them too. Jeff says that he is glad we talked and are on the same page. Jordan says me, too. Dani and Jeff apologize for anything they said to each other and that now they can start fresh. They all decide to go to sleep…
WATCH all DRAMA unfold LIVE on SuperPass! FREE 3 Day TRIAL
7am All the houseguests are still sleeping..
9am Still sleeping…
9:35am Shelly wakes up and heads into the bathroom…
If you like this site and want to help us keep it running please consider donating, Your donations go directly to paying the server and bandwidth fees. Donate Link
Big Brother 13 Spoilers POLL CAST your VOTE!

Big Brother 13 Live Feed Image Gallery
Follow: @BigBspoilers and @Dawgsbigbrother on Twitter for recent crazed out spoilers. Theres also our Facebook page.
Share it YO!!
Tweet