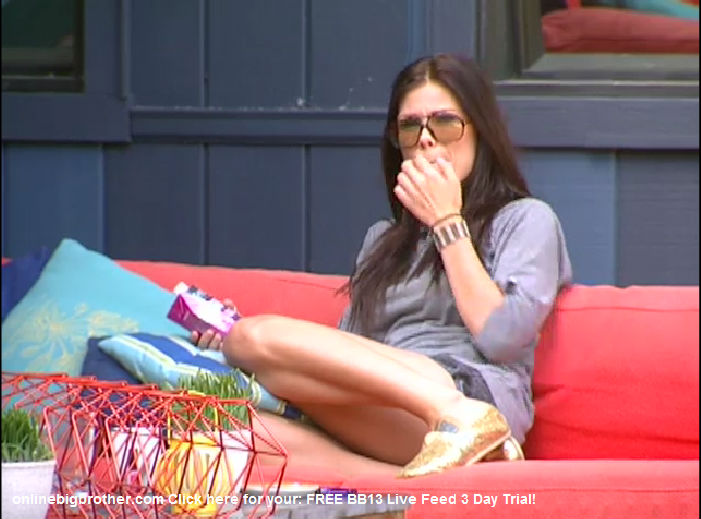 Watch the Big Brother 13 live feeds on your Android and iOS devices. Sign-up for your FREE 3 Day Trial!
11am In the backyard, Brendon, Rachel, Dani and Adam are eating and talking in the backyard. They are talking about what HOH photos they should take this week. Dani heads inside. Adam, Brendon and Rachel continue to talk about random things.. like sports. Rachel compliments Adam and says that she thinks he has lost weight in the house. Rachel says that Jordan told her last night that if Jeff and Jordan vote to keep Shelly that Shelly said she will not nominate Rachel. Dani is confused and asks again what? Rachel and Brendon explains that Jeff and Jordan basically are trying to make a deal with Shelly… they are saying they would evict Brendon. Brendon says so we need to have a talk with them. They talk about who Adam would nominate if he won HOH. Rachel says that he would nominate her (Rachel), Dani or Kalia. Rachel says that if Shelly wins I will be nominated… if Jeff wins I wouldn't be nominated ..it would probably be Porsche, Kalia or you Dani. Dani asks Rachel if Porsche and her have a deal to never nominate each other. Rachel says no … I just said I have your back if you have mine. Dani says oh really because she said that you did have a deal.. I wouldn't go around saying that you don't have a deal ..I would use that to your advantage. Brendon says you know Jordan is in the final three… Dani says yeah I know. Brendon says I have always said she is the golden calf. Rachel says yeah everyone would want to be in the final two with her… Brendon says yeah because who would vote for someone who has already won to win the game again. Rachel says how did we get to this situation? Brendon says because Dani turned on Jeff… we turned on Dani and now somehow Jeff came out on top! Dani says yeah shocker! Brendon says that he can't understand why everyone is afraid of Jeff. Dani says yeah I know. Dani says you know there will be another twist! Brendon says yeah I don't think I am coming back into the house. Dani says yeah can you imagine!
WATCH all DRAMA unfold LIVE on SuperPass! FREE 3 Day TRIAL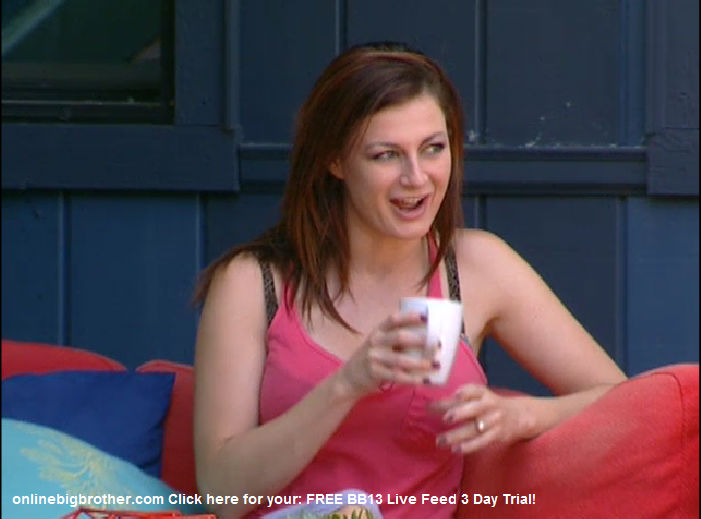 11:40am Big Brother call Dani to the diary room. Dani says its photo time… this is going to be boring ..everyone is asleep… I should just take pictures of people sleeping .. then people will really know how boring we really are… Dani heads inside. Brendon says yeah I don't know I think Dani has a deal with Dani. Rachel says that Dani told her last night that it is her and I. Brendon says yeah thats what she's going to tell you. Rachel says yeah right. Brendon tell Rachel that because everyone has deals with everyone they are going to self destruct ..and you just need to stay in the middle. Rachel wonders if Dani, Jeff and Jordan made a deal before the show … so that is why she wants us to back door Jeff so then she doesn't have to do any of the dirty work. Brendon says its hard to play this game when you are a strong player. Rachel says yeah its even harder when Jeff, Jordan and Dani know all of production and they make deals before they even come in the house… Big Brother cuts the live feeds to the we'll be right back screen. When the live feeds come back, Dani has the HOH camera and they are all taking photos..
24/7 UNCENSORED Big Brother 13 Live Feeds!
Click here for your: FREE 3 Day TRIAL!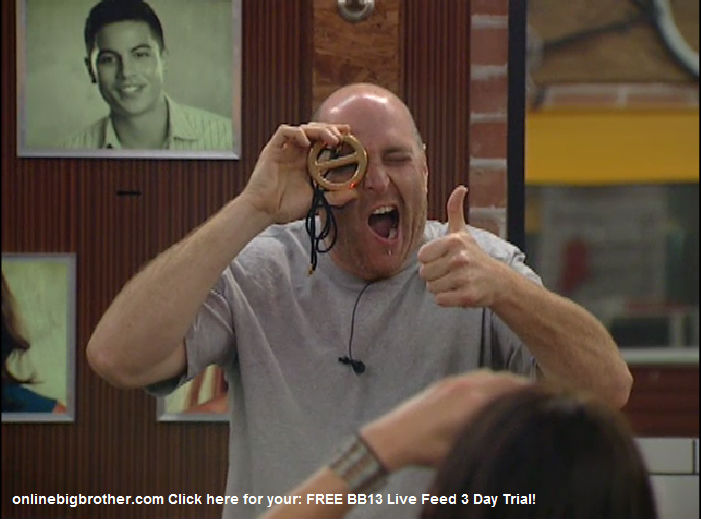 11:50am All the houseguests are in the kitchen talking about what different photos they should take. Adam is making a ton of bacon. They head out into the backyard, Dani takes a photo of Adam playing the corn hole game, Brendon with a big pot on his head and holding the whisk, as well as one of Porsche wearing the HOH robe and afro wig on the elliptical. Shelly then takes a photo of Kalia and Dani jumping in mid air. Shelly says that was the bomb dot com! Dani then takes one of Shelly and her stuffed dog popping out of the corn hole.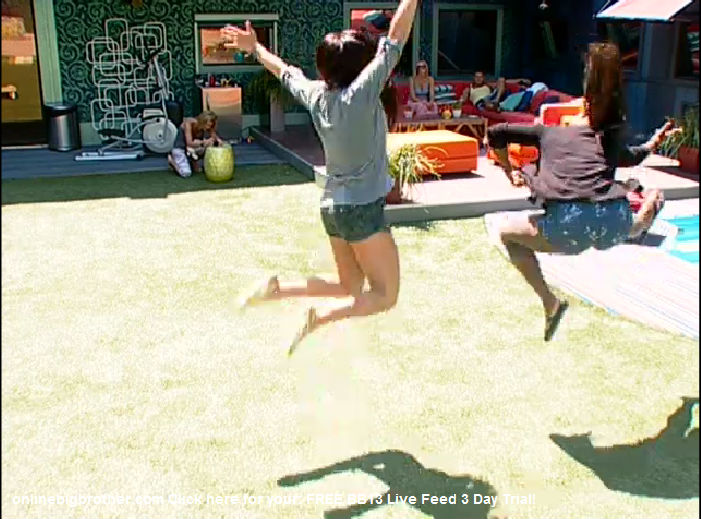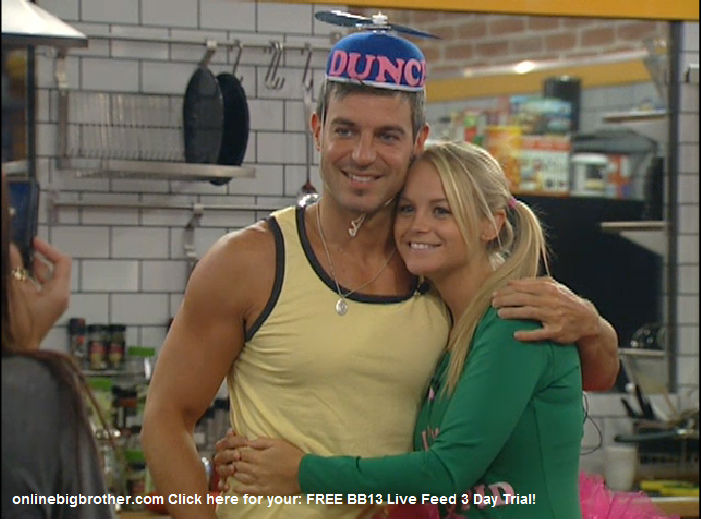 12:30pm – 12:40pm They take a photo of everyone crammed on the HOH stairs … Dani goes to see how it turned out and says Awe… it looks like we all really like each other! They head outside to take a photo of everyone jumping.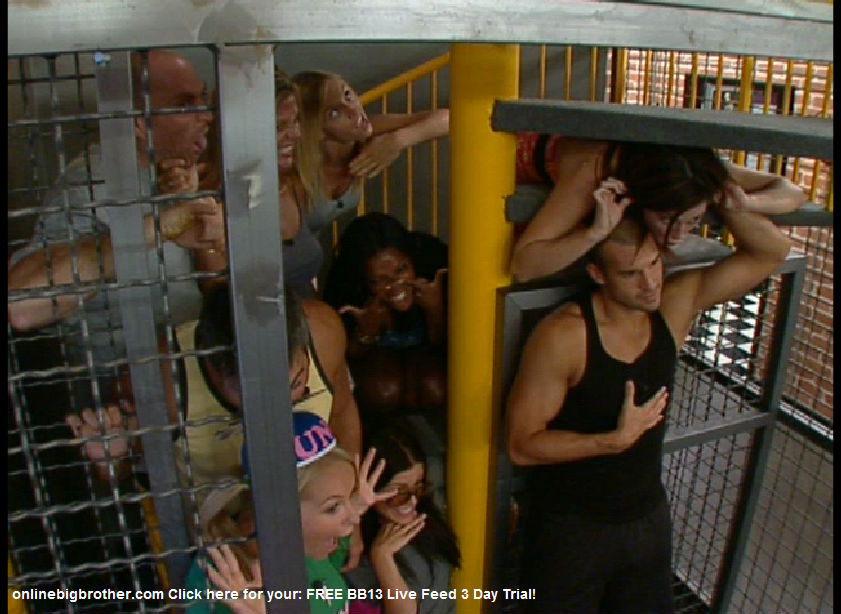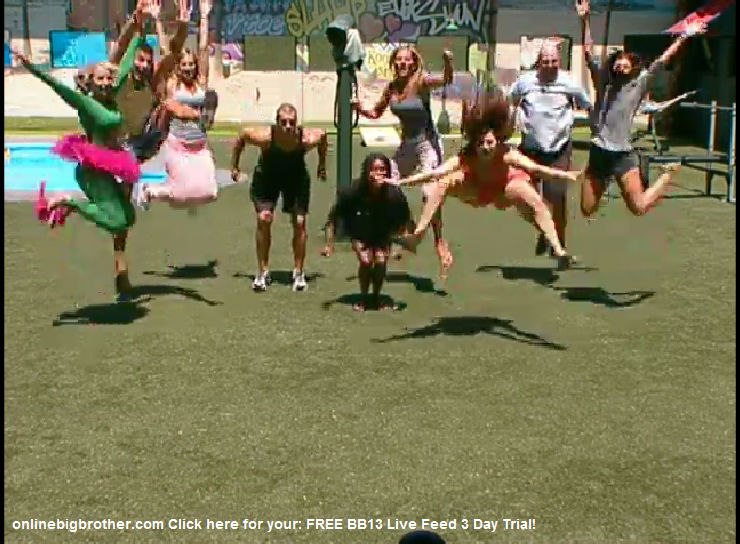 Sign-up NOW and watch the houseguests live!
Click here for your: SUPERPASS – 3 DAY Trial!
If you like this site and want to help us keep it running please consider donating, Your donations go directly to paying the server and bandwidth fees. Donate Link
Big Brother 13 Spoilers POLL CAST your VOTE!

Big Brother 13 Live Feed Image Gallery
Follow: @BigBspoilers and @Dawgsbigbrother on Twitter for recent crazed out spoilers. Theres also our Facebook page.
Share it YO!!
Tweet