POV Holder:
Frank
Next POV:
Aug 18 (Saturday)
POV Used
POV Ceremony
Aug 20 (Monday)
HOH Winner:
Shane
Next HOH:
Aug 13 (Thursday)
Original Nominations:
Boogie and Frank
Current Nominations:
Have Nots
No Have Nots This Week
Last Evicted Houseguest
Wil
HOH temptations
Britney Safe this week, Boogie gets 10grand
6:52pm Cam 1-2 Ashley and Joe Watch with FlashBack FREE TRIAL!
Ashley asking Joe if he's going around telling people she threw the Power of Veto competition to frank. Ashley: "This makes me look so bad".. JOe: "I has never been said"
Ashley thinks she's going up tomorrow she asks Joe if he knows anything about Shane's replacement nomination. Joe says shane hasn't given any definitive answers.
Joe: "I have never been in a conversation about you folding in the POV on purpose.. so whoever is saying that is lying.. "
AShley: "Oh my god.. this house is crazy"
Joe: "I got attacked by Frank earlier today.. he's saying I'm trying toget him out of the game"
6:59pm Cam 1-2 Arcade Room AShley and ?
Jenn gives ashley a rundown about her talk with Shane. She pushed the angle to get Dan up as a replacement nominee because he's such a big threat in the game. Jenn mentions that she told him Dan will just cut Danielle's throat in finale 3 like he did in season 10. DId shane really want that to happen to Danielle. Jenn says Danielle is weak if Dan goes they can move in pick up the pieces. They both Agree Dan leaving will benefit everyone. Jenn feels good about her talk with Shane. They both feel as long Dan goes home this week they can use their girls alliance. Jenn is worried about BRitney ashley agrees but ashley feels as long as her and Jenn keep communicating they will be good.
Jenn says that Shane brought up Joe, Jenn, Ashley and Dan as replacement nominees.
AShley: "dan isn;t in the HOH mode yet.. especially he stay he's going to be crazy"
Jenn tells her they are in a good post Frank will be the next target.
7:02pm Cam 1-2 Eagle Eye MOFO JOE and Britney Watch with FlashBack FREE TRIAL!
Joe asks Britney where is ashley getting this information about him saying She threw the POV Comp to Frank
Britney: "I don't even know.. don't get too wrapped in this petty stuff"
Joe is wondering that perhaps this is the reason Ashley has gone to the other side. Britney: "I don't know you were the one talking to her.. what did she say" Joe says that Ashley claims "Everyone" in the house is telling her he's throwing her name around claiming she threw the COMP to Frank . Joe adds that apparently it's not Frank and Boogie.
Joe: "And as soon as we were done talking she called Jenn in the room"
Joe: "You know Frank attacked me today.. I finally figured out why.. It's from the Cheating…."
Britney: "Just keep your cool OK"
Joe: "I know… I Know.. It's fully documented.." Joe explains that it's been "Fully Documented" in the Diary Room "They" know it happened but "They" saw it did not contribute to him winning.
Joe: "You know he took the advice but he would have just won earlier"
Britney: 'I know just don't let it get to you.. I'm just trying to stay as far away from it as I can"
7:31pm Cam 3-4 Boogie and ?
Jenn goes over her conversation with Shane she tells boogie 2 critical things
A) "I feel really good it won't be me"
B) "Ian might go up"
Boogie thanks her for the help he knows she doesn't need to do it and he really appreciates her effort.

8:02pm Cam 3-4 Britney and Danielle
Britney explaining Joe and AShley conversation when AShley called him out for telling everyone in the house she threw the POV Competition. Joe looked at britney and said "ISn't that ridiculous.. who would spread those lies" Britney wonders why he was looking at her like she thought it was a lie everyone heard Joe say that. "You told me you big dummy.. clearly you have short term memory loss.. You told us all in the kitchen.. I dunno I told him to keep his cool and relax"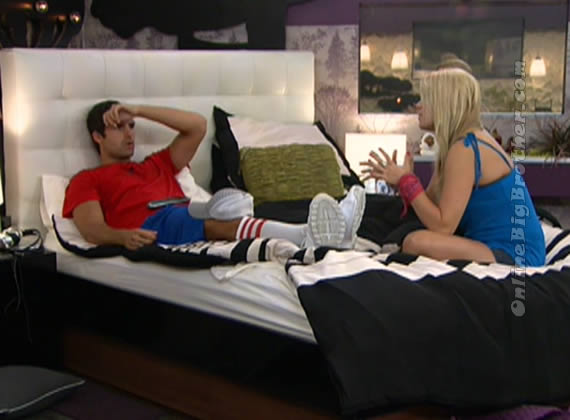 8:15pm Cam 1-2 Ashley and Shane
Ashley is trying to get Dan put up as a replacement nominee. Shane says that he talked to Frank and Boogie and asked them if they was conversation about putting him and Britney on the block. Frank and Boogie said they did entertain the thought. Ashley brings up that the in the jury house people place votes based on game played (Bullshit) . People will not vote for people who did not play their own game. She believes if Dan went home Danielle will still work with Shane. Ashley is worried if Dan gets into Jury he will be dangerous.
Shane: 'I'm just going to entrain everyones thoughts.. I can't tell people what I'm doing"
AShley: "I understand.. "
Shane wants to know if He puts up Dan or Joe can he count on her vote.
Ashley: "Of course"
Shane says if Jenn, Ian or AShley are nominated then the target is Boogie but if Joe or Dan are up then they are the target.. he would hope he could count on a vote regardless of who goes up.
Shane says he's talking to everyone and they are all bringing up good points.
8:25pm HOH Cam 1-2 Ian and Shane
Ian: "Can we just have the conversation so I don't have to lie about it"
They want Dan up because he's a master bullshitter and he won big brother 10 etc etc.
Shane: "My plan is put Jenn up and we'll get Boogie out"
Ian feels they can trust Dan Historically Dan's first word has been the loyal one and Ian believes Dan's first word was to the quack Pack.
Shane: "Jenn.. Hey I'm sorry you are on the block"
Shane tells Ian that if it wasn't for what Ian told him he would have put up Ashley and Joe. Shane wants confirmation that Ian really did hear Boogie say Britney and Him were targets. Ian tells him that last week Boogie "coached" him saying that britney and Shane should be considered possibilities for nomination this week if their side win the HOH.
Ian suggests to Shane that during the nominations he say "I had a few options and I weighed them and Jenn's the one" Ian wants it to sound like he was still a possibility.
Ian does not think Ashley is close to Frank and he believes since Wil left AShley has gotten closer to him . Shane: "That's good for both your game and personal life"
Ian feels like JOe is a major problem with him.. he wishes they had sent him out last week.
Share it YO!!
Tweet