POV Holder:
Frank
Next POV:
Aug 18 (Saturday)
POV Used
POV Ceremony
Aug 20 (Monday)
HOH Winner:
Shane
Next HOH:
Aug 13 (Thursday)
Original Nominations:
Boogie and Frank
Current Nominations:
Have Nots
No Have Nots This Week
Last Evicted Houseguest
Wil
HOH temptations
Britney Safe this week, Boogie gets 10grand
5:00pm Cam 1-2 HOH Danielle, Shane and Eagle Eye Joe Watch with FlashBack FREE TRIAL!
Joe: "Frank just attacked me in the kitchen.. when no one was around" Joe rehashes the conversation with Frank how he was accusing Joe of talking about him. Joe wanted to call everyone together and find out who is talking.
Shane: "You know who it is right"
Joe: "ashley"
Shane: "Bingo"
Joe is getting ready to go outside and call them out and expose Ashley. Danielle tells him not to he should calm down first. (Joe is Steamed)
Shane says Ashley is putting a HUGE target on her back. Danielle: "She likes Frank a lot she'll try to help him"
Joe tells them Frank got his blood pressure up he's trying to calm down. Joe should have taken Dan's advice and not said anything to Frank. Joe doesn't want to fly off the handle and do/say something he'll regret. Joe: "Frank knows i'm the only one that won't back down" Danielle: 'Exactly.. Boogie and Frank are trying to get a rise out of you don't let it happen"
Shane: "They want you up as a replacement if I don't put up Dan"
Joe: "They want me to throw Dan under the bus and when I don't they start coming after me"
Shane: "Don't worry you are safe"
Joe decides he'll just walk away from Frank unless Frank comes at him in a public area then he'll stand his ground.
Shane tells him Frank and Boogie are going to be all over him tonight. Joe mentions that Boogie is telling ian, Ashley and Jenn to come up here one by one and petition to get Dan up.
Danielle: "If you really want to piss people off.. just be really calm and smile.. if they are coming into your face it'll be hard to stay composed bit if they are in the backyard yelling at you just smile "
5:30pm Cam 1-2 Danielle and Dan Watch with FlashBack FREE TRIAL!
Dan: "I don't think you have to worry about being the villain anymore"
Danielle: "I can't believe they are acting like this.. being mean"
Dan: "It's better that they do"
Danielle says she's found out that AShley it hooking up with Frank in the HOH
Dan we should tell Ian that.. She plays him like a fiddle.
Dan: "Where did you hear about this"
Danielle: "Joe and Shane heard about it"
Dan says if Frank wins HOH they just have to make sure they both do not go up. Danielle Thinks it will be Dan and Joe. Dan thinks Danielle needs to get really close to Frank just to make sure.
Danielle :"What are you doing now"
Dan: "Just laying low getting ready to strike on Thursday"
Dan is thinking they are being perceived as too close.. HE thinks she really has to watch being alone with Dan it more for her protection. .
Danielle mentions Joe wanting to go off on Boogie but her and Shane talked him down. Dan thinks they should let Joe go at it. Danielle: "He still probably will"
5:42pm Cam 3-4 Boogie and Britney HOH
Boogie is running out of time and he knows she's stressed but he wants to talk one last time to her
Boogie fully realizes it's shane's decision and in the heat of the moment Boogie and Frank took it out on her.. Boogie thinks a lot of people were getting into his head.. he understands it was a lot of Dan and maybe a little bit of Danielle. Sometimes Boogie thinks the new players don't make moves on their own.
Britney says it never helped her game directly to put up Janelle just like it it didn't behoove her to put up Frank and Boogie. Boogie tells her even if she has 20% of Shane's ear it's worth him to throw himself at her mercy.
Boogie says he doesn't like to look vulnerable he wants to be the Big Dog and Showboat.. Boogie explains that part of his problem right now is not leaving the game it's him feeling bad that his past reputation is causing Frank to take a lot of heat. Boogie doesn't think that people should think Frank is a bad guy he hasn't done anything to deserve the reputation he has.
Boogie will target Joe and Dan if he stays. Boogie: "I'm telling you the truth I am not after you"
Boogie says that dan is the most dangerous player in the game.. It's obvious from seeing how he can integrated himself into other people's lives socially. Boogie understands how he won his season some of the new players like Shane do not.
Boogie says this game is kinda stupid sometimes because he's going out in 9th place and he's ruined a relationship with Dan someone he wasn't exactly friends with outside the house but he really liked him outside the house.
Boogie starts saying that it sucks to be a person that played the game and made moves go home while other players that sit back and let others do the work for them coast to the end.
Britney says she told Frank she doesn't want to know what he'll do she will find out
Britney: "regardless of who Shane puts up I will still be open to discussion" She reminds Boogie that she's very pissed at Shane for throwing her under the bus the way he did. She been trying to distance herself from him every since.
6:04pm Cam 1-4 Hot tub Dan and Joe
Joe goes over his conversation with Frank how he almost lost it and called a house meeting to expose who is saying things about Joe.
They both wonder what happened with AShley they thought they were cool with her.
Dan wonders if something happned on the Dat to turn AShley away from them.
Dan asks him how close Frank and AShley are
Joe: "They kissed once in the HOH"
Dan wonders if Ian knows
Joe: 'He doesn't.. kid out be devastated"
Dan agrees says Ian will get pretty upset.. best if he doesn't know. Dan mentions that Ian is a good kid but sometimes he doesn't know where Ian's head is at.
Joe says that Ian is 100% with Boogie and Frank
Joe thinks if he wins HOH he would try and Backdoor Frank. Dan: "You would roll the dice that the POV was played"
Joe doesn't know he would need to think about it.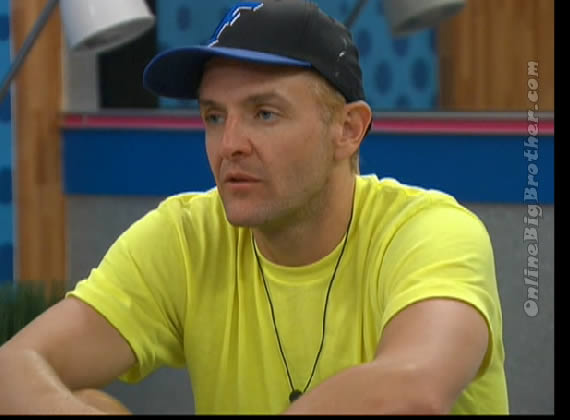 6:22pm CAm 1-2 Boogie and Frank
Boogie points out that Ian and Dan were scheming.. today. Boogie rehashes his talk with Britney and Frank rehashes his talk with Shane. Boogie adds that he brought the tears when talking to Britney. He was calm apologetic and he thinks did a good job of giving her a honest solution.
Frank says he really played the angle to Shane that he has a chance to get rid of the strongest social player in the house.. he should take it
They agree that Britney may vote Dan out if he's on the block. They are confident about having Jenn and Ashley's vote. Boogie isn't sure about Ian anymore.. Boogie beleives that Shane trust them more than Dan.
6:35pm Ashley explains to Boogie that she over heard Shane and Joe talking. Joe asked him how things where going and Shane replies "they're trying" Ashley says the tone they used made it sound like they don't plan to work with Boogie.
6:32pm Cam 3-4 Dan, Ian, Britney
Dan: "How realistic is Boogie about going home
Ian thinks Boogie is prepared to be evicted. Dan reminds Ian that he took the heat for Ian today. He doesn't mind doing it but he wants Ian to know that it could be him having the heat on. Dan asks Ian if he'll be voting to evict Boogie. Ian says 100% boogie has to go and next week it has to be Frank. Ian also wants to See Joe gone because he thinks Joe will put him up.
Britney and Ian saying they feel bad for Boogie. Britney mentions how Boogie was getting teary eyed during their talk.
Dan: "i don't feel bad.. for what.. he's just mad he didn't get to do it first.. bottom line reality of it he's worried about losing and losing face first and second the money"
Britney asks him where Jenn is with Frank and Boogie. Ian believes that Jenn and AShley are close and is with Frank and Boogie out of necessity. He adds That AShley are talking but there is no long term alliance there. Ian says most of it is her just nodding.
Share it YO!!
Tweet