Get the BB13 live feeds on your Android and iOS devices. Sign-up for the 3 Day Free Trial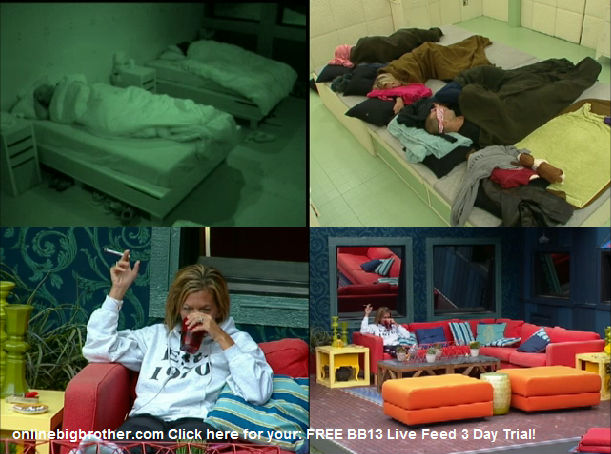 8:35am Shelly wakes up, changes her batteries in her mic and then heads into the bathroom. Brendon is now up and in the bathroom as well. Shelly says its early ..when you go to bed at 4:30am. Shelly goes into the kitchen to pour a glass of diet coke and then heads out into the backyard. Brendon then goes and gets back into bed with Rachel in the HaveNot room.
TRY the Live Feeds for FREE!
Click here for your: SUPERPASS – 3 DAY Trial!
9:20am Big Brother cuts the live feeds to the we'll be right back screen to wake up the houseguests. When the live feeds come back ..Jeff, Rachel and Shelly are in the kitchen making breakfast. Adam is out in the backyard smoking. Jeff says that its funny we're all cooking. Shelly says that she learned her lesson last time. Rachel says yeah right!? Brendon joins them in the kitchen. They are all wondering why they aren't on an inside lockdown because normally there is a Have/HaveNot competition today. Brendon asks if there is some type of Have/HaveNot competition inside? No one knows what's going on. Dani is up and in the HOH bathroom shower.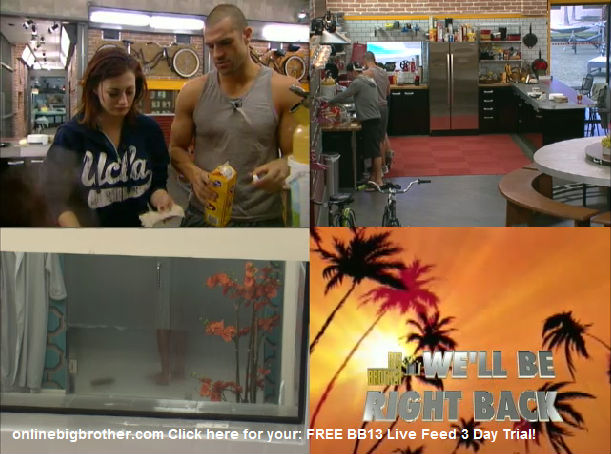 9:30am – 10am Shelly and Brendon are out in the backyard. Shelly is telling Brendon that they keep talking abotu Dominic and wearing the PT hats.. Shelly says that it was funny they kept telling Rachel that they have the votes to get her out …and the whole game we have been controlling the votes. Brendon says it's still early in the game …there's still a way to go. Shelly says that since the nominations Rachel and Dani avoided each other all week. Brendon asks so there wasn't any fighting? Shelly says nope. Shelly tells Brendon how she convinced Kalia to put up Lawon so that Dani could have Rachel on her side. Porsche comes out and leaves. Shelly says that she is in her own world. Rachel brings out Brendon's breakfast and then goes back inside. Brendon says that she is being so nice to me. Shelly says well she really missed you. Brendon says so we're in the jury house now. Shelly questions it. Brendon says that from what they were saying to him in the diary room he could tell they're now all in the jury house. Brendon says now people really need to watch what they say and do. Jeff, Jordan and Adam join them out in the backyard. Breadon heads inside. Jeff tells them that Rachel is making Brendon fresh squeezed orange juice with her hands. Jeff laughs. Rachel, Brendon come back out to the couches and they all talk about the live show last night.
Sign-up for FREE and watch the houseguests live!
Click here for your: SUPERPASS – 3 DAY Trial!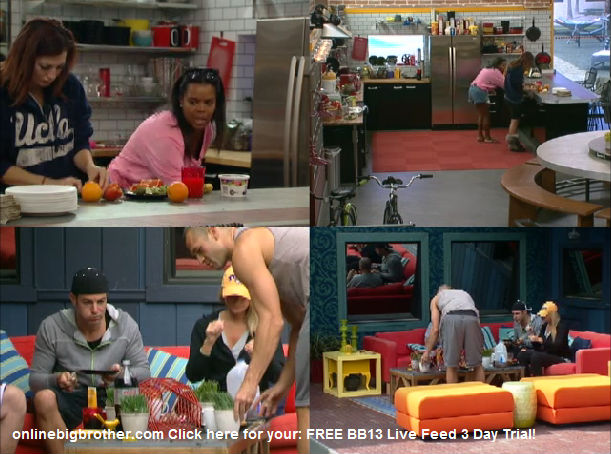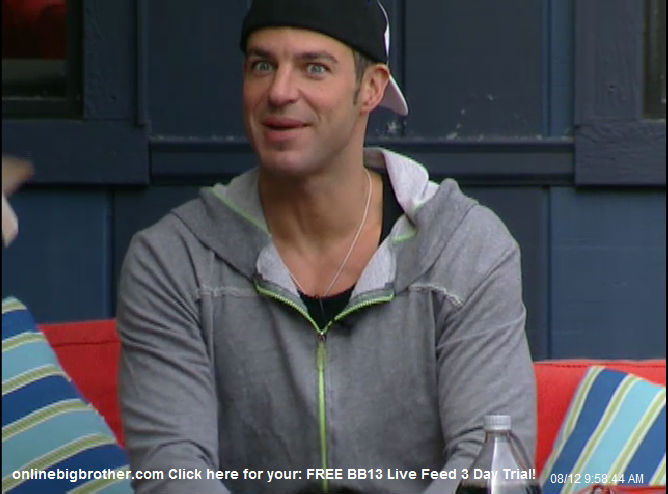 10am – 10:30am Big Brother puts the houseguests on an out door lock down. Brendon jokes that he should have come into the house telling them all these lies about whats going on in the real world. Porsche and Dani are laying in the hammock together. They talk about how they can't trust Shelly. Dani says oh well .. everyone makes stupid mistakes in this game. Porsche tells Dani that she has a bugger hanging out of her nose. Dani freaks out says shut up and goes to look in the backyard mirror ..she doesn't find anything. Porsche says it was there. Dani says shut up sabotage! Kalia comes over and joins them. She complains about Adam's snoring last night. Dani tells Kalia to go over with them and listen. Kalia says yeah I don't mind taking one for the team. Dani says yeah you like them. Kalia says they suck. Dani says I bet they want to kill themselves.. shocker!! Kalia goes back over to the couches. Dani talks about how she saw Rachel straddling Brendon ..and that it was disgusting! Big Brother tells Porsche to fix her mic. Porsche says that they just want her to move it so they can see her hard nipples because its cold.. Dani says shocker! Dani talks about how Adam has played a terrible game and that he has no shot at winning ..no matter who he is in the final 2 against.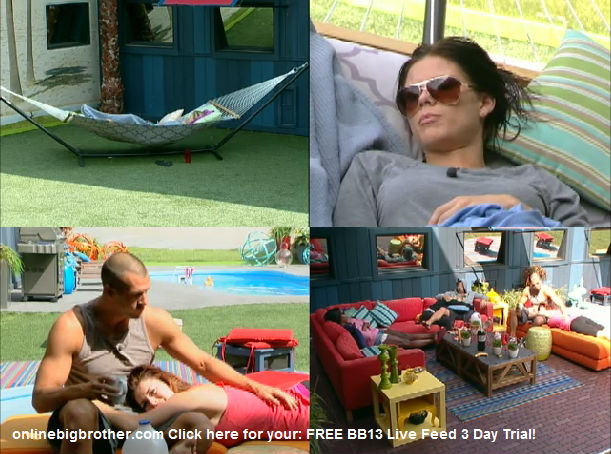 10:45am Meanwhile Shelly and Jordan lay out on the lounger and talk about how hard it is being in the house. Shelly laughs about how Rachel is acting to Brendon …like making him fresh squeezed oj. Shelly says that they are never 3 seconds away from each other. They wonder who Dani is going to nominate today. Jordan says that she might try to change it up. Shelly says that if she changes it up, she may come after Adam and I. Jordan says that she doesn't think she'll put you up. Shelly asks why? Jordan says well, after all that happen with Rachel freaking out last week. Shelly says imagine if we had voted Rachel out …then her and Brendon would have had to compete against each other. Jordan says yeah thats crazy .. Shelly and Jordan start talking about Jeff setting down and how she needs that before she would get married or start a family. Adam and Brendon are now working out together..
WATCH the houseguests LIVE on SuperPass!
Click here for your: FREE 3 Day TRIAL!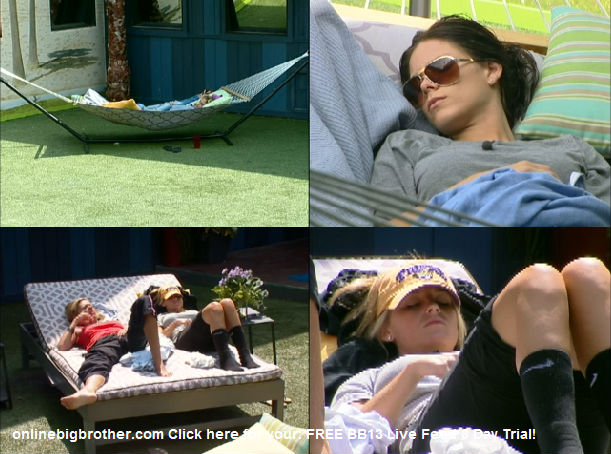 If you like this site and want to help us keep it running please consider donating, Your donations go directly to paying the server and bandwidth fees. Donate Link
Big Brother 13 Spoilers POLL CAST your VOTE!

Big Brother 13 Live Feed Image Gallery
Follow: @BigBspoilers and @Dawgsbigbrother on Twitter for recent crazed out spoilers. Theres also our Facebook page.
Share it YO!!
Tweet