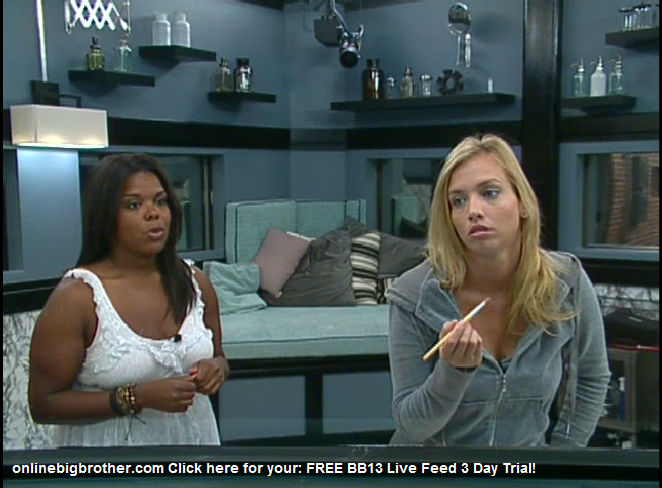 This Big Brother Spoilers update encompass what happened in the BB house on September 5th from 9:15am PST to 11:00am Rachel, Adam, Porsche, Kalia and Jordan are left in the house.
9:15am Big Brother wakes up the houseguests. When the feeds come back, Adam is in the backyard smoking. Kalia is in the bathroom telling Jordan about a dream she had about walking her dogs and how they fell down a stair case shaft. And says that after they bounced their necks weren't so good because of the leash. Kalia, Porsche and Jordan are all getting ready for the day in the bathroom. Kalia leaves the bathroom. Porcshe tells Jordan that she loves it when BB gives them a warning about how much time them have till the ceremony it makes it so much better. Jordan agrees. Kalia comes back. Jordan leaves. Kalia starts telling Porsche all about how she was trying again last night to get Adam to consider using he veto. Kalia starts talking to herself saying that it's veto day … find out your fate day… Kalia starts going over her speech that she will give during the POV ceremony.
Big Brother 13 Live Feeds
Click here for your FREE TRIAL: SUPERPASS

10am – 10:20am Kalia joins Adam in the backyard. Adam gets up and heads inside. Rachel passes Adam and tells him if he needs to hide he can use the HOH room. Adam says thanks …I'm just going to shower now. Rachel and Jordan head up to the HOH room. They talk about how maybe if Adam wins HOH next, he won't try so hard for the POV. Rachel and Jordan talk about how Adam keeps telling people that they need to earn their spot. Rachel says I hate to be a bitch but did he really earn his spot in the final three. Jordan says that she thinks Adam win take Porsche to the final two. Jordan says that she doesn't think Porsche care whether she wins second or first place. Rachel says well go home then. Rachel tells Jordan to tell Adam that he has at least three votes in the jury. Rachel says okay listen …dont repeat this.. if we don't know if we can trust Adam … if we win is it better to pick Adam or Porsche for the final three. Jordan says yeah its better to pick Adam. Rachel says that Adam will beat us in questions, where as Porsche won't be able to. Rachel and Jordan discuss the jury votes and questions. Rachel is worried that Adam won't stick with the deal with them next week. Jordan says well throw it in his face that you opened Pandora's box and gave him Tori Spelling. Rachel and Jordan go through the scenarios of what will happen if whoever wins HOH. Jordan again talks about how she thinks whoever wins HOH they will not get to play in the final POV. Jordan says that she hasn't told Adam that yet and doesn't want to because she is worried that he will use the veto to keep one of the girls. Jordan says that it would be better to have Adam win the HOH this week so then it gives us better odds at the POV. Jordan says that she is going to try for the HOH but if I don't get it… it will give us better odds for me to play in the POV with you.
Sign-up NOW and watch the houseguests live!
Click here for your: SUPERPASS – 3 DAY Trial!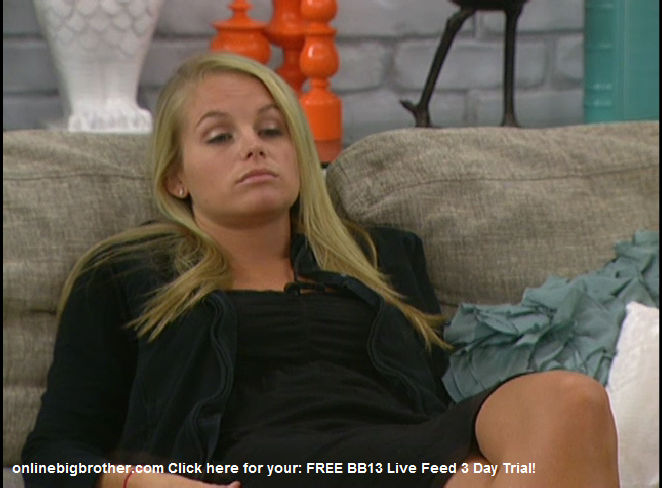 10:25am All four cameras switch to Adam and Kalia out in the backyard talking about cars and car accidents.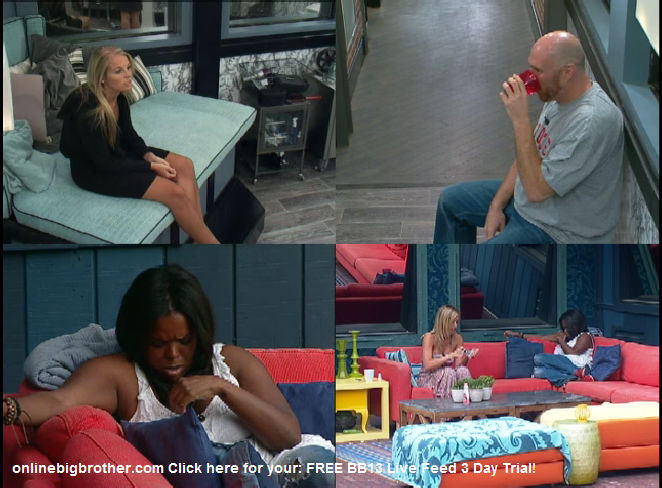 Rachel, Adam and Jordan are in the bathroom talking. Adam says that he has a really good speech ready. Adam starts to head outside and then asks Jordan to come out with him so that they don't bombard him with questions again. Rachel says awe poor Adam! Jordan tells Adam that right after the veto she will give him Fara's necklace back. Adam says right after I don't use it. Jordan says yeah. Meanwhile out in the backyard, Kalia is talking to Porsche about how she can't understand why Adam is still confused about whether or not to use the veto. Kalia says that Adam has played the game passively and that this is his chance to make a move. Kalia says how would Adam answer the question of what moves he has made, saying that he would say I teamed up with Jeff… Kalia says well, then Jeff should be in the final two! Adam joins them out in the backyard. Porsche tells him that he will give him a massage if he uses the veto on her. Right then Big Brother calls Adam to the diary room. Adam heads inside. Kalia talks about how she has been hounding Adam and said that he must be getting annoyed with her … She says that he said no .. it shows how bad you want to be here. Porsche says huh…
10:45am Big Brother cuts the live feeds to the TRIVIA screen… POV ceremony is happening now!!
FLASHBACK – Don't miss all the drama!
Superpass – 3 Day FREE Trial

Big Brother 13 Live Feed Image Gallery
Follow: @BigBspoilers and @Dawgsbigbrother on Twitter for recent crazed out spoilers. Theres also our Facebook page.
Big Brother 13 Spoilers POLL CAST your VOTE!