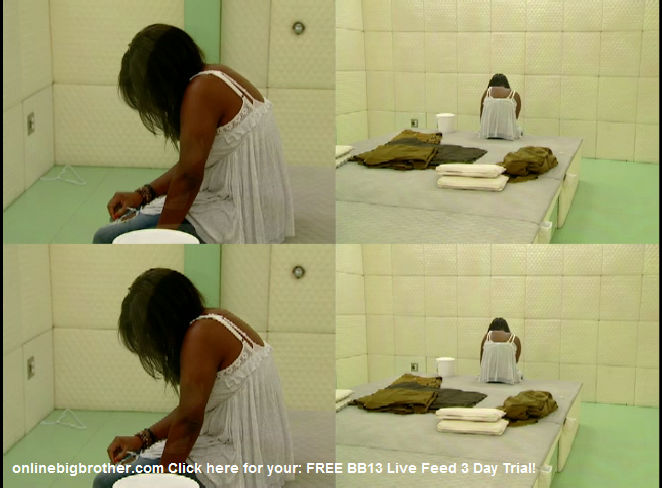 11:30am When the live feeds come back from TRIVIA, Kalia is in the HaveNot room by herself. Adam and Porsche are in the purple room talking. Adam says that he couldn't use the veto on her because he told her if she wants it she needs to win it. Adam says that if really hurt him to not use it. Porsche says he knows. Porsche starts talking about how they as newbies all wanted to stick together. Adam says that when two people make a deal and go back on their word the deal is broken. Porsche says that she just really needs his vote now. Adam says that Kalia started making deals and went back on her word. Adam says that just yesterday Kalia was giving me the same speech that Dani gave me before …word for word. About me being a fan of this game and needing to make a big move. Adam says the fact that she said it word for word.. it just showed me Kalia is playing Dani's game and not her own game. Kalia comes and knocks on the purple room door and Adam tells her to give them a minute. Adam says that the last straw was when she voted to evict me and not Shelly.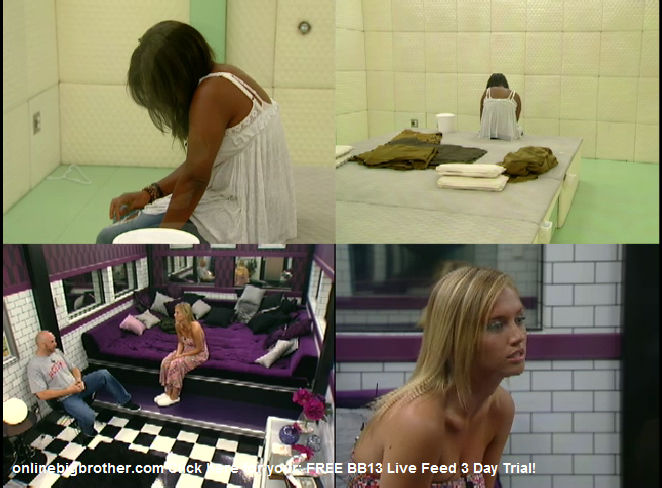 11:40am Jordan and Rachel are up in the HOH room talking about how they don't think Adam will take them to the finals …that he is talking to Porsche right now about a final two deal. Jordan and Rachel are in the bathtub shaving. Both Jordan and Rachel think Adam will take Porsche over one of them. Jordan says all you have to do is ask him and he can't lie he will just be like uuhhh… Rachel says that she doesn't think this will be a whole week… Jordan asks you think it will be another double eviction? Rachel says I dunno… maybe..
11:50am Adam comes up to the HOH room to talk to Jordan and Rachel. Jordan says thank you so much. Rachel says that speech was awesome. Adam says that his speech was not supposed to be directed at her …but that when Kalia made a deal with me and then went behind my back and made other deals ..our deal was then null and void. Jordan asks if Porsche is worried. Adam says yeah ..and she will be campaigning to you guys. Jordan says that she told Porsche the other day that she wasn't going home. Adam says that was his problem with Lawon ..how he didn't campaign. Rachel tells Adam that she doesn't think this will be a regular week .. Adam questions whether there will be a live show Wednesday and another one Thursday. Jordan, Adam and Rachel continue to speculate how the final shows will play out. Adam says that he doesn't want to leave …but he just wants it to end already.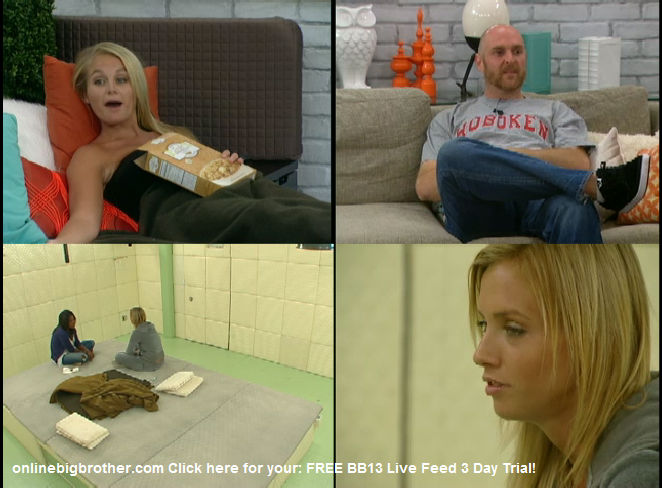 Adam says that he so just wants to go off on Kalia. Jordan says no don't. Adam says that one part of him that they haven't seen is his temper …and says his temper is the thing that has gotten him in trouble at work before. Adam says if I do go off …don't take anything as being against you … Adam starts going off about how Kalia has been playing Dani's game and not her own game. Jordan tells Adam that if it came down to Adam and Porsche she would 100% take him because he has been with them the entire time. Jordan says that she couldn't take Porsche. Rachel tells Adam that he has just as much of a chance to win as we do. Adam says that he knows it and that he knows he can't control the way people vote in the jury. Rachel says that if Porsche is final two she will have Shelly, Dani and Kalia as jury votes. Rachel says the only guaranteed vote for Jordan is Jeff and for me Brendon. Rachel says that no one likes me in the jury house. Jordan says that she has no clue how people will vote. Jordan says that Dani and Shelly hate me. Adam says that before the veto he will give them the necklace again …he is 100% with them. Adam says that he told Porsche that she has to fight for it if she wants it. Adam says that he told Porsche that he can't make a final two deal with her. Adam says I don't have a final two deal with either of you because there is still too much game to be played. Adam says that we are in a position to earn our spots in this game. They all say that the worst case is for Porsche to win HOH this week. Adam says that if he wins HOH …it won't be such a desire for him to win the POV.

12pm – 12:20pm Meanwhile, Porsche joins Kalia are in the HaveNot room. Kalia says that she knows they are all going to vote to evict me. Kalia says that its fine if I leave …I mean it sucks but at least I will only be in the jury house for a week. Kalia says that when she talked to Rachel she said that I wasn't a target but obviously I was the target. Kalia starts crying. Kalia says that she will not respect Adam at all …he gave us his word last week and now he is going back on it. Kalia says that if Adam is trying to get back at her for voting him out last week …then good job …you took away my shot at half a million because you're pissed at me. Kalia says that I have no respect for him or his game and I will never vote for him if he's in final two. Kalia says that he is an idiot. Kalia says that Adam will be shocked when he leaves Big Brother and sees what fans think of him. Kalia says that he is now going to hide up stairs …because he is a coward. Porsche says don't be mad if I am up there shaving my legs or something.. Kalia says don't worry you need to campaign just like I do. Kalia says that she is furious with Adam. Kalia and Porsche start talking about the jury house and votes. Kalia says that she will not start kissing butt to stay. Kalia and Porsche head into the kitchen to make something to eat.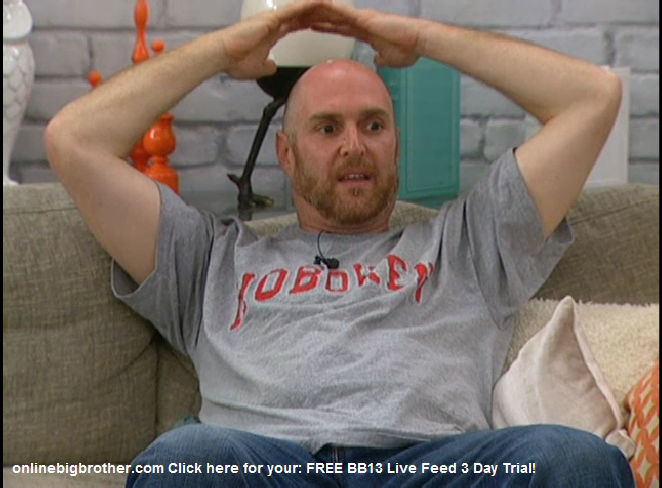 12:20pm – 12:30pm Adam says that what really pissed him off is when last night Kalia told him that she guarantees that Rachel will not win HOH this week… Adam says nothing is a guarantee …don't tell me you know what is going to happen… no one knows. Rachel says that pissed me off. Adam says we have all seen that when Rachel's back is up against the wall she is able to win. Adam says that this week his vote really doesn't matter … it is up to what Jordan and Rachel want. They start talking about previous seasons of Big Brother.