SuperPass: Flashback and rewatch BB13 and BB12
Click here for your FREE 3 Day TRIAL: Big Brother Live Feeds
Rachel Reilly won the $500,000 grand prize last month on Big Brother 13. Now she's working for tips on The Bold and the Beautiful! The marriage-crazy redhead will return to the CBS soap October 28 and 31 as Rachel, a saucy cocktail schlepper at the Bikini Beach bar, and she'll have her real-life fiancé (and fellow Big Brother player) Brendon Villegas in tow. The future Mrs. V gave TV Guide Magazine the lowdown.
TV Guide Magazine: What's with all the B&B love? This is your 10th appearance!
Reilly: I know! Isn't it crazy? [Laughs] And this time I'm a bride! Brendon and I are part of the Halloween shows so they put us in wedding outfits, which of course I loved! We're getting Bikini Beach ready for a party. Amber [Adrienne Frantz] is there flirting with Thorne [Winsor Harmon]. The costumes and makeup are so fantastic you're going to be shocked! We have swamp creatures, pirates, gypsies, mermaids, fairies, geishas. I was a cocktail waitress in Vegas for years and this trumps any Halloween party I ever worked there. It really inspired me for real life.
TV Guide Magazine: So spill it. How are you and Brendon dressing for Halloween?
Reilly: We're going as Jessica and Roger Rabbit!
TV Guide Magazine: Well, you've already got the hair and the bod!
Reilly: [Laughs] Exactly! I'm almost there!
TV Guide Magazine: Just after you won the half mill you told a TMZ crew you were eloping in Vegas that coming weekend. It never happened. How come?
Reilly: That was horrible and I blame it totally on me! It was the night of the Big Brother after party and Brendon and I had a few drinks and it seemed like a good idea at the time. Of course, my mom saw it. She called up and said, "You are not getting married this weekend, young lady!"
TV Guide Magazine: Then what are your "I do" plans?
Reilly: We're looking at venues for December or January and I think I've found the dress. Now that I have this extra money I can buy the dream wedding I've always wanted! [Laughs] With lots of sequins!
TV Guide Magazine: Any truth to reports you're shopping a reality show about the big day?
Reilly: It's just a rumor. [Laughs] And I didn't start that one! No, I'm not shopping a show but if it were to happen it'd be awesome. I don't know if Brendon could handle it but I won't lie. I would never turn it down.
Source: TVGuide
Young and the Restless / Bold and the Beautiful HALLOWEEN PROMO commercial with Rachel and Brendon:

And last but not least:
Rachel and Brendon are mentioned in the November 2011 issue of Playboy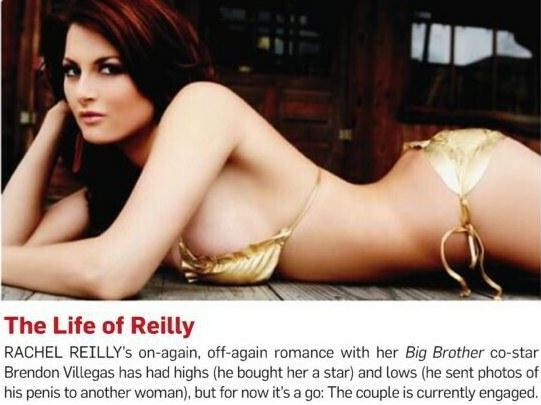 Big Brother Houseguest Interviews
Big Brother Alumni: Twitter Accounts
Simon and I work 24/7 all summer long to bring you all the live feed updates and spoilers, please consider donating. Any amount is greatly appreciated, your donations go directly to paying the server and bandwidth fees. Donation Link

Big Brother 13 Live Feed Image Gallery
Follow: @BigBspoilers and @Dawgsbigbrother on Twitter for recent crazed out spoilers. Theres also our Facebook page.