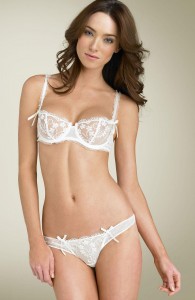 Big Brother 13 contestant Cassi Colvin — a real-life model and Olivia Wilde lookalike — makes her acting debut on The Bold and the Beautiful October 20 in a role that won't require heavy lifting. She plays a model, conveniently named Cassi, who's working with up-and-coming designer Hope Logan (Kim Matula) on the new "Hope for the Future" fashion line.
"Thank God I was answering to my own name so I didn't miss a cue!" says Colvin, a 15-year vet in the modeling biz who started posing professionally at age 11 and went on to lucrative contracts in New York, Milan, Sydney and Hong Kong. "I had a great time on The Bold and the Beautiful but the job came right out of the blue — I'd never even seen the show," Colvin says. "I'm not looking for an acting career at all. My big dream is to get my wings!"
While waiting for that call from Victoria's Secret, the twangy Texan went on Big Brother last summer and tried to hide her profession to avoid jealousy. It didn't work. The eventual champ, Rachel Reilly, took an instant dislike to Colvin and made sure she was quickly bounced. "I'm comfortable in my own skin and I like who I am on the inside and Rachel couldn't handle it because of her own insecurities," Colvin says. "I wasn't affected by what she thought of me and that was a big threat to her."
Damn! In a near collision we would have relished, Reilly will also be a guest on B&B — but just a few days after Colvin. Details on that next week!
Source: TVGuide.com
Big Brother Houseguest Interviews
Follow: @BigBspoilers and @Dawgsbigbrother on Twitter for recent crazed out spoilers. Theres also our Facebook page.